---
Whatever Happened to the Newspaper Delivery Boy?
Posted on 05/16/2015 4:03:41 PM PDT by SamAdams76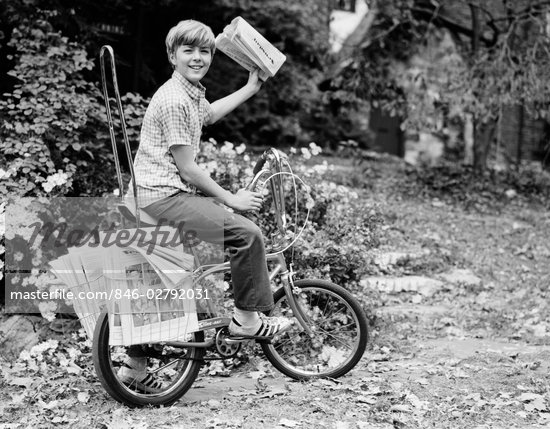 Back in the 1970s and into the 1980s, the early morning streets of the cities and suburbs would be full of young boys making the rounds of their paper route, either on foot or on bicycles. Or maybe on a rainy morning, they would be driven around by a sympathetic mother in curlers and bathrobe, in the family station wagon.
Somewhere along the line, the paperboys disappeared, and now newspapers are delivered in pre-dawn darkness by unshaven overweight middle-aged men in beat up Toyotas and Nissans. Wrapped in plastic, the papers are unceremoniously dumped at the foot of your driveway and you get a monthly bill sent to you.
It's a shame. Many successful people started out delivering newspapers as boys (and yes, a few girls, but mostly boys). It was a great entry level job for an enterprising 12 or 13 year old who was too young to bag groceries or shag shopping carts at the local grocery, but wanted to put a few dollars in his pocket.
For me, July of 1976 cleanly separated my innocent (and penniless) childhood from the beginning of my slow and steady path to responsible adulthood. For it was the month I began delivering the Boston Herald American as a 13-year-old kid just out of 8th grade with a lot to learn about the ways of the world.
For months, I had watched with envy as my classmate and next door neighbor delivered his afternoon papers (yes, they actually had afternoon editions in those days). Suddenly he had cash in his pocket and was always able to buy a sack of candy or go to the movies, without having to beg his parents for cash first. I wanted that freedom for myself.
But it was not easy to get a paper route in those days. Newspaper distributors maintained a long waiting list of kids wanting a route. So I had to put my name in and wait for my opportunity. In the meantime, my friend, who was on the lazy side, would let me deliver his papers for him from time to time and he'd toss me a quarter or two for my trouble so he could sit in the house and watch Speed Racer or Munsters re-runs on the TV.
Even though it was not officially "my route", I felt like a big shot walking down the streets with a sack of newspapers bouncing off my hips. I determined that this was what I wanted to do and I started to check in with the "bossman" at the paper distributor to the point of annoyance, to find out where I was on the waiting list.
Finally, I got the call just as school was letting out for the summer. There was a boy with a morning route of 23 papers for the Herald American that was taking a summer job and was quitting his route at the end of June.
I did somersaults and handstands for about half an hour.
The next day, the boss of the paperboys (probably some 19 year old kid) came to my house and showed me the ropes. The papers would be delivered to my house by 5am each morning and I'd have to have them delivered by 7am - no exceptions. Any complaints about the papers being late and I'd have the route taken away from me. I would also have to fold the papers in a specific tri-fold manner and would need to put them in plastic bags if it was raining. Then, once a week, I'd have to go to each house in the afternoon and collect the weekly subscription money. On Saturday mornings, the boss would come by to collect my money. Whatever money I did not collect would come out of my earnings, which was something like 35 cents for each daily subscription and 15 cents for each Sunday paper. (50 cents if customer got both daily and Sunday).
I studied my route carefully, which covered about a 12 block area around my house. I even did dry runs, figuring out the most efficient way to get them delivered.
The day my route officially started, I was up at 4:30 in the morning and was eagerly waiting for the stack of papers to arrive. 5am came and went. No papers. I was starting to panick. Did they forget about me? What would my new customers think if I could not deliver the papers on time on my first day?
Finally, around quarter past 5, a van pulls up to my house and I hear the THUNK of a stack of papers dropped on my porch, wrapped in twine.
I nervously folded the papers, hoping I was getting it right, stuffed my official "Herald American" sack with the neon orange strap, and bolted out the door.
Every morning that week, I had my route completed by 6am. Then it was time to go collect the subscription money, which was around $1.20/wk for the daily and 50 cents on Sunday, for a total of $1.70 if the customer took both. When making the rounds, several customers thanked me for getting the paper there so early (guess the earlier paperboy like to sleep in) and gave me as much as a dollar for a tip. Those most people gave me $2.00 and told me to "keep the rest."
At the end of the first week, I made something like $11.70 from the newspaper company but had another ten dollars just in tips - clearing me just over $20 for my first week.
Up to that point, the most money I ever had in my pocket that was mine was a $5 bill which a "rich" uncle gave me on my birthday. In 1976, to a 13-year-old boy, having $20 in my pocket, to spend any way I pleased, with more to come a week later, made me feel like Nelson Rockefeller.
For the next three years of my life, until I was old enough to get a job at the supermarket, my route and income just grew and grew. When I finally gave up my route in 1979 (delivering papers was considered a child's job and nobody did it once they turned 16), I was delivering over 60 papers a day and making close to $100 a week. I also had several thousand dollars in the bank.
That paper route taught me so much about life and how to make it in the working world. I encountered irate customers who were upset that their paper wasn't in the perfect spot for them. I dealt with deadbeat customers who avoided me on collection day. I knew they were in the house but they wouldn't come to the door. I showed up to one house where the woman I normally collected from was having sex with somebody on the parlor couch with nothing but the screen door between us. I tip-toed off the porch and pretended I saw nothing.
I learned how to take care of customers and do special things for them, such as taking the paper up three flights of stairs to an elderly woman who lived on the third floor apartment. She always tipped me well. I also learned that these people depended on me to get their morning paper in time. People that had to go to work in the morning appreciated having their paper by the time they had to leave for work.
So many stories to tell about that paper route and so much life experience gained. I firmly believe that I would not be nearly as successful in life as I am today if I did not learn to be responsible and dependable at such an early age. Getting up before 5 in the morning no matter what the weather, really builds a work ethic. I delivered papers in drenching downpours, sub-zero weather and blinding snowstorms. Only several times did I not make my rounds, usually due to blizzards in which the papers never came to me (especially in the winter of 1978).
Taking away paper routes from young boys and girls and handing the job to adults who simply fling the papers out of their car windows - not good.

---
TOPICS:
Society
KEYWORDS:
---
Navigation: use the links below to view more comments.
first 1-20, 21-40, 41-60, 61-72 next last
---
---
---
---
---
---
---
---
---
---
---
---
---
---
---
---
---
---
---
---
---
Navigation: use the links below to view more comments.
first 1-20, 21-40, 41-60, 61-72 next last
---
---