DollyCali Inauguration 2005 Thoughts n Pix




Wednesday PM
Washington Plaza Hotel
FReeper Social




Being late is not anyone's favorite role. But we were late. Travel companion Vicki from Oklahoma & I (from Ohio) had driven in (thru sleet & snow In ohio & across the turnpike with much of same) to arrive in DC area to see the small fall had about paralyzed the city. I was pretty fatigued as I drove into the DC area after 10 hours of awful-weather driving. My travel pal slept the whole way as she had just driven 18 hours to get to our meeting place.
DollyCali & RoseD~~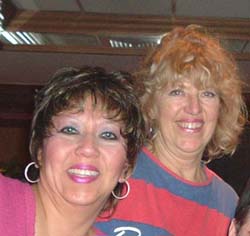 So finding place to spend night …long story…. and then clean up & metro into DC followed. No one seemed to know where the Washington Plaza Hotel was. We were given directions all over the place & had a good amount of walking. Kristinn advised us to take a cab from Metro..
Nice Idea but finding a cab was like finding Osama…so an hour or so of footing around the area until we ON OUR OWN found the hotel & the happy room full of Freepers. Many Freepers were unable to make this event due to hold ups on highways, airports etc. So better late than never and I was thankful we made it safely.
There were two levels of Freepers in the dining hall.. the upper (non smokers) and lower…much larger group, of smokers. The food was in the smoking area. The spread was amazing and I wish we had waited. Vicki & I decided to grab some food when we checked into hotel as we had not eaten all day. At the plaza I ordered a beer & then began wandering around trying to meet folks.
I recognized some screen names but most I did not know. I ended up in upper level at table with MamaBear; Just Amy; Jen,John Rob, Shirley, Tami, JimRob & Sheila. Later found Diogenesis & a sly Nicollo who came in quietly and OBSERVED.
After Kristinn's remarks re: parade & ball tomorrow, The hotel manager gave us a warm welcome & seemed pleased his hotel was blessed with some action for the Inauguration. In later conversations I found him quite intelligent, responsive & capable. He loved the band & said our group was one of the nicest he had ever hosted. (maybe he says that to all, but I felt he was quite sincere) Great choice of hotels, Kristinn
Speaking of hotels..here it is.. Evidence the terrible economy with construction going on 3 sides & road of the hotel. Not great for pix but great as a reminder that GWB is good for the economy.
Here are a few pix from the Wed night gathering…
DollyCali, JimRob, Kristinn, Diogenesis… just posin' & smilin'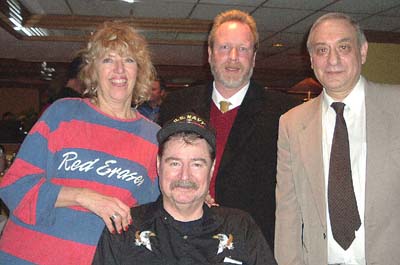 DollyCali & Nicollo, historian & author, check out his site: Bromelyisms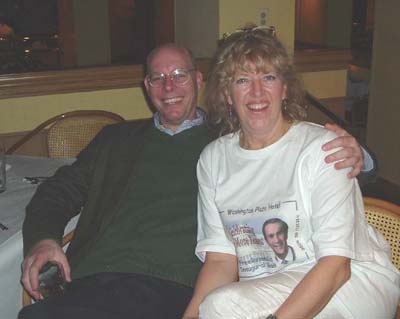 Mama Bear, Just Amy & Jen:
DollyCali & Syncro… Man,this guy would give you the shirt off his back… another story better known as What happens in DC, stays in DC !!!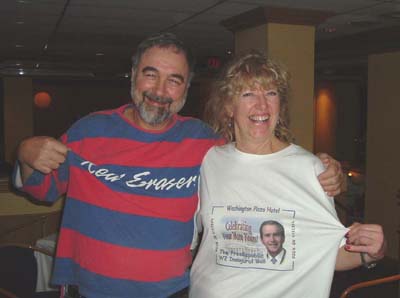 Thursday afternoon
The parade
Pennsylvania Avenue



Dropped my ball clothes etc off at hotel (thanks Shirley, Syncro,) before the parade & found . He had a wonderful article about him in the USA today Friday paper. From Kosovo & now retired & living in USA & a true patriot that confronted the protestors at the parade. (that was the gist of the USA info)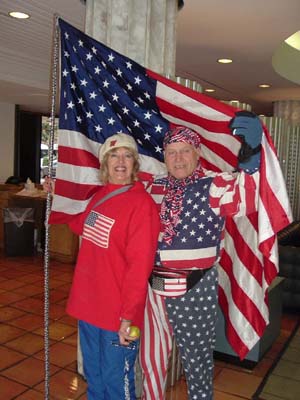 ~~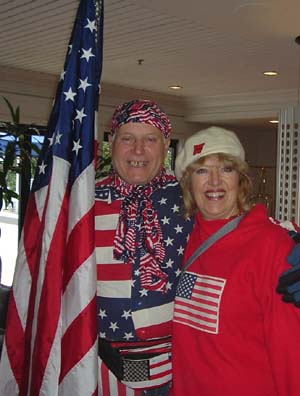 Well, meeting up with the Freepers at the designated spot became a tineey weeney bit difficult, as there were several thousand folks trying to get through the same security checkpoint. I made the mistake of going through a security checkpoint too far from our area & could NOT cross 9th street. Soooo exit &then tried to enter the famous 7th & then later 11th street points. Did someone one say Protestors? Ugly, fowl mouthed, smelly protestors? I had a few tricks to squirm my way up between protestors. Figured I got in an hour sooner. Will share personally to any (face to face.. nope, not gonna write it). Their signs were typical..
Worst President Ever written atop a fairly nice photo of Dubya…that was the most prominent sign. Saw dozens that day..
Buck Fush… isn't that cute? And profoundly intelligent?
We hate war… golly we conservatives REALLY love war.. such idiots..
Could NOT find the FR folks at our area… walked around & around & finally decided to find a fence spot. I am TALL but still figured it would be tough to see around/through two levels of police/military forming a human fence to protect the parade participants
It was interesting seeing ALL the security. Mounted police, riot gear police, deputies & police from all over the USA… the parade started about an hour late.. the riot gear guys did a lot of running to and fro to put out the human fires of disgusting behavior from the protestors.
About an hour before start of parade several of us were asked if we would like to sit in bleachers. Even though mostly sold out, due to the protestors etc. many people could NOT get in or chose to leave rather than subject their families to the vile behavior of protest folks . Good going Columbia parents.. your kids were out in droves!!! And they proudly shouted that fact.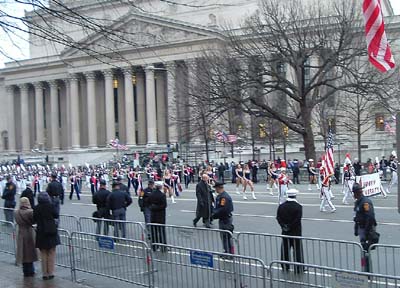 Here is the Freeper Lion's Daughter.. who is marching in the Auburn Band. Until the last minute I was not sure I would be able to attend the event & she was to be my ticket user for the ball, if I could NOT make it.
The parade was wonderful. A young lady from south Africa that I chatted with the entire afternoon was in town for a couple days for an interview.. she is about 25 & had never seen a parade like this before. She was in awe.
This is the monster the SS name for pres' new limo… could see a hand waving but not sure if it was he or Laura. The limo immediately behind was President Bush 41.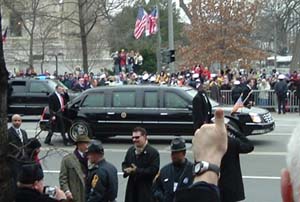 Freeper TubaMan was in this parade 4 years ago & in the elite Army band.. this one is for him..Here ya go Tim!!!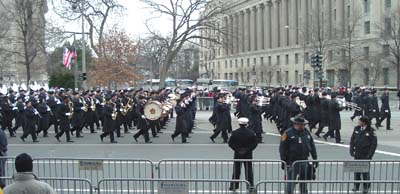 Loved the Crawford Texas band. It was small (well Crawford is too) and on a float. My home band, Ohio State did us proud!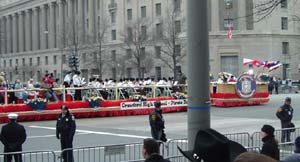 I was situated in front of the archives for the parade at 9th/Penn ave. & a man just in front of me just began work at the Archives this summer. He was delightful to speak with. He was very proud that the president / Laura visited the day before to look at the special and treasured documents. Of course movie fan that I am had to discuss the movie, National Treasure with him.
The largest band was one from Texas & it was one of the first bands. This man is the Mayor of Canton Texas & he was proud as he could be and stood up to scram every time a Texas band, float, group strode by…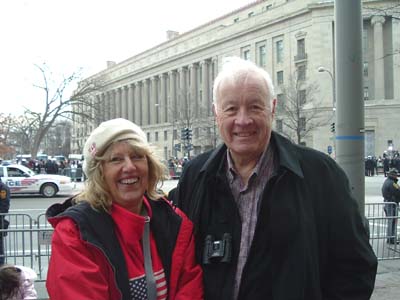 Saturday Night.
The FReeper Ball
Washington Plaza Hotel


The final putting it all together is always tough & getting the herds into the corale was tough this evening. Good organization just LOTS of Freepers to process. So many of use were just checked in & no name tags .. to be picked up later. Some never picked up their name tags & so went a little bit unknown to many of us.
Here is the heart of the registrations table – John Rob, Tami & Shirley..hard work & thanks folks !!!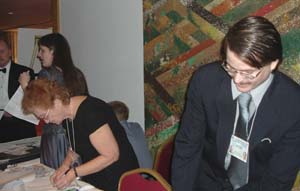 This is the ice scupt that was at the entry to our hallway at the Ball.. The chef gave me his secret…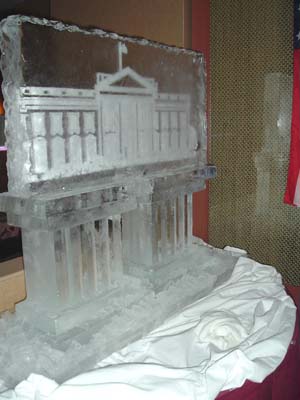 My one goal for evening was to locate the ATRW Freepers I knew would be there. I had met Nicollo the night before (didn't know he would be there).. Prairiebreeze entered FR about the same time as I and we both started out at ATRW & the Situation Room I felt like she is/was an unseen sister. I went table to table asking is there a PrairieBreeze here?. Remember many folks did NOT have nametags. Later in evening I had many folks ask me if I found Prairie Breeze! Well I did and here we are; (to the far left is Martha.. wife of Freeper RedLeg Duke. She is his special Dutchess and a sweet gal who I sat next do during dinner.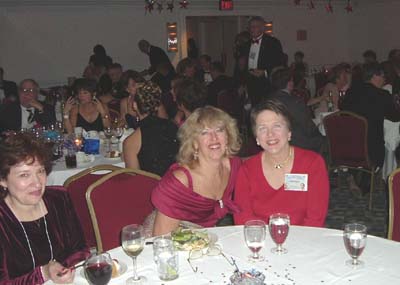 The other ATRWers are in this pix.
BMWCyle, DollyCali, PrairieBreeze; RedLeg Duke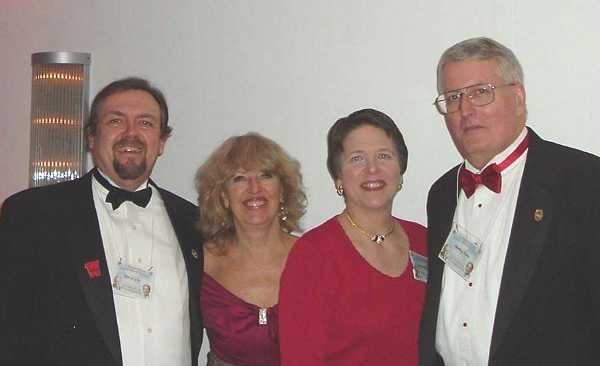 This was the best dancer (that I danced with at least) of the evening and below with his wife. He is Freeper jtmac40 and as you see a proud member of military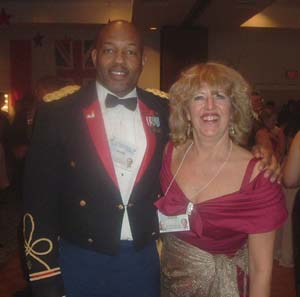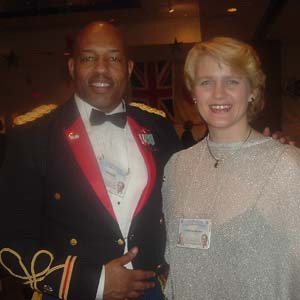 What can you say about Governor Huckabee & the band? Everyone said they were good. Well, I have heard that before regarding bands, movies, people & found Ho hum was the word of day. NOT true with the Arkansas group. They truly rocked. They did numbers from the 60s & 70s & sounded like the original groups. The vocals were great & the blend of guitars, keyboards, drums very special.
I wanted to sit & listen to them all night. I also wanted to dance all night. I wanted to return again to the wonderful food buffet, I also wanted to flit around the several rooms like a psychotic ADD to meet everyone I could & take pix of as many as my limited camera memory would permit.
Here are two pix of THE Governor & me at the end of the evening. They played much later than the allotted time and were exhausted but still took time to greet folks, sign autographs & pose for pix.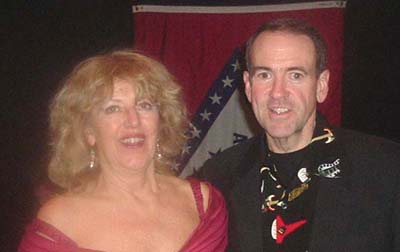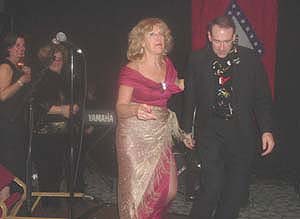 My last dance of evening was a twist (chubby checker revived) with Jim Rob. We held hands & twisted away. Observant Wife Sheila scurried over to check things out & she joined us for a three way of smiles & twisting. My favorite partners without a doubt that night. They are a neat couple & I am so pleased to finally meet the guy who to this point knew me only from patiently sending me my lost passwords !!!
These men are from Iraq but now living in DC. I didn't talk with the man in robe who spoke the least English(who is running for congressional seat in Iraq - but sat with all of them in quiet area & chatted for about half hour. The youngest man is a college student in DC area & was born in Syria but lives in US now.. His dad Nofel is the other man & one of the US team working on the Iraq elections. Dad fled Iraq over 20 years ago with price on his head. His whole family was killed. Son born in Syria. The next pix is of me & a man who is one of the numerous candidates for president.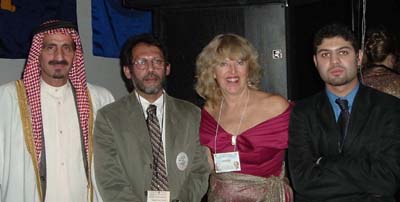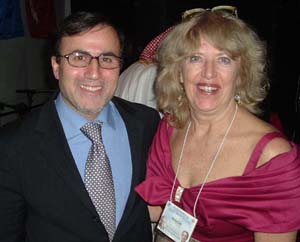 Free Republic has its own Spice Girls.. Nutmeg & Basil were with us this day! Here I am with Nutmeg: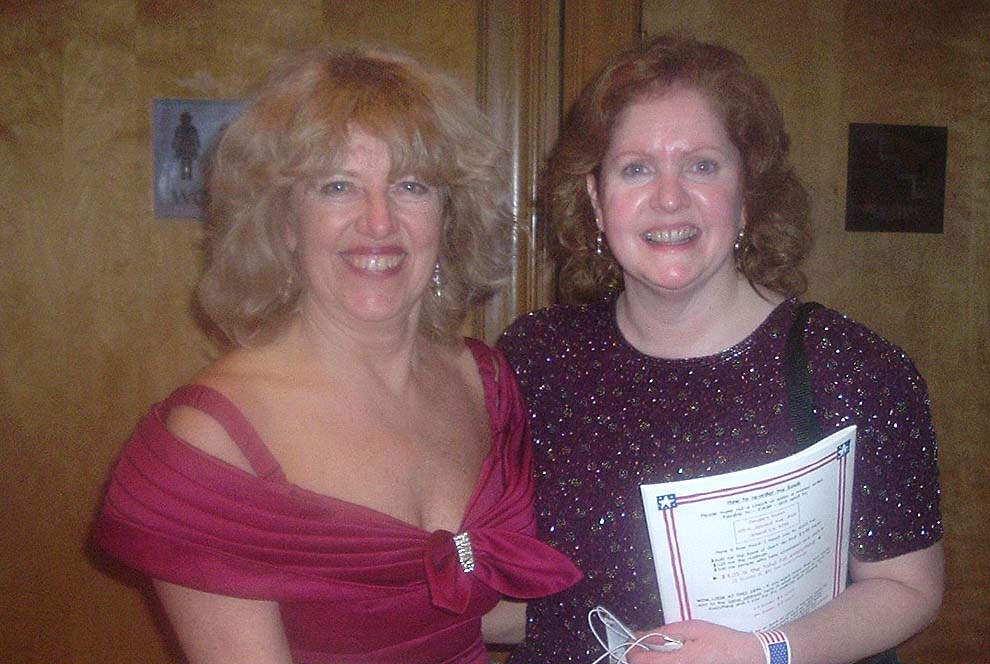 Some special folks… DollyCali & Buckhead (Chuck Norris & Congressman BillyBob at right)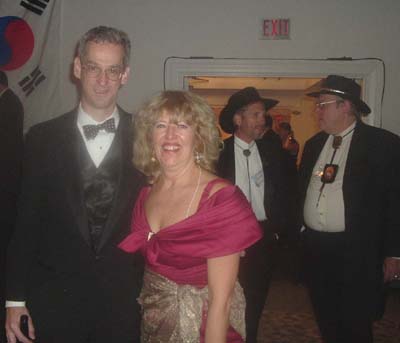 DollyCali & Billy Bob
MamaBear, DollyCali & Just Amy… Why am I screaming in one pix? The three of us & the cameraman know..
~~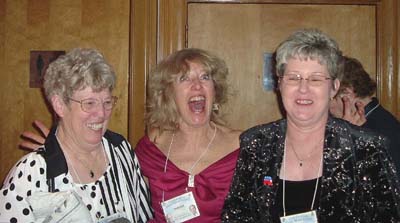 RepubMommy , Nick Danger (filling in as wolf) & DollyCali…. Caught at end of PM a bit tired but both of us truly wired..(note to Nick Danger's wife.. this was Repub mommy & dolly's Idea…not Nicks)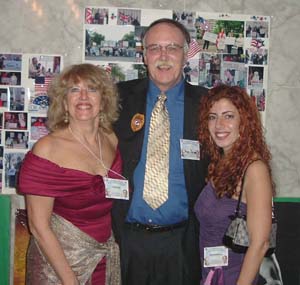 Jimmy Valentine's Brother & DC. (you never know who Freepers are do you?)
The power couple of evening… Kristinn & slgsTakoma. We all thank you and know how much time & effort you put into this several days for us.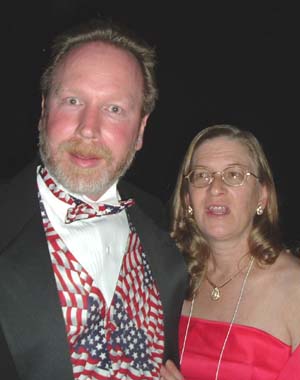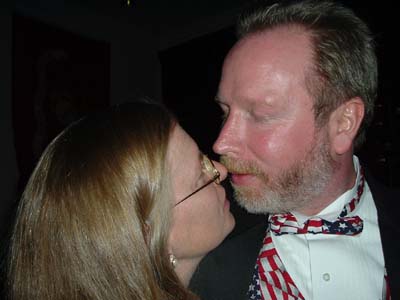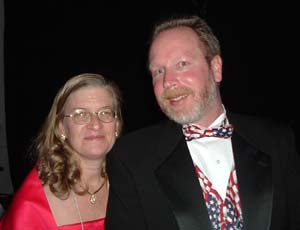 some folks I don't know.. please chime in if you recognize yourself: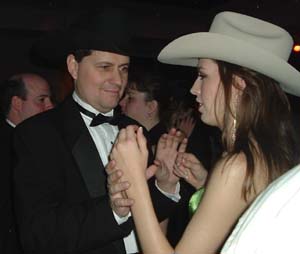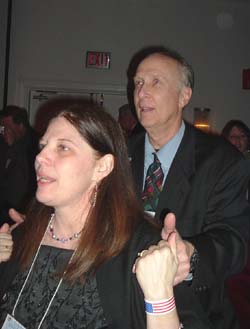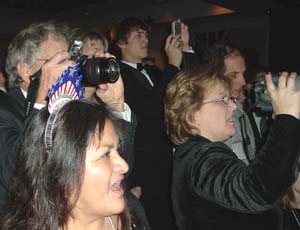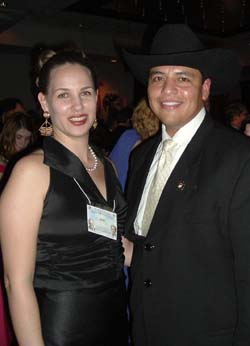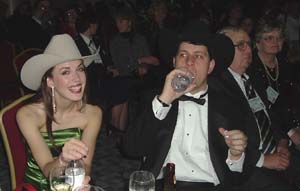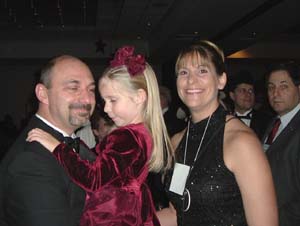 The wonderful act that preceeded Gov Huckabee was a talent musical impressionist..,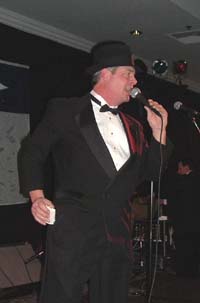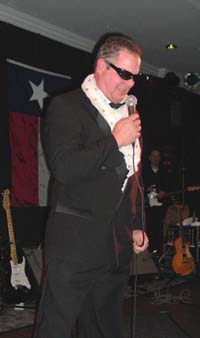 There are many threads out there.. One of the best I found (for it's content & also links to other Inaug threads) is here:
I did not take any pix in line for security of protestors. This thread is full of the sleazy ones for your viewing pleasure!!! and also ones from parade & ball. Good work BillF!
Thank you Jim Rob; Kristinn & other DC workers for making this group & this occasion possible