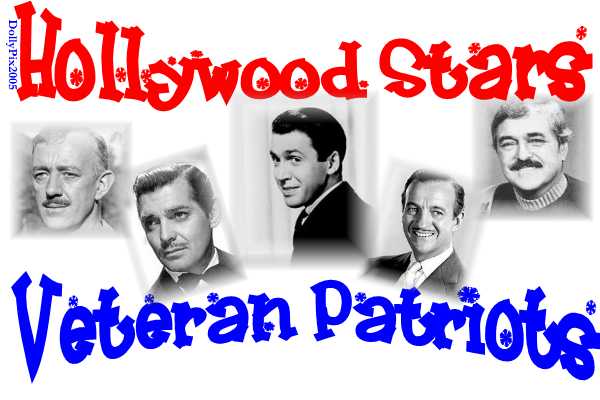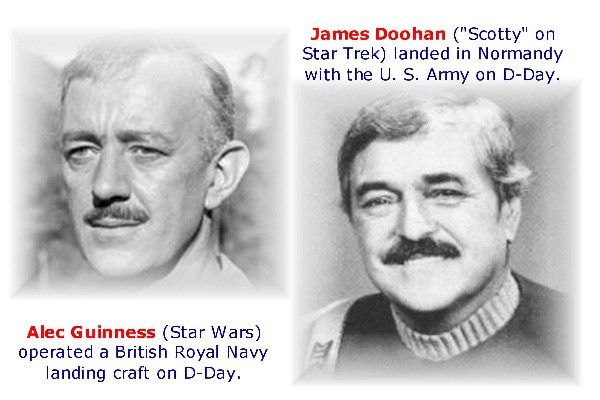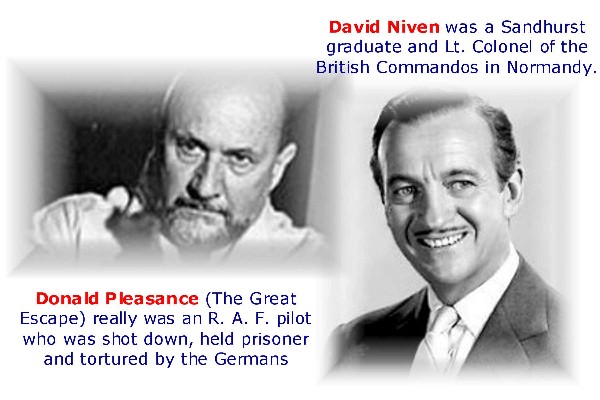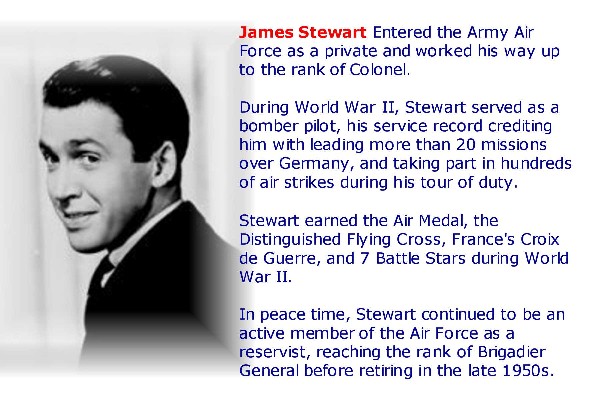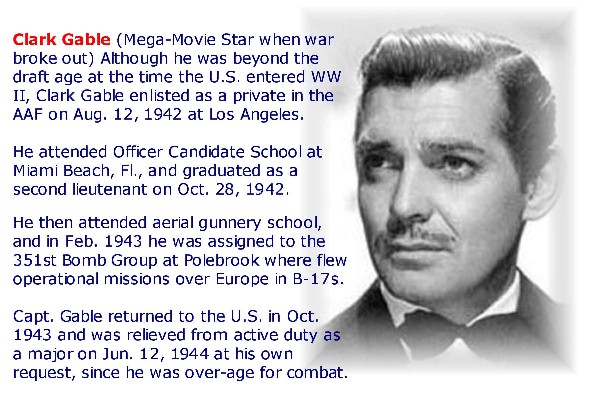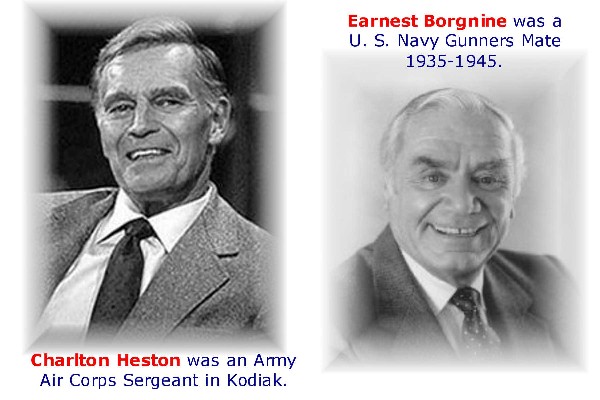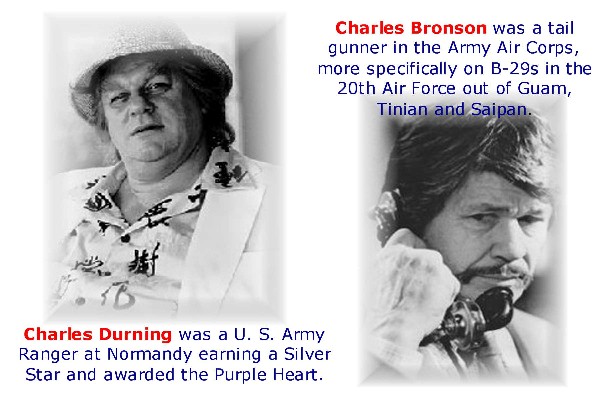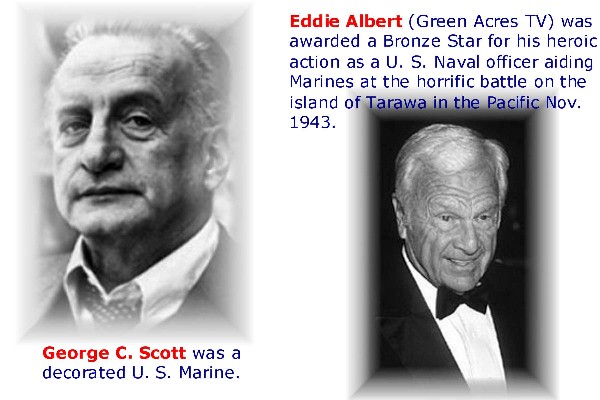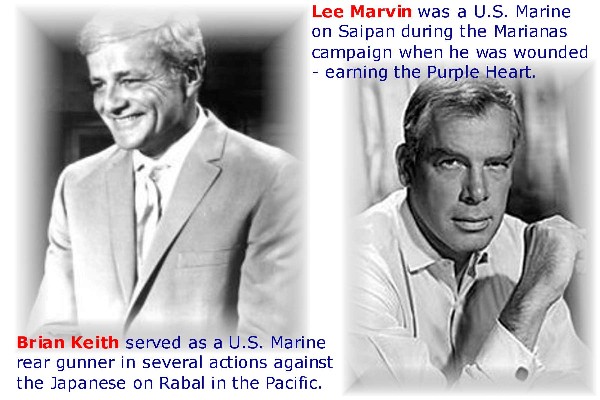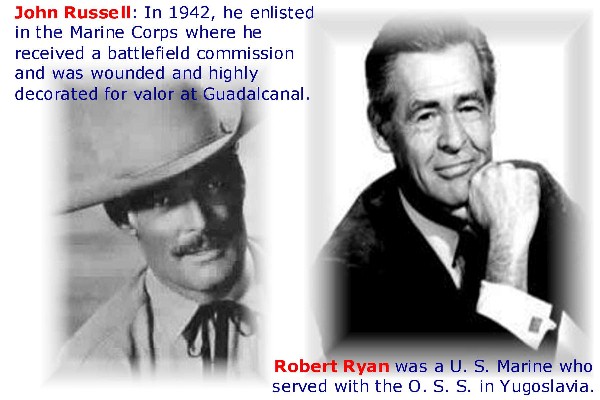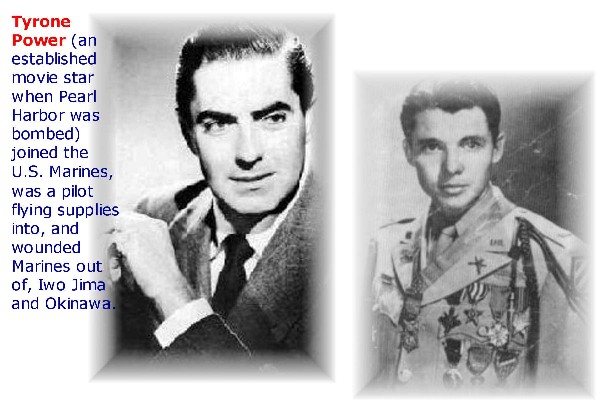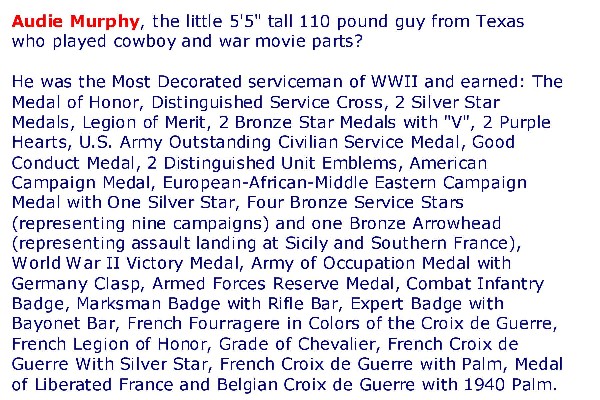 With "JAG," "Navy CIS," "MASH," and other military television shows being quite popular, one might consider with how military service has enhanced the fame of veteran actors in Hollywood or vice versa.

During our distinguished history, some Hollywood actors have taken a break from their careers while they defended our country oftentimes to battle in war.

These hereos include Charles Bronson, Gary Cooper, Glenn Ford, Henry Fonda, Clarke Gable, Lee Marvin, Elvis Presley, and Jimmy Stewart.

More recent editions of entertainment veterans include "Limp Bizkit" lead singer Fred Durst who did service with the United States Navy.

Up until just recently, we could find James Reynolds on NBC's afternoon soap opera "Days of Our Lives." He starred as "Abe Carver" on the show from October, 1982 through September, 2003. Reynolds served for the U.S. Marine Corps and was wounded while in the Vietnam War ending his military career. Upon returning from the war and enrolling in Topeka's Washburn University, he was advised that the theatre department was the best place on campus to meet girls. Many of you might agree that this inducement is still true today. Reynolds listened and his career was off and running.

Dennis Franz, who portrayed detective "Andy Sipowicz" on "NYPD Blue," served in the Vietnam War with the U.S. Army's 82nd and 101st Airborne Divisions. Says Franz of his tormenting 11 months over in Vietnam, "it was one of those experiences that you never want to experience again, but it was life altering. It was a very maturing time for me. I came back a much different person than when I left, maybe much more serious. I was very frivilous before I left. I left my youth over there. I left it behind." Remembering the friends that he made over there, he said, "I had seen many friends get wounded or lose their lives." He added that in this environment, "they become all important to you. So when something happens to them, it really hurts."

Chuck Norris performed as the lead character "Walker" for many years on "Walker, Texas Ranger." Norris served in the U.S. Air Force as a military policeman. He said that, "my years in the military changed my life. It helped me to get my focus." While in the service, he also took up Judo.

Don Bellisario, producer of "JAG," "Navy CIS," and "Magnum P.I," is himself formerly of the U.S. Marine Corps.

California Governor Arnold Schwarzenegger has military experience as well. He served his native country in the Austrian Army working with armored tanks. This well known action hero and body builder explains that he joined up to receive fresh meat for his rigorous training appetite.

A further review will find additional celebrity actors who have donned the uniform of the U.S. armed forces. Briefly naming a few, Charleton Heston was a Sergeant with the Army Air Corps during World War II. JesseVentura saw action in the Vietnam War as a Navy SEAL. Clint Eastwood served in the U.S. Army while being stationed at Ft. Ord, CA. Montel Williams first enlisted into the Marine Corps and later attended the U.S. Naval Academy. He consequently earned a commission and became a Navy Intelligence Officer. Alan Alda was a combat officer with the Army while fighting in the Korean War. Jay North from "Dennis The Menace" served in the Navy. Drew Carey was with the Marine Corps for 5 years.

Women are now getting into the act more and more. Robin Quivers, longtime a sidekick of Howard Stern, was a Captain and nurse in the military. T.J. Myers served in Operation Desert Storm with the Army. Darva Conger, who was briefly married to Rick Rockwell after "earning the opportunity" on the reality TV show "Who Wants To Marry A Millionaire," was a nurse Staff Sergeant with the Air Force. Former Navy petty officer Sherry Lynne White's career includes appearing on several episodes of "Baywatch Hawaii." Coincidentially, both Conger and White have posed for Playboy." Speaking of Playboy, Editor-in-Chief Hugh Hefner was in the Army as an infantry clerk from 1944 - 1946.

J. Scott Davis, enlisted into the Navy, held the Gunner's Mate- Guns petty officer rating, specialty of Surface Rescue Swimmer, and served in the Persian Gulf War aboard a naval destroyer.He has built a very interesting web page listing those famous Hollywood celebrities who are veterans of the military. Please take a moment to view it enclosed below:

http://www.geocities.com/entertainmentveterans/chiseled.html



Remember to never take for granted your freedom.
Always appreciate the contribution those provide you
in the armed forces year around 24 hours per day.