---
NAUGHTY OR NICE? Walter Reed Christmas FReep, Week 88 -- 12/22/06
DC Chapter | 12/27/06 | Albion Wilde, with photos by [Mrs] Trooprally


Posted on 12/27/2006 7:58:02 PM PST by Albion Wilde

Washington, DC, Dec. 22, 2006-- It comes but once a year. Christmas is a time for joy! In spite of the steady downpour, the DC Chapter turned out to stand with Santa Claus at Walter Reed, grateful that it wasn't the paralyzing snow storm that was grounding holiday travelers and mail in Denver. We've been out here every Friday evening for the past 88 weeks to wave to the troops, their family members and staff who come and go from the hospital on Friday evening. This week, those who came and went were those who had to stay at the hospital over one of the most family-oriented holidays of the year. And as many of them told us, they were happy to see us on what could have been an uncertain start to the holiday weekend.

This thread will be a short one, owing to the holidays, for both the readers and the writer.
Our story is told in [Mrs] Trooprally's wonderful photos: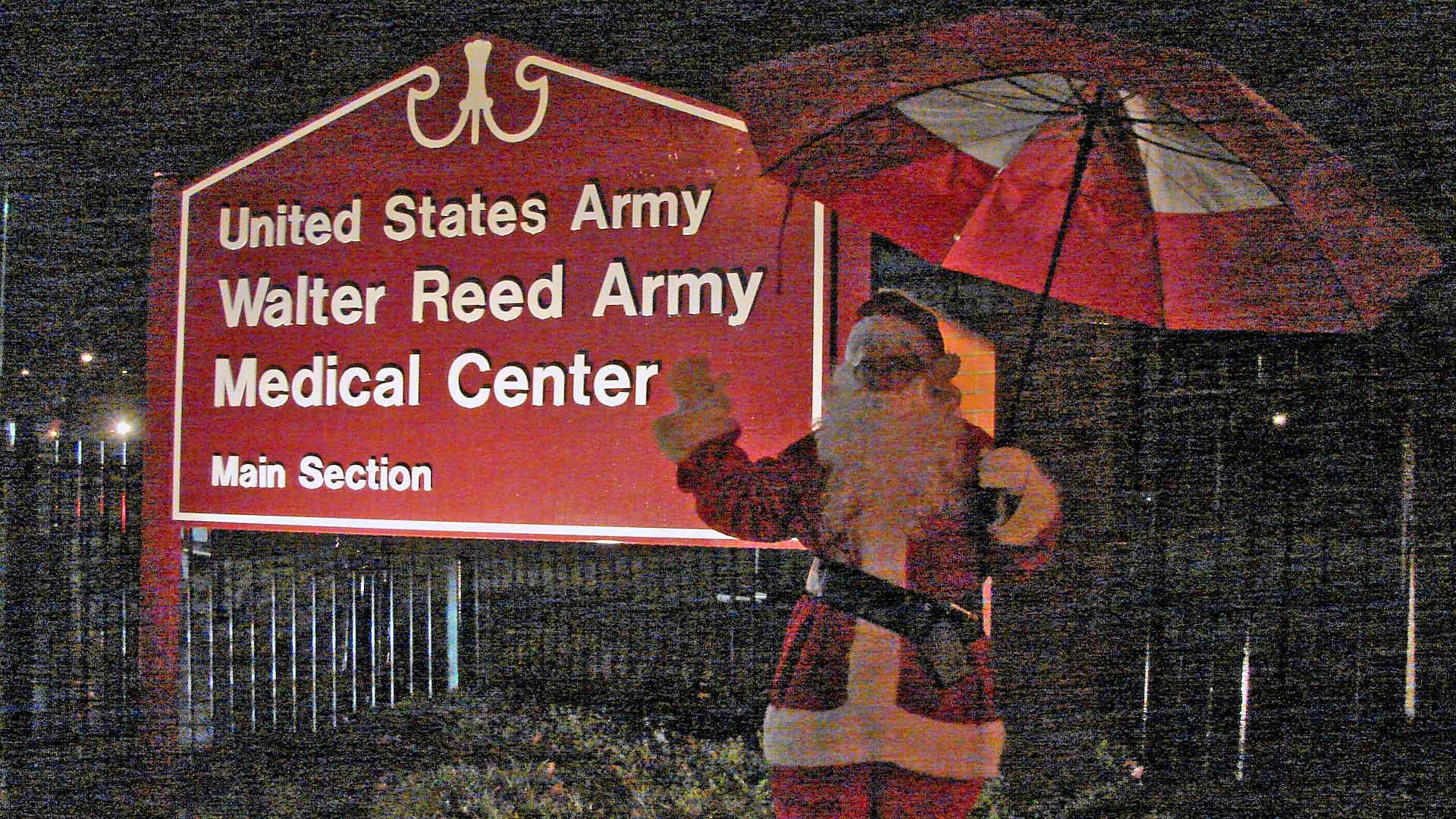 Even at the apex of his busiest season, Santa Claus sheltered from the rain under his matching umbrella to wave greetings to the troops.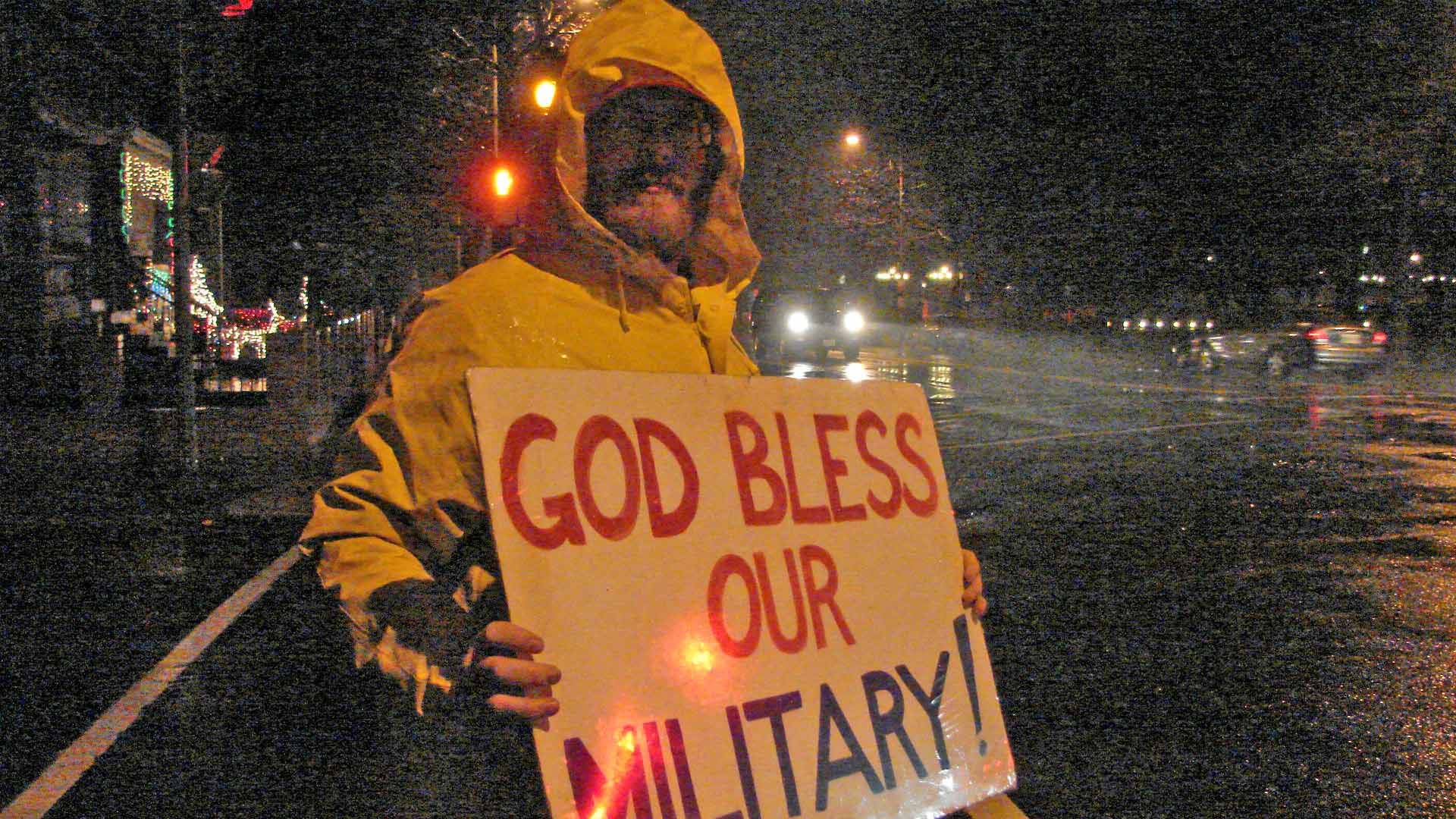 Fraxinus, against a backdrop of holiday lights on Georgia Avenue.
[Mr] Trooprally sports his Christmas present from [Mrs] Trooprally -- a waterproof rain suit -- perfect for the occasion.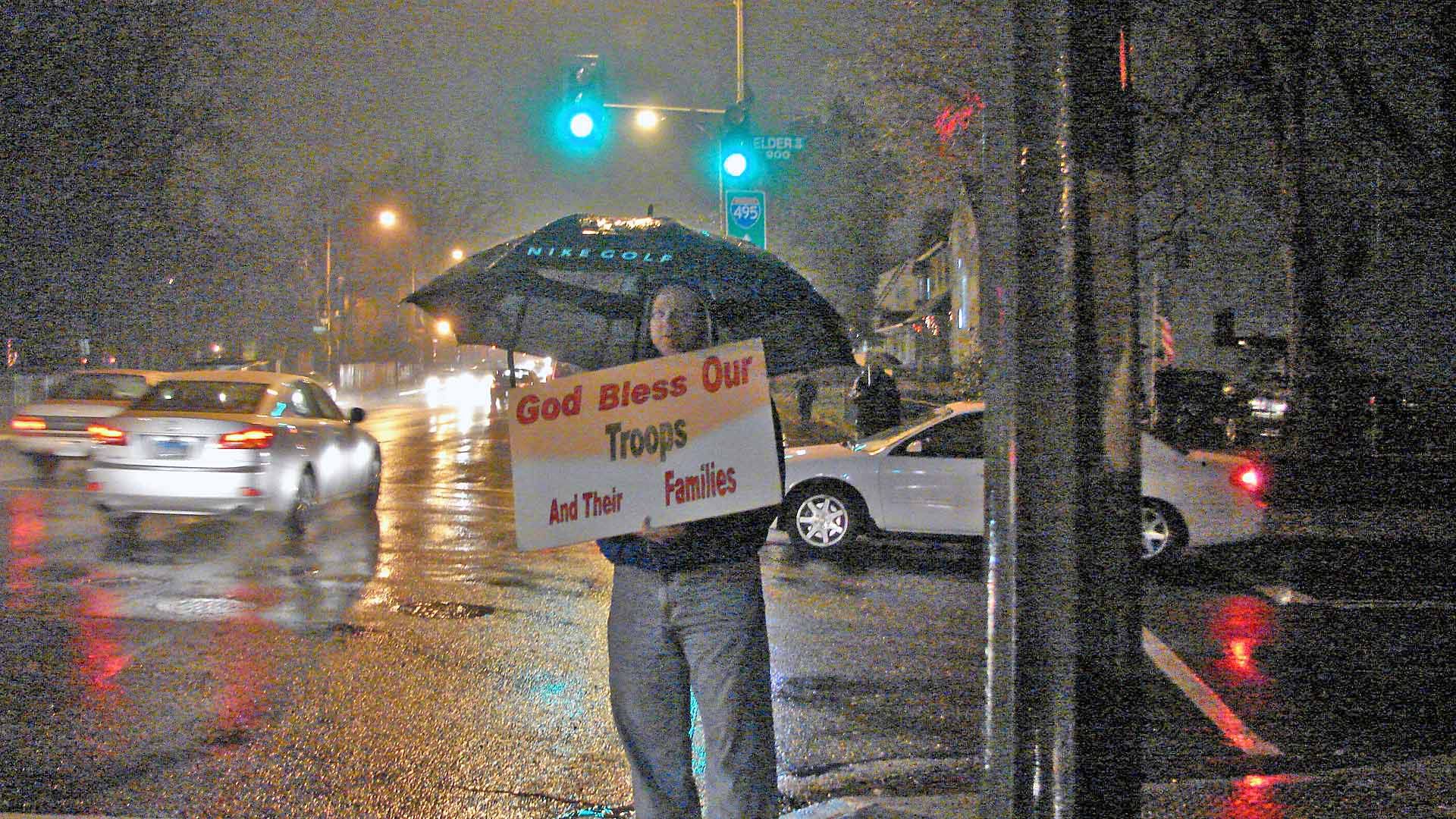 Stalwart lurker Bill from Maryland is still at his post on the southeast corner, rain or no rain.
Jimmy Valentine's Brother and 3D-Joy bring cheer, and Joy's patriotic bumbershoot, to the northeast corner.
From left, Jimmy Valentine's Brother is joined by Sensei Ern, who also does occasional stand-up comedy gigs for the troops at Walter Reed, and [Mr] Trooprally.
Like water off a duck's back: Doctor Raoul and Cindy-True-Supporter light up the southwest corner. Nice!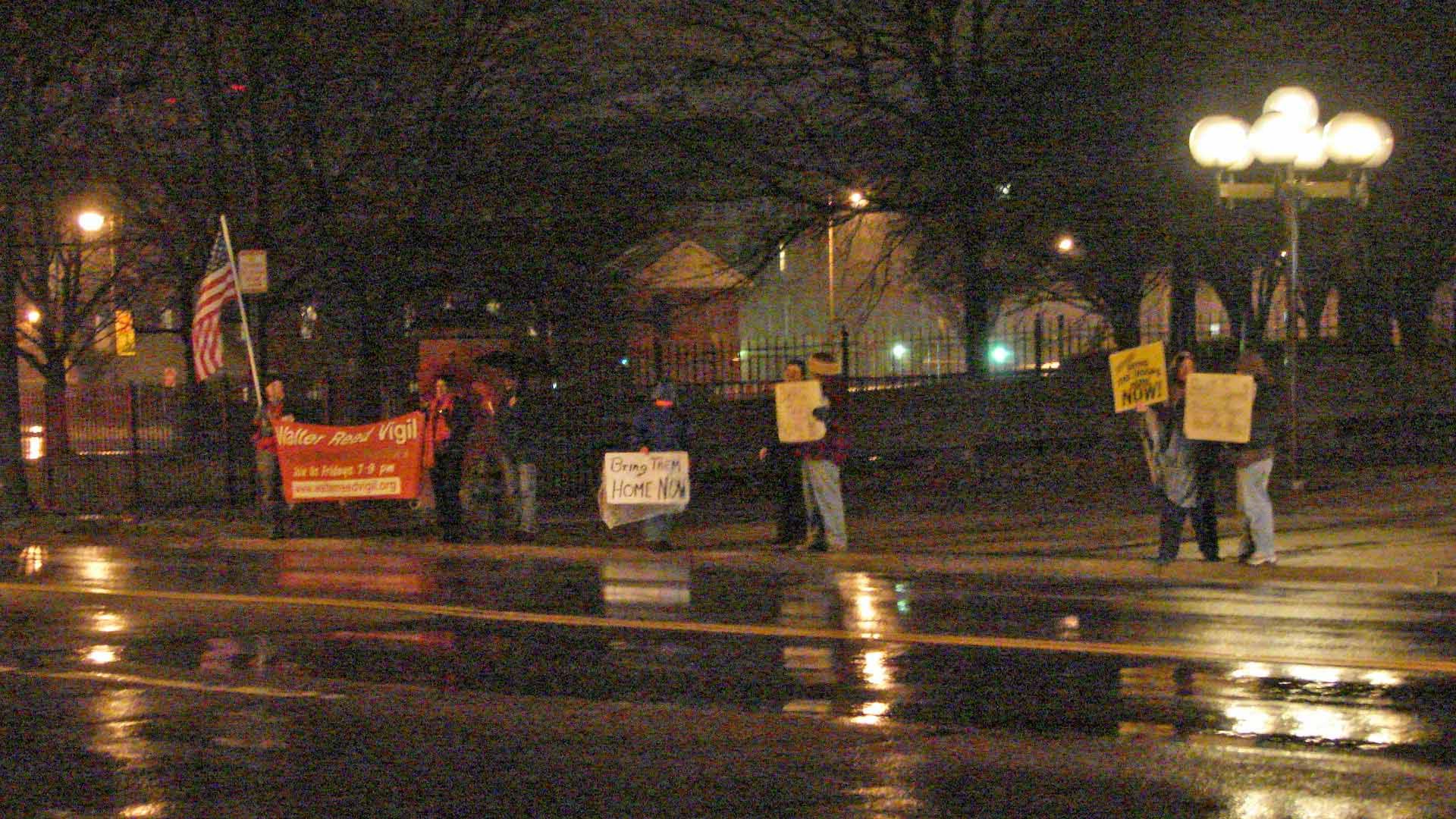 Naughty: Eight anti-war diehards display their usual whines at their ignominious outpost down the street. Later, they would drag one additional malcontent to their array of holiday gloom: their elderly, wheelchair-bound lady weighing approximately 85 pounds. Someone hand her a nice, fat turkey leg -- and get the rest of them a gallon of Christmas cheer!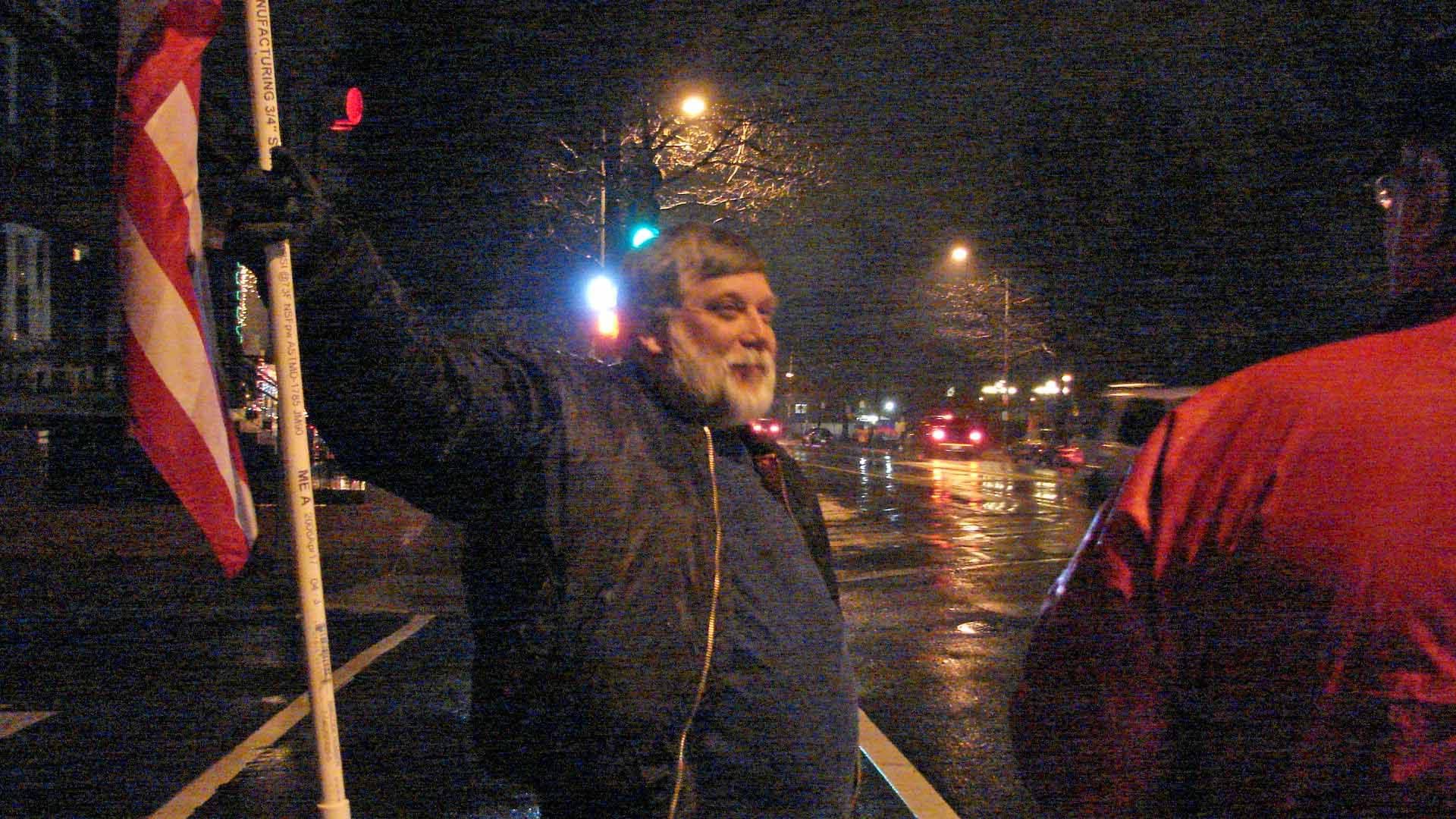 Doctor Raoul and Jimmy Valentine's Brother were just two of the fourteen nice FReepers who kept the naughty children away from the gates of Walter Reed this night. Here's the Honor Roll: Lurker Bill from MD; FReepers 3D-Joy, Cindy-True-Supporter, Doctor Raoul, Fraxinus, Jimmy Valentine's Brother, Just a Nobody, Kristinn, Plea Deal, tgslTakoma, Trooprally [Mr & Mrs], Sensei Ern and myself, Albion Wilde.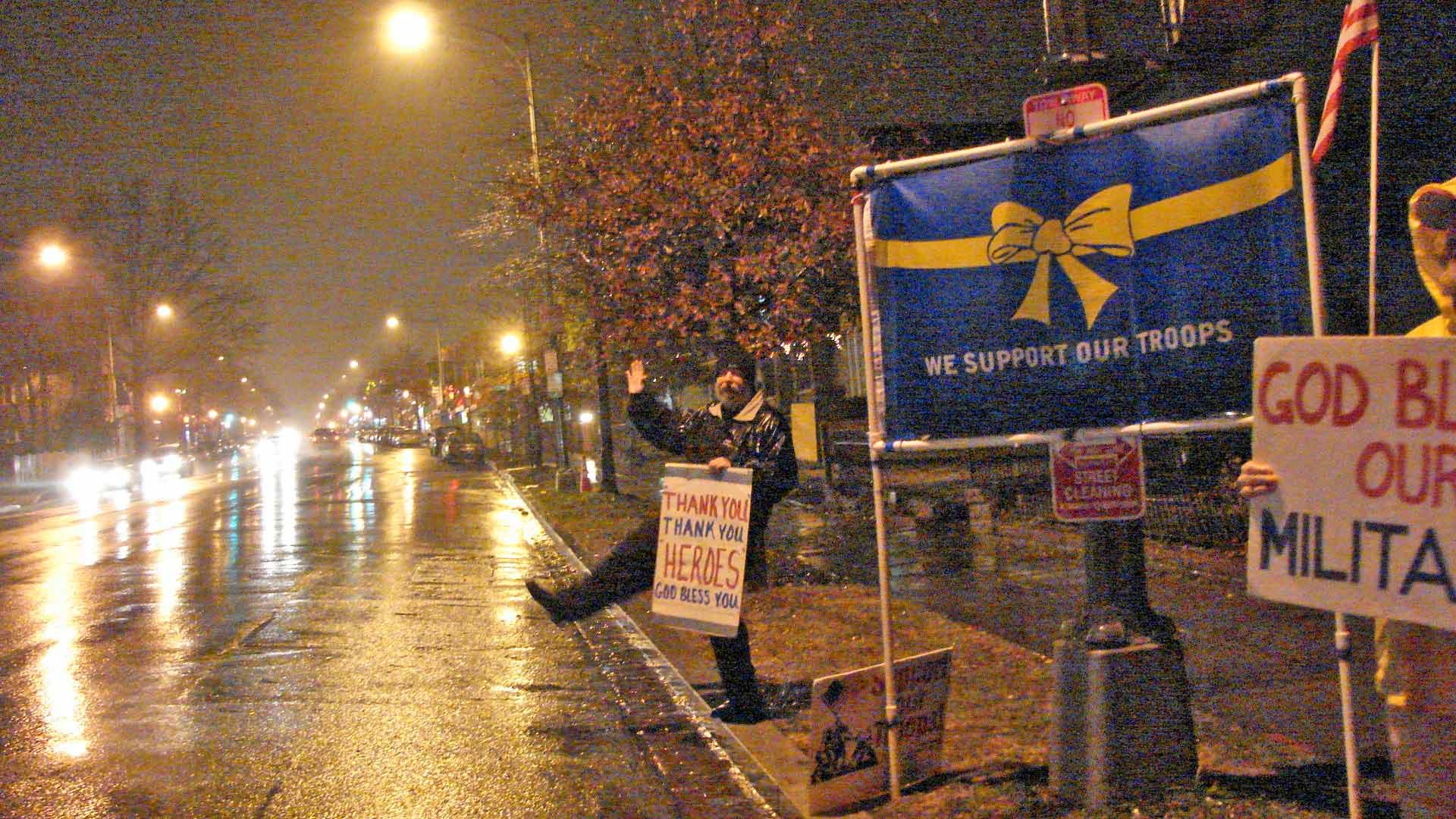 Santa's helper Kristinn demonstrates cheery holiday wavation.
Nice!
The DC Chapter wishes all our participants and readers a FReepin' wonderful 2007!
***
An archive of all Walter Reed FReeps by BufordP.
.
---
TOPICS: Activism/Chapters
KEYWORDS: dcchapter; dcchapterrocks; freep; thanksdcchapter; walterreed; waytogofreepers
---
Navigation: use the links below to view more comments.
first 1-50, 51-72 next last
---
---
---
---
---
---
---
---
---
---
---
---
---
---
---
---
---
---
---
---
---
---
---
---
---
---
---
---
---
---
---
---
---
---
---
---
---
---
---
---
---
---
---
---
---
---
---
---
---
---
---
Navigation: use the links below to view more comments.
first 1-50, 51-72 next last
---
---