---
Climate Change Finally Makes It To Olney: Weeks 197 & 198, Olney, MD 10-17 & 24 -09
Oct. 29,2009


Posted on 10/29/2009 4:58:19 PM PDT by trooprally

Climate Change finally made it to the Olney area, especially Week 197.

WEEK 197, Oct. 17,2009

Week 197's roll call in Olney of 9 Patriots includes Legionnaires Glenn (USMC, WWII), Dave (Army, WWII) and friend, Janet, Halsey (USMC, Korea), Carl (Army, Vietnam Era), Lurker Bill, Cindy_True_Supporter, [Mrs] Trooprally and myself.

Pictures this week are by [Mrs] T.

Moonbats: 1, and she left early.

But we couldn't blame her. Weather dropped into the 40s with rain on Friday and the rain and cold continued into Saturday. Dave had to stay in the car while Janet gave her time on the corner. Carl and Glenn also left a little early.

BELOW LEFT: Cindy_True_Supporter. BELOW RIGHT: Lurker Bill
BELOW LEFT: Janet, also standing in for Dave. BELOW RIGHT: Me on the right flank. Mud made the sidewalk slick. We also just put up our flanking flags.
BELOW LEFT: Dennis, Halsey, Glenn and Carl holding down our left flank. BELOW RIGHT: Halsey checking out the rain and thinking: "They call this bad weather? In Korea it rained so hard that it bounced off the frozen ground and went up our ponchos. At least those who had ponchos. And the mud, jeez, in Korea the mud .........."
BELOW: Lone Moonbat. I guess by just showing up is worth putting up her picture.
WEEK 198, Oct. 24,2009
Week 198's roll call was better than last week. Weather was only threatening rain and temps were at least in the 50s. Wind kept some of our banners packed away. Olney's 11 Patriots includes Legionnaires Glenn (USMC, WWII), Dave (Army, WWII) and friend, Janet, Halsey (USMC, Korea), Dennis (Army, Vietnam), Carl (Army, Vietnam Era), Lurker Bill, Cindy_True_Supporter, Fraxinus, GunsAreOK and myself.
Pictures this week are by me. [Mrs] T was out helping prepare for our niece's wedding.
Moonbats: 6
BELOW LEFT: Our corner with some banners and a lot of flags. BELOW RIGHT: Fraxinus and mud. Once the concrete sets sufficiently to erect the new traffic poles the new walk should be laid.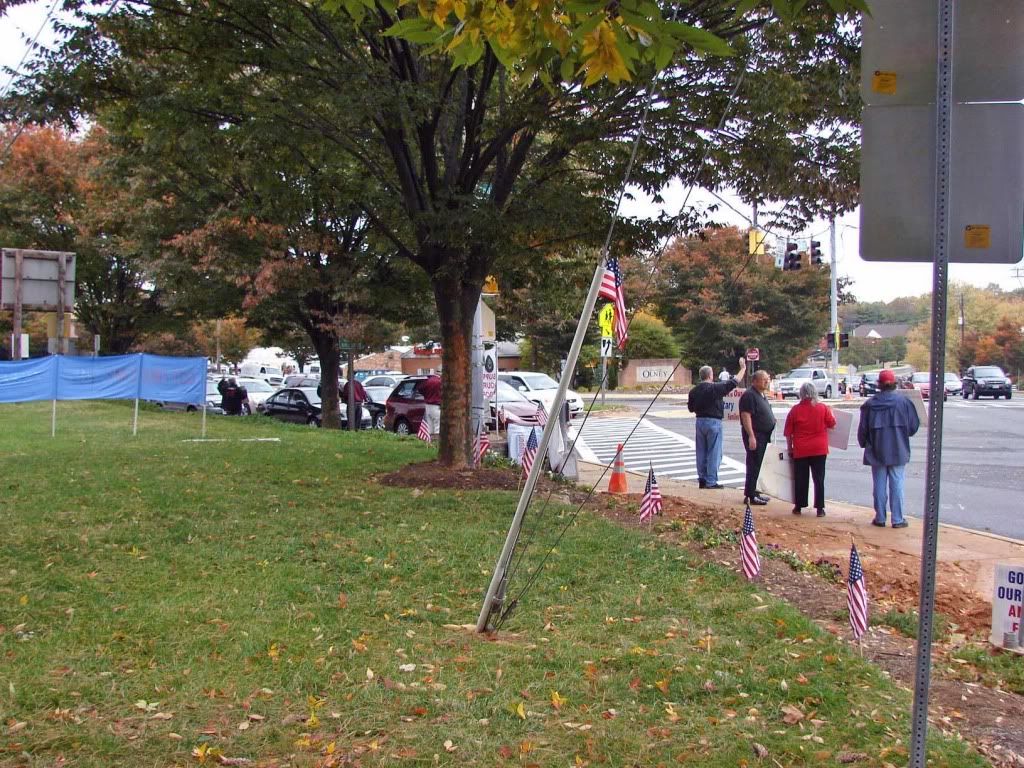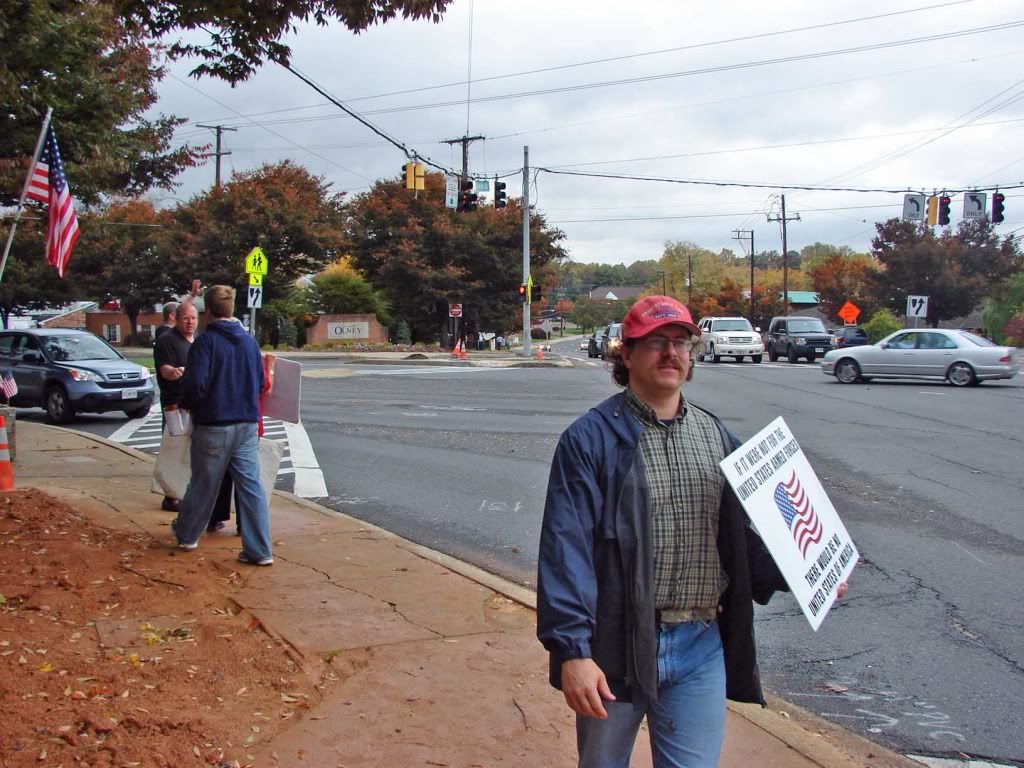 BELOW LEFT: Dennis, his singer soldier and Halsey. BELOW RIGHT: Dave, Glenn and Janet.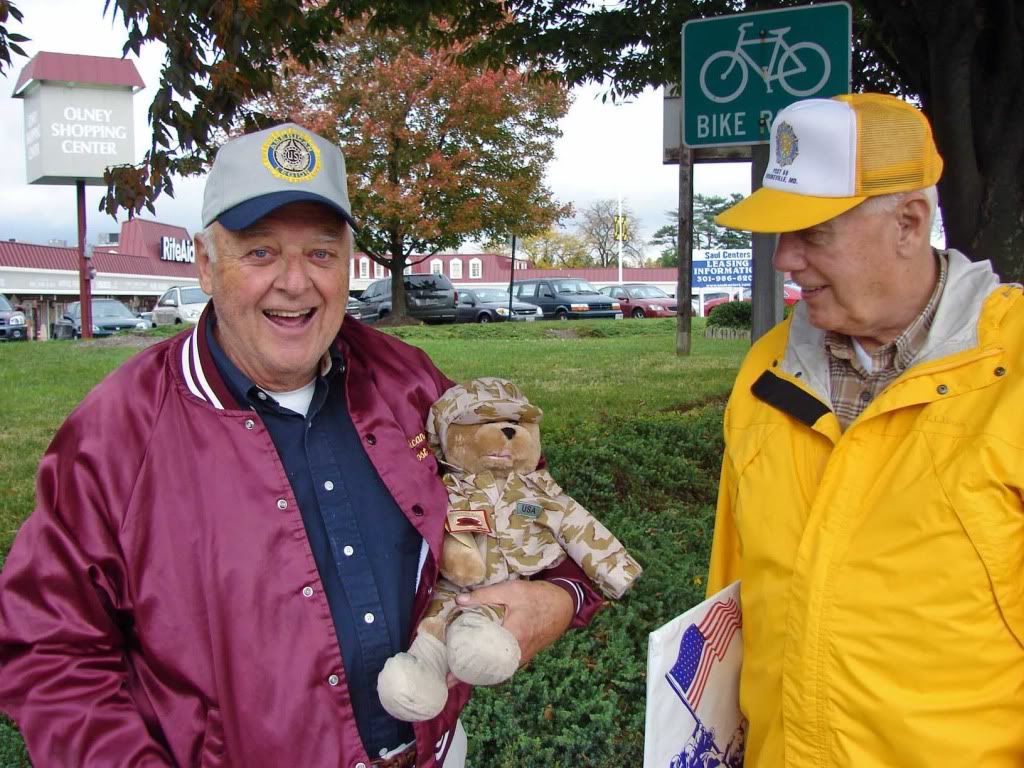 BELOW LEFT: Lurker Bill, Cindy_True_Supporter, Fraxinus and GunsAreOK. BELOW RIGHT: Halsey, Carl and Dennis.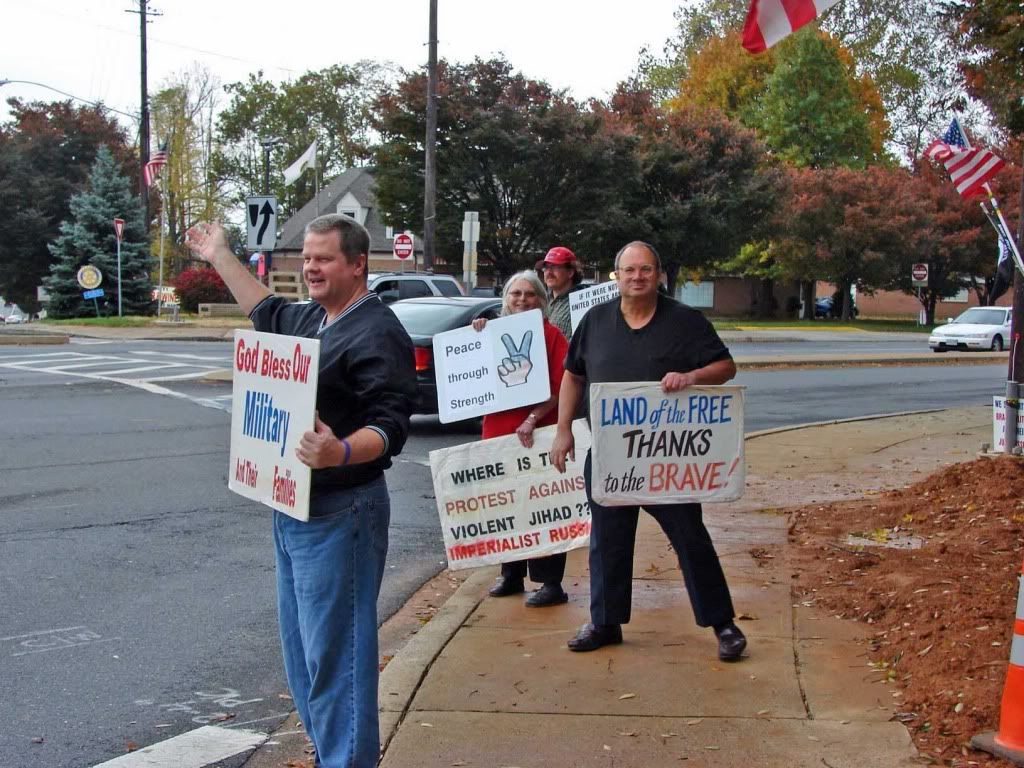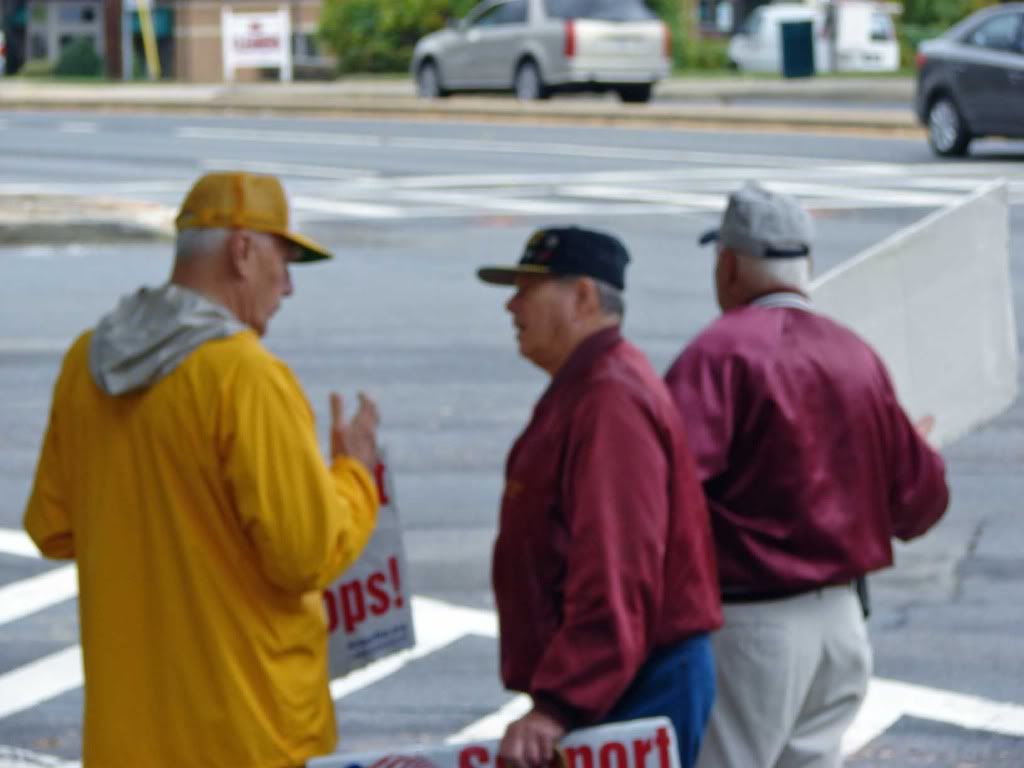 Weather kept us from taking any pictures of passing supporters but they were there. We even received several salutes.



WARNING TO FREEPERS ATTENDING OLNEY
Some new money making have been installed on north bound Georgia Avenue right before you enter the main business district. Slow your speed after the light at King William Drive.
And a new one has been placed just south of Brookeville, between Brookeville and the Longwood Community Center.




REMEMBER
Next Saturday, same place, Georgia Avenue, MD Rte. 97 and MD Rte. 108 in Olney
NEW TIME - 10:15 AM to 11:45 AM


As always, the D.C. Chapter's rules for protesting will be in effect. Briefly, they are: No violence, no profanity, no racism, no provocations, obey the law and treat all law enforcement officers with respect.
But a lot of verbal engagement in Olney is always welcome.

---
TOPICS: Activism/Chapters; Free Republic; US: Maryland; US: Virginia
KEYWORDS: mobilizingmothers; opinfinitefreep; peaceactionmc; quakers
---
Navigation: use the links below to view more comments.
first 1-20, 21 next last
---
---
---
---
---
---
---
---
---
---
---
---
---
---
---
---
---
---
---
---
---
Navigation: use the links below to view more comments.
first 1-20, 21 next last
---
---