---
PLAYING CATCH UP: Weeks 200 & 201, Olney, MD Nov. 07 & 14, 2009
Posted on 11/30/2009 5:10:48 PM PST by trooprally
Fall painting, raking leaves, winterizing the summer's motorized yard equipment, cutting and splitting firewood - then there's every day work if one has it, to pay the bills. And before I know it, the Olney AARs are 3 weeks behind. So here's the oldest two weeks. I have something special for Weeks 202 and 203 so they will be separate AARs.
Pictures for both weeks are by [Mrs] T.



WEEK 200, Nov. 07,2009


Roll call of this week's 11 patriots includes Legionnaires Glenn (WWII - Marines), Halsey (Korea - USMC), Dennis (Korea - Army), Carl (Vietnam - Army), Lurkers Bill and Ethel, and Cindy_True_Supporter, GunsAreOK, Kburi, [Mrs] Trooprally and myself
BELOW LEFT: Cindy_True_Supporter looking good in her sunglasses. BELOW RIGHT: Halsey with Glenn posing for [Mrs] T. A long time back Halsey had given [Mrs] T the nickname "Gunny". Now that our Marine son recently made gunny, she's proud of the nickname. For those adventurous types, our son took his oath half way down a repelling wall and was pinned when he got down.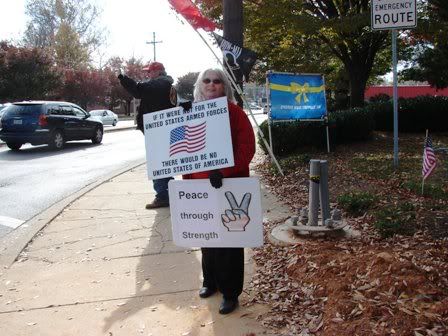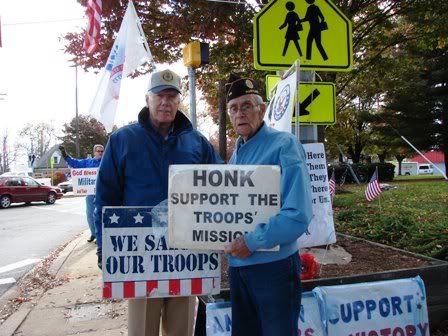 BELOW LEFT: GunsAreOK also posing for [Mrs] T. BELOW RIGHT: Halsey and Dennis with the Singing Soldier.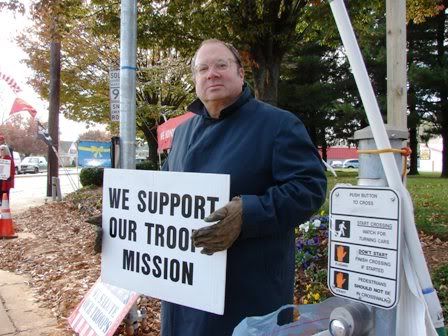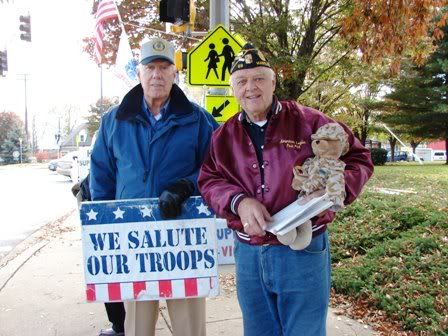 BELOW LEFT: Carl on our extreme left flank. BELOW RIGHT: Kburi and Halsey. As I've previously mentioned, Halsey does get around.
BELOW: Lurkers Bill and Ethel. That's Bill on the left :-))
That's me in the background. The flags are nicely unfurled.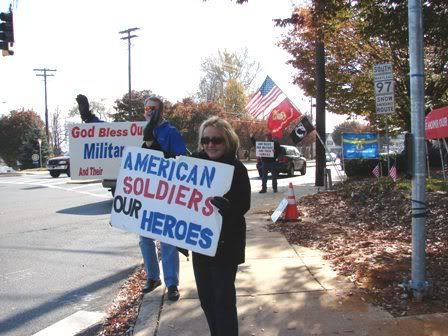 WEEK 201, Nov. 14,2009


It may have been wet this weekend, but we still had 10 patriots. In fact, we have had some real good numbers in November. Last week we had 11 and the following week we also had 11. And the Saturday after Thanksgiving we had 10 again. One advantage about being late in writing the AARs, I have 20-20 foresite.
Thank you to all those who come out and support our troops
Roll call of this week's 10 patriots includes Legionnaires Glenn (WWII - Marines), Dave (WWII - Army) and friend Janet, Halsey (Korea - USMC), Lurker Bill with Cindy_True_Supporter, GunsAreOK, Fraxinus, [Mrs] Trooprally and myself
BELOW LEFT: Legionnaires Glenn, Halsey, Dave and Janet, gather on our left flank. Janet has been given honorary member status. BELOW RIGHT: Legionnaire Carl missed the earlier gathering but made it to the left flank.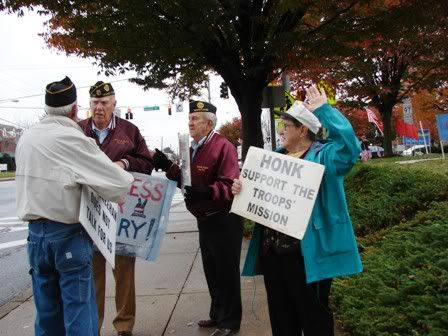 BELOW LEFT: Lurker Bill BELOW RIGHT: and Cindy_True_Supporter looking wet.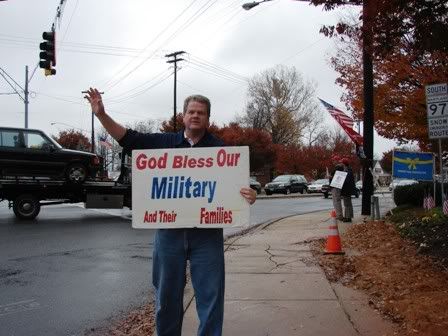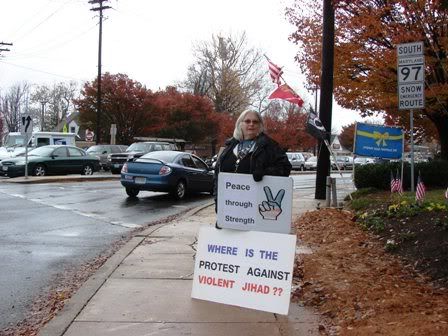 BELOW LEFT: GunsAreOK BELOW RIGHT: and me with Fraxinus.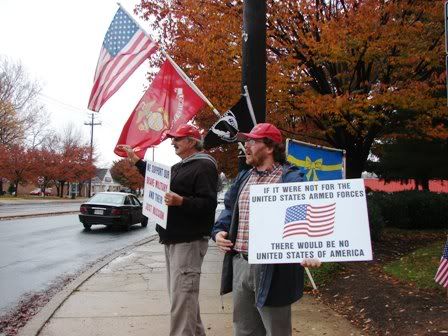 BELOW: Luckily we were packed up before these clouds made it over us. It poured on the way home.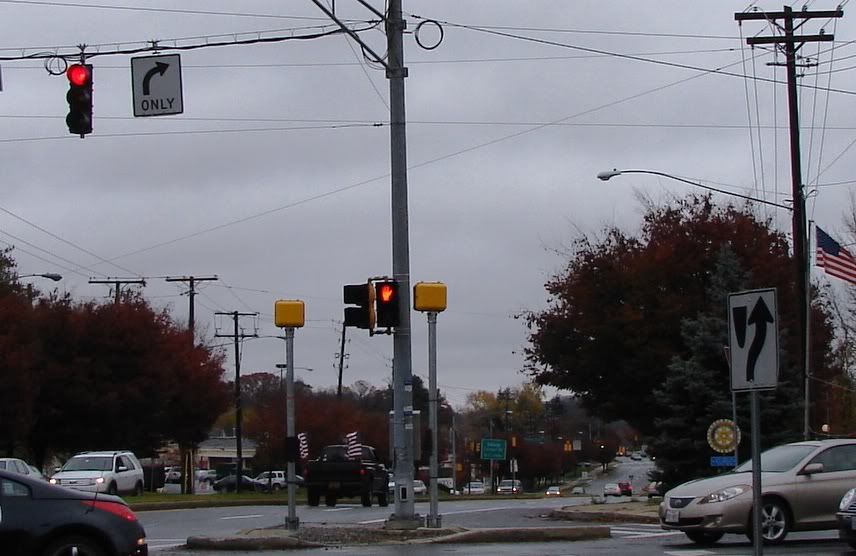 WARNING TO FREEPERS ATTENDING OLNEY
Some new money making have been installed on north bound Georgia Avenue right before you enter the main business district. Slow your speed after the light at King William Drive.
And a new one has been placed just south of Brookeville, between Brookeville and the Longwood Community Center.




REMEMBER
Next Saturday, same place, Georgia Avenue, MD Rte. 97 and MD Rte. 108 in Olney
NEW TIME - 10:15 AM to 11:45 AM


As always, the D.C. Chapter's rules for protesting will be in effect. Briefly, they are: No violence, no profanity, no racism, no provocations, obey the law and treat all law enforcement officers with respect.
But a lot of verbal engagement in Olney is always welcome.

---
TOPICS: Activism/Chapters; Free Republic; US: Maryland; US: Virginia
KEYWORDS: mobilizingmothers; opinfinitefreep; peaceactionmc; quakers

RE: Olney FReep -

If you live in northern VA and want a short cut to Olney See Post 39 Here. It's an easy 20 minute drive from the American Legion Bridge.

A special Thanks to a FReeper FRiend for enhancing the original plain type directions.

The Archive of Olney FReeps is here or in the LINKS section of Trooprally's ABOUT Page.

WEATHER UPDATES HERE.

---
To: 1 Olgoat; 103198; 10Ring; 11Bush; 1stbn27; 2ndClassCitizen; 2ndhandrose; 2SterlingConservatives; ...
Dc Chapter Master Ping List
2
posted on
11/30/2009 5:12:50 PM PST
by
trooprally
(Never Give Up - Never Give In - Remember Our Troops)
---
To: trooprally
Did the Quackers take the day off?
3
posted on
11/30/2009 7:02:28 PM PST
by
BufordP
("I've abandoned free market principles to save the free market ..." --George "Hoover" Bush)
---
To: Abundy; Albion Wilde; AlwaysFree; AnnaSASsyFR; bayliving; BFM; cindy-true-supporter; ...
4
posted on
12/01/2009 3:07:32 AM PST
by
Tolerance Sucks Rocks
(Don't eat your dog; eat obnoxious, liberal humans to save the planet!)
---
FreeRepublic.com is powered by software copyright 2000-2008 John Robinson