---
Happy Clinton Impeachment Day, 2010 (Impeachment is Forever)
Sunday, December 19, 2010 | Kristinn


Posted on 12/19/2010 8:36:52 AM PST by kristinn
Long before the Tea Party groups, Free Republic pioneered use of the Internet in grassroots political activism. Two years after its founding in 1996, Free Republic played a key role in the 1998 impeachment of President William Jefferson Clinton for perjury and obstruction of justice.
Free Republic organized two rallies in D.C. supporting Clinton's impeachment. The first was a four hour extravaganza that was carried live on C-SPAN and featured the vast right wing conspiracy: Jim Robinson, Rep. Bob Barr, Ann Coulter, Matt Drudge, Lucianne Goldberg, Alan Keyes, Larry Klayman and a host of 5,000 or so fellow conspirators.
The second was a smaller rally at the Capitol organized at the behest of then Rep. Barr.
Freepers started protesting in front of the White House every Saturday to educate the public about the rampant criminality and China-gate treason in the Clinton administration.
Freepers and other patriotic Americans around the country protested Clinton on the mid-term elections campaign trail.
The union goon beating of brother and sister Don and Teri Adams as they protested a Clinton fundraising appearance in Philadelphia, sparked the Free Republic 'March for Justice' held at the Washington Monument on October 31, 1998.
Here is a repost of parts of last year's Impeachment Day thread:
Founder of the D.C. Chapter of FreeRepublic.com, MrConfettiMan (who has since passed away) wrote his thoughts about the rally back then:
"Saturday, October 31st, The March for Justice
"I drove into Washington for the big event and ended up parking relatively close to the White House. As such, I decided to swing by the Lion's Den to see if there were any early morning freepers there. I recognized Libloather, a participant from our October 3rd White House protest, who is prominently featured in the March for Justice banners found on FR, as I was approaching. We spent a few minutes chatting about old times and then I moved on to the mall, the site of our history-making event.
"By the time I got there it was about 8:30AM and a small crowd of volunteers had gathered. By 9:00AM, we not only had more people than the anti-Starr rally last weekend, we had more flags than they had people. Let me say that again. It's three hours away from the start of our rally and we already had more flags than they had people. There's no denying it, we're good. Real good.
"As the morning wore on, one of the most exciting spectacles was all the people walking towards the event. Every time you took a look towards the Washington monument you'd see crowds of people with signs and banners walking toward the stage. It was great. They were like ants. Before the start of the event I'd run into just about every freeper who was at our October 3rd White House protest including lancer, Jack Aubrey, Marylander, Kathy, Aloyce, Siouxz, Chris P. and two guys from NJ (I'm sorry guys, your online moniker's fail me). I also met Highlander with his impressive "Impeach One for the Gipper" signs. (When I left the post-rally party, I took his signs with me and promised to try and restore them for a subsequent visit to a White House protest.)
"The highlight of the day were the speeches. They were amazing. I have to admit that I'm one of those people who is so filled with emotion that sometimes an inspiring rendition of the national anthem at a sporting event can bring me to tears. I lost count of how many times that happened during the March. Hearing the words from the speakers on stage, coupled with the cheers from the crowd, were just too much to handle on several occassions. I was filled with such a sense of joy and pride to be among all of you and to finally witness people taking a stand against the crisis we are facing. (You know, I've been telling my family for a couple of years now that I'm thinking about moving to a cave to get away from our dysfunctional society. It's sort of a joke but I get no joy from being around the general public anymore. I feel as if I'm surrounded by those from the polls who support Clinton and it disgusts me. Not so yesterday.)
"It's hard to pick a favorite speaker but I was literally amazed by Rejoice. If you thought her speech at the March was good, I wish you could've heard the words she spoke at the post-rally party. She is truly a gifted person with a wonderful message. I was also impressed, as always, with Bob Barr and Ambassador Keyes. I think it's an example of the worthiness of our cause (not to mention the hard work of CaL and the other organizers) that we were able to arrange such a fine lineup of speakers.
"As the rally was breaking up, Tinman told me he and some other freepers were going up to the White House to say hello to Clinton freeper-style and asked me to join them. Now the protests we've held thus far at the White House were successful but low key. We simply held our signs and marched back and forth interacting with tourists on occasion. This time was anything but low key. BettyBoop led us through several different protest chats and we made a lot of noise. The crowd of tourists just stood around and watched us in awe. It was great. We shouted "Fire the Liar", "Jail to the Chief" and many other slogans. It was another freeper moment for the archives.
"At the post-party rally, I was able to put faces to names for LurkerNoMore, Normally a Lurker and Curmudgeon. While there, Submareener was logged into FR from his laptop and was reading us some of the latest posts interjecting his own playful commentary once in a while. It was a nice opportunity to sit back and talk as a group about our feelings on the event and what we thought we should do next. I left earlier than I wanted to at around 9:30AM but I was simply too tired to stay any longer. (It's hard work being a burr in Clinton's behind.) I left knowing the world is a slightly better place because of what we did and knowing that I had a lot of new friends, who thanks to the FR and the 'net, I'd be able to talk to everyday.
"A big hearty thank you goes out to everybody involved in organizing the March for Justice!"
--------
A refresher course on the Ellen Rometsch strategy from Richard Poe:
Poe: Well, in many cases, these threats were made quite openly. For example, on February 8, 1998, with pressure mounting to impeach Bill Clinton, George Stephanopoulos appeared on ABC's This Week with Sam Donaldson and Cokie Roberts. Stephanopoulos had resigned as White House communications chief in 1996 and become an ABC news analyst. But he was still carrying the Clintons' water, as his next words made clear.
Stephanopoulos announced that the Clinton White House was planning what he called an "Ellen Rometsch" strategy. He explained that Rometsch was an East German spy who had managed to become John F. Kennedy's lover. According to Stephanopoulos, the Kennedy White House threatened to open up the FBI files and divulge embarrassing or incriminating information on anyone who attempted to blow the whistle on JFK's affair with Rometsch. If pressed to the wall, the Clinton White House would do likewise, said Stephanopoulos.
Sam Donaldson asked, "Are you suggesting for a moment that what they're beginning to say is that if you investigate this too much, we'll put all your dirty linen right on the table? Every member of the Senate? Every member of the press corps?" To which Stephanopoulos replied, "Absolutely. The president said he would never resign, and I think some around him are willing to take everyone down with him."
This was a clear threat, delivered openly, on national television. Through Stephanopoulos, the Clintons were warning Congress and the media to back off. The threat worked. David P. Schippers, who was Chief Investigative Counsel for the Clinton impeachment, reveals in his book Sell-Out that Republican leaders, from the get-go, had no intention of holding a proper impeachment trial or of convicting Bill Clinton. It was all a charade.
-------
I'll close with the full page color ad Freepers designed and placed in The Washington Times on February 11, 1999, the day before the Senate voted to let Clinton off the hook: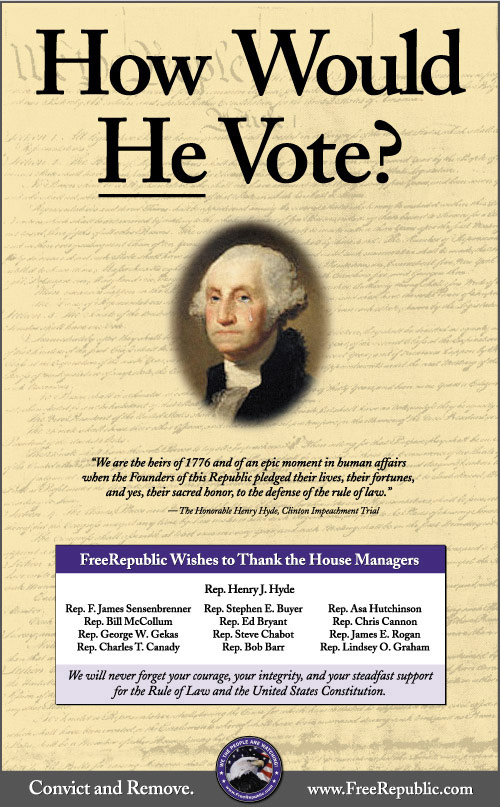 Image of ad courtesy of Varmint Al.

---
TOPICS: Breaking News; Crime/Corruption; Front Page News; News/Current Events
KEYWORDS: billclinton; impeachmentday
---
Navigation: use the links below to view more comments.
first 1-20, 21-40, 41-60, 61-71 next last
---
---
---
---
---
---
---
---
---
---
---
---
---
---
---
---
---
---
---
---
---
Navigation: use the links below to view more comments.
first 1-20, 21-40, 41-60, 61-71 next last
---
---