---
The Calm Before the Storm! Walter Reed - Week 308, March 11, 2011
March 13, 2011 | Kburi


Posted on 03/13/2011 10:15:33 AM PDT by kburi

The Storm: Next Friday night, a group calling themselves Iraq Veterans Against the War, have announced they will join the moonbats in front of Walter Reed. They are part of the Veterans For Peace Rally and Action at the White House on March 19. We are asking all Support the Troops patriots to join the DC Chapter of Free Republic next Friday, March 18, between 6:45 pm until shortly after 9:15 pm.

Mrs Trooprally sent the following after action report:
Walter Reed was certainly busy last night with cars arriving and leaving all night with lots of honks and waves. There must have been an event inside. On our side, VictoryNY and Tammycat kept the "support the troops" noise at a high level in front of Walter Reed. Tonight, the wind blowing across Georgia Ave was again a bother, but with April just ahead, we are almost over winter weather, note "almost".
We were joined for awhile by a wounded warrior, Devon. Devon is a paratrooper, who left Italy on an assignment to Afghanistan. While there, he was close to an IED when it exploded. The explosion affected his left side. He is recovering well and right now is looking for quiet time to fully recover. He talked with us about Afghanistan describing how inside the secured areas, Afghans were friendly, while outside secured bases, the Afghans weren't.

Tonight's conversation centered on next week's anti-war protest at Walter Reed, the 6th year anniversary at Walter Reed on April 8, and remembering all the colorful Freepers who have stood at Walter Reed over these past six years. We discussed how great it would be to see all of those, who can, return to stand with us on April 8th.
Two buses returned the wounded warriors and their families tonight from a restaurant on Capital Hill.
Again, we all thank Aleethia Foundation for coordinating the Friday night dinners and the restaurants who provide the meals.


Devon, soldier from Detroit, with VictoryNY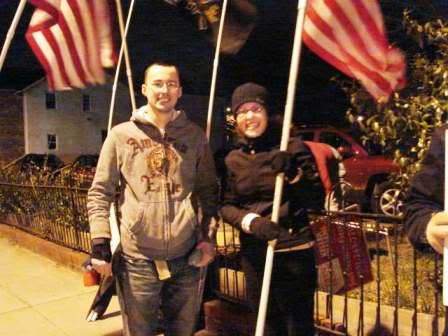 The countdown to the 6th Year Anniversary, or 312 consecutive Friday nights at Walter Reed, now begins in earnest. On April 8, week 312, we will be remembering all of the Freepers and patriotic groups who have made this support for the wounded warriors possible. If you can't come on the 8th, please come when you can.
---
Announcement of 6th Year Anniversary at Walter Reed (April 8, 2011):


On April 8, 2011, The DC Chapter of Free Republic will complete 6 years, or 312 consecutive Friday nights, at the Front Gates of Walter Reed. We invite all those Freepers who were here at the beginning, or those who have joined us periodically to join us on that night.
Without them, and there were many, we wouldn't have been able to make this strong statement of support for the wounded warriors and their families. We also invite all the visitors who have stopped by to also join us.
The DC Chapter of Free Republic asks all patriots, FReepers and non-FReepers who can join us on Friday, March 18, 2011, from 6:45pm, to shortly after 9pm to do so. Help Us Counter the Leftist IVAW at Walter Reed

This is how IVAW describes their vigil:
A weekly vigil to raise awareness within our community and the media that our injured soldiers are brought to Walter Reed Hospital and we must not forget them. Fund the wounded, not the war! (The right wingers will be out in force so let's support!)
The Vigil began in March 2005 following the second anniversary of the invasion and occupation of Iraq, and has continued every Friday evening regardless of rain, sun, snow, ice, or "right-wing hooligans."
---

Announcement:
OUR TROOPS STILL NEED YOUR SUPPORT, Sat. March 19, Wash. DC – Help Counter the Veterans for Peace Rally and Action at the White House.
The leftist groups, ANSWER, Code Pink, IVAW, and others of their ilk are still protesting against our troops. We need to continue supporting our troops and defending their honor. We need to be a voice for them. Our soldiers still need the support we gave them in March, 2007 during the Gathering of Eagles Rally.

WHERE: Washington, DC -- We have permitted FREEDOM PLAZA (Main gathering point) and the Arlington MEMORIAL CIRCLE (If the moonbats march to the Pentagon) WHEN: 11AM till we are no longer needed to support our troops.
MARK YOUR CALENDARS. More details to follow but we will have the Walter Reed MOAB, flags, banners, posters and hot drinks.
The moonbats will be gathering at Lafayette Park at noon and will protest in front of the White House after their speeches damning and disparaging our brave troops.

For further information, please email Trooprally.
________________________________________




HONOR ROLL for March 11, 2011

ToleranceSucksRocks, Mr. and Mrs Trooprally, ,CindyTrueSupporter, Lurker Bill, RonGKirby, Fraxinus, VictoryNY, Tammycat and wounded warrior visitor, Devon
---
Moonbat News

Four moonbats for the evening, Nothing to report.

---
FOOTNOTES
The DC Chapter invites you to join us every Friday night between the hours of 6:30pm to approximately 9:30pm.
---

If you can't get to D.C. to join us but would like to do something for the wounded, you can find a wealth of ideas by FReepmailing Tom the Redhunter, Cindy-True-Supporter, VAFlagwaver, or PleaDeal. Directions to our Walter Reed freep location from the Takoma metro station

BufordP's Walter Reed FReep archive



---
March 11, 2011, Photos, (courtesy of Mrs. Trooprally)
CindyTrueSupporter

Tammycat and VictoryNY - Generate Positive Reactions From Passing Cars
RonGKirby wearing Chickawsaw Nation Veterans Jacket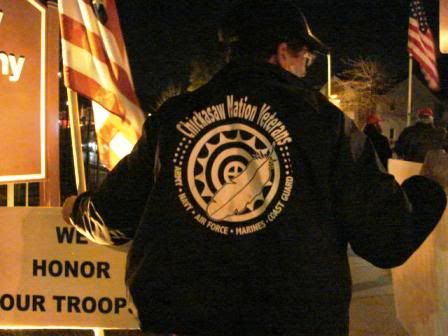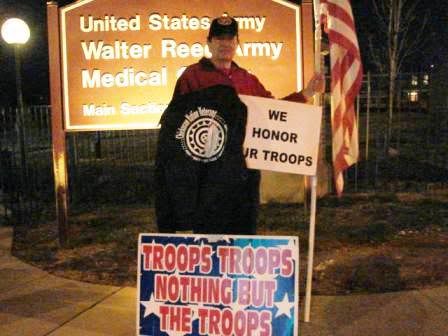 Trooprally and Fraxinus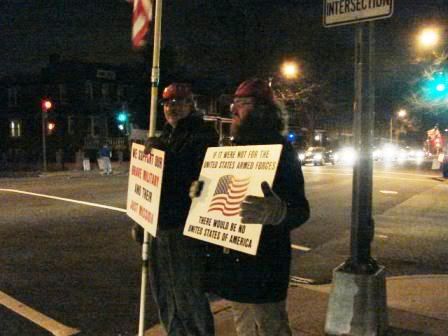 Lurker Bill
Devon Knows First Hand That…….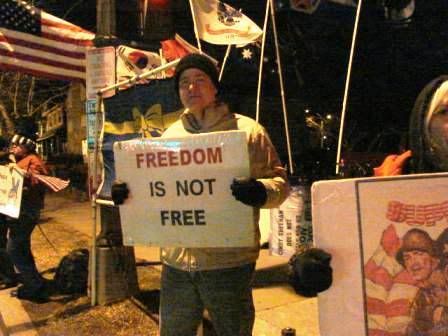 The Buses Roll In, Filled with Wounded Warriors and Their Families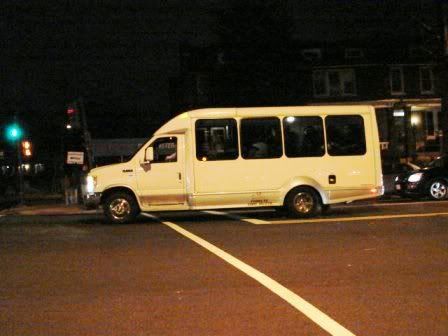 ---
TOPICS: Activism/Chapters; Free Republic; US: District of Columbia; US: Maryland; US: Virginia
KEYWORDS: aar; patriotism; rally; walterreed
---
---
---
---
---
---
---
---
---
---
---
---
---
---