---
---
To: neverdem
Bookmark
Bump

2
posted on
03/29/2011 6:43:05 PM PDT
by
Fiddlstix
(Warning! This Is A Subliminal Tagline! Read it at your own risk!(Presented by TagLines R US))
---
To: neverdem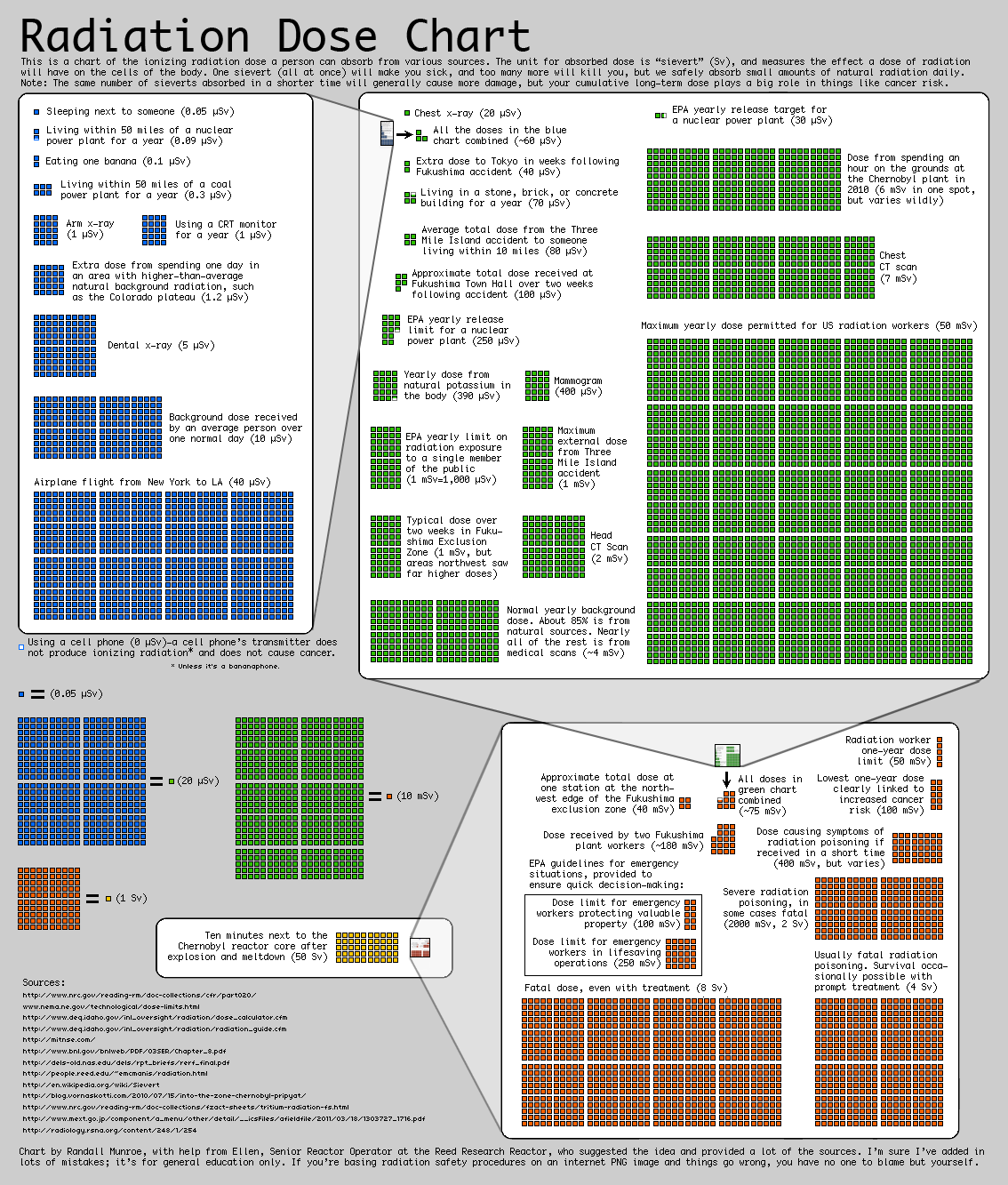 3
posted on
03/29/2011 6:47:11 PM PDT
by
Jack Hydrazine
(It's the end of the world as we know it and I feel fine!)
---
To: neverdem
Curie was a woman, Becquerel was a man. It's blatant sexism.
Celsius was a Euro, Fahrenheit and Rankine and Kelvin were Englishmen.
REM wasn't named after anyone, so they picked the Englishman Grey, but this was dumped for the Euro Sievert.
It's all class warfare, bigotry, and victimhood! /s
---
To: neverdem
There's one major measure: 450-550 Roentgens yields a 50% fatality rate*. You are free to convert that to whatever scale you'd like.
*US Navy NBC Warfare Defense Basic Course

---
To: neverdem
FOund on another website
becquerels
The International system of units uses the becquerel.
One Bq is defined as the activity of a quantity of radioactive material in which one nucleus decays per second.
The Bq is used rather than the second for the unit of activity measure to avoid dangerous mistakes: a measurement in becquerels is proportional to activity, and thus a more dangerous source of radiation gives a higher reading.
A measurement in seconds is inversely proportional. This 'activity' varies over time, half-life and all that.
millisievert defined (ya, real helpful)
A unit of ionizing radiation absorbed dose equivalent in the International System of Units, obtained as a product of the absorbed dose measure in grays and a dimensionless factor, stipulated by the International Commission on Radiological Protection, and indicating the biological effectiveness of the radiation.
grays defined
Unit of absorbed radiation dose of ionizing radiation (for example, X-rays), and is defined as the absorption of one joule of ionizing radiation by one kilogram of matter (usually human tissue).
Huh?
(money quote) For X-rays and gamma rays, these are the same units as the sievert (Sv). To avoid any risk of confusion between the absorbed dose (by matter) and the equivalent dose (by biological tissues), one must use the corresponding special units, namely:
the gray instead of the joule per kilogram for absorbed dose and
the sievert instead of the joule per kilogram for the dose equivalent (ie radiation exposure in living things, like you). The word "gray" is both the singular and plural spelling.
In (US) English please!
The unit gray measures absorbed radiation which is absorbed into any material.
The unit sievert specifically measures absorbed radiation which is absorbed by a person.
OK, now just WTF does this mean?
The rem and millirem (abbreviated mrem), are in wider use among the general public, many industries, and government here in the US.
Sieverts, as measured in the United States in "rem"
• 1 rem = 0.01 Sv = 10 mSv
• 1 mrem = 0.00001 Sv = 0.01 mSv = 10 μSv
• 1 Sv = 100 rem = 100,000 mrem (or millirem)
• 1 mSv = 100 mrem = 0.1 rem
• 1 μSv = 0.1 mrem

I have to admit, I had never heard of a becquerel. Thought I would pass this along, in the US we don't normally see SI or metric measurements in the news.
Now, go drink your milk.

8
posted on
03/29/2011 7:52:41 PM PDT
by
ASOC
(What are you doing now that Mexico has become OUR Chechnya?)
---
FreeRepublic.com is powered by software copyright 2000-2008 John Robinson