---
Heading into the Last Week at Walter Reed - Week 331 August 19, 2011
August 19, 2011 | Kburi


Posted on 08/24/2011 7:34:19 AM PDT by kburi
A good evening to be at Walter Reed's front gates. There were no ambulances tonight , nor were there dinner buses.
But there were soldiers coming and going through the front gates all night.
Cars passing gave us many honks with passengers waving. Not to be left out, three people on bicycles rode by ringing their bells!


The weather looked threatening, dark clouds loomed and distant lightning was putting on an impressive show.

Ponchos and raingear were donned. The DC Chapter was ready.

Five minutes of rain and it was over. Nobody complained.

Pizza, soda, and brownies (by Jessica) provided the right touch for tonight. Next Friday will be the last week we gather to support the wounded warriors and their families, and insure that the anti-military moonbats are kept away from the front gates.








To see After Action Reports beginning in March 2005, please check BufordP's Walter Reed Freep Archives :

BufordP's Walter Reed FReep archive
---
August Calendar For the Walter Reed Transition

The DC Chapter of Free Republic invites all who have participated over the past 6 ½ years to join us.

August 26 – The Last Friday Evening



---

Final Plans for LAST Rally in Support of Walter Reed's Patients Move,

Sunday, August 28, 2011, 7AM til done

Posted on Sunday, August 21, 2011 6:13:36 PM by trooprally

It is public knowledge that the final move of our Wounded Warriors from Walter Reed to Bethesda Naval Hospital and Ft. Belvour will be Sunday, August 28, 2011.

Best intel we have is that the ambulances will start transporting our Wounded Warriors out of the main at Georgia Avenue and Elder Street, NW, gate at 7AM.

This is the same gate as our Friday night support the troop rallies.

THE DC CHAPTER OF FREE REPUBLIC WILL BE THERE, rain or shine or hurricane. All patriots are invited to help show our Wounded Warriors and their families that they are loved and that we support them no matter where they are. The DC Chapter will have drinks and coffee for the real early birds.

We will have munchies, but lunch is on your own.



We will be asking patriots to help out in 2 hour shifts, 7-9AM, 9-11AM, 11AM til ?? - Just in case the ambulances run a little later than expected, hopefully you can stay.
With some coordination we can be assured there are sufficient numbers showing our support through out the move.

Contact Phil, aka Trooprally on FReeRepublic.com, at trooprally@yahoo.com.



Feel free to post this notice on blogs and inform other patriotic groups to join us. Please contact us at Trooprally@yahoo.com
---
---
FReepers, Lurkers and Visitors on August 19, 2011
Mr. and Mrs Trooprally, CindyTrueSupporter, Fraxinus, RonGKirby, TammyCat, Lurkers Allie, Bill, Bryan, Jessica, Jim and Terry. Visitors Elizabeth and Peter.


---
Moonbat News

Two moonbats tonight. Joined by 4 more. All left promptly at 9 pm.
---
---
FOOTNOTES
The DC Chapter invites you to join us for the last Friday night, August 26, between the hours of 6:30pm to approximately 9:30pm. And we will be at the front gates until the last wounded warrior has been transferred So the clock is ticking and we would be honored to have you join us before these long term consecutive Friday evening rallies come to a close.
---

If you can't get to D.C. to join us but would like to do something for the wounded, you can find a wealth of ideas by FReepmailing Cindy-True-Supporter,

Directions to our Walter Reed freep location from the Takoma metro station

BufordP's Walter Reed FReep archive



---
August 19, 2011 Photos, (courtesy of Mrs. Trooprally)
Trooprally, Jessica – Dark Clouds Down the Street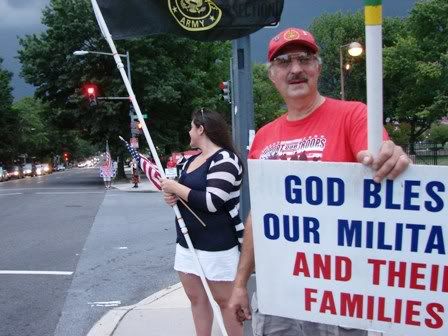 Allie and Bryan - Is It Going to Rain?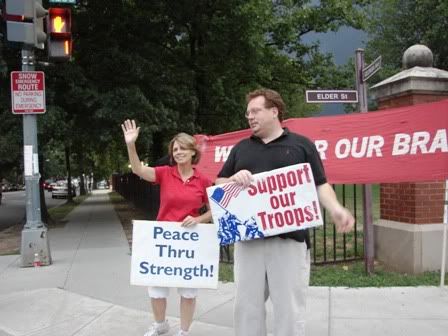 RonGKirby and Terry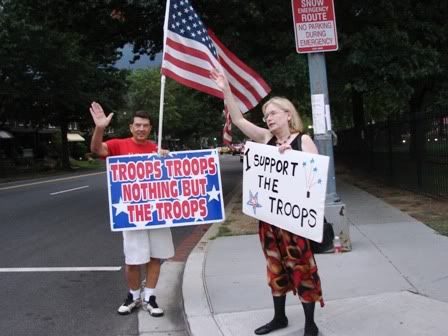 TammyCat, Jim and Fraxinus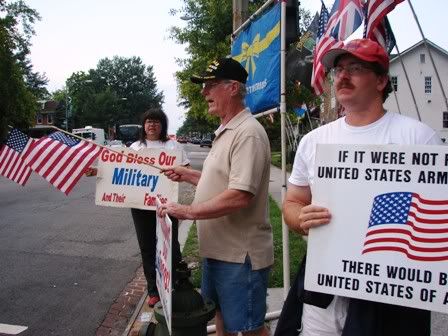 Lurker Bill





Elizabeth and CindyTrueSupporter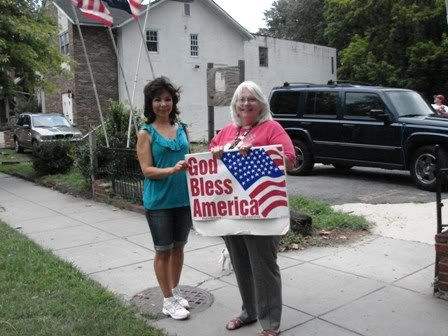 Peter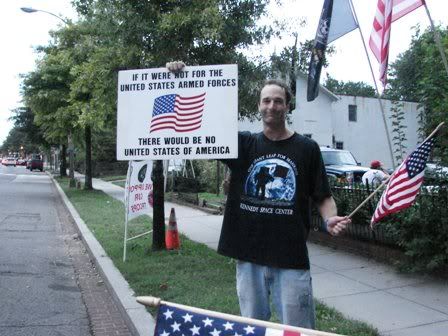 Finally! The Storm Hits

TammyCat and Allie - Standing Tall in the Storm

---
TOPICS: Activism/Chapters; US: Maryland; US: Virginia
KEYWORDS: aar; military; rally; walterreed
---
---
---
---
---
---
---