~ The FReeper Canteen Presents ~
~ Remembering Our Troops!! ~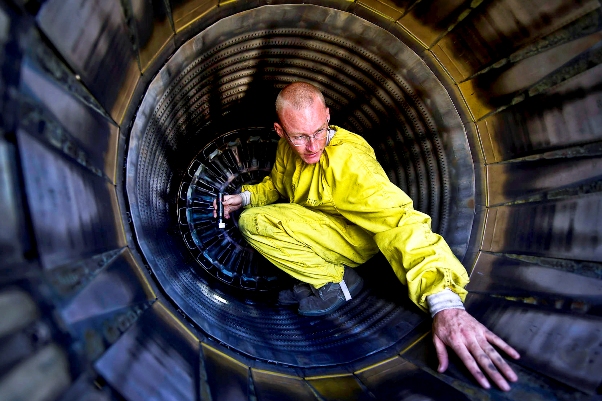 EXHAUST INSPECTION
U.S. Air Force Staff Sgt. Greg Penrod performs an exhaust inspection on an F-16 Fighting Falcon during Red Flag-Alaska 12-2 on Eielson Air Force Base, Alaska, June 14, 2012. Penrod, a crew chief, is assigned to the 20th Aircraft Maintenance Squadron, Shaw Air Force Base, S.C. U.S. Air Force photo by Tech. Sgt. Michael R. Holzworth







Canteen Mission Statement
Showing support and boosting the morale of
our military and our allies' military
and family members of the above.
Honoring those who have served before.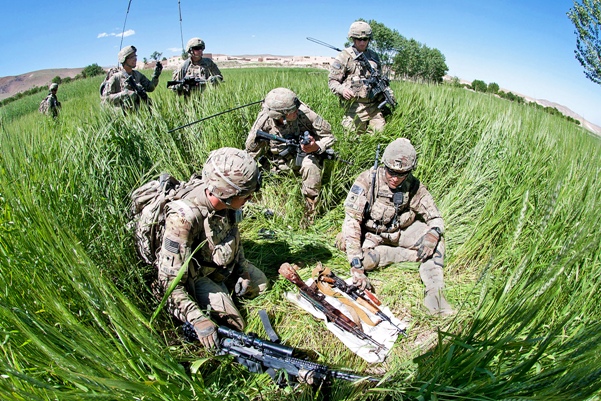 CACHE DISCOVERED
U.S. Army paratroopers discover a weapons cache while sweeping a remote mountain village in Afghanistan's Ghazni province, June 3, 2012. The soldiers are assigned to the 82nd Airborne Division's 1st Brigade Combat Team. The village is a suspected Taliban safe haven. U.S. Army photo by Sgt. Michael J. MacLeod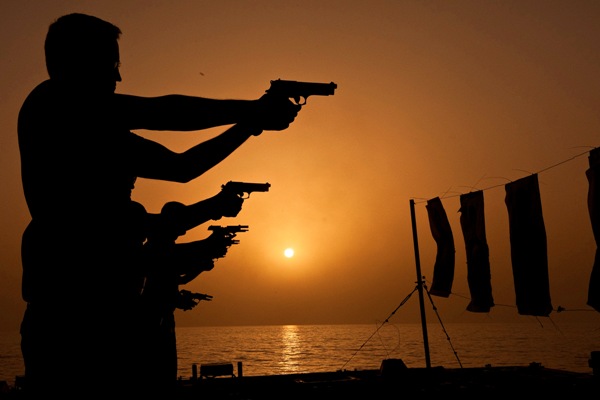 WEAPONS TRAINING
U.S. Navy sailors fire M9 service pistols during small weapons training aboard the guided-missile destroyer USS Nitze in the Gulf of Aden, June 9, 2012. The Nitze is deployed as part of the Enterprise Carrier Strike Group to the U.S. 5th Fleet area of responsibility conducting maritime security operations, theater security cooperation efforts and support missions as part of Operation Enduring Freedom. U.S. Navy photo by Petty Officer 3rd Class Jeff Atherton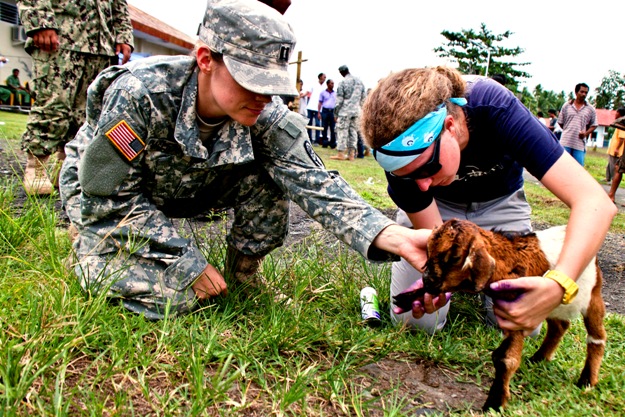 CAPTAIN'S KID
U.S. Army Capt. Shannon McLean and Helle Hydeskov, a World Vets volunteer veterinarian, examine a baby goat's leg as part of a veterinary civic action project during Pacific Partnership 2012 in Sangihe, Indonesia, June 11, 2012. Now in its seventh year, Pacific Partnership is an annual U.S. Pacific Fleet humanitarian and civil assistance mission hosted by U.S. military, partner nations, non-governmental organizations and international agencies designed to build stronger relationships. U.S. Navy photo by Camelia Montoy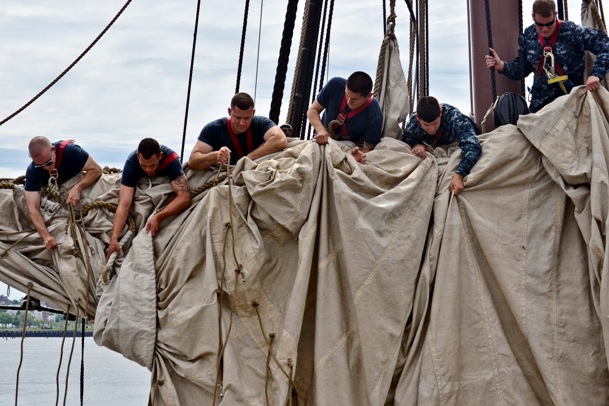 MIZZEN MAST MUSCLE
Sailors handle the topsail on the mizzen mast of the USS Constitution during sail training in Charlestown, Mass., June 11, 2012. Sailors assigned to the ship routinely work to improve their seamanship skills in preparation for sailing the ship in honor of the bicentennial anniversary of the War of 1812. U.S. Navy photo by Seaman Michael Achterling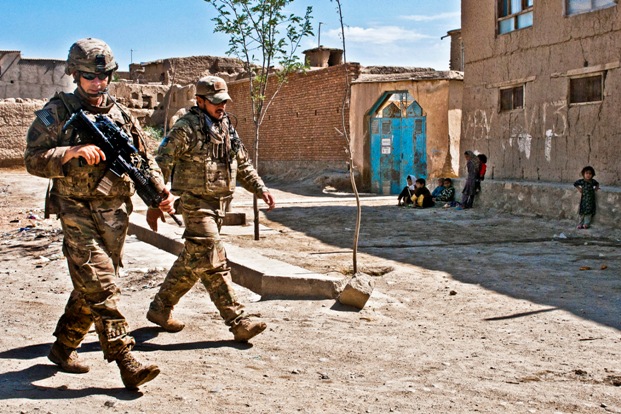 PARWAN PATROL
Afghan children watch as U.S. Air Force Tech. Sgt. Dale Spencer, left, patrols with his interpreter, Alex, through Nowdeh village near Bagram Air Base in Afghanistan's Parwan province, June 6, 2012. Spencer is assigned to the 455th Air Expeditionary Wing. The unit's mission is to ensure all areas within a roughly 10-mile radius of the airfield are secure for air traffic. U.S. Army photo by Sgt. Ken Scar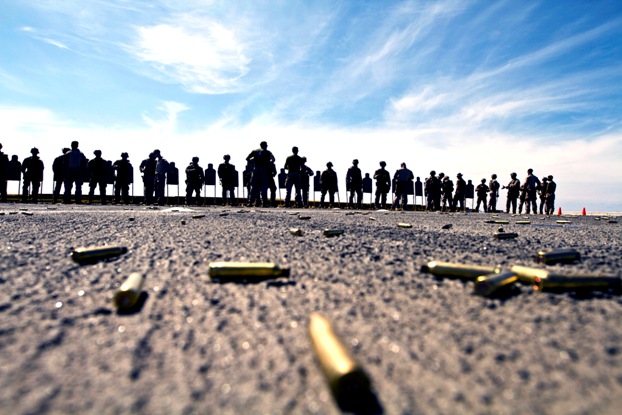 LIVE FIRE TRAINING
U.S. Marines participate in live-fire training aboard USS New Orleans under way in the Pacific Ocean, June 8, 2012. The Marines are assigned to the 11th Marine Expeditionary Unit's maritime raid force. U.S. Marine Corps photo by Cpl. Ryan Carpenter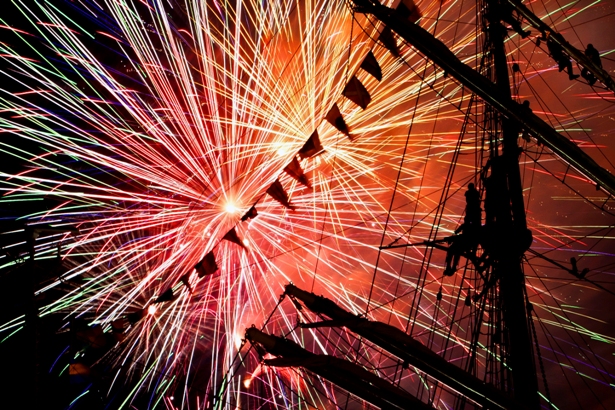 EAGLE NEST'S VIEW
Crewmembers aboard the Coast Guard Cutter Eagle watch fireworks during Operation Sail 2012 in Norfolk, Va., June 9, 2012. Operation Sail 2012 Virginia is commemorating the bicentennial anniversary of the War of 1812. U.S. Navy photo by Petty Officer 2nd Class Walter Shinn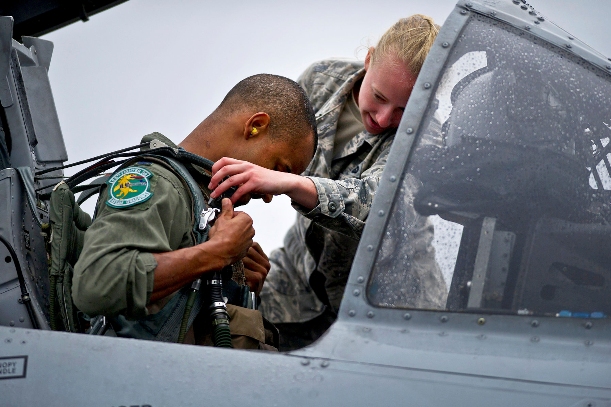 RED FLAG FLIGHT
U.S. Air Force Airman 1st Class Sarah Sagers helps U.S. Air Force Capt. James Flagg get strapped into an A-10 Thunderbolt II before departing for a combat training mission during Red Flag-Alaska 12-2 on Eielson Air Force Base, Alaska, June 12, 2012. Sagers, a crew chief, is assigned to the 51st Aircraft Maintenance Squadron and Flagg, a pilot, is assigned to the 25th Fighter Squadron. U.S. Air Force photo by Tech. Sgt. Michael R. Holzworth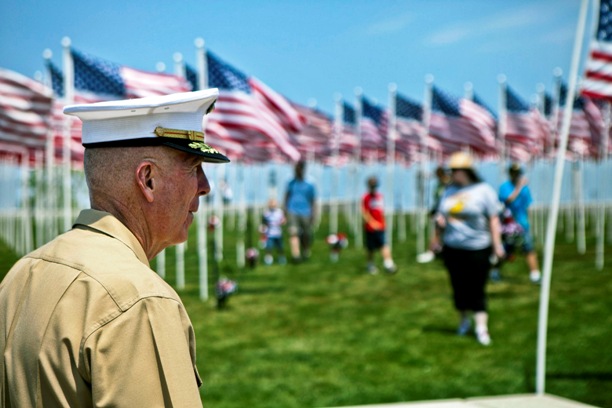 MEMORIAL MOMENT
Marine Corps Lt. Gen. Steven A. Hummer, commander of Marine Forces Reserve and Marine Forces North, gazes upon American flags at Voinovich Park in Cleveland, June 12, 2012. More than 400 flags have been placed in the park as part of a static display in honor of Ohio service members during Marine Week Cleveland. U.S. Marine Corps photo by Cpl. Marcin Platek

Please remember that The Canteen is here to support
and entertain our troops and veterans and their families,
and is family friendly.