~ Hall of Heroes ~

Berlin Airlift, Part 2: Operations
All info and photos from this website.
Lt. Gen. William H. Tunner: directed Berlin Airlift operation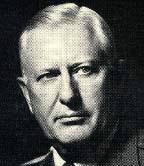 A native of New Jersey and son of an immigrant father, General Tunner was awarded an appointment to West Point upon his graduation from Roselle High School. He was one of 77 cadets in his West Point graduating class who chose flying as his military career. He joined an Air Force which had literally no transport aircraft and no airlift strategy, planning or capacity. During his career which spanned two wars, he created the Ferrying Command which flew new aircraft to our allies in Europe and the Middle East, and developed the Air Transport Command in its famous Hump operation over the Himalayas to China. We honor him in the Air Cargo Hall of Fame for his outstanding performance in command of the Berlin airlift which established the cargo airplane as an effective freight mover in an unprecedented demonstration of efficiency and productivity. For 13 months, the aircraft under his planning and direction supplied an isolated Berlin- a city under siege- with every product necessary to keep the city and its more than a million inhabitants alive. Coal, heating oil, medicines, food and necessary supplies were airlifted into Berlin in an endless stream of transport aircraft operating at 2 minute intervals day and night in every kind of weather. The Berlin Airlift was a live demonstration on the future of the Air Cargo Industry.
BLACK FRIDAY
Tunner assumed command of airlift operations on July 28, 1948. The airlift had been operating for just over a month. One of the first major changes he made came as a result of "Black Friday". On Friday, August 13, Tunner flew into Berlin to grant an award to Lt. Paul O. Lykins, and airlift pilot who had made the most flights into Berlin up until that time. Weather that day was awful, and conditions in Berlin were impossible. Clouds had lowered to the tops of buildings and heavy rain had disrupted radar. One C-54 had crashed and burned at the end of the runway a second landed behind him and blew its tires trying to stop to avoid hitting the burning C-54. A third ground looped on the auxiliary runway. Pure havoc was reigning supreme. Aircraft were beginning to stack up over Tempelhof and a huge number of airplanes were circling stacked from 3000 to 12000 feet in no visibility conditions. These conditions spur red Tunner to make a fateful decision. He called the tower. "Tunner here, send everyone back to their base and let me know when it's safe to come down". To avoid this stacking problem, a new policy was created. Any aircraft that missed its approach was to continue back to its station via the outgoing center corridor. This created a continuous loop of planes to and from Berlin. If a pilot missed his approach, he would immediately become a departure and head back to his base. The loaded aircraft would get a fresh crew and be sent back as a regular flight. In addition, all aircraft were required to fly by instrument rules to maintain the same speed, interval and altitude. This almost eliminated accidents and became the key to the success of the operation.

Another essential decision was to standardize aircraft, parts, and procedures. It was decided to base these around the C-54. One of the reasons was that it took just as long to unload a 3-1/2 ton C-47 as it did to unload a 10-ton C-54. One of the reasons for this was the slanted floor made truck loading difficult, whereas the C-54 was level and a truck could back up to it and cargo could be unloaded fast. In addition, no pilot was to be away from his aircraft. General Tunner had seen many aircraft sitting idle, loaded and waiting for their crews to return from inside the terminal. He thought this to be a great waste of resources, therefore the order was sent that no pilot should be away from his aircraft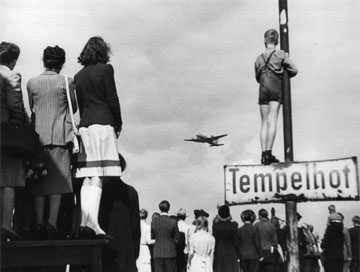 from the time it landed until the time it took off from Berlin. Weather and up to date information was brought out to the aircraft while they were being unloaded, so the crews didn't need to go inside the terminal. In addition, several trucks were outfitted as mobile snack bars and staffed by some of the prettiest Berlin girls. This enabled the crews to get coffee, a snack or other goods without having to leave the airplane. This reduced the average turn around time from landing to departing to about 25 minutes.
LIFE FOR THE BERLINERS

Life for the Berliners was hard. In the beginning, there was about a month's worth of supplies to be had, but stockpiles were dwindling. The airlift had not reached its predicted consumption rate yet, and starvation was near. In addition, when the winter of 1948-49 hit, there was little fuel to run the remaining industry, let alone heat the homes. Berliners soon found themselves chopping down all of the trees in the city for fuel, and learning what grasses could be eaten for food. In addition, people rummaged through garbage cans for food, but soon found that there was very little of that to go around. It was a dire circumstance, but still they knew that their suffering in this manner would be better than succumbing to Soviet control. They had seen the treatment the Soviet soldiers had given them when they arrived. They were stealing everyone's valuables, systematically stripping the industry and all of the necessary equipment and shipping it back to Moscow. In addition, German wives and daughters were being raped and abused all of the time. German scientists and engineers were forcibly sent to Moscow and forced to reveal all of the German technological secrets. Starvation was far better than that treatment. When it was decided that an airlift would be attempted, Berlin's Lord Mayor Ernst Reuter held a public rally in support of the effort. Germans would suffer and sacrifice to make it work. The German resolve was strong, even in such a desperate situation.

GERMAN VOLUNTEERS

One of the biggest problems during the airlift was the lack of manpower. It was decided to use the very people who the airlift was helping, the Berliners themselves. There was no lack of supply as they were eager to help because it was all for them anyway. In addition those who helped got an extra ration.
This was very important to them, as the allotted ration was very small. It also gave the people a great sense of pride that they were helping the effort. So, soon German volunteers were used for unloading crews at Tempelhof. They would board the aircraft as soon as it stopped and commence unloading. If the crews did an especially good job, they might get a reward, such as a pack of cigarettes or an extra ration. This became quite the incentive, as the record for unloading 10-tons of coal was set at 10 minutes.
Another large problem was the lack of skilled mechanics. There just weren't enough mechanics to keep a fleet of C-54's maintained so that there could be no disruption in the conveyor belt of supplies to Berlin. They needed people to perform inspections, repairs, engine replacements, cleaning and servicing these aircraft. General Tunner had a solution to that problem, too. There were a large number of skilled former Luftwaffe mechanics available right in Berlin. It was decided to create crews comprised of these men, an American Maintenance supervisor and an interpreter. Soon the manpower was there. Soon, any aircraft that wasn't being fixed, inspected, or overhauled was flying the corridors. A far cry from the beginnings.
FLYING THE CORRIDORS


Pilots flying in the corridors encountered numerous problems; one was the erratic German weather. Weather changed so often that it was not uncommon to leave a base in West Germany under ideal conditions, only to find impossible conditions in Berlin. What made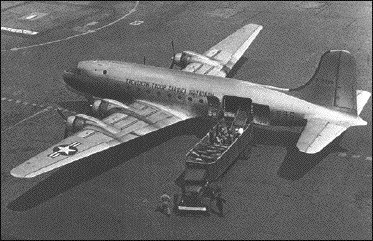 it even more treacherous was the approach to Tempelhof. In order to land there, a pilot had to literally fly between the high rise apartment buildings at the end of the runway so he could land. A second runway required a steep drop over a building in order to land soon enough so there was enough runway for braking. All these conditions plus a fully loaded C-54 with a 10 ton cargo load were more than enough for any pilot to handle, especially during the German winter.
Unfortunately, that wasn't all the pilots had to deal with. The Soviets constantly harassed the pilots during the operation. Between 10 August 1948 and 15 August 1949, there were 733 incidents of harassment of airlift planes in the corridors. Acts of soviet pilots buzzing, close flying, shooting near, not at airlift planes were common. Balloons were released in the corridors, flak was not unheard of, radio interference and searchlights in the pilots' eyes were all forms of Soviet harassment in the corridors. However, this did not stop the pilots, the planes kept chugging on in. In spite of all these acts of harassment, no aircraft was shot down during the operation. That would have started a war, and the Soviets did not want that, especially with B-29's stationed in England. Although the B-29's that were there were not atomic bomb capable, the Soviets did not know that and did not want to find out.

So, the airlift went on. American C-54's were stationed at Rhein-Main, Wiesbaden, Celle and Fassberg in the British Sector. The British flew Lancasters, Yorks, and Hastings aircraft. They even used Sunderland Flying Boats to deliver salt, using Lake Havel in the middle of Berlin for a base. Every month the tonnage increased and soon exceeded the daily requirements. Every day, tonnage records were being set, and the constant drone of airplanes overhead was music to the Berliners ears. Eventually, rations were increased and life in West Berlin was improving.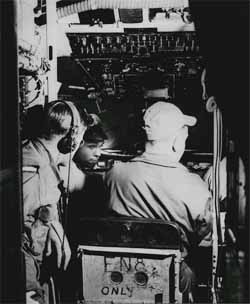 A C-54 Crew consisting of a Pilot, Co-Pilot,
Flight Engineer, and Radio Operator. Most
airlift crews did not use the Radio Operator
and used a 3 man crew instead.

TEGEL
Berlin had only 2 airports at the outset of the airlift, Tempelhof and Gatow. Soon, it became obvious that a third was needed. Heavy equipment was needed, but there were no aircraft large enough to carry bulky items like that. So, it was cut into smaller pieces, loaded onto one of 5 Fairchild C-82 Packet aircraft, flown into Berlin, and welded back together again. Incidentally, a new power plant for Berlin was constructed this way also. Nevertheless, an area in the French Sector was chosen to become Tegel Airfield. American, French, and German volunteers broke ground on august 5th, 1948. Through dedication, hard work and extreme organization, the first c-54 landed with its 10-ton cargo only a mere three months later. Quite a feat. Tegel, incidentally, is Berlin's main airport today. There was an obstacle in the way on the approach to Tegel, however. A Soviet controlled radio tower caused problems with its proximity to the airfield. Pleas to remove it went unheard. Finally, on November 20, French General Jean Ganeval made a decision. If they would not take it down, he would simply blow it up. So, on December 16, the dynamite was used. The tower fell, and the obstacle was gone.
....Continued next week....
Please remember the Canteen is here to honor, support and entertain our troops and their families. This is a politics-free zone! Thanks for helping us in our mission!