---
To: Alamo-Girl; Angelas; Bellflower; Buggman; GregoTX; HiTech RedNeck; Carpe Cerevisi; ...
Shroud of Turin PING.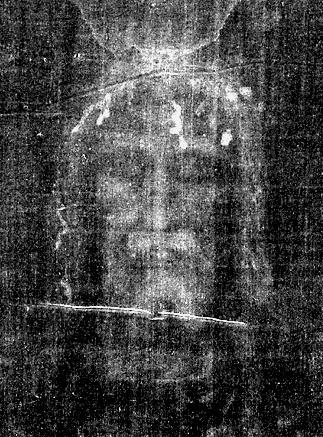 If you want on or off the Shroud of Turin Ping List, Freepmail me.
11
posted on
03/19/2006 11:21:09 AM PST
by
Swordmaker
(Beware of Geeks bearing GIFs.)
---
To: Swordmaker
12
posted on
03/19/2006 11:26:50 AM PST
by
ex-snook
(God of the Universe, God of Creation, God of Love, thank you for life.)
---
To: Swordmaker
---
To: Swordmaker; NYer; All
Notice the severely fractured right cheekbone. Looks to me that the right mandible is fractured right through a bit below the lower teeth. Massively broken nose, of course. Fresh wounds made shortly before death I think by the shape of the swelling. The nose would be as big as a lemon otherwise. The eyes have shrunken into the head, about correct for the Third Day.

The Shroud of Turin is indeed the Mandylion. It is indeed. It is His shroud. Miraculous it has survived, or course.

One remembers that the moslems took the True Cross that day at the Horns of Hattin.

20
posted on
03/21/2006 1:47:02 AM PST
by
Iris7
(Dare to be pigheaded! Stubborn! "Tolerance" is not a virtue!)
---
FreeRepublic.com is powered by software copyright 2000-2008 John Robinson