---
Christmas Support for Our Military - Olney, MD - Wk 309, Dec. 24, 2011
Posted on 12/24/2011 12:42:39 PM PST by trooprally
No matter what the weather, what the holiday, what the country, our military perform their duty 24/7/365.
The least we can do is show our support. And this week in Olney Santa and his elves do our duty.
BELOW: SANTA - love the shades.
Santa's patriotic elves this week include Legionnaire Halsey (USMC - Korea), GunsAreOK, [Mrs] T and myself.
As usual, pictures by [Mrs] Trooprally
BELOW LEFT TOP: Halsey BELOW RIGHT TOP: GunsAreOK BELOW BOTTOM: ME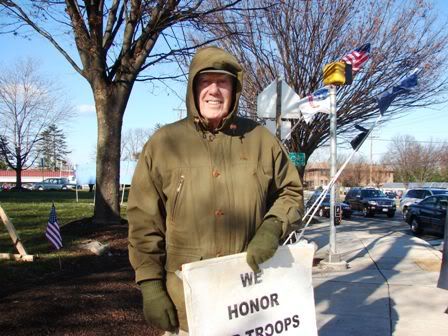 We had a Navy Vet stop and thank us for being out there. He gave us the BELOW pin and said that it was from his command ship while in the Mediterranean about 20 years ago. Any one have any more info on the pin? On the back there appears to be a star kinda shaped like an eagle with "H H" in it, and what looks like V20?KGR The "?" looks like a 2 but the first '2' is clear.
It might have been part of his collection since there was a small piece of masking tape on the back with the letter 'B' written on it.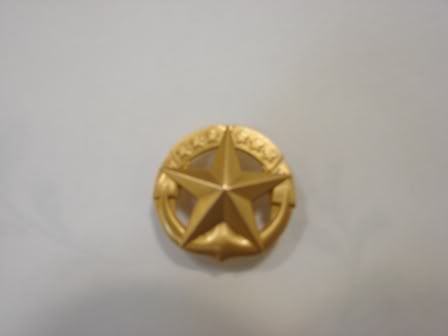 MERRY CHRISTMAS TO EVERYONE and PRAY THAT OUR TROOPS HAVE A SAFE AND WONDERFUL CHRISTMAS WHEREVER THEY ARE.

---
TOPICS: Activism/Chapters; Free Republic; US: Maryland; US: Virginia
KEYWORDS: aar; christmas; military; mobilizingmothers; moonbats; opinfinitefreep; patriotism; peaceactionmc; rally; supportourtroops
---
---
---
---
---
---
---
---
---
---
---
---
---
---
---