---
Pelosi Admits She Defended Ilhan Omarís 9/11 Remarks Without Knowing What Was Said
Breitbart ^ | 16 Apr 2019 | Joshua Caplan


Posted on 04/16/2019 6:10:33 PM PDT by KC_Lion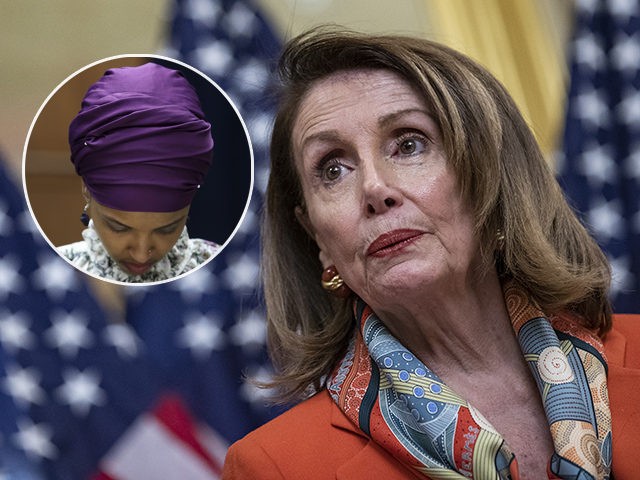 House Speaker Nancy Pelosi (D-CA) on Tuesday admitted that she does not know the content of Rep. Ilhan Omar's (D-MN) recent remarks about 9/11 — despite offering a full-throated defense of the freshman congresswoman in the wake of criticism from President Donald Trump.
(LINK) Nancy Pelosi: 'We have no taint' of anti-Semitism
"I don't think the congresswoman is anti-Semitic. I wouldn't even put those in the same category," Pelosi told interviewer Christiane Amanpour in Ireland. "We have no taint of that [anti-Semitism]," she added. "And just because they want to accuse somebody of that doesn't mean that we take that bait."
Pelosi also dismissed criticisms that she hasn't done enough to defend Omar, conceding, "Until I talk to somebody, I don't even know what was said."
"I do know that what the president did was not right," she added.
Omar is facing blowback for downplaying the September 11, 2001, terror attack, describing it last month private fundraiser for Council on American-Islamic Relations (CAIR) as a day on which "some people did something," before adding "and that all of us were starting to lose our civil liberties."
In reaction to the Minnesota Democrat's remarks, President Trump shared a video to social media of Omar's remarks and scenes of the World Trade Center engulfed in flakes shortly after it was attacked by radical Islamic terrorists. The video's caption reads: "WE WILL NEVER FORGET!"

(Excerpt) Read more at breitbart.com ...
---
TOPICS: Culture/Society; Foreign Affairs; Front Page News; US: California; US: Michigan; US: Minnesota; US: New York; US: Vermont
KEYWORDS: 911; botox; cair; california; christianeamanpour; fartyshadesofgreen; ilhanomar; ireland; michigan; minnesota; muslim; muslimbrotherhood; muslims; nancypelosi; neverforget; omar; pelosi; rashidatlaib; sanfrancisco; sanfrannan; september11; september11th; trump; weforgot
---
Navigation: use the links below to view more comments.
first 1-20, 21-40, 41-60, 61-62 next last
---
---
---
---
---
---
---
---
---
---
---
---
---
---
---
---
---
---
---
---
---
Navigation: use the links below to view more comments.
first 1-20, 21-40, 41-60, 61-62 next last
---
---