---
Jane in Jerusalem
Jewish World Review ^ | Dec. 23, 2002 | Nadia Matar


Posted on 12/23/2002 7:12:26 AM PST by Sally II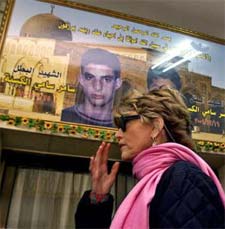 Fonda "visiting"
Jane in Jerusalem
http://www.jewishworldreview.com | On Monday, CNN called me and asked if Women in Green, of which I am a head, was planning to demonstrate against Jane Fonda once she arrived in Jerusalem. I answered we would not give that American traitor the time of day.
Later, on my English and Hebrew radio show on the Artuz 7 network, I discussed the CNN call and our position and gave my listeners some background on Fonda --- how the nickname "Hanoi Jane" came about; the story of her betraying the POWs, etc.
On Thursday, my mother-in-law, Ruth Matar, and Ruthie Shwartz (of Efrat) and myself decided to go to the Anna Ticho House restaurant in Jerusalem. We frequent the spot regularly, and often discuss Women in Green matters there.
As it happens, I arrived early to find our normally peaceful haunt swarming with media --- both print and broadcast. I asked one scribe what was amiss. He tells me that in five minutes Jane Fonda will be arriving to have lunch with her Israeli hosts, Bat Shalom.("Women in Black," leftist Jews.)
I couldn't believe it! After telling CNN we weren't demonstrating, we were now about to come face to face with Jane Fonda. It was simply too much. It was almost unbelievable.
The Israeli media gathered in front of the restaurant, I soon learn, know nothing of Jane Fonda's 1960s activities. They simply view her as a visiting American celeb.
Our first instinct was to find a different restaurant and ignore Fonda. But here she falls right into our lap!
The three of us decide we just have to heckle this "humanitarian." The world needs to know what many here think of Fonda and her global "visits." Particularly this one, where she yet once again is bonding with an enemy; this time, Arabs who butcher Jews daily.

WATCH A VIDEO OF THE ENCOUNTER
Click here to watch members of an "extreme right wing" Israeli group stand up for American vets. (If you get an error message, ignore it. The video will start.)
-- Always going the extra mile for our readers!
A few moments later, Fonda's fancy minibus arrives and out jumps her PR flack. She proceeds to rudely bark instructions at the journalists.
"Listen fellows, Jane Fonda is just arriving from Jordan where she got a royal treatment. You are allowed to film her but don't you dare ask her any questions. She should not feel your presence. Everybody should stay quiet and distanced and respect her privacy. And I repeat --- don't talk to her, don't ask her any questions!"
Though we're inconspicuous, this woman manages to spot the three of us. We purposely are not wearing our signature Women in Green hats, lest we be discovered. I quickly cover my face with my scarf. As an activist, people will recognize me even without my green hat. Luckily, I'm overlooked by the PR flack, but my mother-in-law is not.
"Who are you and what are you doing here!?" the PR flack demands. Ruth Matar, a grandmother several times over, answers innocently and in English: "Oh, we are waiting for some friends to have lunch --- why? Is there a problem?"
The woman leaves, heading to the minibus, all the while thinking the coast is clear.
The air is tense and the media are ready --- and so are we.
The bus' door opens, and out emerges Jane Fonda. A dozen Jewish women -- local leftist sheeple -- follow her.
The cameramen click away and roll film, according to the strict instructions. The journalists are practically silent. They are all "very quietly respecting her privacy."
Then Fonda and her entourage reach us --- and we turn around and begin our heckling:
"Hanoi Jane! Hanoi Jane! You are an American traitor! How many Americans were killed because of you? You are an American traitor and you came to Israel as a guest of Peace Now, Israeli traitors- You constantly identify with the enemies of the Western world. Once it was in Vietnam where you identified with those who murder Americans and now you came to identify with those Arabs who murder Jews. GO HOME! Shame on you! Shame!"
The PR princess is now livid! She goes to the trouble of browbeating the ordinarily rambunctious Jerusalem press corps into not bothering poor little Jane and three ladies wind up shouting at her.
Ever the actress, Jane Fonda manages to freeze a smile on her shocked and angry face as the cameras continue to roll and click. The Peace Now women are too shocked to utter a word. They surround Fonda in order to "protect" her. She is quickly whisked away inside the restaurant.
Once inside, the media begin interviewing us at length about what we have against Jane Fonda. Part of the interview is eventually broadcast worldwide.
After its airing, our group was bombarded with hundreds of e-mails from people thanking us for what we did. Among them, are folks who had loved ones killed in Vietnam and who still do not forgive Fonda.
— Nadia Matar
---
TOPICS: Foreign Affairs; News/Current Events
KEYWORDS: hanoijane; israel; janefonda; jerusalem; palestine; traitor; vietnam; womeningreen
---
---
---
---
---
---
---
---
---
---
---
---
---
---
---