---
---
To: JustAmy; Billie; GodBlessUSA; La Enchiladita; Lady Jag; yorkie; jaycee; Diver Dave; LUV W; ...
HAPPY THURSDAY TO AMY'S PLACE!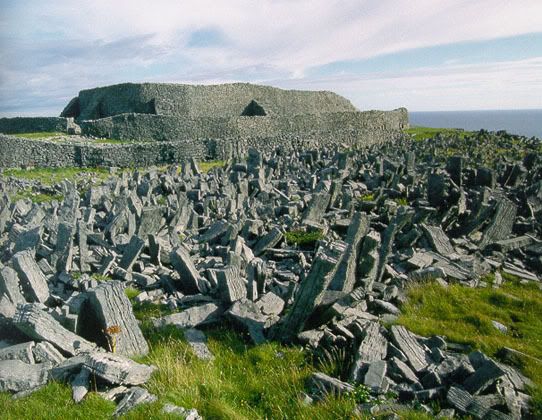 ---
Dún Aonghasa , Megalithic Fortress, Inishmore, Co. Galway, Ireland
Enjoy your Thursday!!!

Lamh Foistenach Abu!
2
posted on
07/01/2010 4:16:30 AM PDT
by
ConorMacNessa
(HM/2 USN, 3/5 Marines, RVN '69 - St. Michael the Archangel, defend us in battle!)
---
To: Billie; MEG33; jaycee; Kitty Mittens; Aquamarine; GodBlessUSA; Mama_Bear; The Mayor; ...
July 1, 2010


Graphic by MamaBear

S.A.N.D. ... Summertime, and the living is ... sandy.

Sand gets in the carpet,
Sand gets in your shoes.
Fight to keep the sand out,
I guarantee you'll lose.

The toddlers in the sandbox,
Teenagers at the beach,
It even gets down in my shorts,
Where it's rude to even reach.

Where does all the sand come from?
How did we get so much?
It is a longish story,
But it has a pleasant touch.

Find a grain of sand somewhere,
You needn't look too far.
There may be some left in your shoe,
There's more out by the car.

Hold that little grain of sand,
Where you can see it close.
I'm going to explain exactly,
How we got this healthy dose.

You'll see it sparkle as it turns,
Reflecting gleams of light,
But there's a lighter side as well,
If you'll hear my fancy flight.

Each single grain of sand is more.
It's silicon dioxide, Si and then two Os,
Three million billion molecules,
And here's what they compose.

The silicon has fourteen parts,
That are quite positive,
They're mated up with neutral ones,
Which has some peace to give.

Twenty-eight bits of whichness,
All mixed up in a what,
And circled round with wonderment,
That's tied up in a knot.

The Os that hang around it,
Are not just airy moons,
Each has eight bits of fire within,
And eight water balloons.

Sixteen pieces more then,
Of whatness in a where.
And not just in the sand but it's,
One fifth of all our air.

And out there in the water,
Nine-tenths of all of that,
Though you may get it in your nose,
It's not for sneezing at.

Every one of these small things,
Was made so long ago,
We think they are forever,
But I must tell you no.

God put these things together,
A blessing is in each.
If you want to count your blessings,
You can start down at the beach.

NicknamedBob . . . . . April 8, 2004
© 2004 - 2010


3
posted on
07/01/2010 4:27:46 AM PDT
by
JustAmy
(Remove Boxer, Pelosi and Reid. Vote to stop Socialism.)
---
FreeRepublic.com is powered by software copyright 2000-2008 John Robinson