---
'Zombie Apocalypse' To Hit Detroit? Zombie Theme Park Hopes To Breathe New Life To (Dead) City
IBTraveler ^ | July 3, 2012 | Amanda Remling:


Posted on 07/03/2012 3:24:49 PM PDT by DogByte6RER

'Zombie Apocalypse' To Hit Detroit? Zombie Theme Park Hopes To Breathe New Life To City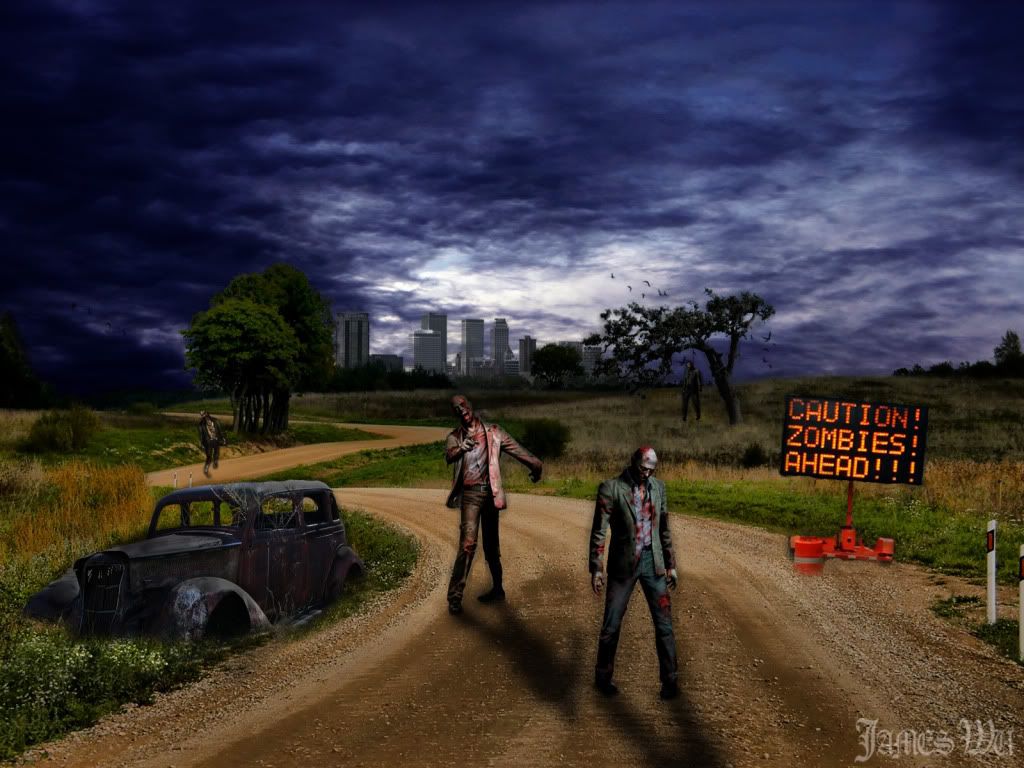 You may soon be able to pay for an afternoon of fear. Entrepreneur Mark Siwak is hoping to build a "zombie apocalypse" horror theme park in Detroit.
Years of population decline has left parts of the city of Detroit rundown and abandoned, but Siwak is hoping to breathe new life into the urban landscape -- by bringing in the dead.
According to the Huffington Post, the entrepreneur's idea is to build Z World, a live-action zombie theme park right in an abandoned Detroit neighborhood. Theme park visitors would be chased by professional zombies through abandoned homes and businesses.
"The city can only have so many urban farms or similar uses for vacant plots," Siwak explained to CBS Detroit of his idea. Besides utilizing abandoned areas, the zombie fan also believes that it would be a great way to create jobs for the citizens. In fact, the Huffington Post reports that people are already submitting their resumes to Siwak to become one of the many zombies to infest Detroit.
While the idea for Z World will ultimately be popular with the zombie apocalypse crowd, the theme park has a while to go before it can become a reality.
Siwak needs $145,000 to bring his monster to life. To meet the goal, the entrepreneur has set up a fund-raiser online with Indie Go Go. The website, which has already raised $2,548 at the time of publishing, allows people to donate up until Aug. 10. If $145,000 isn't raised by 11:59 p.m. that evening, those that donated will receive their funds back.
Those contributing have shared their excitement for the project on the fund-raising page:
"I have been waiting for something like this for a very very long time!" writes user Stavros.
"I can't wait for this to happen!" voices user Joeoberster.
Contributor Peter shares similar feelings. "This is awesome and I am all about it," he wrote on the site.
While some are already planning their visit, Siwak still needs permission from the City of Detroit.
Not everyone is a supporter of the Z World plan though. The Daily Mail reports that Curbed Detroit blogger Sarah Cox thinks that the theme park sounds "a lot like all that fun we had during the 1960s race riots."
"It's nice to know Z Land is finally going to capitalize on our love of adrenaline rushes and nostalgia. Now even visitors from the burbs can wonder if they will make it through the night," said Cox.
Do you think a zombie apocalypse theme park is a good idea?

---
TOPICS: Business/Economy; Chit/Chat; Local News; Weird Stuff
KEYWORDS: detroit; ghetto; michigan; panicindetroit; undead; urbandecay; westworld; zday; zombie; zombieapocalypse; zombieland; zombies
---
---
---
---
---
---
---
---
---
---
---
---
---
---
---
---
---
---
---
---