---
George Washington's Return from Service to Mount Vernon, Christmas Eve, 1783
Pharmboy | 12/23/13 | Pharmboy


Posted on 12/23/2013 1:48:31 PM PST by Pharmboy

As many of you know, there was an hiatus between Cornwallis' surrender at Yorktown (October 19, 1781) and the Treaty of Paris (September 3, 1783). Washington stayed with his army and did not return to his beloved Mount Vernon until word of the treaty's signing reached him, and he would see the British Army and Navy depart NYC on Evacuation Day, November 25, 1783.

New Yorkers had made up a rhyme, "From Kip's Bay to Evacuation Day" that had much meaning to them since Kip's Bay (near present day First Avenue and 30th St. on the East River) was the site of the British/Hessian invasion of NYC in September of 1776.

The General would finally be able to return to Martha and the family, but not before taking part in a week of ceremonies, parades and fireworks marking the end of the surrender. "A higher pleasure came to Washington in the addresses delivered by churches, societies, and municipal bodies. If it was embarrassing to have to stand and listen to one functionary after another read a eulogistic paper, Washington daily had new evidence in these addresses, and in other ways unnumbered, that he possessed an unbounding measure of the reward he cherished most, the good will of honest men, good will won by the devoted service he had rendered them." (George Washington, Volume Five, Douglas Southall Freeman, 1952, Scribner, p. 464).

He did find time to do some shopping in New York in between all the speeches and dinners. Some of this was Christmas shopping for the family back home in Virginia, some furnishings for Mount Vernon and a few personal items. This was all topped off by an emotional farewell to his remaining officers on December 4, 1783. The place for this farewell was the second floor of Fraunces Tavern, on the corner of Pearl and Broad Streets in New York City.

Sir Guy Carleton, the British Commander, had written the General that if 'wind and weather' cooperated, he hoped to leave on December 4th, and thus Washington had set that date—once he saw the back of the very last Redcoat leave—in order to ensure no hostilities would occur between the departing Brits and the resident New Yorkers and incoming Patriot celebrants. "Henry Knox was given final instructions on the temporary peacetime establishment of the forces; the last detail of the homeward journey by the shortest land route received Washington's usual precise attention: he would cross at Powles Hook [now Paulus Hook, Jersey City, NJ, across the Hudson River from NYC] and would proceed to Philadelphia by way of New Brunswick and Trenton. In Philadelphia, he would settle his accounts, which he had put in order, and then, as quickly as he might, he would go to Annapolis, where Congress was to meet, and return his commission. Then—home and a private life!" (Freeman, p. 465).
He thought that an afternoon departure would work, and he planned the farewell for noon at the tavern. The plan was for a barge to be waiting at Whitehall [near Fort George, now the site of the old Customs House which now houses the National Museum of the American Indian). Steuben would accompany the General as far as Philadelphia, and three officers and a few dragoons would be with him afterwards. For his farewell, Washington wrote no speech; the gathering was small and fully assembled when he walked into the long room at Fraunces at noon.
Freeman, p. 466: "Of all the twenty-nine major Generals that Congress had commissioned, only Henry Knox, Steuben, and McDougall [who gave his name to McDougall St. in NYC] were present. Seven had resigned during the war, six had died, and one had betrayed the cause. Forty-four men had been made Brigadier during the years of fighting and had not been advanced beyond that rank. James Clinton alone of these was in the room. The Colonels of the line were represented probably by Henry Jackson of the Fourth Massachusetts, who previously had commanded one of the sixteen "Additional Regiments," and now wore the ribbon of a brevet Brigadier ['brevet' can signify a field commission that is temporary, and is not accompanied by the pay of the rank]. The senior Dragoon was Benjamin Tallmadge, major of the Second Continental, and now Brevet Lieutenant Colonel, one of the most daring leaders of a corps that had borne its full share of danger and hardship. If the others who stood up when Washington entered the room were not renowned and in some instances may not have been known personally to their Commander-in-Chief, they were typical of the hundreds who had remained at their posts in poverty and shabbiness while their families at home had pinched and patched though speculating neighbors had grown fat. The poorest officers, many of them, had been among the finest. Now, as the last representatives of a vanishing Army, they were looking at their commander and were awaiting his word."
Washington did not know what to do, so he thought he might take some of the food that was set out. He could not…he took a few moments to compose himself and poured himself a glass of wine and passed the decanter. The men all filled their glasses. The General, half-choking, said: "With a heart full of love and gratitude, I now take leave of you. I most devoutly wish that your later days may be as prosperous and happy as your former ones have been glorious and honorable." They all drank. Emotions overtook them all, and Washington did not shake hands with Knox, his Chief of Artillery, (the Boston bookseller who brought back the cannon from Fort Ticonderoga and placed them on Dorchester Heights chasing the Brits from the harbor below). Rather, he took him around and kissed him on the cheek. He did so with every man in the room. These tough, war-weary soldiers were all blubbering with little control. The General could not take much more, and left after raising his arms in one final sign of farewell. Now, it was south to Martha, the family and Mount Vernon!
Arriving four days later in Philadelphia, the citizenry came out to greet the General. He was escorted by the familiar Light Horse Regiment of Philadelphia. The main account he had to settle was the expenses he incurred while C-in-C. He had agreed not to take any pay when he was appointed in that same city, but he had had many expenses including the spy network he had paid. By the morning of the 15th, he had accomplished enough to cross the Schuylkill and continue his trip. He made Wilmington by nightfall, and on the 17th, after a hard ride (he was an excellent horseman) made Baltimore.
After a late dinner/dance on the 18th that lasted until 2 AM, Washington left a bit before that and apologized to the hostess saying he needed to hurry since he had promised Mrs. Washington that he would dine with her on Christmas at Mount Vernon. A few miles north of Annapolis he was met by Gen. William Smallwood of the Maryland Line. That night was a quiet one — no celebration. For that he was happy. The next few days were spent in Annapolis sharing lunch and dinners with the delegates of congress; only seven states were represented, but they decided that they were adequate to accept Washington's resignation.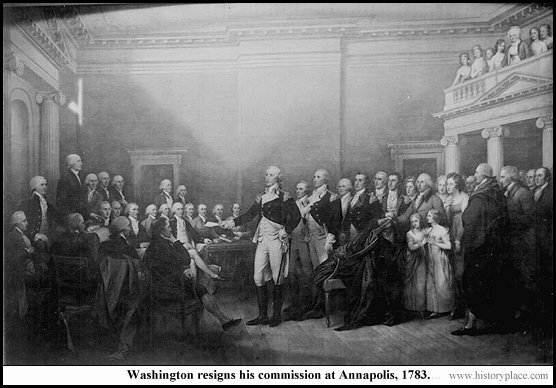 After tendering his resignation and reading a prepared speech, praising his officers, of course. Allow me to quote one of his final sentences: "I consider it an indispensable duty to close this last solemn act of my Official life, by commending the Interests of our dearest Country to the protection of Almighty God, and those who have the superintendence of them, to his holy keeping."
He left the chambers after shaking each delegate's hand, and rode off. He did not stop at any of his Maryland friends that he normally would have, since time was short. He and his small party stayed the night at a Maryland tavern, and were off the morning of the 24th riding as hard as they could. They reached the Potomac, and after a blustery passage, the last stage of the ride. Then into the doorway, and finally, Martha's embrace. This was all accompanied by the happy screams of Jack Custis' younger children.
Christmas Day and dinner with the family at Mount Vernon: as he had hoped for and promised. For a better picture, allow me to quote from an interview published in National Review Online in 2003. Kathryn Lopez asked the questions of Stanley Weintraub, the author of General Washington's Christmas Farewell: A Mount Vernon Homecoming, 1783.
Lopez: What did Christmas in Mount Vernon look like? Was it typical for an American Christmas of the day-save for the hero general in attendance?
Weintraub: Mount Vernon in 1783 still did not have the now-familiar cupola, or many of its outbuildings. Washington wanted to complete its reconstruction. It snowed heavily on Christmas Day, and it is hard now to visualize Mount Vernon totally isolated by snowdrifts, as it was the day after the general's return.
Lopez: "His Christmases [were] more hearty than solemn," you write. What did Christmas mean to Washington?
Weintraub: Christmas to most Virginia planters meant fox hunting, feasts of meat pies, guns shot into the air, Yule logs that meant freedom from work by servants (and slaves) as long as they burned, and festive drinking and conviviality, and "Christmas boxes" — usually a coin or two — for the servants, given on "Boxing Day," the day after Christmas. Not much churchgoing. Churches were often too far away by horseback and wagon for a family. Washington's church at Powhick was attended mostly by Martha. He invoked the Deity on occasion in speeches but he was not profoundly religious in the sense of prayer and church attendance. Our traditional Christmases, with Christmas trees, were still decades away.

---
TOPICS: History; Military/Veterans
KEYWORDS: christmas; delaware; generalwashington; georgewashington; godsgravesglyphs; maryland; newyork; presidents; revwar; thegeneral; therevolution; virginia
---
Navigation: use the links below to view more comments.
first 1-50, 51-59 next last
---
---
---
---
---
---
---
---
---
---
---
---
---
---
---
---
---
---
---
---
---
---
---
---
---
---
---
---
---
---
---
---
---
---
---
---
---
---
---
---
---
---
---
---
---
---
---
---
---
---
---
Navigation: use the links below to view more comments.
first 1-50, 51-59 next last
---
---