---
FReep of "Rally for Peace and Justice" Denver, Colorado after Action Report
Eye Witness | September25, 2005 | Jan in Colorado


Posted on 09/26/2005 1:27:58 AM PDT by jan in Colorado

After attending the "You Don't Speak For Me, Cindy" rally at the State Capitol on Wednesday, I KNEW I had to do whatever it took to be there for the "Peace and Justice" rally on Saturday. In between taxiing kids to various activities and attending a funeral for a friend, I managed to spend a few hours with some of the most angry, hateful people I have EVER been around in my entire life! It is an experience I will NEVER forget and I am so glad that I was able to go.

I was very nervous about going alone, but decided I would just go for it. My prayers were answered two hours before I had to leave when I received a reply from Freeper Jenny Hatch and we ended up driving there together with her friend Ruth, who is the very proud mother of a soldier who served a year in Iraq.

As we drove around looking for a place to park, I saw a huge contrast between Wednesday's rally and this one. First of all, there are people every where. They did a great job of advertising on Air America, and the hate America crowd came out in droves to protest the war, the Bush Administration, hurricane Katrina,the levees, the "TORTURE" at Abu Grab, and anything else that they can find to blame on President Bush.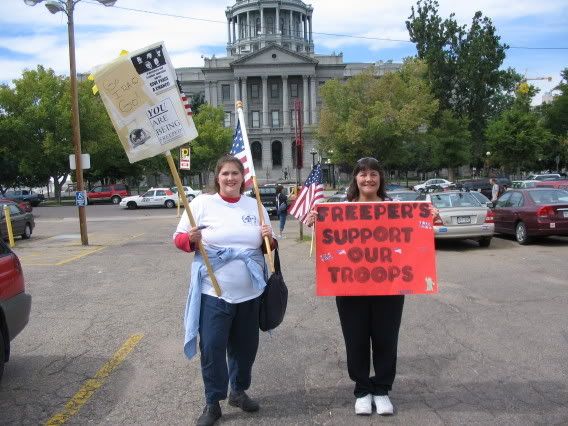 Jenny Hatch and Jan in Colorado getting ready to FReep!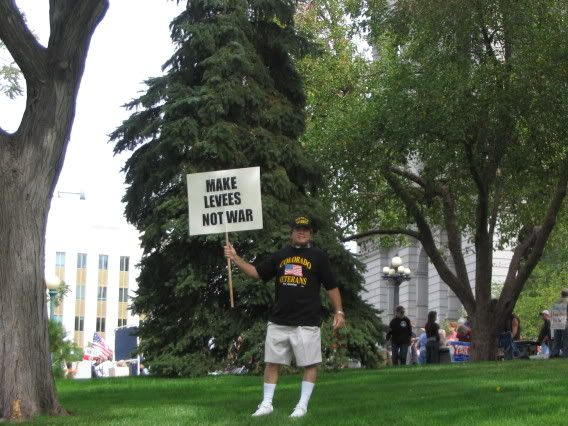 As we are walking towards the Capitol, we begin to discuss where we should position ourselves. As we were walking a lady came up to me and said" We support the Troops too"! I told her thank you for that and kept walking…Ruth had a few more things to say to her...
Military Mom, Ruth
---
TOPICS: Activism/Chapters; Constitution/Conservatism; Government; News/Current Events; Politics/Elections; US: Colorado; War on Terror
KEYWORDS: aar; antiamerican; antiwarrally; bushfault; colorado; counterrally; denver; flag; freedom; freep; lefties; leftiespictures; loveamerica; military; militarymom; peace; peacevigil; progressive; protestwarrior; proudamerican; rally; supportourtroops; supportthemilitary; supporttroopweekend; troops; war
---
Navigation: use the links below to view more comments.
first 1-20, 21-22 next last
---
---
---
---
---
---
---
---
---
---
---
---
---
---
---
---
---
---
---
---
---
Navigation: use the links below to view more comments.
first 1-20, 21-22 next last
---
---