---
"I DON'T HAVE A CAR, BUT I'M HONKING MY HORN," SAID PASSERBY -- WALTER REED FReep #91, Jan. 12, 2007
DC Chapter | January 18, 2007 | Albion Wilde, with photos by Plea Deal


Posted on 01/18/2007 12:16:10 AM PST by Albion Wilde

WASHINGTON, DC, January 12, 2007-- Maybe the past five+ years of global terrorist bombings, ghastly web-cast slaughters, the sociopolitical cave-in of Europe and the worldwide spread of religio-fanatic annihilation threats have meant something, after all. Maybe Everyperson is no longer a passive tool of the mainstream media. However intoxicated by liberal elitist kool-aid (laced with the narcissism that nothing bad could ever happen to kool people), some recent passersby at the DC Chapter's weekly Walter Reed FReep seem more eager to talk, even -- gasp -- to learn. Why does the DC Chapter persist in supporting our troops -- and their mission -- to bring political stability to the Afghan and Iraqi Everyperson weary of totalitarian dictators, constant instability, violence and dread?

It's not that all of us in the DC Chapter agree on every detail of the conduct of the war. But we agree completely that the troops are not the policymakers. Their job is to follow orders, under a complex chain of command. Their job is the least influential link in that chain, in terms of policy, although war policy depends on them utterly; that is why military jobs are called "service." And that is why the selfless service of our troops calls for respect and honor, always. However self-evident we believe these truths to be, our presence cheering the troops outside Walter Reed Army Medical Center every Friday evening has started to prompt a new spirit of dialogue in some passersby, as the past few weeks have shown.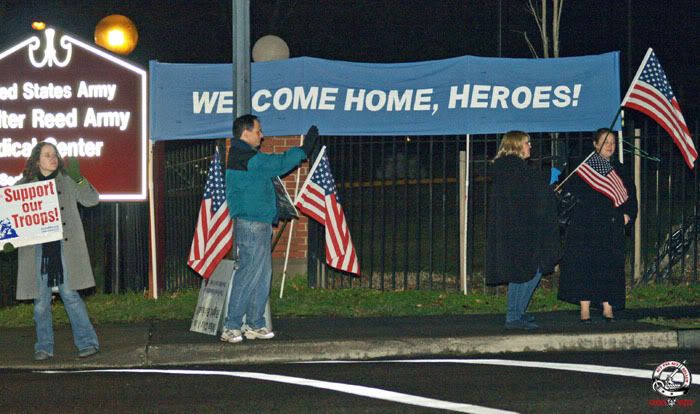 Lurker Danielle, left, with FReepers Tom the Redhunter, VAFlagWaver and Freeping_In_Silence.
Crikey!
"You're missing the Australian flag," remarked a tall, middle-aged blond with a pronounced Down Under accent as he passed our row of flags, which includes a British Union Jack among the American and U.S. military flags; yet Australia is a loyal Coalition partner. This Aussie was sporting a yellow fleece Michigan University jacket. "We do this sort of thing in front of the Parliament building, not at a hospital," he continued. His mild-mannered statement-as-question gave us the opportunity to explain that we are occupying the entrance to Walter Reed to defend our defenders against the cowardly anti-war protesters who had, until we drove them away from the gates, sought to shame the troops and families for their service. He "got it" immediately.
"If the Allies hadn't fought in World War Two," he rejoined," Australia would be in Japanese hands." Not that most of today's liberal elites think there's anything wrong with a Western culture renouncing itself; but there was definitely something wrong with the fascist Imperialism that animated Japan's former generation of suicide bombers. Sixty years later, after a bloody, sacrificial Western intervention, Japan is a bulwark of international cooperation, advanced technology for the benefit of society, thriving free markets and human rights -- in spite of WWII's numerous American war protesters, many of whose sorry butts landed in jail, courtesy of Democrat President Franklin D. Roosevelt.
Our visitor, Bill Heycox, and his wife are touring major cities the length and breadth of the U.S., Canada and Europe during a months-long sabbatical from his position in Australian land management. We expressed our sympathy at the death of "The Crocodile Hunter" Steve Irwin, which he admitted "was a sad loss for us." Lean and rangy but strongly built, he said he crosses paths with plenty of crocs in his work, but "kangaroos are worse. If they're hurt and you try to catch them to treat them, they can rip you up," he said, gesturing from face to knees. "You have to catch a 'roo by the tail and hold the tail up," he advised, reaching into his pocket to proffer a generous donation to the DC Chapter's troop support effort, perhaps in recognition of the Coalition's risk of life and limb to catch terrorists by the tail.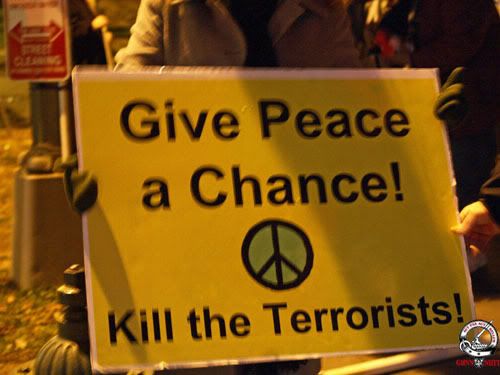 DC FReepers Hold Night School Class
An earlier passerby, a woman with a daughter about nine years old, began more confrontationally. "Bring the troops home!" she blurted while passing Kristinn, BufordP and Cindy-True-Supporter, who caught her dropped remark and returned it, for the next twenty minutes, with abundant patience and logic. "She had a position," said BufordP, "She was against sending more troops over there. But she hadn't given it much thought."
"Do you think we really have a choice about fighting this war?" he asked her, observing that 9/11 brought the war to our shores. "Who died that day?" he asked.
"A lot of civilians," the passerby answered.
"That's the point," BufordP continued. "We have to choose whether we allow terrorists to freely kill civilians, or send those who have willingly signed up to make the sacrifice so that American citizens won't have to die as they go about everyday life. This opened her eyes," he related. "She was then open to hearing what we had to say."
"Yes, a lot of people get confused between defense and aggression," added Cindy-True-Supporter. "She was a sweet lady with a very well-behaved daughter. I told her that our soldiers are over there so we don't have terrorists over here; plus they fight for the main body of Iraqis who want to be free of dictators." Kristinn, who had recently toured Iraq through the auspices of the Kurdish government, explained to her some of the terror tactics insurgents are using against their own people, such as tying bombs to other Iraqi citizens and sending them out as suicide bombers, holding their families hostage until they completed the job.
"We talked about the existence of good and evil," Cindy-True-Supporter continued. "She revealed that her Social Studies teacher had absolutely vilified Republicans, so I recommended a book by Reverend Jesse Lee Peterson, Scam. She was familiar with him as a preacher. I said, 'Read everything, pro and con, and then make up your own mind.' "
"Terrorism didn't start with Bush," said Cindy-True-Supporter, who is a veteran. "I was stationed in Europe during the 70s, when terrorists murdered the Israeli team at the Munich Olympics. [See also Iran Hostage Anniversary (1979).] Since then, every year they've gotten more and more bold. We have to defend ourselves," Cindy concluded. "She was a really nice lady, and she was open to wanting to know more. So we gave her and her little girl some flags, and invited her to come back whenever she wanted."
[Mr] Trooprally mans his favorite southwest corner.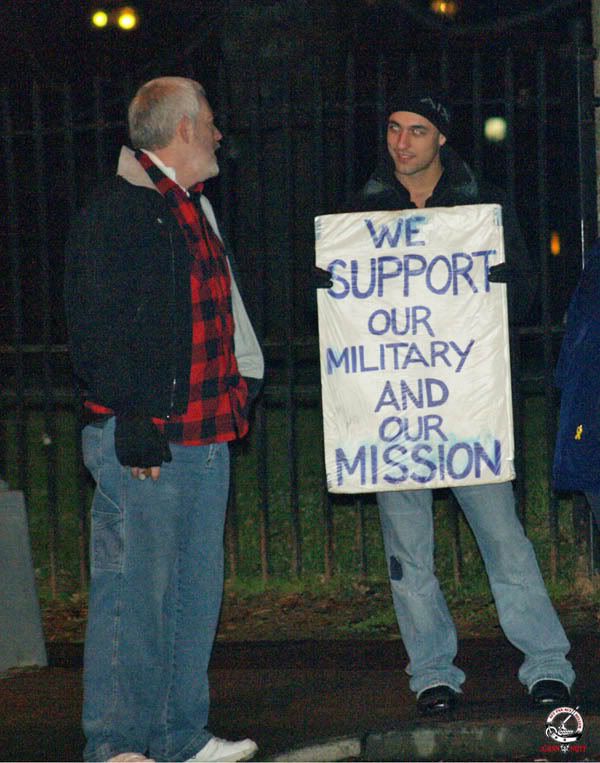 Iraqikurd, right, returning to us after a too-long absence, with BufordP.
Passing Cars Keep Up the Beep; Code Pink Throws in the Towel
To our mild surprise, passing cars continue to honk in support of our signs in spite of the recent party switch in Congress, sometimes continuing, in the longest-night season, to beep when they motor past the standard American flags now routinely displayed by the anti-war stragglers down the street. The lefties have become so innocuous that it is impossible to tell them apart from us without examining their weakly scrawled signs -- all but impossible in a moving car in the darkest part of the year. CodePink Women for Peace, which started the "vigil" at Walter Reed that inspired us to counterprotest in the first place, has been notoriously absent for many weeks, in spite of having been in DC lately conducting various other pugnacities.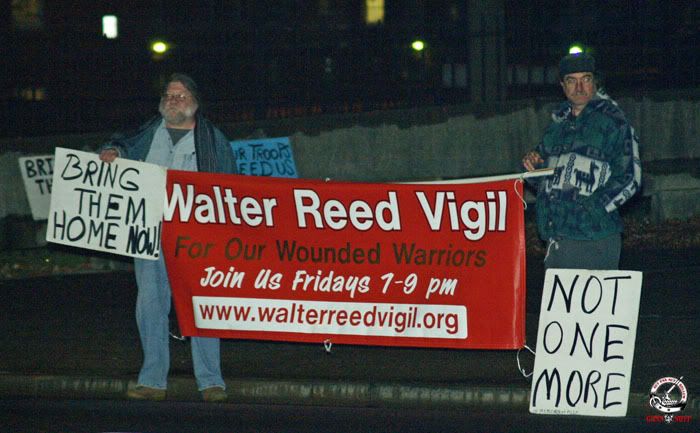 The Bush Derangement Syndrome "vigil": Under new management?
Labor union activist and self-described "commie guy" Bruce Wolf (left) and his male friends have been holding a new banner for weeks, suggesting that CodePink's failure to attract more womyn than men to their distasteful "vigil" has caused CodePink to fly the coop.
This week's "vigil" down the street consisted of six men and two womyn (compared to our 22 FReepers and 3 visitors). The lefties might have had three womyn, but their numbers have been dropping so much that they desperately propped their wheelchair-bound elderly lady out in the freezing cold and drenching rain even throughout December (scroll down to 8th photo caption), whereupon she died on December 30. Their lack of an exit strategy for one of their nine protesters in the dead of winter makes their death toll higher than that of the U.S. military in Iraq.
Worth a Thousand and One Words:
What Passersby See on Our Four Corners
Well-lit, clear, positive messages.
Smiling faces.
Hands waving at the troops and at passing cars who beep in support.
Troops whistling, woo-hooing and whistling back out the windows or sunroofs of their cars.
Troops and family members coming out to chat with us and shake our hands.
Sips of coffee or hot chocolate.
Pizza deliveries to a street corner.
Bites of pepperoni, mozzarella and sausage between waves and cheers.
Knots of socializing FReepers strolling from one flag- and banner-draped corner to another throughout the evening.
An ever-changing group of FReepers from around the country, plus visiting groups of youths from neighboring universities (something the Old Hippies down the street have never attracted).
Jumping and cheering when the busload of military families returns to Walter Reed after enjoying a fancy Friday night dinner downtown (supported by veterans and other troop donors from around the country through The Aleethia Foundation):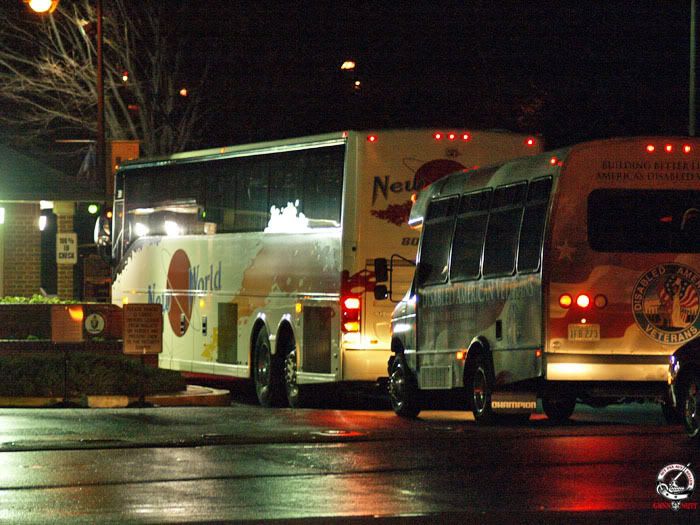 And if you could peek into our Chapter's covert pathways of support for the troops, you might see the dozens -- no, hundreds -- of cartons, bags and boxes of donations collected from FReepers like yourselves and distributed without fanfare to troops in the field as well as to the wounded -- like the 20 cartons of goodies delivered last week from ROTC participants in the DC area.
Here's a Way to Support Marines' Kids -- With a Click
FReeper chcknhawk tells us this week that his Soldier's Perspective is vying to win a prize for the best milblog. Why? So he can donate the money to benefit the Camp Lejeune Ballerinas recital, where the little girls will sing and dance to life-size cutout photos of their dads -- which they will get to keep after the recital. His blog would like to help purchase those cut-outs (costing $99 a "pop") to "relieve the burden on our deployed Marines. The top prize is $3,000., and everyone in the top 10 will get $250. Please click this VA Mortgage Center link and place your vote for Soldier's Perspective (towards the bottom of the list) to help us help those young girls. Can you also please ask your friends and other family members to take a few seconds to vote as well? Thank you so much," chcknhawk writes.
Noted In Passing...
This week's Honor Roll: FReepers BufordP, Cindy-True-Supporter, Danang68, Fraxinus, Freeping_in_Silence, Iraqikurd, Jimmy Valentine's Brother, Just A Nobody, Kristinn, Plea Deal, Prez222, Taco Mamma, TFroatz, tgslTakoma, Tolerance Sucks Rocks, Tom the Redhunter, [Mr] Trooprally, VAFlagWaver and myself, Albion Wilde. Lurkers Bill from MD, Danielle, George & Ethel.
This week's title, "I don't have a car, but I'm honking my horn," is a direct quote from another woman passerby at this FReep. There are one or two middle-fingers or Bush Derangement shouts from passing cars every week, but for the entire rest of the three hours we're out in front of Walter Reed, we get beeped by everything from sleek trophy cars to dented rustbuckets, especially by cabbies, bus drivers and truckers; by people of every skin color -- men, women and children from all income groups, ethnicities and lines of work. If only the hopelessly retrograde anti-war dunderheads in Congress could hear what we hear on Friday nights at Walter Reed.
* * *
Additional Links:
DC Chapter's January 27 "Winter Patriots" Rally -- FOR Operation Iraqi Freedom and COUNTER Anti-War March in DC
Fran O'Brien's update from Andi's World milblog.
Plea Deal's complete array of photos of this FReep.
Complete Archive of Walter Reed FReeps by BufordP.


.

---
TOPICS: Activism/Chapters
KEYWORDS: dcchapter; freep; passerby; walterreed
---
Navigation: use the links below to view more comments.
first 1-20, 21-40, 41-60, 61-80 ... 101 next last
---
---
---
---
---
---
---
---
---
---
---
---
---
---
---
---
---
---
---
---
---
Navigation: use the links below to view more comments.
first 1-20, 21-40, 41-60, 61-80 ... 101 next last
---
---