---
3 Year Anniversary Is Now History: Wk 156, Olney, MD 01-03-09: Op. Infinite FReep
January 05,2009


Posted on 01/05/2009 4:45:44 PM PST by trooprally

Our 3 Year Anniversary is now history without making history that will shake the world. But we are proud to have been Olney for three years. We are proud to join the other FReeps and Gathering of Eagles rallies that have been going on for years all over the United States. We will continue to be in Olney so long as we are needed.

History will show something though. It will show that as our military fights to defend us and the world against radical Islam, determined groups of Patriots through out these United States have stood up for them.

Patriots in attendance today are Jim (USMC - Vietnam), Legionnaire Dennis (Army - Korea), Lurker Bill, 3DJoy, Cindy_True_Supporter, Fraxinus, GunsAreOK [Mrs] Trooprally, and myself.

Pics were by [Mrs] T and myself.

BELOW LEFT: Jim waving to passing cars. Jim is a newbie this week. He has seen us on the corner before and said that he always hooked and waved. I met Jim several weeks ago at the barber shop. Seeing 5th Marines on his cap, we struck up a conversation while sitting in the barber chair. True to his word, he said he would show up today. All the hooks, waves and our group convinced him to come again when he returns from his trip. BELOW RIGHT: GunsAreOK and Fraxinus. They kept Jim from getting lonely with some lively conversation.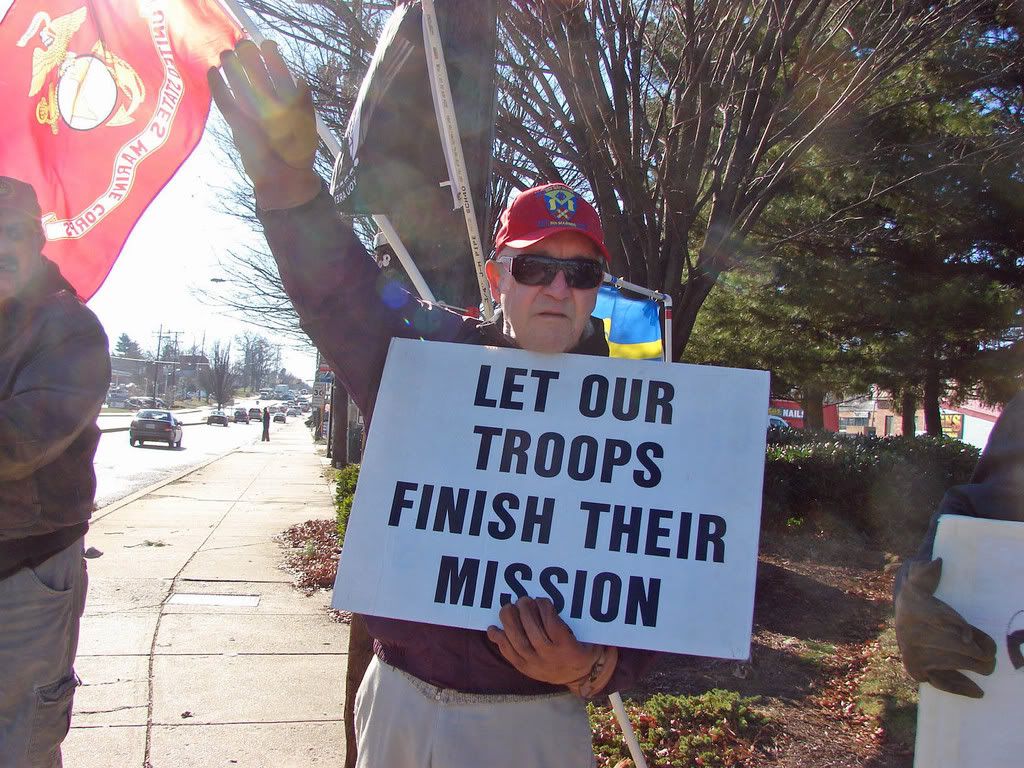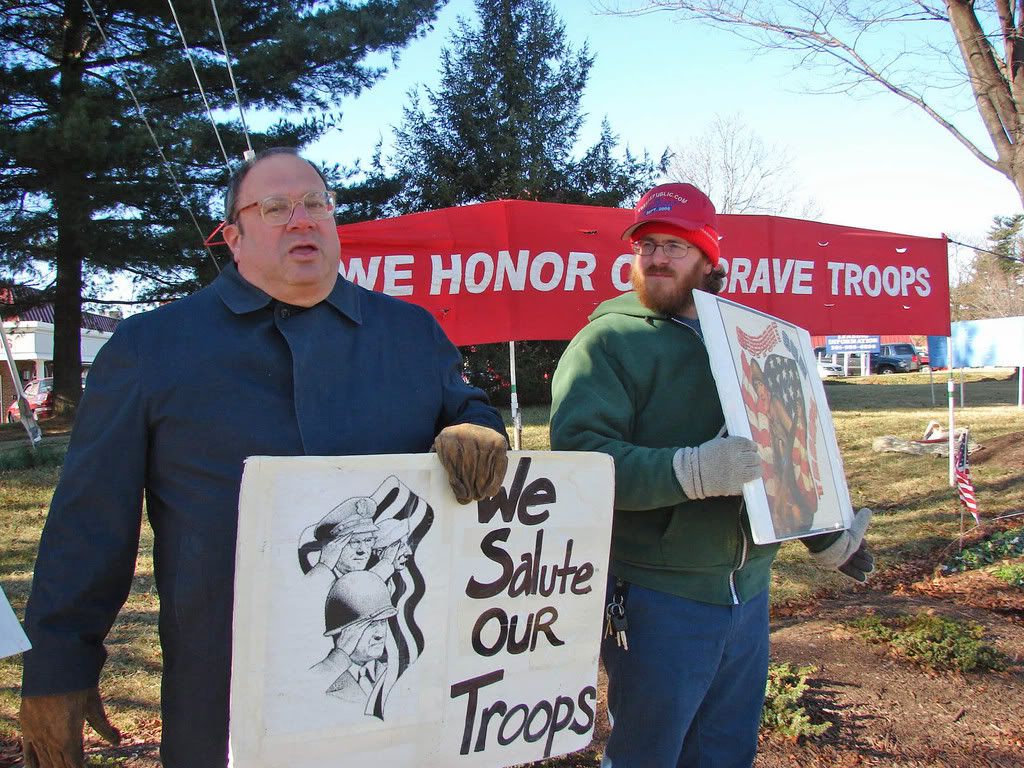 BELOW LEFT: 3DJoy, always a joy to have around. She has on her "2009" sunglasses. She had to be convinced NOT to show up at Walter Reed the night before or at Olney as the New Years baby. BELOW RIGHT: And Dennis is always fun to be around, especially when he brings his patriotic singing buddy.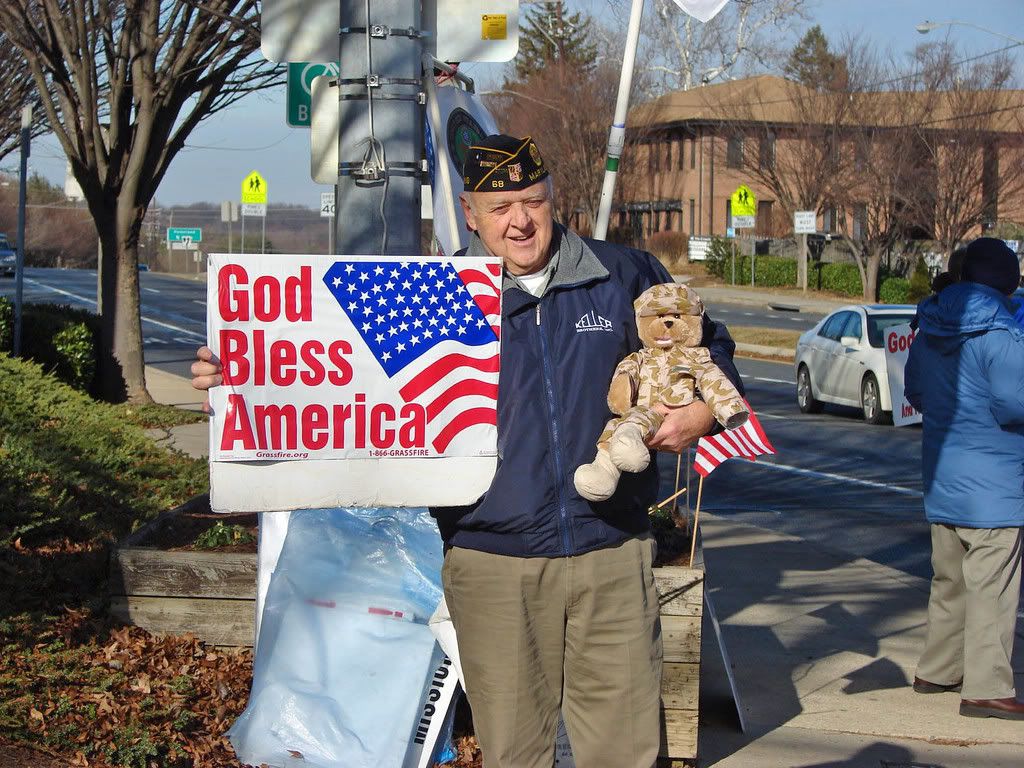 BELOW LEFT: And [Mrs] T is back in the fight, sort of. The cold really bothered her shoulder and she had to spend time in the car keeping warm. BELOW RIGHT: [Mrs] T was able to get one passing supporter. Her right arm isn't quite up to speed yet.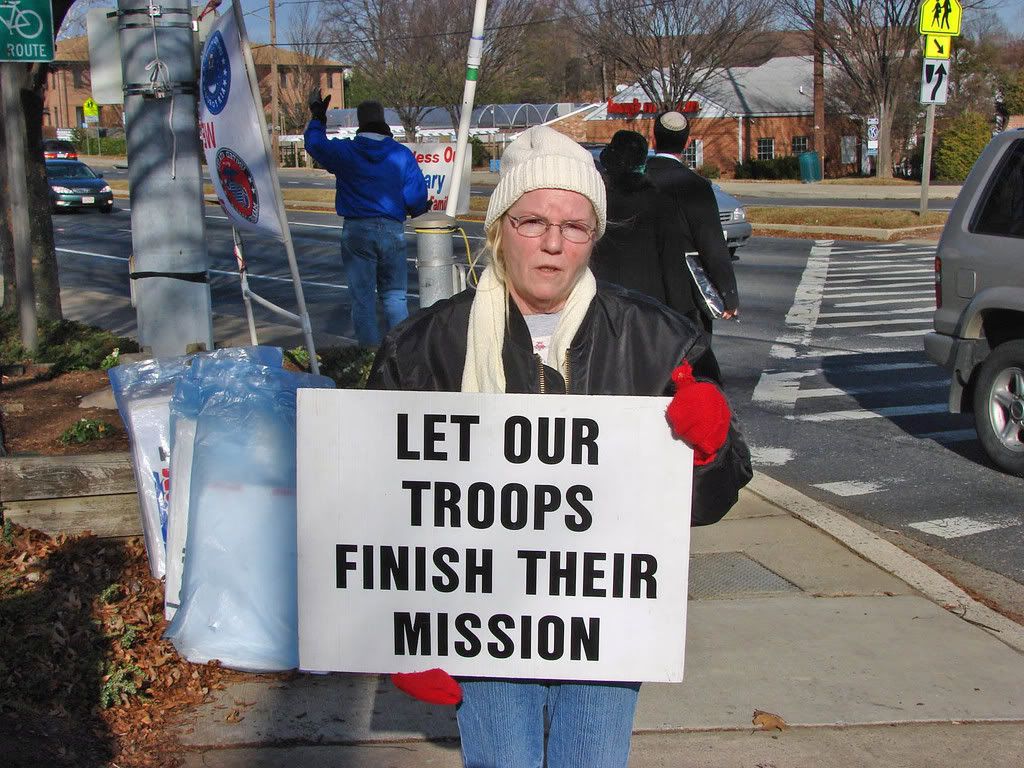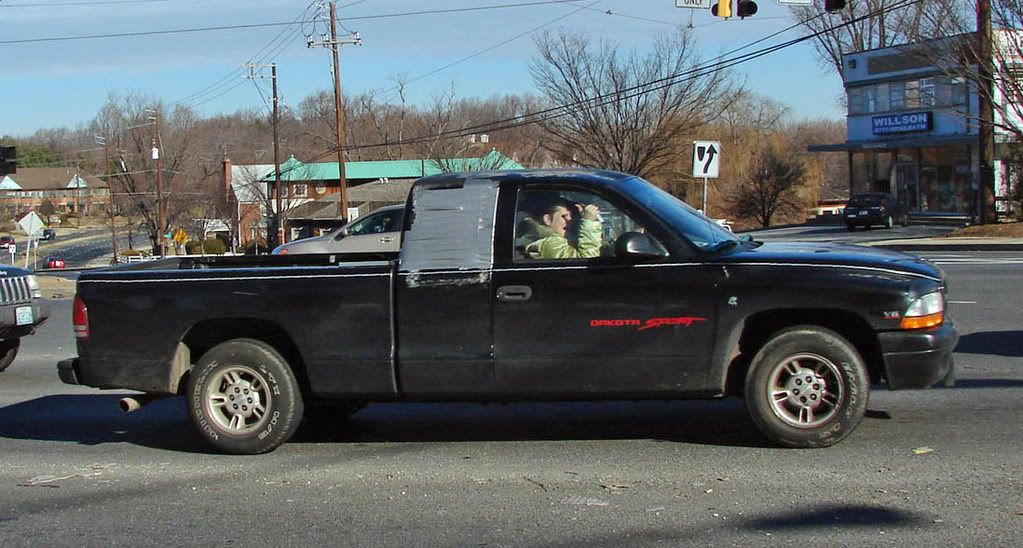 BELOW LEFT: Lurker Bill was back after several weeks off. BELOW RIGHT: And me. Luck was shining on me today. Last week while setting up the red banner, I caught the Blue Star pin attached to my cap on the guy wire and off it went. Couldn't find it with all the leaves on the ground. I found it this week while taking down the red banner. The 40 MPH winds we had earlier in the week had blown the leaves away, uncovering the pin.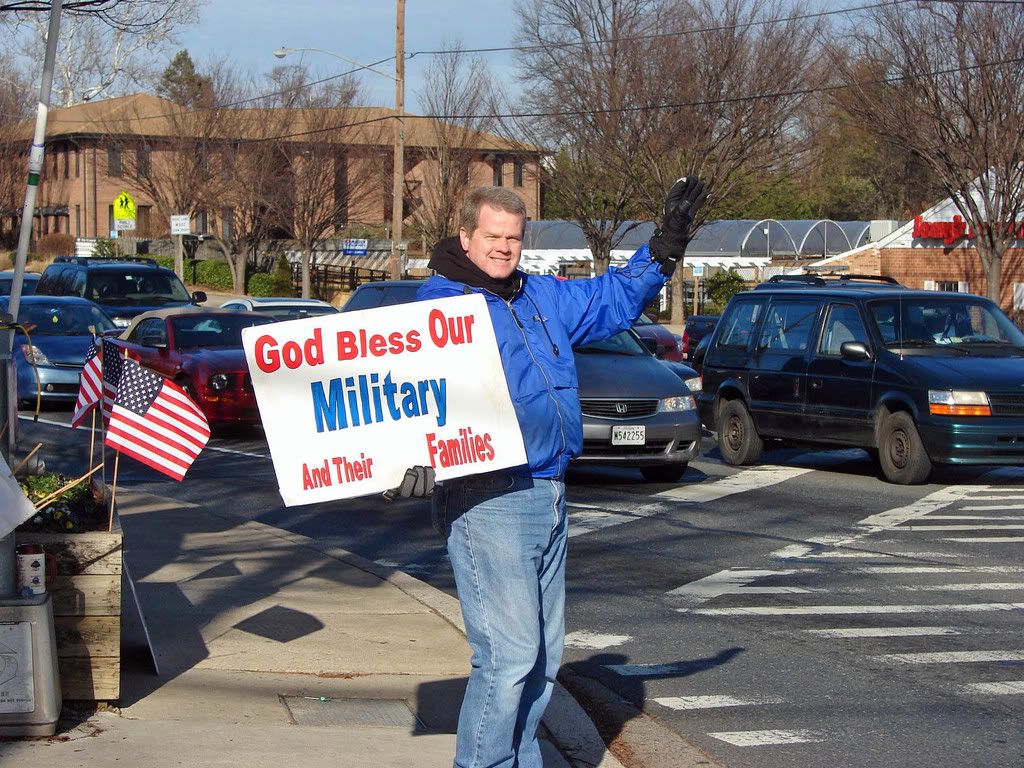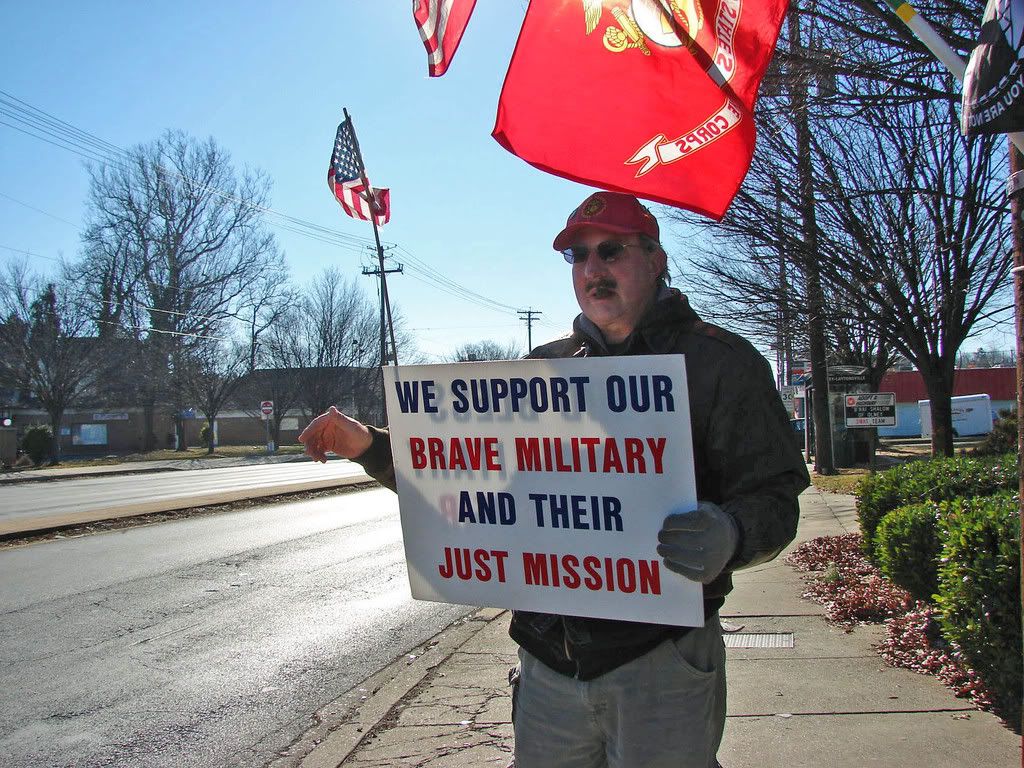 BELOW LEFT: Fraxinus and Cindy_True_Supporter. The sun made it a little warmer. But the wind slowly got through the layers of clothing and we were a little chilled when we broke up. BELOW RIGHT: Chilled we were, so off we went to Dave's American Bisto.
BELOW LEFT: Had to get [Mrs] T in the pic. She doesn't particularly like her pic being taken so when it is, she likes to make faces. BELOW RIGHT: The far end of the table is usually dark, so here is the far end.where Lurker Bill's family sat.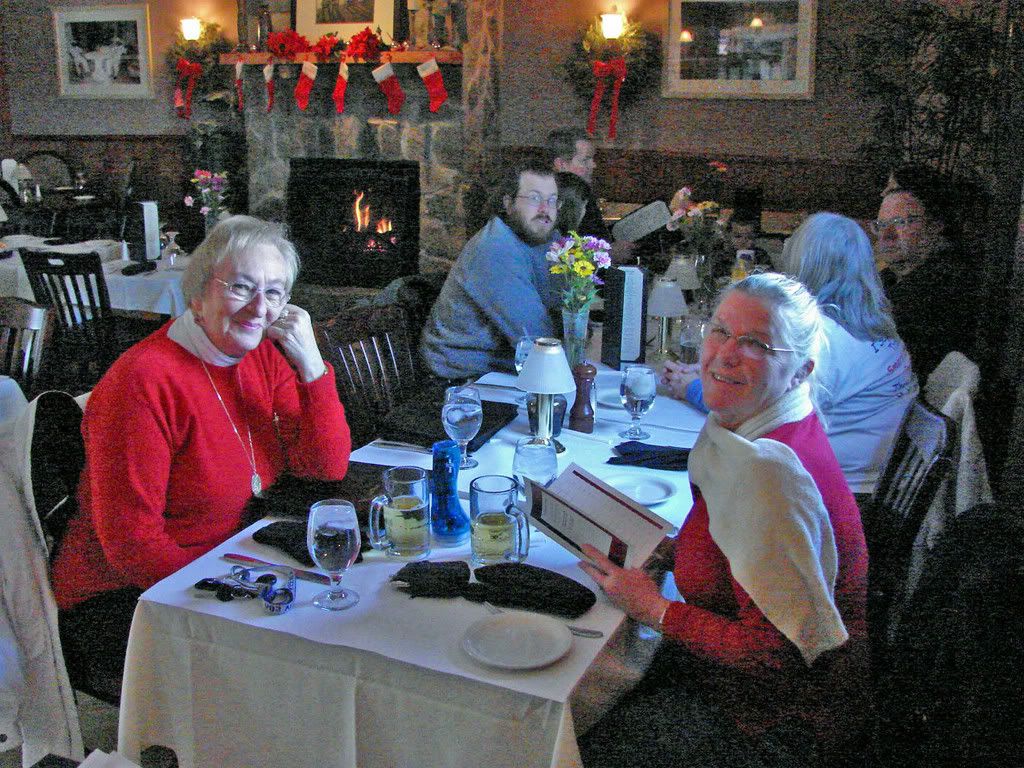 The moonbats were out today. Along with the mandatary chairs. They are all ready for Obambi to declare that at any gather of 5 or more older socialists, there will be a chair for each. A new Department of Chairs with police powers will be established after January 20.
WARNING TO FREEPERS ATTENDING OLNEY - Some new money making have been installed on north bound Georgia Avenue right before you enter the main business district. Slow your speed after the light at King William Drive.




REMEMBER
Next Saturday, same place, Georgia Avenue, MD Rte. 97 and MD Rte. 108 in Olney
NEW TIME - 10:15 AM to 11:45 AM


As always, the D.C. Chapter's rules for protesting will be in effect. Briefly, they are: No violence, no profanity, no racism, no provocations, obey the law and treat all law enforcement officers with respect.
But a lot of verbal engagement in Olney is always welcome.

---
TOPICS: Activism/Chapters; Free Republic; US: Maryland; US: Virginia
KEYWORDS: aar; anniversary; mobilizingmothers; opinfinitefreep; peaceactionmc; quakers; supportourtroops
---
---
---
---
---
---
---
---
---
---
---
---
---
---
---
---
---
---
---
---
---
---
---
---
---
---
---
---
---