---
Soldiers Get Short Shrift; Too Much About Tiller
Posted on 06/11/2009 2:53:20 PM PDT by GunsareOK
Narrative from the first person by Gunsareok with considerable and insightful input from BufordP and Mr. and Mrs. Trooprally.
If the public were asked to identify George Tiller, aka Tiller the Baby Killer, there's little doubt that, after the "mainstream" news coverage of last week, many would be able to do so. But what about Private William Long, killed at a Little Rock Army recruiting center just a day after Tiller was killed at church? And no doubt that fewer still would be able to identify Private Quinton Ezeagwula, severely wounded in the same incident. This was the motivation for our public information campaign at the White House on Saturday June 6th from 2 to 4PM.
The freep began uneventfully with our receiving a few thumbs up here and there. A group of high school age students attending the 10th Challenge, a leadership institute, asked us for details and for us to take their pictures taken holding the signs.
An older white gentleman approached saying he didn't understand our message. When we explained, he changed the subject or brought up irrelevant points about Blackwater and Haliburton making lots of money on the war. As the gentleman walked away and approached his wife; BufordP's niece, who was sitting along the fence at the time, overhead him say to his wife that we had made a lot of good points.
A young man with video equipment asked to interview us. When asked why we objected to President Obama's response to both shootings, BufordP replied that the President and Attorney General quickly dispatched federal marshals to protect private abortion clinics yet, as Commander-in-Chief, failed to protect the recruiting stations. I added that recruiters, possibly contrary to what the public might assume, are not armed while performing recruiting duty. The interviewer then asked Buford and me if we "were racists." I replied that I substantially agree with and would vote for Clarence Thomas, Alan Keyes, J. C. Watts, Thomas Sowell, Walter Williams, and to a lesser extent, Michael Steele. During the Bush administration, I had hoped that Janice Rogers Brown and Miguel Estrada would be nominated to the Supreme Court. All but Estrada are black and I would support them over any white liberal. I asserted that a white racist would refuse to vote for a black or Hispanic under any circumstances. Why was this question being asked, I wondered at the time. I later recalled that the terrorist murderer at the recruiting station is a black American who converted to Islam and received terrorist training in Yemen.
Cindy True Supporter pointed out to passersby that a number of recruiting stations around the country had been attacked and vandalized and that bombings had occurred in New York City. Montgomery County Maryland recruiting stations have been broken into and vandalized after business hours. Local police, using federal jurisdiction as an excuse, have been reluctant to respond even while the crimes were in progress. Even more disgraceful, returning soldiers have been attacked with thrown bottles, behavior not seen since Viet Nam.
Several young black ladies came by, one covering her mouth and faking a loud laugh at our group. Mr. Trooprally tried to engage her in conversation, asking if she knew who Pvt. Long was. She gave no answer but continued her fake laughing as she kept walking by so Mr. T explained to her what had happened and about the biased media. She continued to laugh, so, having had enough, Mr. T asked her, "Who's your daddy?" She stopped dead in her tracks and glared at Mr. T and mumbled something. A short bit later she walked silently by and started to complain to a uniformed Secret Service officer who was close by. Seeing this, Mr. T told her that it's a rough world out her and if she can't take it, she should just stay home. The young lady started to banter with Mr. T. and the officer, seeing that the young lady was occupied with Mr. T, quietly walked away.
A short time later, a rather rude young man, after a heated discussion with Mr Trooprally, shouted at Mr. Trooprally to "Take off that Marine hat." (a red ballcap type hat with the words "US Marines" in yellow letters.) ` Mr. T. replied that his son is an active duty Marine and that anyone, including tourists visiting DC, could purchase and wear such a hat. The lout repeated his demand at which time Mr. T. invited the young man to come over and take the hat off. The lout slunk away to return a few minutes later, this time staying far away from Mr. T.
I stood near the video interviewer as he spoke to several teenaged girls from St. Louis. One asserted that McCain had "dissed" Barack Obama during the campaign and that other students at her high school had referred to Obama as a Muslim. She said that these students were parroting their parents' views. It seemed to me that all three were parroting the views of the Obama campaign.
With the hot button wording we had on our signs, Mr. Trooprally was surprised at the lack of reactions we received from the people that walked by. Some knew of Pvt. Long and thanked us, also taking our pictures. Cindy True Supporter argued more about Tiller being made a martyr and the 3rd trimester killing of babies, and Mr. Trooprally pointed out the biased media's contrast between Pvt. Long's and Tiller's death. GunsAreOK and RongKirby made both points. While the media was not there, and we were a small group, we did educate people. That is the best we could do. After all, the biased media won't do it.
On a more somber note, I would urge all who can to listen to the interview of Darris Long, Private William Long's father and himself a retired career soldier, on the second hour of the Laura Ingraham Show of June 9th. The elder Mr. Long is an eloquent patriot who has suffered a terrible and completely undeserved loss. Private Ezeagwula remains in an Army hospital in serious condition but is recovering. Let us keep both soldiers and their families in our thoughts and prayers. Urge your Congressman to support H.RES.515, Title: Condemning the murder of Army Private William Long and the wounding of Army Private Quinton Ezeagwula, who were shot outside the Army Navy Career Center in Little Rock, Arkansas on June 1, 2009. Sponsor: Trent Franks, 2nd District of Arizona. (introduced 6/8/2009) Cosponsors (None), Latest Major Action: 6/8/2009 Referred to House committee. This information from http://thomas.loc.gov/cgi-bin/thomas. Should you wish to attend a DC Chapter freep at the White House or to do your own, the McPherson Square subway stop on the orange line is only a few blocks from Lafayette Square. Parking is tight nearby but there are garages on I and K streets. The area around the White House is under rigorous patrol by uniformed Secret Service officers and is safe (Be on your best behavior too!) but the precautions for DC apply even a block away.
As is typical for any weekend and even for a weekday, we arrived to hear a large rally with music and chanting entirely in Spanish. To the best of our knowledge, it was a rally for immigration "reform" (read amnesty). Another rally concerned itself with Iran's nukes while yet another urged "fair play" for the Tamil Tigers in Sri Lanka.
Honor Roll: Mr. and Mrs. Trooprally, BufordP and niece, Eager, RonGKirby, Stratman 1969, Cindy True Supporter, and Gunsareok.
Pictures from the event:
Most of the group facing the public before taking the President "to school." From left to right--RonGKirby, Eager, BufordP's niece, BufordP, Mr. Trooprally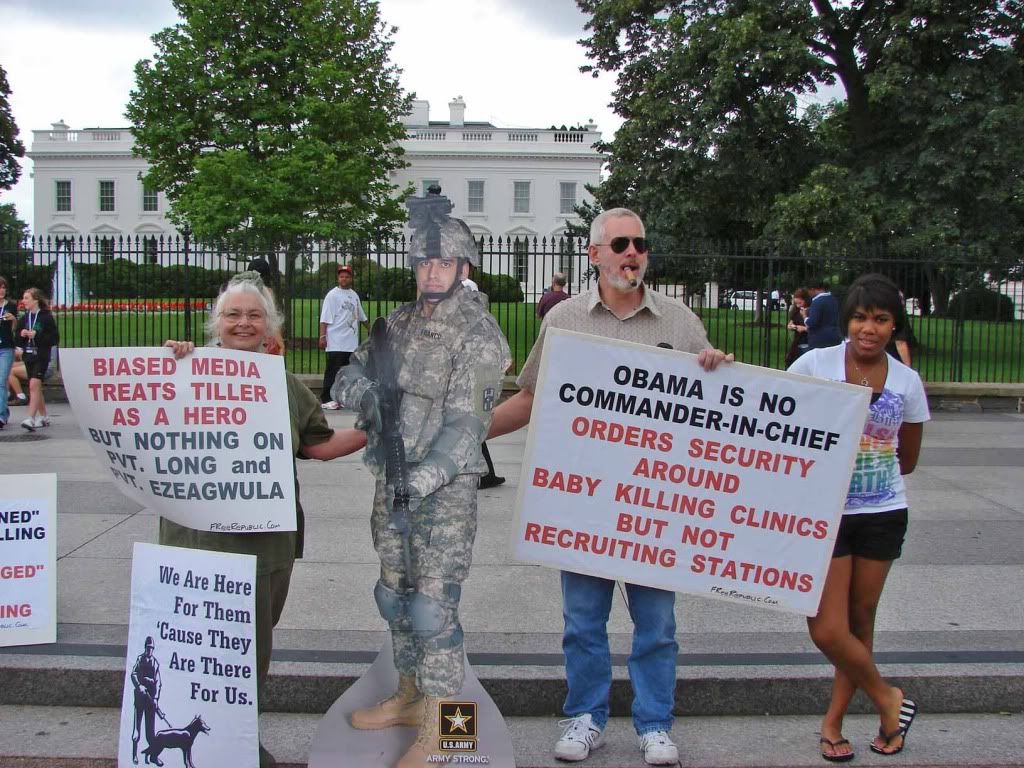 Cindy True Supporter and BufordP and niece informing the public.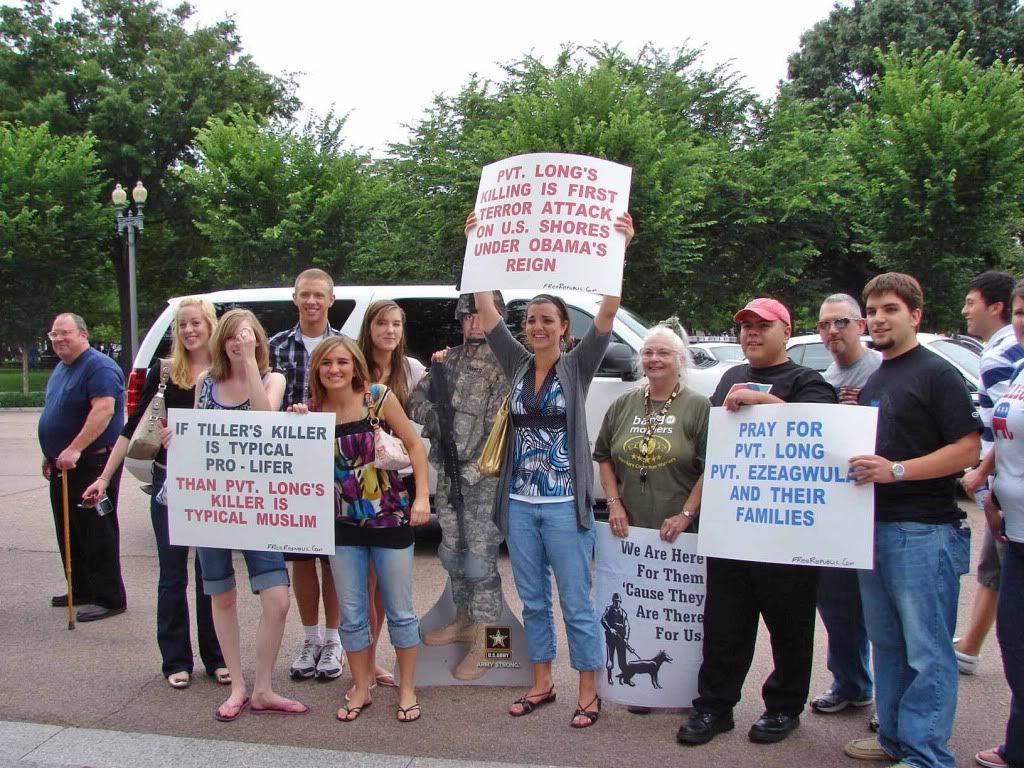 The public gets into the act holding signs along with the Freepers.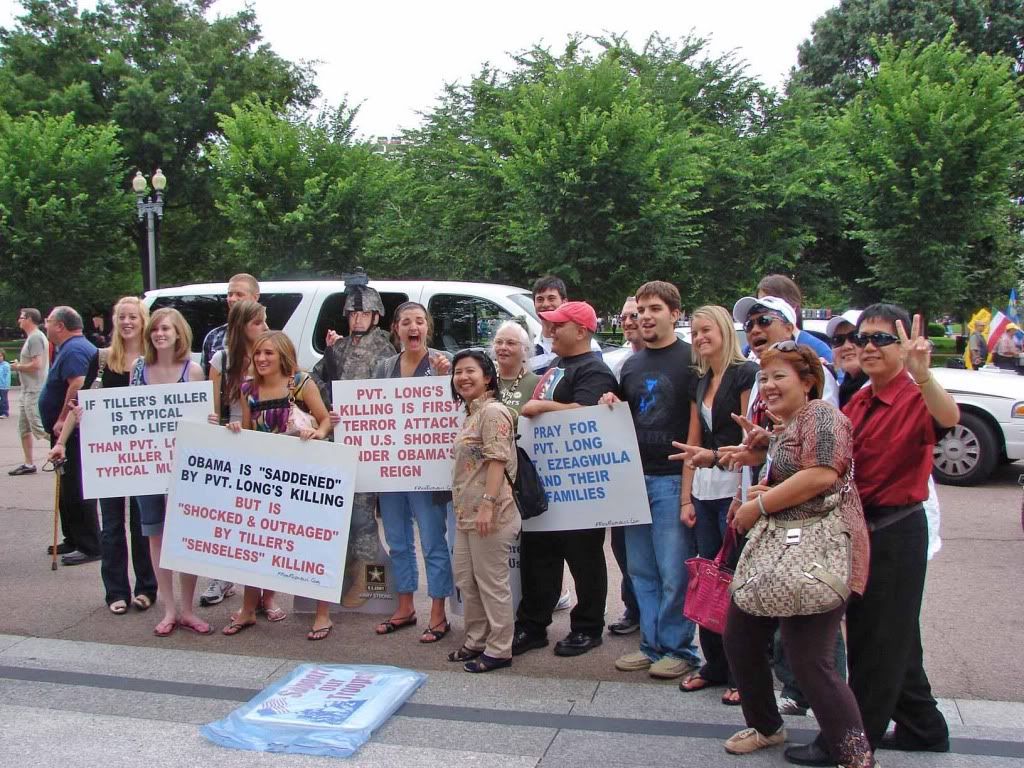 Another group of tourists appears to be in a very good mood.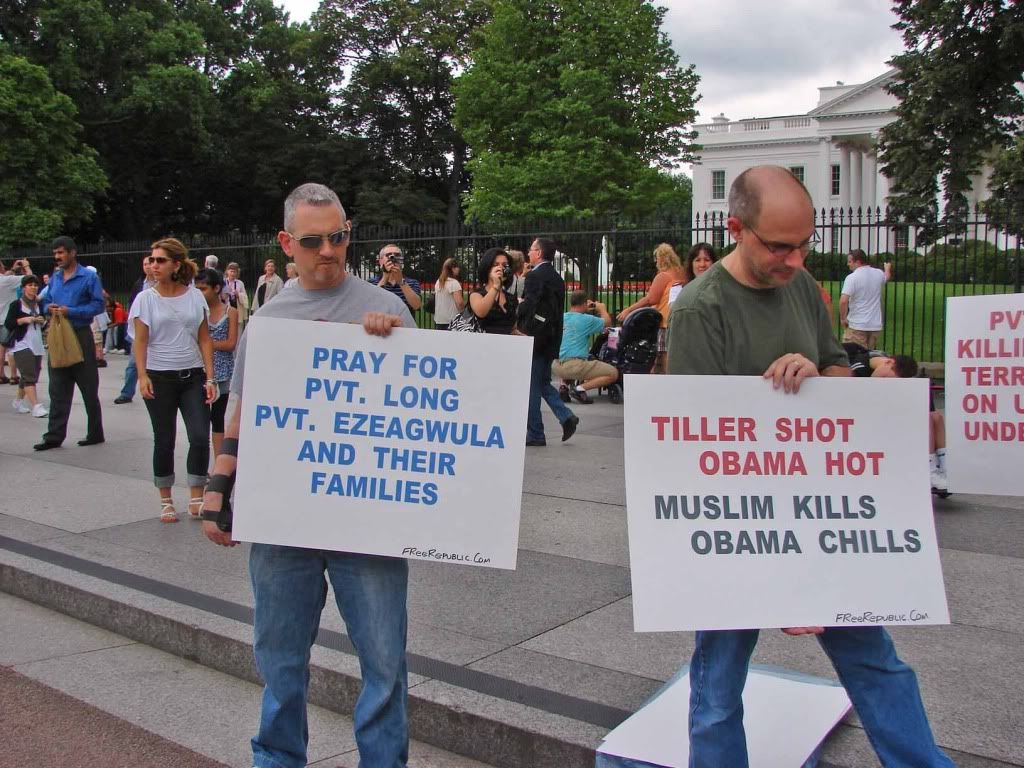 Eager's and Stratman's serious demeanors reflect the true gravity of the event.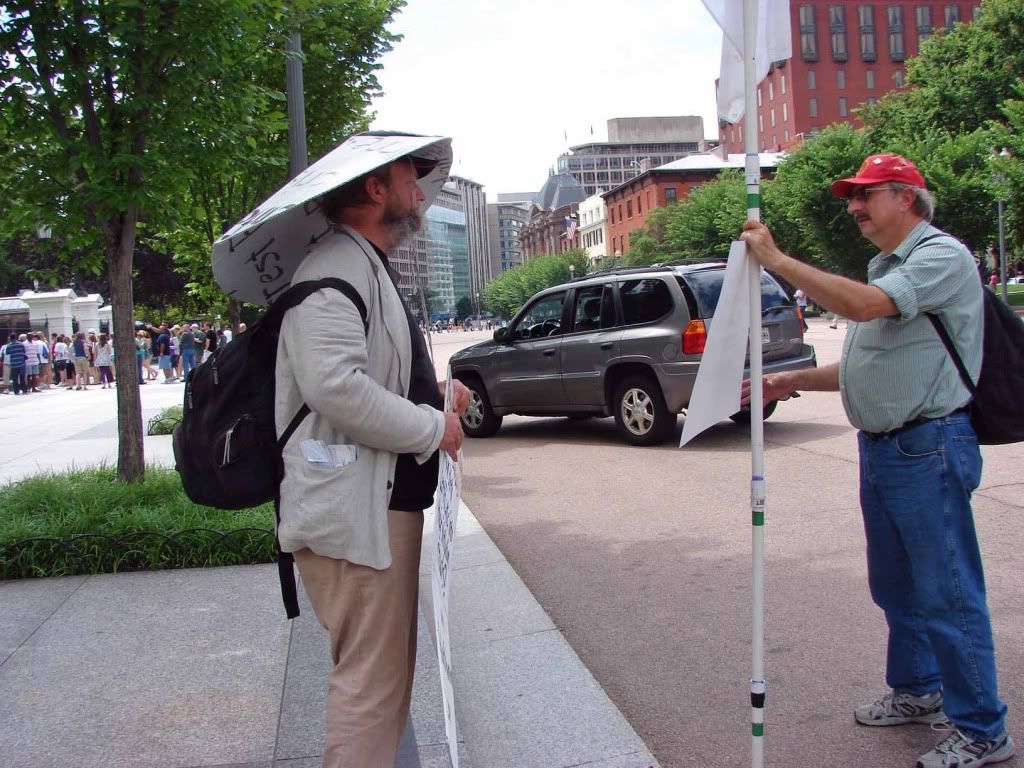 Sandpan hat man travels from parallel universe to meet Mr. Trooprally.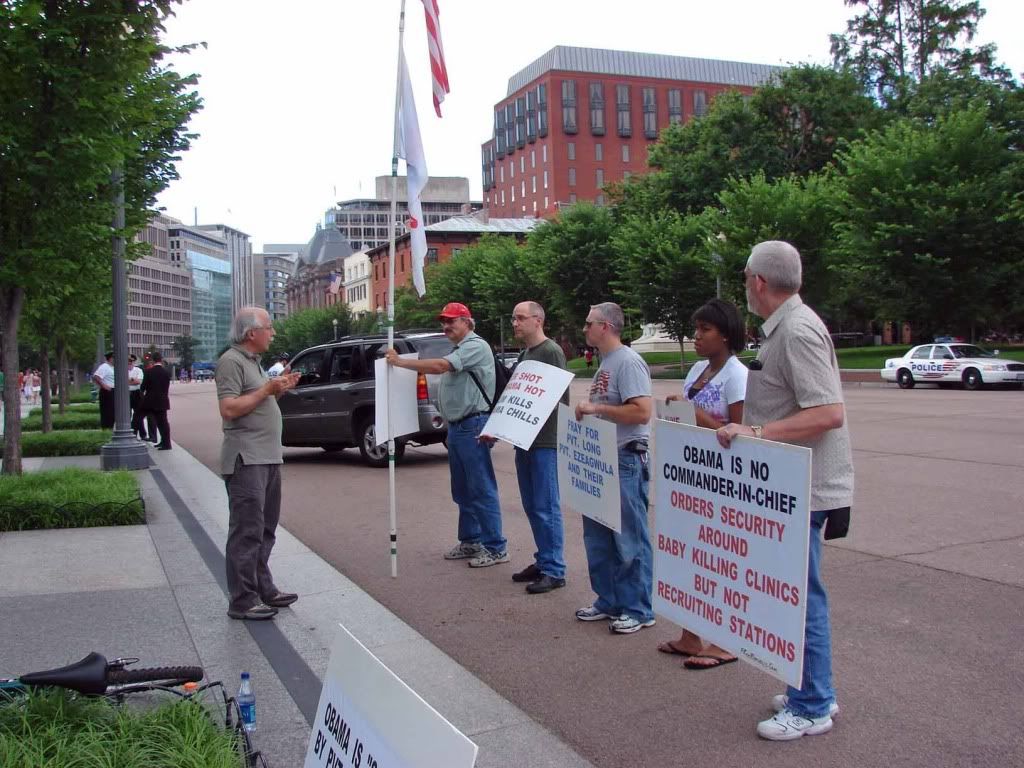 Hippy Dippy (as Mrs. Trooprally called him) appears to have no clue but later admits to his wife that we had some good points. The report refers to him as the older white gentleman.
Rude fellow tells Mr. Trooprally to take off his Marine hat. The hat stayed on!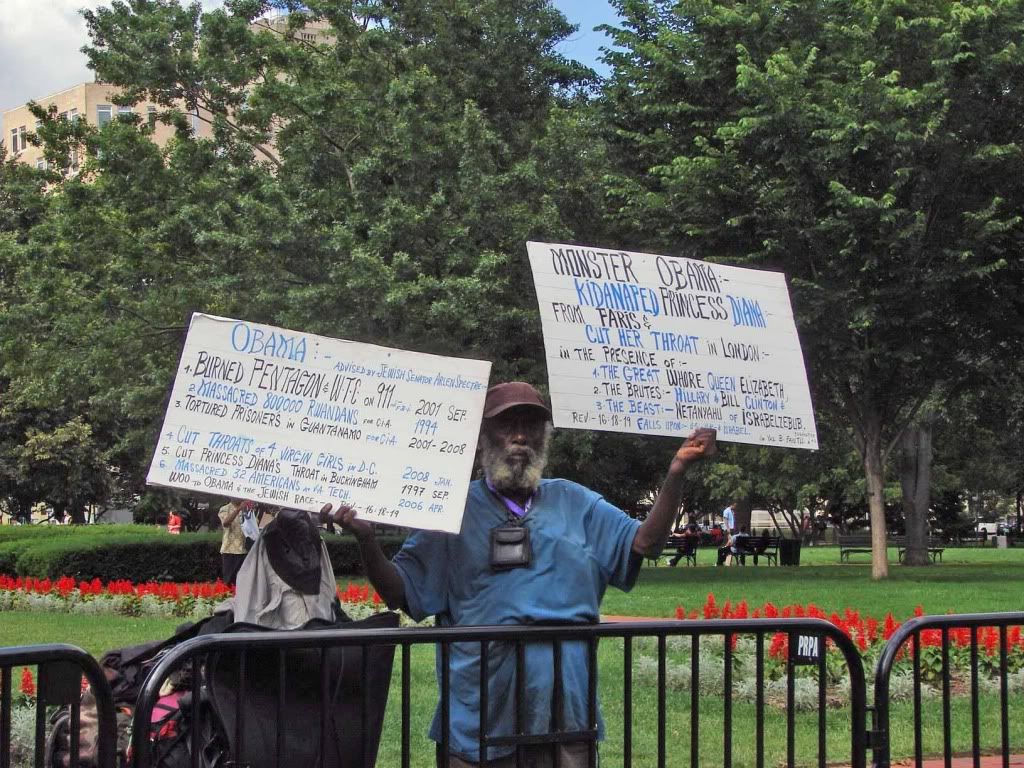 A leftist unhappy even with Obama. We've seen him before.
Two buildings two blocks from the White House on 16th Street represent the real power in today's Washington. Laborer's International Union of North America (LIUNA) and the AFL-CIO.

Some Iranians not too happy with their "leader." US leftists--How free are they (or we) to do this in Iran??
The Iranians above appeal to the UN for help. We'll find out how well that works out.

---
TOPICS: Activism/Chapters; Free Republic; US: Maryland; US: Virginia
KEYWORDS: aar; bledsoe; mediabias; privateezeagwula; privatelong; tiller; whitehousefreep; williamlong
---
Navigation: use the links below to view more comments.
first 1-20, 21 next last
---
---
---
---
---
---
---
---
---
---
---
---
---
---
---
---
---
---
---
---
---
Navigation: use the links below to view more comments.
first 1-20, 21 next last
---
---