---
PeeWee Football and Corner Make Over Continues: Weeks 195 & 196, Olney, MD 10-03 & 10 -09
Oct. 16,2009


Posted on 10/16/2009 4:48:43 AM PDT by trooprally

Definition of PEEWEE FOOTBALL - Best Watch In The World!!

More in a minute.

WEEK 195, Oct. 03,2009

While the Trooprally's were in NC visiting their son and his family, a group of 6 Patriots held down the corner in Olney. Roll call includes Legionnaires Bob (WWII), Jack (Coast Guard, Korea), Lurker Bill and FReepers Cindy_True_Supporter and Fraxinus

Pictures for Week 195 are by Lurker Bill.

BELOW LEFT: Construction continues around Cindy_True_Supporter and Fraxinus. As construction continues, we are figuring how to best put up our flags and banners. BELOW RIGHT: Bob and Jack help hold down the corner.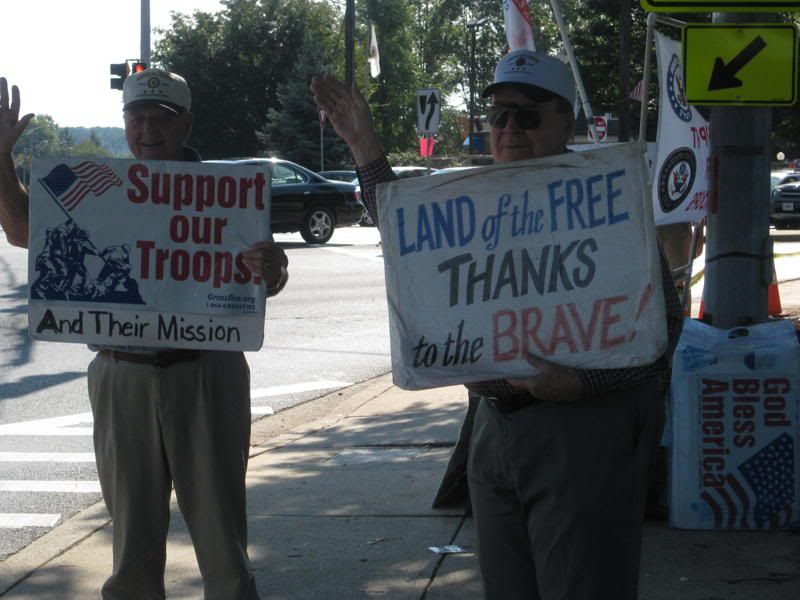 BELOW: Charlie is back after a long absence. He sure picked a good week to stand with us.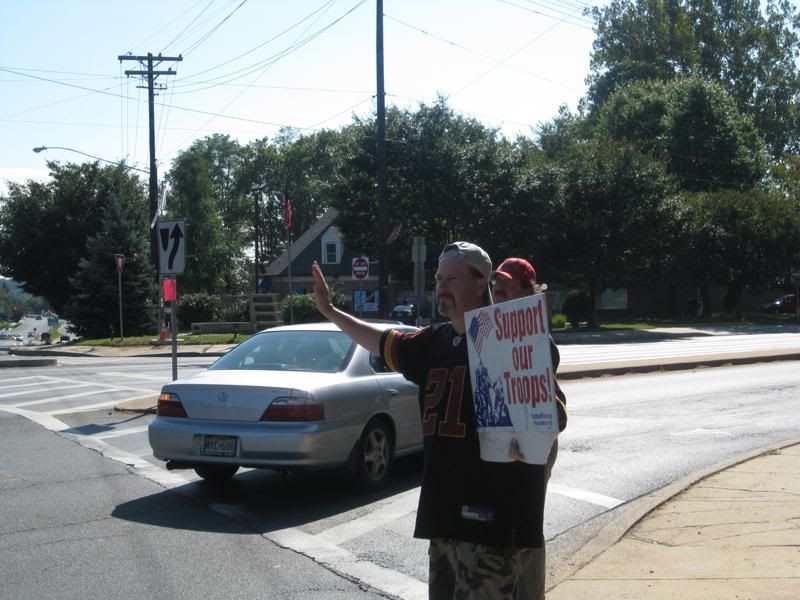 Because PeeWee Football is so much fun to watch, here is a short video of our grandson's team, in blue jerseys and helmets. Just watching football helmets with no bodies running around is beyond hilarious. There was one kid on our side that was so short he couldn't get up on the bench. All he could do was to hike one cheek up on the bench and that was it.
In this video our grandson is on the right side, No. 99, playing both defense and offense. At 0.20 you can see the quarterback giving him some last minute instructions. Scoring a touch down


WEEK 196, Oct. 10,2009
Week 196's roll call in Olney of 7 Patriots includes Legionnaires Glenn (USMC, WWII), Halsey (USMC, Korea), Lurker Bill and FReepers Cindy_True_Supporter, Fraxinus, [Mrs] Trooprally and myself.
Pictures this week are once again by [Mrs] T.
BELOW LEFT: Glenn reporting for duty. BELOW RIGHT: Lurker Bill with Halsey.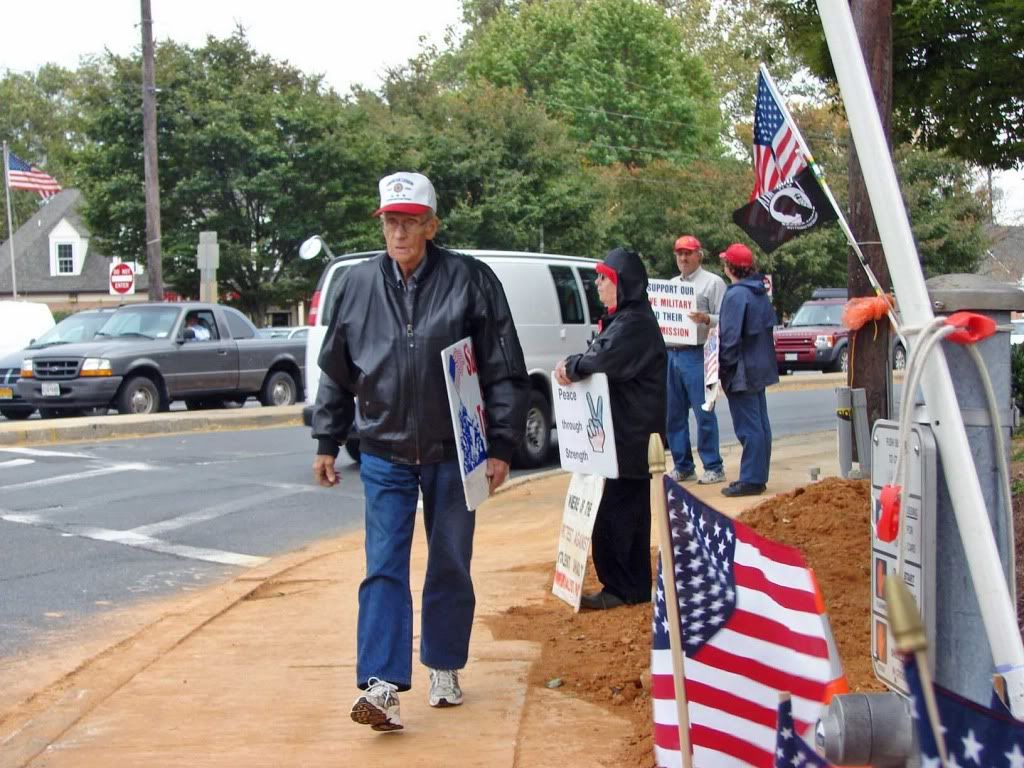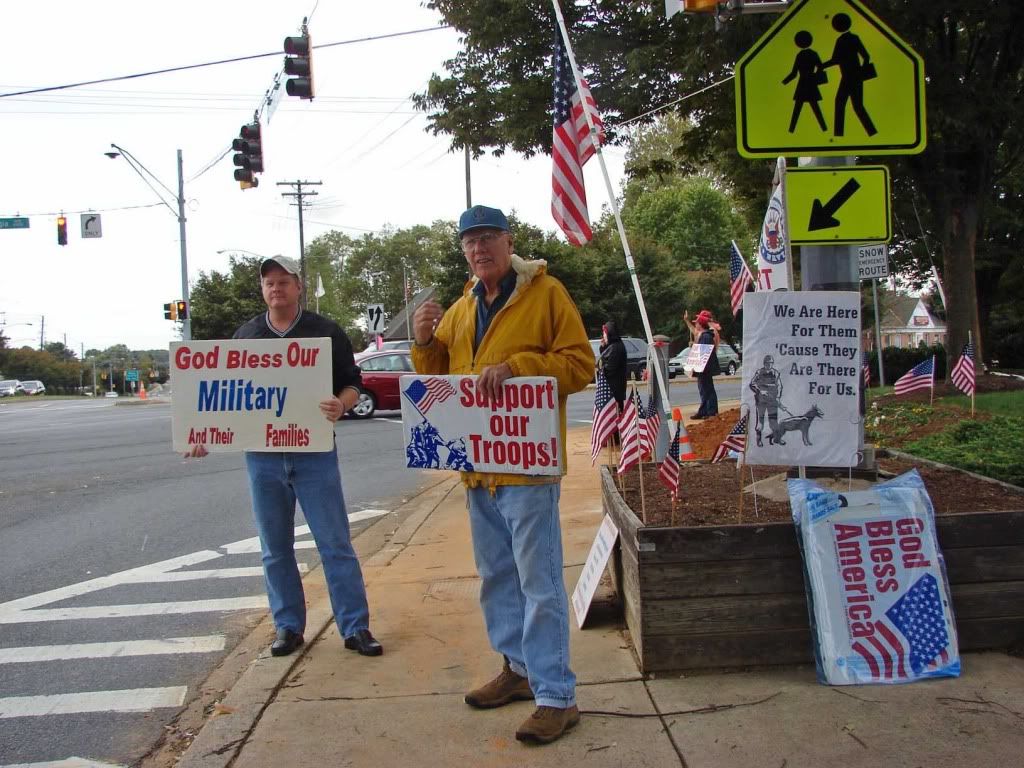 BELOW LEFT: Cindy_True_Supporter. Construction continues as ideas of how best to use the new poles also continues. BELOW RIGHT: Me with Fraxinus.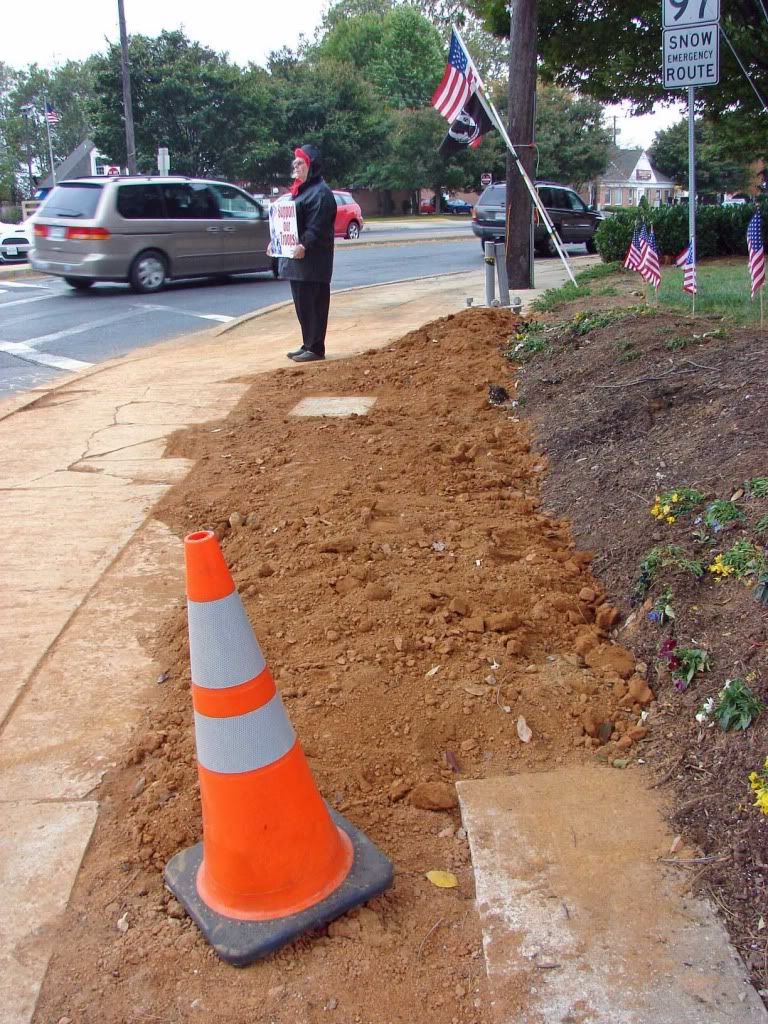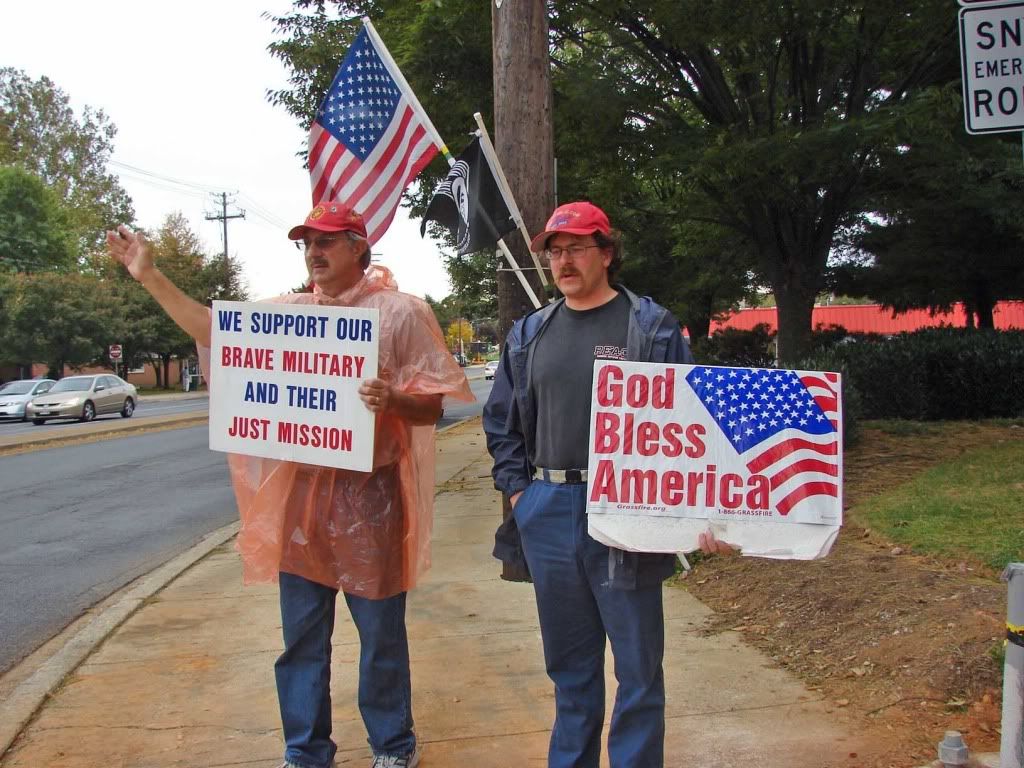 BELOW: With construction on going and the wind and rain, we only put up the small flags. Even these are blown around.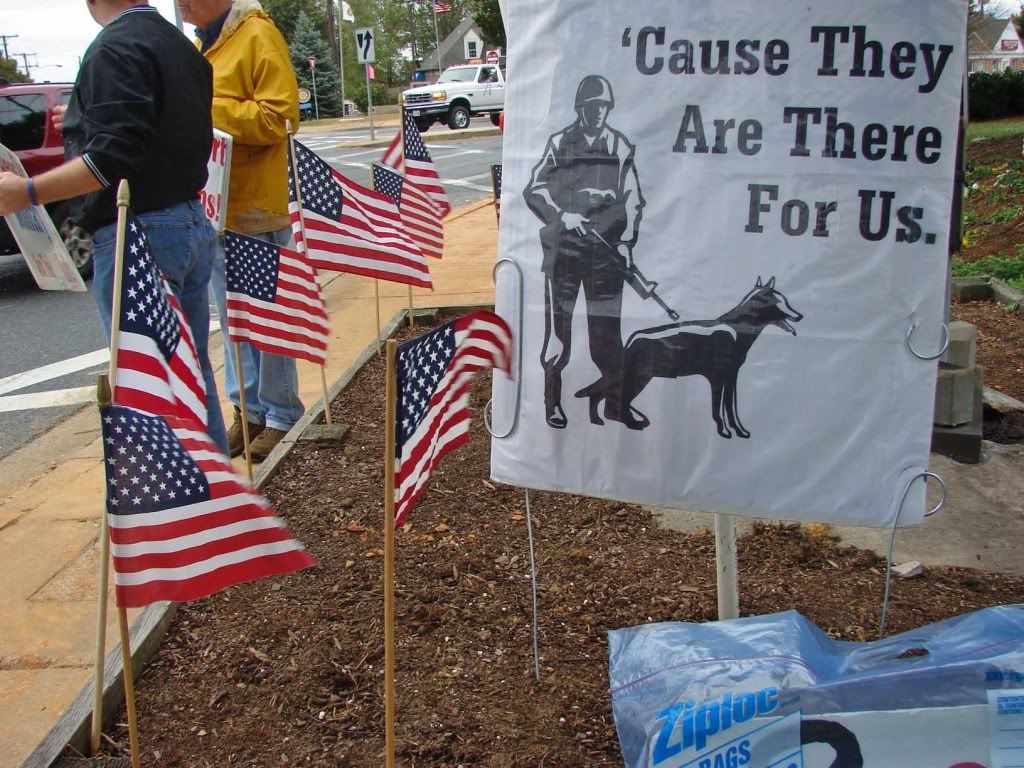 And some real neat pictures of passing supporters.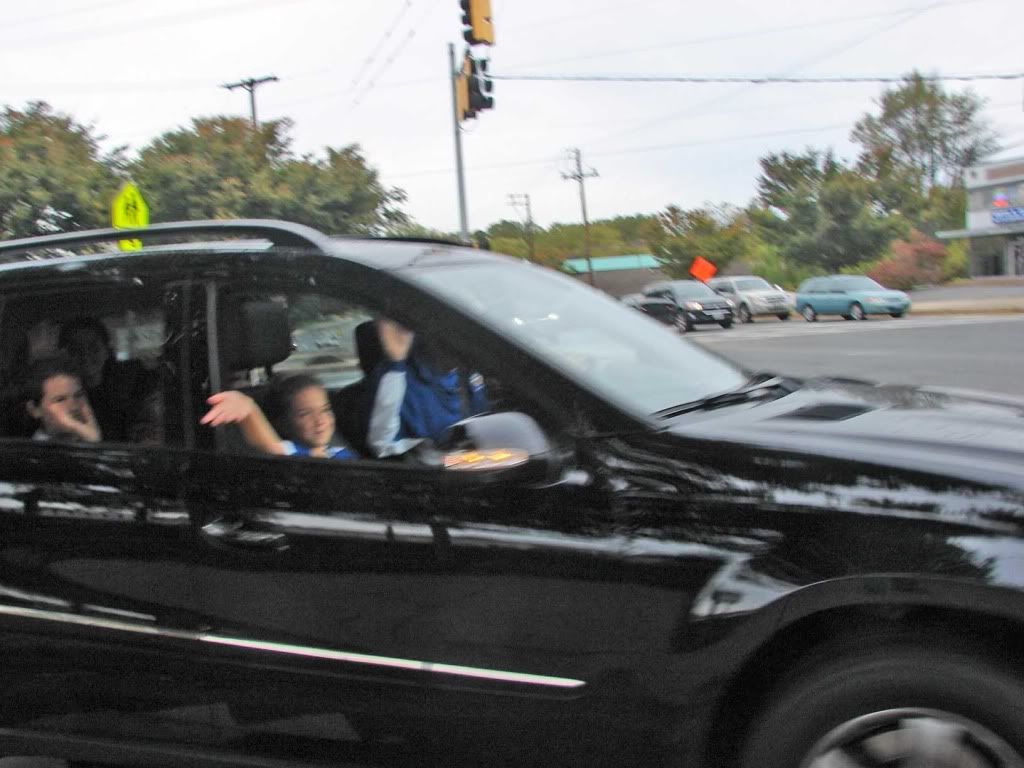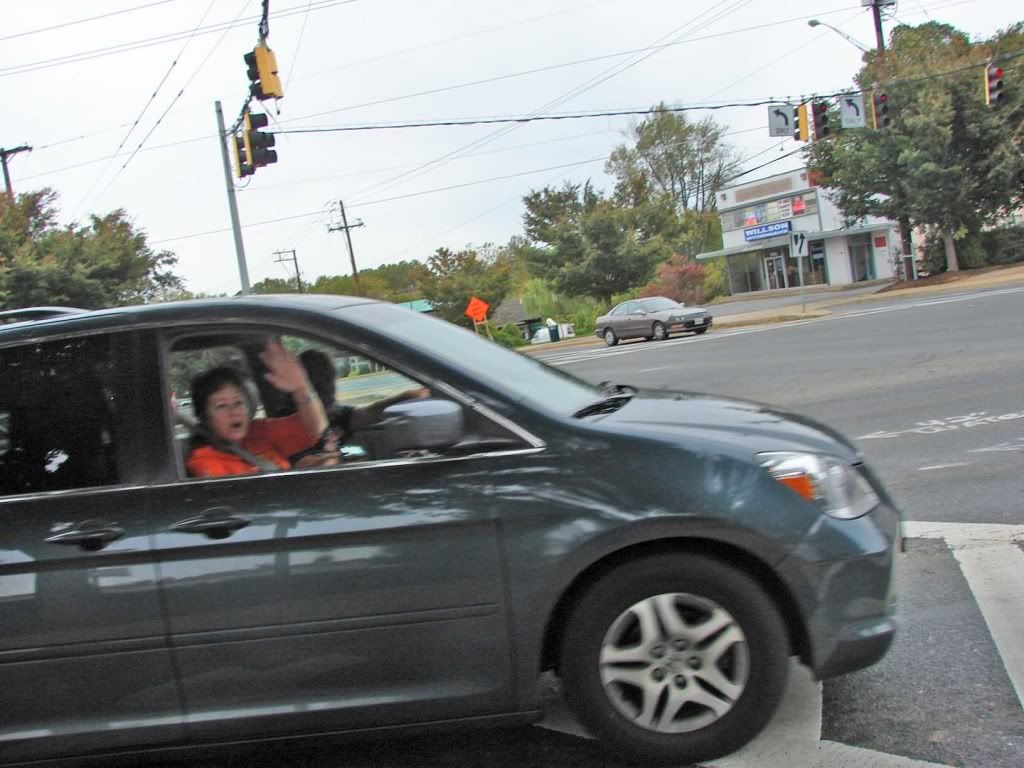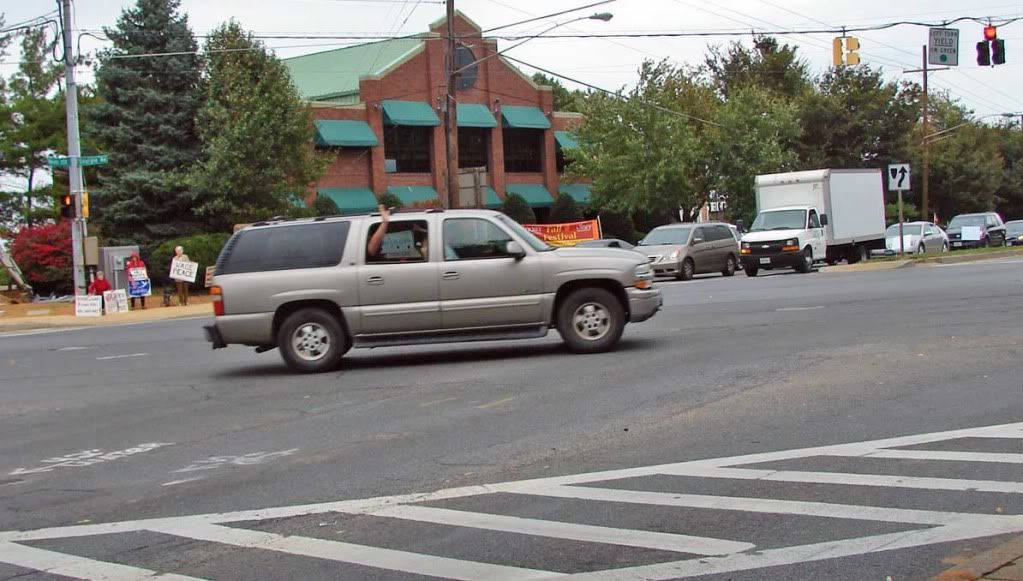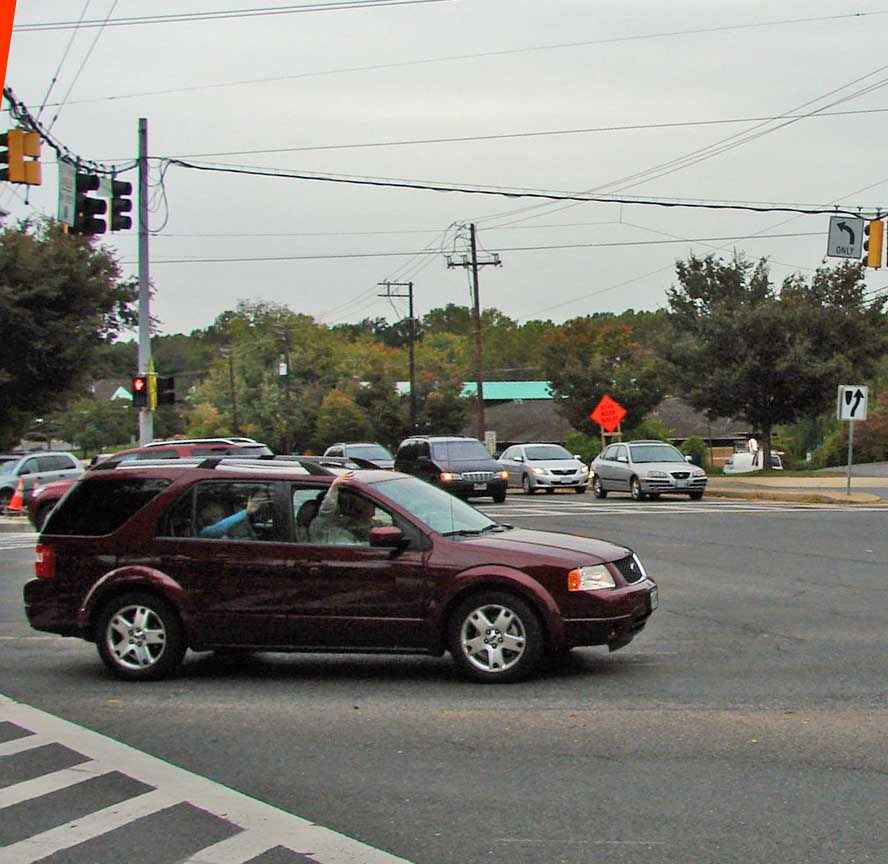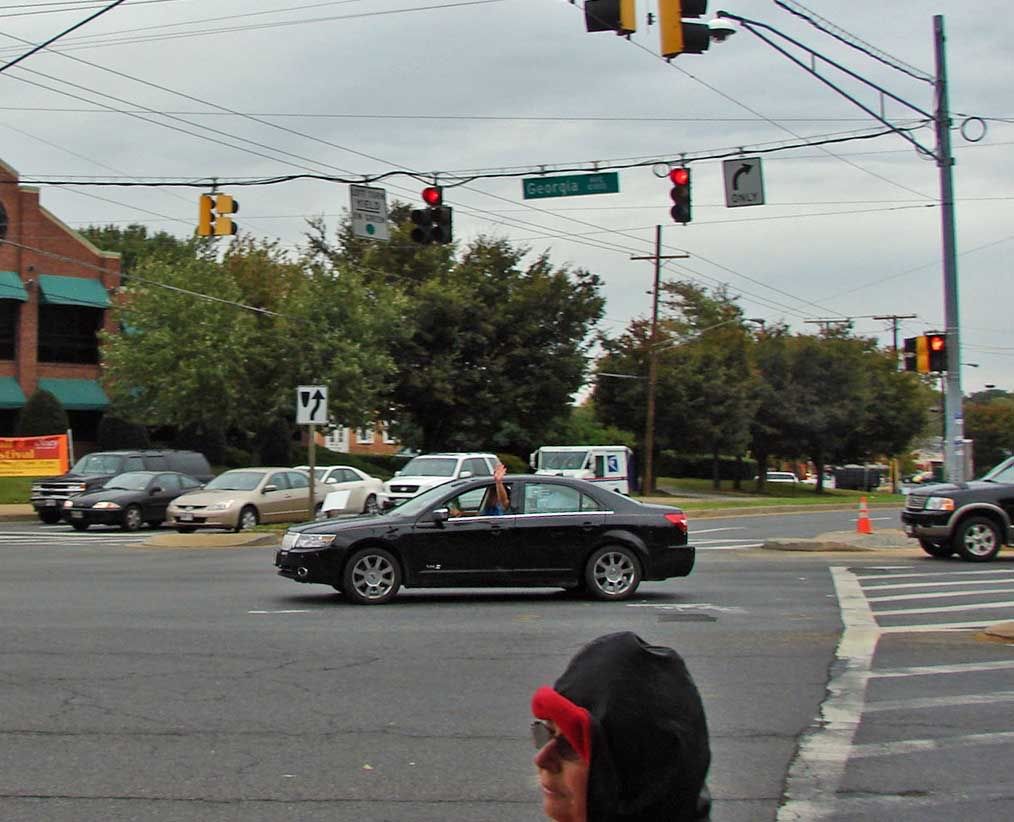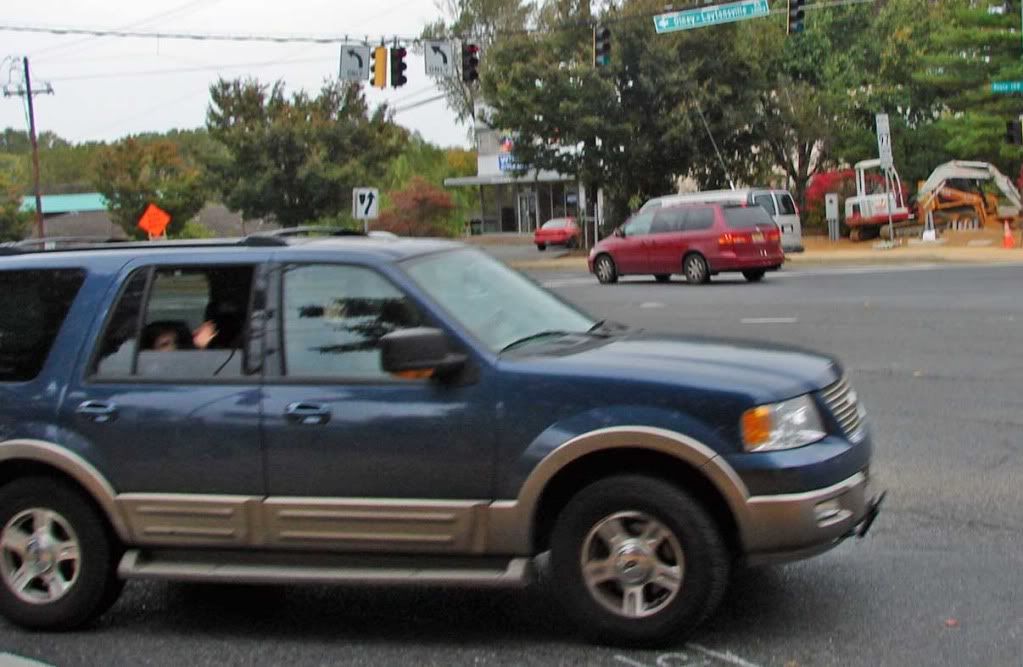 WARNING TO FREEPERS ATTENDING OLNEY
Some new money making have been installed on north bound Georgia Avenue right before you enter the main business district. Slow your speed after the light at King William Drive.
And a new one has been placed just south of Brookeville, between Brookeville and the Longwood Community Center.




REMEMBER
Next Saturday, same place, Georgia Avenue, MD Rte. 97 and MD Rte. 108 in Olney
NEW TIME - 10:15 AM to 11:45 AM


As always, the D.C. Chapter's rules for protesting will be in effect. Briefly, they are: No violence, no profanity, no racism, no provocations, obey the law and treat all law enforcement officers with respect.
But a lot of verbal engagement in Olney is always welcome.

---
TOPICS: Activism/Chapters; Free Republic; US: Maryland; US: Virginia
KEYWORDS: aar; mobilizingmothers; opinfinitefreep; peaceactionmc; quakers; supportourtroops

RE: Olney FReep -

If you live in northern VA and want a short cut to Olney See Post 39 Here. It's an easy 20 minute drive from the American Legion Bridge.

A special Thanks to a FReeper FRiend for enhancing the original plain type directions.

The Archive of Olney FReeps is here or in the LINKS section of Trooprally's ABOUT Page.

WEATHER UPDATES HERE.

---
To: 1 Olgoat; 103198; 10Ring; 11Bush; 1stbn27; 2ndClassCitizen; 2SterlingConservatives; 2yearlurker; ...
DC Chapter Master Ping List
2
posted on
10/16/2009 4:49:44 AM PDT
by
trooprally
(Never Give Up - Never Give In - Remember Our Troops)
---
To: Abundy; Albion Wilde; AlwaysFree; AnnaSASsyFR; bayliving; BFM; cindy-true-supporter; ...
3
posted on
10/17/2009 5:56:19 PM PDT
by
Tolerance Sucks Rocks
(Barack Hussein Obama: the country's greatest firearms salesman!)
---
To: trooprally
Love the football game Troop. It is fun to watch the little guys play. Our granddaughter played T-ball last year at age 4. Now she's playing soccer at age 5. She is better at soccer. In T-ball she got bored standing on second base. She would spend her time there talking a blue streak at the coach, or following his shadow to stay out of the sun. As you say, it was a riot to see those helmets running the bases without anything under them.
---
FreeRepublic.com is powered by software copyright 2000-2008 John Robinson