---
Support The Troops Continues - Walter Reed, Week 253
February 24, 2010 | Kburi


Posted on 02/24/2010 4:05:57 PM PST by kburi

Week 253, February 19, 2010 - After surviving the Great Blizzard of 2010, the DC Chapter continued supporting the wounded warriors and their families for the 253rd consecutive Friday evening.

FRONT GATE NOTES

Snow continued to melt, but a brisk wind made for a very chilly evening. Traffic on Georgia Ave was moderate and the drivers honked as they passed. Two buses returned from taking the wounded warriors and their families to dinner. The forecast is calling for 2 to 3 inches of more white stuff Thursday, a sign that winter is subsiding.

WRAMC Anti - War Protester News

Four moonbats down the block. They just put in their two hours, and leave, quietly.

HONOR ROLL for February 19, 2010

Mr and Mrs Trooprally, Lurker Bill, Cindy True Supporter, Fraxinus, BufordP and Rongkirby.

Come join us every Friday night between the hours of 6:30pm to approx 9:30pm.
---

If you can't get to D.C. to join us but would like to do something for the wounded, you can find a wealth of ideas by FReepmailing Tom the Redhunter, Cindy-True-Supporter, VAFlagwaver, or PleaDeal. Directions to our Walter Reed freep location from the Takoma metro station

BufordP's Walter Reed FReep archive

February 19, 2010 Photos, (courtesy of Mrs Trooprally)

DC Chapter Takes Control Of The Front Gate
BufordP and Fraxinus Bundle Up For the Evening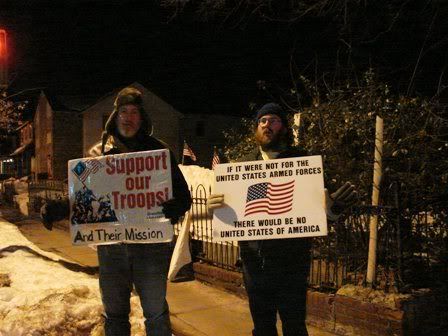 Rongkirby Really Likes Snow
Lurker Bill – Warm Waves on a Cold Evening
Cindy True Supporter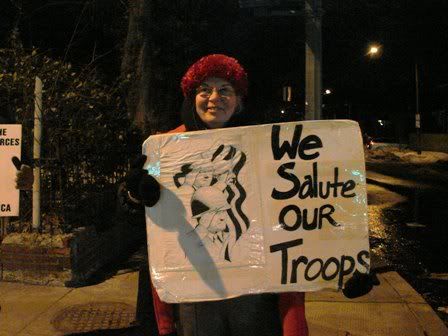 Trooprally
<
DAV Bus and Large Bus Return From Dinner
PleaDeal's (GunnNutt) blog at Semper Gratus

---
TOPICS: Activism/Chapters; Free Republic; US: District of Columbia; US: Maryland; US: Virginia
KEYWORDS: aar; dcchapter; military; moonbats; patriotism; rally; supportthetroops; walterreed; wia
---
---
---
---
---
---
---
---
---
---
---
---
---
---