---
Slowly, very slowly, Winding Down at Walter Reed - Week 330 August 12, 2011
August 16, 2011 | Kburi


Posted on 08/16/2011 5:09:07 PM PDT by kburi
It's 6:30 pm on Friday evening at Walter Reed. Flag Row is being set up and the banners are on three corners. The first FReepers are taking to the corners with signs and flags.
As the first flag is posted , passing cars start honking and don't stop until we have left for the evening.
Tonight, as usual, we talked with wounded warriors, family members and staff who were walking into or out of Walter Reed. And the Disabled American Veterans (DAV) bus stopped for a rare third time allowing some of us to directly thank the wounded warriors for their service.

Three weeks from now these corners will be silent and empty on Friday evenings for the first time in almost 6 and a half years.
All the wounded warriors and staff will have been transferred to Bethesda or Ft Belvoir. And our mission, to support the troops and their families at Walter Reed, will have come to an end.



The regular Friday nights started April 15 2005, as a counter protest to Code Pink which was demonstrating against the wounded at Walter Reed.
Their protests were anti-military, some signs were vile, and had no place in front of Walter Reed where severely wounded soldiers were brought to recover.
Those early days were confrontational until January 20, 2006, when the DC Chapter of Free Republic took over all four corners at Walter Reed's front gate.
This meant that families of wounded warriors and the wounded warriors themselves didn't have to see anti- military protesters as they were entering or leaving Walter Reed.
We have been there for the troops and their families for 330 consecutive Friday evenings to insure that Code Pink types did not return to the front gates of Walter Reed. They haven't!

Over the years, more than 200 Free Republic members and "lurkers" have spent multiple evenings at these Friday night rallies. And over two thousand additional Americans from all over the country, have visited with us on their travels to DC. On 9/11/09 alone, almost 700 visitors were with us at the front gates of Walter Reed!



Our presence has not been a commitment, but an honor in which we have been privileged to participate.

Our presence has been meaningful: Walter Reed staff, officers, wounded warriors' family members, and, especially the wounded warriors themselves, have repeatedly told us how important our presence has been to their morale.

A writer of an early After Action Report summed up our mission as: " Lifting the spirits of our war-wounded heroes is what we aim to do. "





To see After Action Reports beginning in March 2005, please check BufordP's Walter Reed Freep Archives :

BufordP's Walter Reed FReep archive
Tonight we were joined by two wounded warriors, Patrick and David. In addition, a visitor, Peter came to visit for awhile. He volunteers for the Red Cross at WRAMC and also coordinates Team River Runner which takes wounded warriors kayaking weekly.

The DAV bus returned and stopped. We were able to briefly visit with the wounded warriors and their families.

Special thanks and a shout out to Ron, the DAV driver. He has been a volunteer driver for the Aleethia Foundation for over seven years, and has been especially supportive of the wounded warriors.
---
Tonight was the 330th consecutive Friday night that the DC Chapter of Free Republic has been at the front gates of Walter Reed to support our soldiers. Our calculator says that is 6 years, 4 months and 2 weeks of consecutive Friday evenings. A lot of people over the six years have made this commitment possible.
It doesn't seem possible, but after tonight only two Friday evenings remain.


August Calendar For the Walter Reed Transition

The DC Chapter of Free Republic invites all who have participated over the past 6 ½ years to join us on either or both of the two remaining dates below.

August 19, and 26 We will continue at the front gates until the last wounded warriors are moved to Bethesda. We expect the Friday night dinner buses to operate through early August. However, it depends on how many wounded warriors sign up. Many are already at Walter Reed National Medical Center in Bethesda.


The Aleethia Foundation will continue to coordinate these dinners from the Walter Reed National Military Medical Center, or WRNMMC for short.

The DC Chapter will continue at the front gates of Walter Reed until August 26. Walter Reed officially closes during the last week of August .

---
---
FReepers, Lurkers and Visitors on August 12, 2011
Mr. and Mrs Trooprally, BufordP, CindyTrueSupporter, Fraxinus, Kburi, Lurkers Allie, Bill, and Jim, RonGKirby, Sensei Ern, Tammycat and Idaho, VictoryNY, Visitors Kim and Peter.


---
Moonbat News

Seven moonbats tonight and all left promptly at 9 pm. Still very quiet on the moonbat front.


No longer Code Pink, just a few union members carrying their water.
They are barely noticed by passing motorists.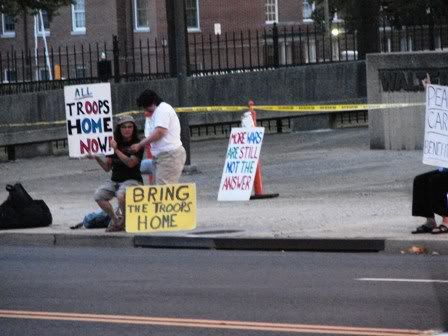 ---
---
FOOTNOTES
The DC Chapter invites you to join us for the last two Friday nights between the hours of 6:30pm to approximately 9:30pm. The last Walter Reed dinner buses are scheduled through early August. And we will be at the front gates until the last wounded warrior has been transferred (August 26 will be our last Friday night). So the clock is ticking and we would be honored to have you join us before these long term consecutive Friday evening rallies come to a close.
---

If you can't get to D.C. to join us but would like to do something for the wounded, you can find a wealth of ideas by FReepmailing Tom the Redhunter, Cindy-True-Supporter, VAFlagwaver, or PleaDeal. Directions to our Walter Reed freep location from the Takoma metro station

BufordP's Walter Reed FReep archive



---
August 12, 2011 Photos, (courtesy of Mrs. Trooprally)
Volunteer Bus Driver, Ron.
He has been driving the troops for seven years.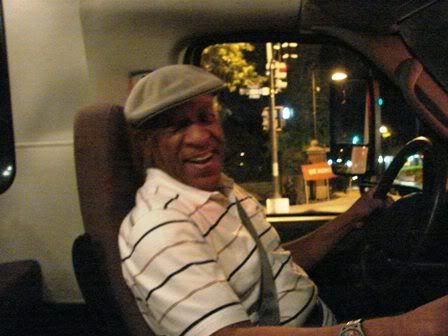 TammyCat, VictoryNY, Allie and CindyTrue Supporter
This corner gets a lot of honks!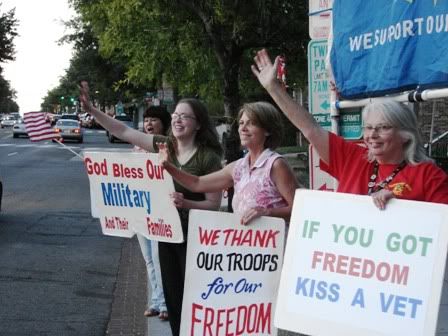 BufordP and RonGKirby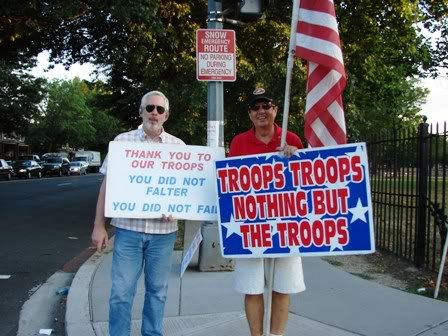 BufordP, Jim, Kburi, RonGKirby, Peter and Trooprally
Code Pink held this corner for several months in 2005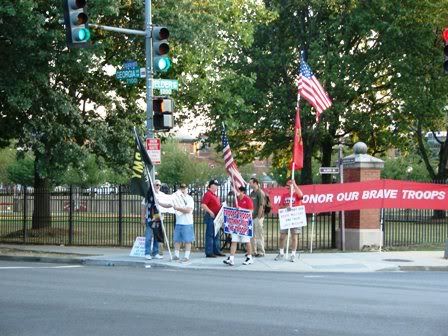 David and Patrick – Wounded Warriors drop by to talk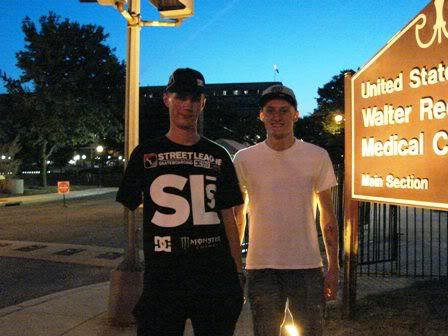 Bill, BufordP and Kburi


VictoryNY and the Hospital in background.
The last troops to be moved are on the top two floors.
Six years ago, these two corners at the front gate were Code Pink, anti-military territory.
ConcreteBob got us permits for all four corners, moving Code Pink members a long way
from the front gates.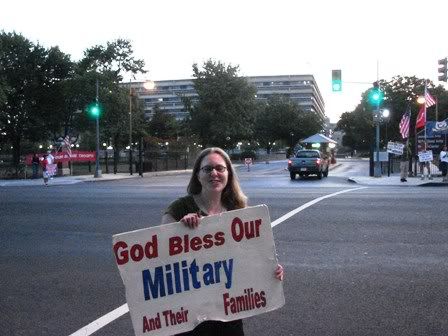 Peter, Trooprally, Kim and Sensei Ern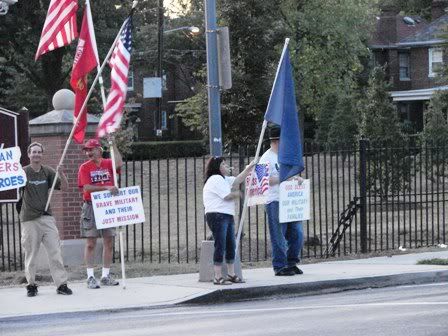 Jim and Fraxinus




One ambulance tonight – two views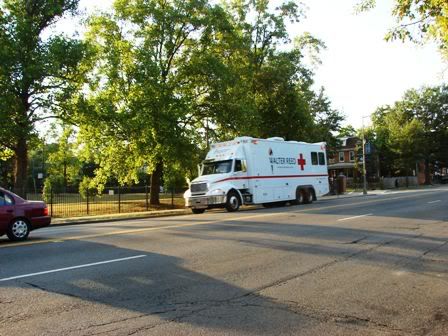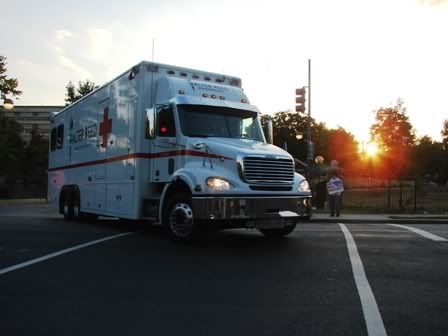 Friday Night Bus Returns Wounded Warriors From Dinner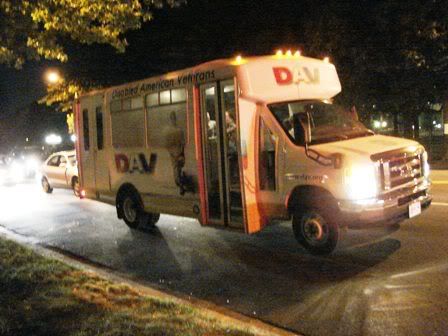 ---
TOPICS: Activism/Chapters; Free Republic; US: Maryland; US: Virginia
KEYWORDS: aar; military; rally; walterreed
---
Navigation: use the links below to view more comments.
first 1-20, 21-28 next last
---
---
---
---
---
---
---
---
---
---
---
---
---
---
---
---
---
---
---
---
---
Navigation: use the links below to view more comments.
first 1-20, 21-28 next last
---
---