---
Random Thoughts while Smells of Rotisserie Chicken Waft in from the Kitchen
Posted on 12/01/2012 4:58:30 PM PST by SamAdams76
The world is moving along at enormous velocity. For example, as I write this, the murder/suicide by Jovan Belcher of some NFL team is already old news. Even though just 24 hours ago, he and his wife were alive and kicking and had hours yet to live. Hell, the story has even been taking off the Breaking News sidebar of Free Republic and the NFL football games of tomorrow will apparently go on as scheduled. Go Pats and may the Jets lose badly once again! Jovan who? I guess life moves on. I do feel bad for the wife though, not to mention the poor orphan that resulted.
Too lazy to cook dinner tonight so I stopped at the supermarket and bought one of those pre-cooked rotisserie chickens. So there is lies on the kitchen table, wrapped in tin foil, waiting for the wife to come home so that we can heat up some peas and rice to go with it. Those rotisserie chickens are darn good! I can smell it as I type this and I'm tempted to stick a fork in it and grab a hefty chunk of dark meat. But I know if I do that, I won't be able to stop and the wife will come home to half a chicken - if that. So I will wait for her to get home and after we eat, we will watch a Christmas movie together, courtesy of Netflix, by a crackling fire with a glass of port in my hand.
Yes, the world is moving fast. This coming Wednesday, I am going to get on a plane around 7am in Boston and be in Chicago around 9am local time. I will then head to mid-town where I will have an interview for a job in the midwest. I will be back in Boston by dinnertime and probably taking the wife to some British Beer restaurant where I will devour a half a chicken with rice along with a glass or two of Young's Double Chocolate Stout.
With all luck, I will be getting the job, putting my New England home up for sale and be somewhere in the midwest (preferably a red state) by the New Year. I've given up on Massachusetts. When I leave, the entire city of Boston can slide into the harbor for all I care.
So I was hanging Christmas lights on my current New England house this past Thanksgiving weekend and I got to thinking. There comes a point in your life where the Christmases that lie in front of you are less than the Christmases that lie in your rear view mirror. Now that is a somewhat depressing thought as Christmas is my favorite time of the year.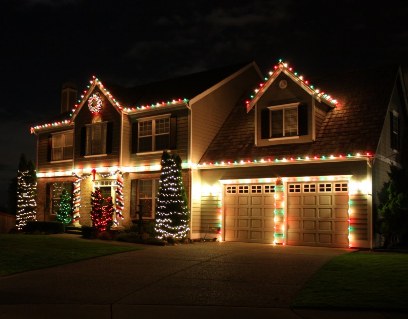 Anyway, I am going to make the most of the Christmases I have left, starting with this one. I am going to cram in tons of Christmas music - even though I risk hearing "Christmas Wrapping" from the Waitresses every now and then. Goes with the territory. And with respect to Christmas lights, consider me the embodiment of Chevy Chase in the move "Christmas Vacation". You can picture me up on the ladder, with a staple gun in hand and a string of lights clenched in my mouth, trying to make the perfect light display while neighbors walk by shaking their heads. But too bad. I want to have so many lights on my home that when I turn them on, the rest of the lights in the neighborhood temporarily dim.
Woke up this morning to some light snow. Took the dog for a walk in the woods and it was a very nice walk. My dog is a furry bundle of border collie mix that has to stop and sniff at everything in sight. So we were leisurely strolling through the woods when we suddenly encountered shotgun-wielding men in red vests. Deer hunting season! How could I forget? Must say I looked quite the dweeb with my brown jacket walking through the woods amidst deer hunters. Fortunately my dog and I never did get shot at but we probably scared away some deer much to the aggravation of those hunters. What can I say? I forgot that deer hunting season started on Monday!
After the hike, I tried to get to a clothing store for a new suit and tie for the upcoming interview but forget about it. The parking lots at the malls were completely jammed by frenzied shoppers with hate and fury in their eyes. I also forgot it was Christmas shopping season because I hardly ever go shopping. Those people at the malls are absolutely insane! I ended up finding a space way in the back and went to the Starbucks, which I hardly ever do, but I do like to get their egg nog lattes this time of year.
So at the Starbucks, the line was almost out the door and the drive-through lane was wrapped around the whole building. Drive-through at Starbucks? It takes about 5 minutes or more for them to make those fancy yuppie coffee drinks so those folks must have been waiting there nearly an hour. So anyway, inside the Starbucks is the usual assortment of stereotypes. You got the goateed man in the tattered sports jacket with patches on the elbows tapping away on a MacBook in the corner, while in front of me in line was some effeminate looking guy with a man purse yapping, or rather yipping, into his cell phone. Behind me in line was some mean looking woman with a scowl on her face and clad in a pair of men's hiking boots. On the counter was an assortment of "holiday themed" compact discs (people still use those?) for $12.99. My egg nog latte was nearly $6 and it wasn't half as good as I remembered it being.
Getting out of the parking lot was an adventure with cars slipping and sliding on the coating of snow and my crappy windshield wipers actually made the visibility worse. Fortunately I had my iPod on the car stereo so I cranked up "Fairytale of New York" by the Pogues and finally eased out of there, hopefully for the last time until after Christmas.
My wife and I always vow to do all our Christmas shopping online but it never quite works out that way. We have visions of sitting around the house on a lazy Saturday morning in bathrobes in front of the fireplace, ordering our Christmas stuff on places like Amazon.com and the L.L. Bean website, while sipping strong coffee from large mugs - maybe with a splash of amaretto while snowflakes gently float down outside the windows. Maybe this year, we will actually do that! Then we can just sit around waiting for the brown UPS trucks to bring it all to us.
Whatever happened to NHL hockey? I haven't heard about the Bruins at all lately. Are they still on strike...or lock-out? I wonder if people will care if they ever do start playing again.
Downloaded iTunes 11 this afternoon. Highly recommend it as my computer is now running much faster. Apple did a decent job cleaning the program up and now it hums along nicely. Didn't take that long to figure out the new interface either. So I have my Christmas playlist in full swing and some Mannheim Steamroller has filled the room with Christmasy sounds as I search for a graceful way to bring this rambling article to a close.
My dog is lying by my feet, sniffing the smell of rotisserie chicken as it wafts in from the kitchen. Yes, my dog will get a few hefty chunks of meat, as she usually does when I have meat in the house. I always feed them to her from under the table and my wife always catches me and gives me a dirty look. But she's gotten past getting angry with me because our dog has come to expect it. One time, when the wife was away, I actually grilled my dog an entire T-bone steak from the butcher shop. My wife would be very upset if she ever found that out. But dogs like meat and I am happy to oblige. Has anybody ever heard of a vegetarian dog?
Well the wife is back home and this article needs to end, gracefully or not. Time to unwrap the rotisserie chicken and have dinner after which, I guess we will watch "The Family Man" which is a Christmas movie featuring Nicholas Cage. Hope it's worth watching.

---
TOPICS:
FReeper Editorial
KEYWORDS:
vanity
---
Navigation: use the links below to view more comments.
first 1-20, 21-40, 41-49 next last
---
---
---
---
---
---
---
---
---
---
---
---
---
---
---
---
---
---
---
---
---
Navigation: use the links below to view more comments.
first 1-20, 21-40, 41-49 next last
---
---