---
Made in China: all Modern Chinese fighter jets in one photo
The Aviationist ^ | Jan 31 2014 | David Cenciotti


Posted on 01/31/2014 9:17:49 PM PST by sukhoi-30mki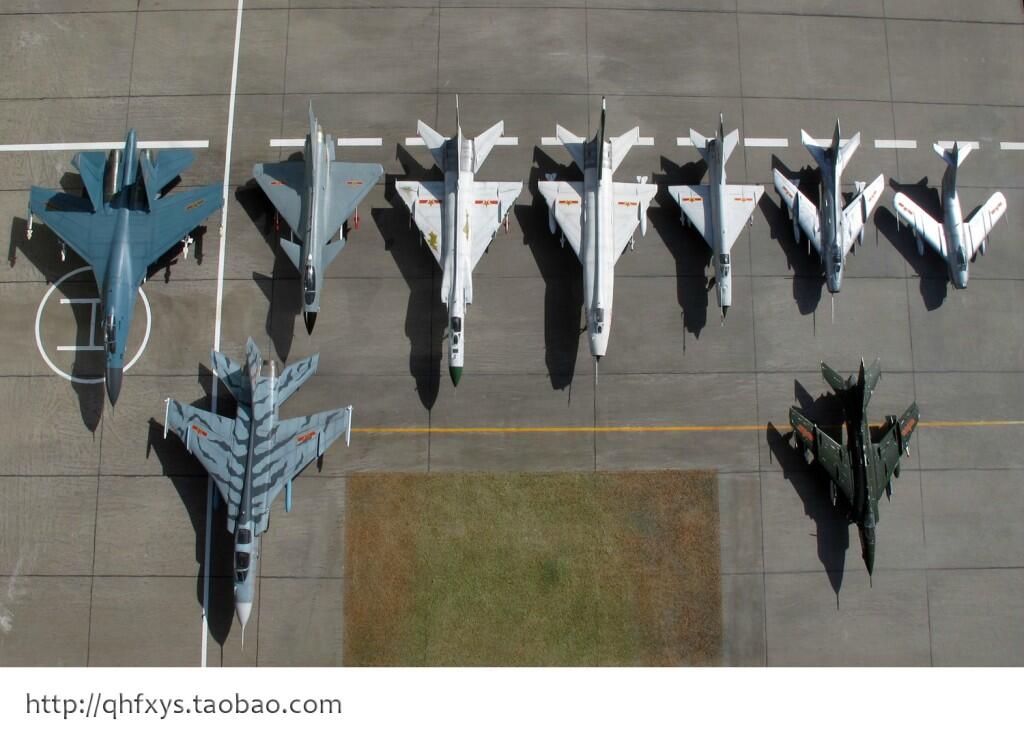 One image shows some of the most famous China's Air Force combat planes.
Even if some types are missing, the photograph is still much interesting. Indeed, if you wondered how the size of a J-10 compared to that of a J-8II, this photographs gives a hint.
BTW, since the Chinese site where the image was posted focuses on scale models, photoshop compositions etc., we can't be sure the image whether the photo is genuine or it simply depicts a diorama.
Anyway, from left to right you can ID: Shenyang J-11, Chengdu J-10, Shenyang J-8II, Shenyang J-8, Chengdu J-7, Shenyang J-6, Shenyang JJ-2. Front row: Xian JH-7A, Nanchang A5.
If you are interested in Chinese aircraft, Modern Chinese Warplanes written by Andreas Rupprecht and Tom Cooper, and published by Harpia, is the book for you.
The paperback volume, sporting 256 pages, 274 color photos, 12 maps and 60 color drawings, accurately portrays China's current military planes, their weapons, their markings and serial number systems, as well as the order of battle of both the People's Liberation Army Air Force and Navy Air Force: the ideal starting point if you want to study Beijing's air power.
H/T to Sobchak Security

(Excerpt) Read more at theaviationist.com ...
---
TOPICS: Foreign Affairs; News/Current Events
KEYWORDS: aerospace; china; plaaf
---
---
---
---
---
---
---
---
---
---
---
---
---
---
---
---
---
---
---
---