---
Moonbats are back and morphing into Occupiers - Olney, MD-Wks. 332 and 333, June 2 and 9, 2012
Posted on 06/15/2012 3:58:06 PM PDT by trooprally
After 3 weeks of not showing up, the moonbats have once again miraculously appeared. The following week they morphed right before our eyes into Occupy Olney.
WEEK 332, June 02,2012
The 8 patriots this week include Veterans Dave (Army- WWII), Glenn (USMC - Iwo Jima), Lurker Jim (Army- Vietnam) and [Mrs] T (Army - early 70s), along with Lurker Bill, Janet, GunsAreOK and myself.
A Big THANK YOU to [Mrs] T for her continuous picture taking.
MOONBATS : Two
BELOW LEFT: Dave and Glenn - both WWII Vets, Navy and Marines. Fitting reunion they have almost every Saturday. BELOW RIGHT: Janet, Dave's friend, enjoying another Saturday morning in Olney.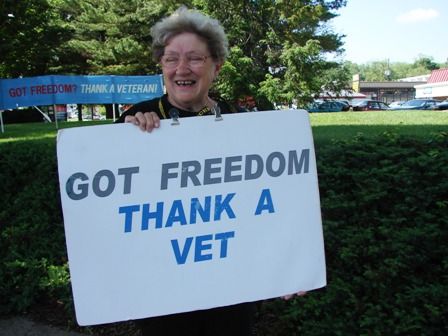 BELOW LEFT: Lurker Jim acknowledging "Gunny" [Mrs] T BELOW RIGHT: Lurker bill acknowledging passing support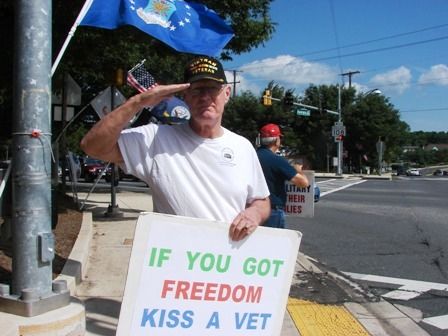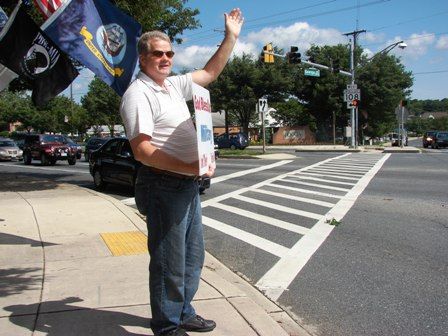 And the Moonbats
BELOW LEFT: Two moonbats . Corner looks barren. BELOW RIGHT: This moonbat can't figure out her message. Quakers are not to have allegiance to a country, but she has the flag taped to her sign. And peace is patriotic? Yea, when our brave military defend their right to protest in peace.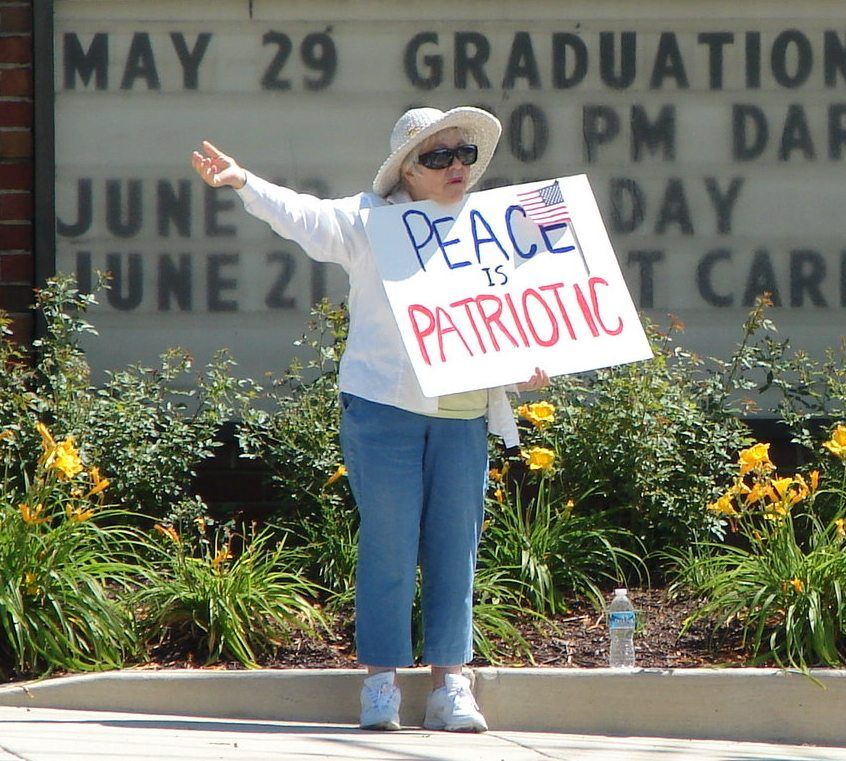 WEEK 333, June 09,2012
Four patriots this week include Veterans Lurker Jim (Army- Vietnam) and [Mrs] T (Army - early 70s), along with Lurker Bill, Fraxinus and myself.
The Legionaries had a memorial service for a Marine and could not make it today.
BELOW LEFT: The bobbsy twins, me and Fraxinus. Same wave, same red caps, same light shirts. BELOW RIGHT: Lurker Bill. No this picture is not from last week. We just have the same good times each week.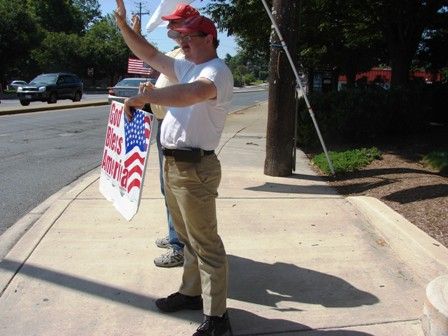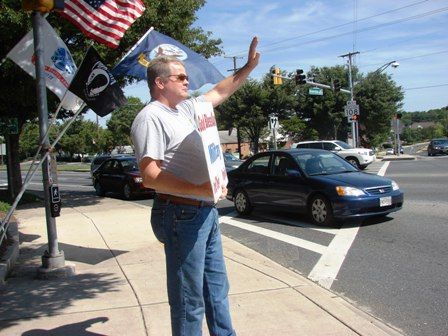 The moonbats called in reinforcements. Counting the occupiers , they had 6. Woohoo!! The "quackers" have morphed to gain bodies. Problem is that in 2006 they had 2 other groups supporting them, averaging about 10 each week. They have all deserted. With the occupiers closing camps in DC, I guess this is the place to go. I wonder how long they will last, when the hot July sun starts to beat down on them. Did I mention that for these two Saturdays that two "quackers" arrived 20 minutes late. But they left with the others promptly at 11:30.

---
TOPICS: Activism/Chapters; Free Republic; US: Maryland; US: Virginia
KEYWORDS: aar; military; mobilizingmothers; moonbats; occupywallstreet; opinfinitefreep; patriotism; peaceactionmc; rally; supportourtroops
---
Navigation: use the links below to view more comments.
first 1-20, 21 next last
---
---
---
---
---
---
---
---
---
---
---
---
---
---
---
---
---
---
---
---
---
Navigation: use the links below to view more comments.
first 1-20, 21 next last
---
---