---
Donald Trump Honors 9/11 Flight 93 Heroes: 'The Moment When America Fought Back'
Breitbart ^ | September 11th, 2018 | Charlie Spiering


Posted on 09/11/2018 10:17:04 AM PDT by KC_Lion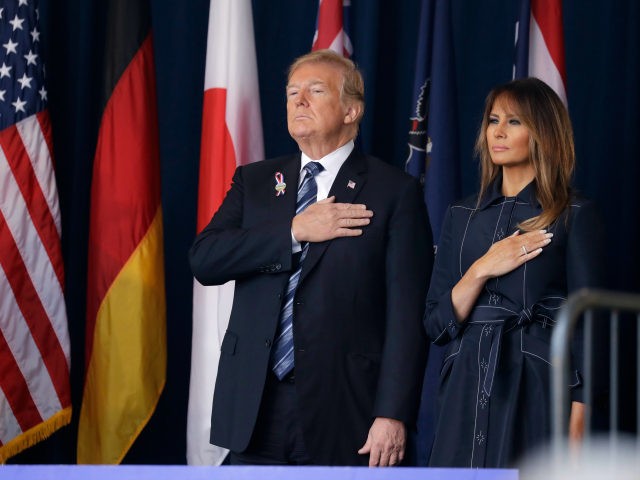 President Donald Trump spoke at the 9/11 memorial service in Shanksville, Pennsylvania, on Tuesday, recalling the attacks of September 11, 2001. Trump praised the valor of the 40 passengers and crew members of Flight 93 for resisting the terrorists in control of the hijacked plane, which led to the crash in a Pennsylvania field.
"At this memorial on this sacred earth in the field beyond this wall and in the skies above our heads, we remember the moment when America fought back," Trump said, praising the Americans aboard the flight–"changed the course of history" by resisting the terrorists.
Trump recognized the heroes who planned and voted to take action against the terrorist hijackers.
"At that moment, they took their fate and America's fate back into their own hands," he said.
Trump recognized the nearly 7,000 service members who died since 9/11 facing "radical Islamic terrorism" and promised he would do everything he could to prevent another attack on American soil.
"This field is now a monument to American defiance," he said. "This memorial is now a message to the world: America will never, ever submit to tyranny."

(Excerpt) Read more at breitbart.com ...
---
TOPICS: Foreign Affairs; Front Page News; News/Current Events; US: District of Columbia; US: New York; US: Pennsylvania; War on Terror
KEYWORDS: 911; 911anniversary; 911memorial; donaldtrump; flight93; pennsylvania; september11; shanksville; trump
---
Navigation: use the links below to view more comments.
first 1-20, 21-40, 41-47 next last
---
---
---
---
---
---
---
---
---
---
---
---
---
---
---
---
---
---
---
---
---
Navigation: use the links below to view more comments.
first 1-20, 21-40, 41-47 next last
---
---