---
DUmmie FUnnies 01-26-11 (State of the Eunuch: DUmmies nix Obama's Nudnik Moment)
DUmmie FUnnies ^ | January 26, 2011 | DUmmies and Charles Henrickson


Posted on 01/26/2011 10:06:05 AM PST by Charles Henrickson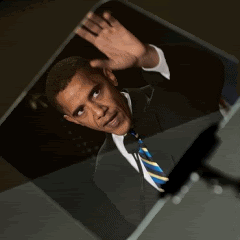 Good speech for a Rethuglican. That's the consensus of the DUmmies on the Compromiser-in-Chief and his State of the Eunuch snoozefest last night. It was Obama's Nudnik Moment: The erstwhile Anointed One has become the Annoying One.
Many threads to choose from; for now we'll go with . . .
this THREAD, "So far, it's a super-progressive speech." and
this THREAD, "Well DU has become quite the Obama bash fest...." and
this Pitt THREAD, "Is this as bad as I think it is?"
There's more where those came from, so if PJ wants to do a SOTU DUFU later, he'll have plenty of material.
So let us now walk across the aisle and take a seat next to a DUmmie, in Bolshevik Red, while the commentary of your humble guest correspondent, Charles Henrickson, who should have watched the speech last night to help him get to sleep, is in the [Barackets]:
So far, it's a super-progressive speech.
[Prepare to be shot down, Obamabot impik!]
Progressive? . . . Progressive? That's a freaking laugh!
[DUmmie Go2Peace is having a Jim Mora Moment: "Playoffs? PLAYOFFS??"]
this is DU, unless Obama goes Karl Marx this speech will be panned.
[DUmmie Uzybone, this is your Kewpie Doll Moment! Congratulations!]
Well DU has become quite the Obama bash fest....what the hell happened to DU, seems to have merged with freerepublic.
[Merging Traffic: Troll Booth Ahead]
Some unwelcome guests have infiltrated.
[Undocumented lurkers.]
I think it was a pretty good SOTU. Not the most inspiring and lofty. . . .
[Damning with faint prez.]
I thought the speech was brilliant then came to DU to rave about it...and yikes.....! . . . It's not meant to be a recitation of the Liberal Manifesto. . . .
[Of course not! It's supposed to be a recitation of the COMMUNIST Manifesto!]
Idiots have taken over this place. . . .
[This is news??]
Locking. This post focuses on DU members, not the discussion of ideas.
[OK, let's discuss our ideas ABOUT the idiotic DU members. . . .]
[Speaking of idiots, let's check in with Pitt . . .]
Is this as bad as I think it is?
[Whatever Pitt thinks it is, that's what it is. Pitt starts this thread simply to have people agree with him.]
I have been known on more than one occasion to defend the President even when he didn't necessarily deserve it. I've also kicked him in the ass more than once.
[Yes, Pitt, you have established your credentials as the Opinionator of Record. . . .]
This is an excellent Republican speech.
[Well, it WAS long and boring, Will, so you must have liked that.]
There were a few belly-rubs - new energy policy, and oh we love the children - but he has been kissing GOP ass from beginning to end.
[Even benburch would not stoop that low!]
Please tell me I'm just an insane person.
[You're just an insane person.]
what is this crap? . . . Total poop grenade. Sh*t everywhere.
[Obama believes in defecate spending.]
Ugh.
[Unnngh.]
Yup. Bone to the left. Bone to the right. Bone to the center.
[Boehner in the back, falling asleep.]
Sadly, I can't bear to watch or listen to him any more.
[That makes all of us!]
Maybe Obama should have had backup dancers and strobe lights to make it more "exciting."
[Barry Obama and the Golddiggers! Yes, I can see it now: Babs Mikulski, Big Sis Nappy, Bawney the Dancing Queen, all shaking some serious booty!]
I feel like I'm on a sinking ship!
[This is your Titanik Moment.]
It is certainly not inspiring. Of course I have had 4 shots of Canadian Mist. So it's back to FarmVille and DU for me.
[Stuck on Stupor: The State of DU-nion.]
Talked for well over an hour, didn't say a damn thing
[It's a gift!]
It was boring. . . .
[Barack Obama puts the BO in BO-ring!]

---
TOPICS: Humor
KEYWORDS: dufu; dummie; dummiefunnies; dummies; eunuch; nudnikmoment; obama; sotu; sputnik; sputnikmoment; stateoftheeunuch; stateoftheunion; zzzzzzzzzzzzzzz
---
Navigation: use the links below to view more comments.
first 1-20, 21-32 next last
---
---
---
---
---
---
---
---
---
---
---
---
---
---
---
---
---
---
---
---
---
Navigation: use the links below to view more comments.
first 1-20, 21-32 next last
---
---