---
Thank you, President Obama! Really. Sincerely.
gunssavelife.com ^ | 21 January, 2013 | GSL


Posted on 01/22/2013 3:22:53 PM PST by marktwain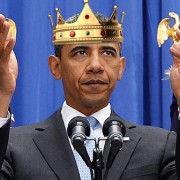 n this crisp January morning, the day of Barack Hussein Obama's second inauguration (or his second coming, as Newsweek would have it), we find it pertinent to send a message of thanks to our enlightened and benevolent ruler for everything he has done for his humble subjects during his first term in office.
We thank you for helping put more guns than ever before in the hands of American citizens. We are especially grateful for your proactive approach to promoting America's favorite rifle. Many who thought the black rifle was just an expensive toy, now find it to be an indispensable tool. In fact, no one in the history of this nation has done more to popularize modern semi-automatic firearms than you have, Mr. President!
We thank you for saving the American gun makers and gun dealers who, for decades, have been struggling just to stay in business. The meager profit margins and the staggering inventory costs are a thing of the past thanks to you! It looks like your very own, personal stimulus package aimed straight for the heart of the firearms industry. Even if it wasn't exactly the heart you were aiming at, we are just as grateful.
We thank you for your contribution to science. You put ancient alchemists to shame by turning brass and lead into gold, but this was just the beginning. You did the same for steel and aluminum scrap! Old GI magazines sell for hundreds and rusty AKs for thousands of dollars. The philosopher's stone? The Midas touch? The Nobel Prize in chemistry and in physics would hardly offer enough recognition for such an accomplishment. You truly are a miracle maker, Mr. President.

(Excerpt) Read more at gunssavelife.com ...
---
TOPICS: Government; History; Humor; Politics
KEYWORDS: banglist; guncontrol; obama; president; secondamendment; thankyou

More at the link.

---
2
posted on
01/22/2013 3:32:01 PM PST
by
Baynative
(Those that work for a living are now outnumbered by those that vote for a living.)
---
To: marktwain
3
posted on
01/22/2013 3:46:39 PM PST
by
carriage_hill
(AR-10s/15s are the 21st Century's Muskets. Self-Defense is The First Human Right.)
---
To: Baynative
I dont know why everyone is in such an uproar. The union told me Obama is all for the 2nd . See....SEE.....its all explained right here from the union foreman (/sarcasm) ....
---
FreeRepublic.com is powered by software copyright 2000-2008 John Robinson