---
~~~~ThE oFfIcIaL fRiDaY sIlLiNeSs ThReAd~~~~
Posted on 08/21/2009 6:01:18 AM PDT by Lucky9teen
Ladies and Gentlemen, please remain in your seats until Captain Braveheart and his magnificent crew have brought the aircraft to a screeching halt against the gate. And, once the tire smoke has cleared and the warning bells are silenced, we will open the door and you can pick your way through the wreckage to the terminal.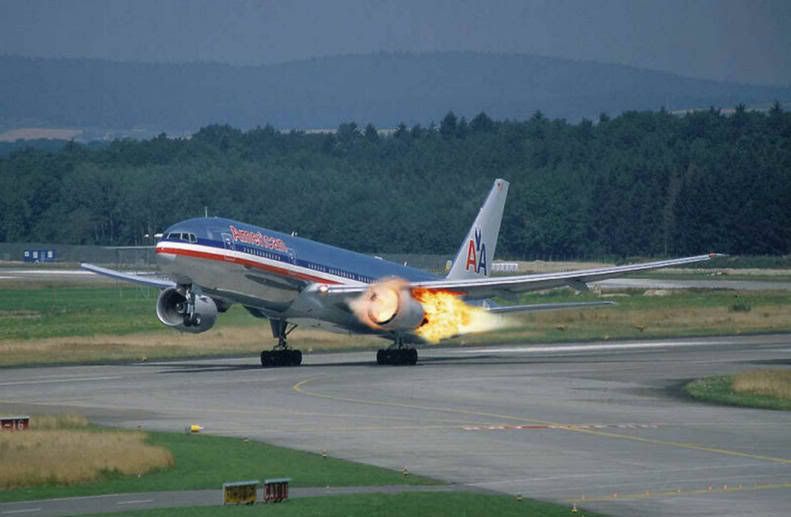 Allegedly the German air controllers at Frankfurt Airport are renowned as a short-tempered lot. They, it is alleged, not only expect one to know one's gate parking location, but how to get there without any assistance from them. So it was with some amusement that we (a Pan Am 747) listened to the following exchange between Frankfurt ground control and a British Airways 747, call sign Speedbird 206.
Speedbird 206: "Frankfurt, Speedbird 206 clear of active runway."
Ground: "Speedbird 206. Taxi to gate Alpha One-Seven." The BA 747 pulled onto the main taxiway and slowed to a stop.
Ground: "Speedbird, do you not know where you are going?"
Speedbird 206: "Stand by, Ground, I'm looking up our gate location now."
Ground (with quite arrogant impatience): "Speedbird 206, have you not been to Frankfurt before?"
Speedbird 206 (coolly): "Yes, twice in 1944, but it was dark,... and I didn't land."

=========================

ARN851: "Halifax Terminal, Nova 851 with you out of 13,000 for 10,000, requesting runway 15."
Halifax Terminal (female): "Nova 851 Halifax, the last time I gave a pilot what he wanted I was on penicillin for three weeks. Expect runway 06."

=========================

(busy) Moncton Center: "Speedbird 169 cleared direct Chibougamau"
BAW169: "I'm sorry, sir, can you repeat that?"
CZQM: "Speedbird 169 cleared direct Yankee Mike Tango"
BAW169: "Direct Yankee Mike Tango for Speedbird 169. What was that name again?"
CZQM: "It's called Chibougamau"
BAW169: "Would you say again, please?"
CZQM: "Chibougamau. I say again, Chibougamau!"
BAW169: "Oh, how quaint. What does it mean?"
CZQM: "It's eskimo for f--- off!"



ACA1147: "Moncton, Air Canada 1147, can you get the winds from 167 above us?"
CZQM: "As soon as I get a chance, I will."
(some time passes with continuous radio chatter)
ACA1147: "Moncton, 1147, what are his winds up there?"
CZQM: "Standby for that, please"
(more radio chatter)
ACA1147: "Moncton, can you ask company 167 for his winds?"
CZQM: "Ok, 1147 and 167, I have a little too much to do for that sort of thing right now. I'll leave it up to you guys to go over to company frequency and pass winds."

=========================

Aurora: "Moncton, TRIALS08, we'll be working VFR at 4,500, loitering over the city of Saint John for about the next 10-15 minutes. We'd like radar flight following."
CZQM: "TRIALS08, roger, you're radar identified. Are you aware the city has bylaws against loitering?"
Aurora: "Ah... roger that"

=========================

NY Ctr: "Federal Express 235, descend, maintain three one zero, expect lower in ten miles."
FedEx 235: "Okay, outta three five for three one oh, FedEx two thirty-five."
NY Ctr: "Delta fahv twuntee, climb one ninah zeruh, dat'll be finah..."
Delta 520: "Uhh... up to one niner zero, Delta five twenty."
NY Ctr: "Al-italia wonna sixxa, you slowa to two-a-fifty, please."
Alitalia 16: "HEY! You makea funna Alitalia?!"
NY Ctr: "Oh, no! I make-a funna Delta anna FedEx!"





Tower: 95 Delta, do you read the tower?
95D: 675, sir
Tower: 95 Delta, Say Again
95D: I think it is 675.
Tower: 95 Delta, What do you mean by 675?
95D: I mean I think I read "Elevation 675 feet" on the tower as I taxied by for takeoff, but I am too far away to read it now.
Tower: 95 Delta, you are cleared to land. Please give the tower a call ON THE TELEPHONE after you have tied down.

=========================

Controller: "USA353 (sic) contact Cleveland Center 135.60.
(pause)
Controller: "USA353 contact Cleveland Center 135.60!"
(pause)
Controller: "USA353 you're just like my wife you never listen!"
Pilot: "Center, this is USA553, maybe if you called her by the right name you'd get a better response!"



Tower: "Alpha Charlie, climb to 4000 ft for noise abatement"
Pilot: "How can I possibly be creating excess noise at 2000 ft?"
Tower: "At 4000 ft you will miss the twin coming at you at 2000 ft, and that is bound to avoid one hell of a racket".

=========================

BB: "Barnburner 123, Request 8300 feet."
Bay Approach: "Barnburner 123, say reason for requested altitude."
BB: "Because the last 2 times I've been at 8500, I've nearly been run over by some bozo at 8500 feet going the wrong way!"
Bay: "That's a good reason. 8300 approved."

=========================

Tower: "Aircraft on final, go around, there's an aircraft on the runway!"
Pilot Trainee: "Roger" (pilot continues approach)
Tower: "Aircraft, I said GO AROUND!!!"!
Pilot Trainee: "Roger"
The trainee doesn't react, lands the aircraft on the numbers, rolls to a twin standing in the middle of the runway, goes around the twin and continues to the taxiway.



Tower: "Hotel Papa Oscar climb four thousand to six thousand and maintain."
Pilot: "Hotel Papa Oscar, climbing flight level 100."
Tower: "Hotel Papa Oscar, climb to flight level 60 and maintain."
Pilot: "But four plus six is ten, isn't it?"
Tower: "You should climb, not add up."

=========================

A beautiful summer day with good thermals, near Billund airport, Denmark:
Billund ATC: "Gliders 82 and D5, state position and altitude?"
82: Overhead Coal Lake, 6400 feet."
D5: "Same position, same altitude."
ATC (cool, dry voice): "So should I go get my collision report form??"

=========================

Tower: "Mission 123, do you have problems?"
Pilot: "I think, I have lost my compass."
Tower: "Judging the way you are flying, you lost the whole instrument panel!"

=========================

Controller: "Air Force 53, it appears your engine has... oh... disregard, I see you've already ejected."



Tower: "Delta 351, you have traffic at 10 o'clock, 6 miles."
Delta 351: "Give us another hint! We have digital watches!"

=========================

"TWA 2341, for noise abatement turn right 45 degrees."
"Center, we are at 35,000 feet. How much noise can we make up here?"
"Sir, have you ever heard the noise a 747 makes when it hits a 727?"

=========================

O'Hare Approach Control to a 747: "United 329 heavy, your traffic is a Fokker, one o'clock , three miles, Eastbound."
United 239: "Approach, I've always wanted to say this...I've got the little Fokker in sight."





Control: You're unreadable, say again.
Motor-glider: I've turned off the engine, is that better?
Control: (looong pause)

=========================

ATC: "Cessna G-ARER What are your intentions? "
Cessna: "To get my Commercial Pilots Licence and Instrument Rating."
ATC: "I meant in the next five minutes not years."

=========================

Beech Baron: Uh, ATC, verify you want me to taxi in front of the 747.
ATC: Yeah, it's OK. He's not hungry.


A Pan Am 727 flight waiting for start clearance in Munich overheard the following:
Lufthansa (in German): "Ground, what is our start clearance time?"
Ground (in English): "If you want an answer you must speak in English.
Lufthansa (in English): "I am a German, flying a German airplane, in Germany . Why must I speak English?"
Unknown voice from another plane (in a beautiful British accent): "Because you lost the bloody war."

=========================

One day the pilot of a Cherokee 180 was told by the tower to hold short of the active runway while a DC-8 landed.
The DC-8 landed, rolled out turned around, and taxied back past the Cherokee.
Some quick-witted comedian in the DC-8 crew got on the radio and said, "What a cute little plane. Did you make it all by yourself?"
The Cherokee pilot, not about to let the insult go by, came back with a real zinger: "I made it out of DC-8 parts. Another landing like yours and I'll have enough parts for another one."



While taxiing at London 's Gatwick Airport , the crew of a US Air flight departing for Ft. Lauderdale made a wrong turn and came nose to nose with a United 727.
An irate female ATC ground controller lashed out at the US Air crew, screaming: "US Air 2771, where the hell are you going? I told you to turn right onto Charlie taxiway! You turned right on Delta! Stop right there. I know it's difficult for you to tell the difference between C and D, but get it right!"
Continuing her rage to the embarrassed crew, she was now shouting hysterically: "God! Now you've screwed everything up! It'll take forever to sort this out! You stay right there and don't move till I tell you to! You can expect progressive taxi instructions in about half an hour and I want you to go exactly where I tell you, when I tell you, and how tell you! You got that, US Air 2771?"

"Yes, ma'am," the humbled crew responded.

Naturally, the ground control communications frequency fell terribly silent after the verbal bashing of US Air 2771. Nobody wanted to chance engaging the irate ground controller in her current state of mind. Tension in every cockpit out around Gatwick was definitely running high. Just then an unknown pilot broke the silence and keyed his microphone, asking, "Wasn't I married to you once?"

---
TOPICS: Humor
KEYWORDS: air; airplane; ofst; silliness
---
Navigation: use the links below to view more comments.
first 1-20, 21-40, 41-60, 61-80 ... 181 next last
---
---
---
---
---
---
---
---
---
---
---
---
---
---
---
---
---
---
---
---
---
Navigation: use the links below to view more comments.
first 1-20, 21-40, 41-60, 61-80 ... 181 next last
---
---