---
1916: World War I Postcard from Hitler Discovered with Misspelling
Retronaut ^ | Europeana 1914-1918


Posted on 02/05/2013 6:32:55 PM PST by DogByte6RER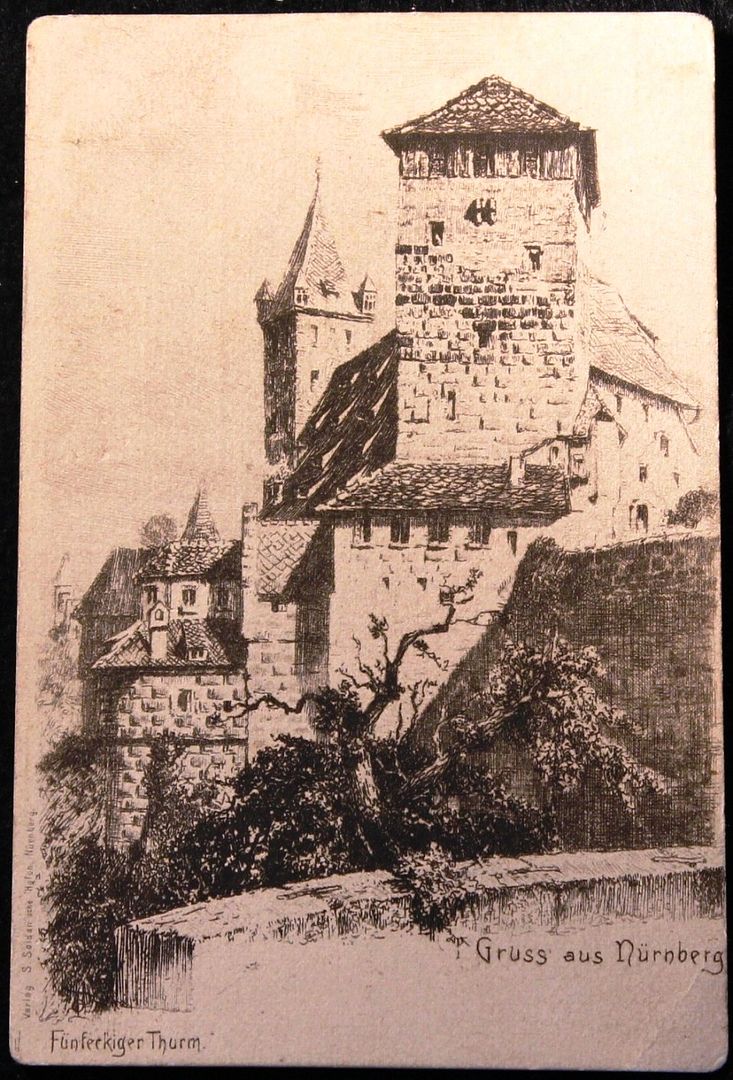 1916: Badly spelt postcard from Hitler discovered
The father of the owner of the postcard was for many years Landrat (District Administrator) of Dingolfing in Bavaria and an avid stamp collector. On his 65th Birthday, the head of the District Savings Bank presented him with this memorable philatelic collector's item. It is a field postcard written by Corporal Adolf Hitler (1889-1945) to his regimental comrade Karl Lanzhammer (1896-1918) on 19/12/1916 from Munich.
Karl Lanzhammer was a friend of Hitler's from their time together on the Western Front, and a known correspondent of his. At this time he was a cyclist at regimental headquarters of the 16th Bavarian Reserve Infantry Regiment. In 1917 he went to flight school in Schleissheim, and died at a test flight accident on 15 March 1918 in Feldmoching. Lanzhammer was born in Dingolfing and was also buried there.
The postcard is likely to have come from his estate, among items given away by his parents. It came into the possession of the manager of the town's Savings Bank, who later gave it away as a birthday present to the Landrat.
Hitler was wounded by shrapnel in October 1916 and was in the hospital at Beelitz near Berlin. In December 1916, when he wrote this postcard, he had just been discharged from hospital and was then stationed with the reserve battalion in Munich. He tells Lanzhammer, that he is now with the reserve battalion, is undergoing dental treatment and would as soon as possible voluntarily report back to the field. In fact, he went back in March 1917 at the request of his 16th Reserve infantry regiment as a news runner. In the brief text, Hitler reveals some spelling difficulties by writing the German word for immediately, 'sofort' with double f – 'soffort'.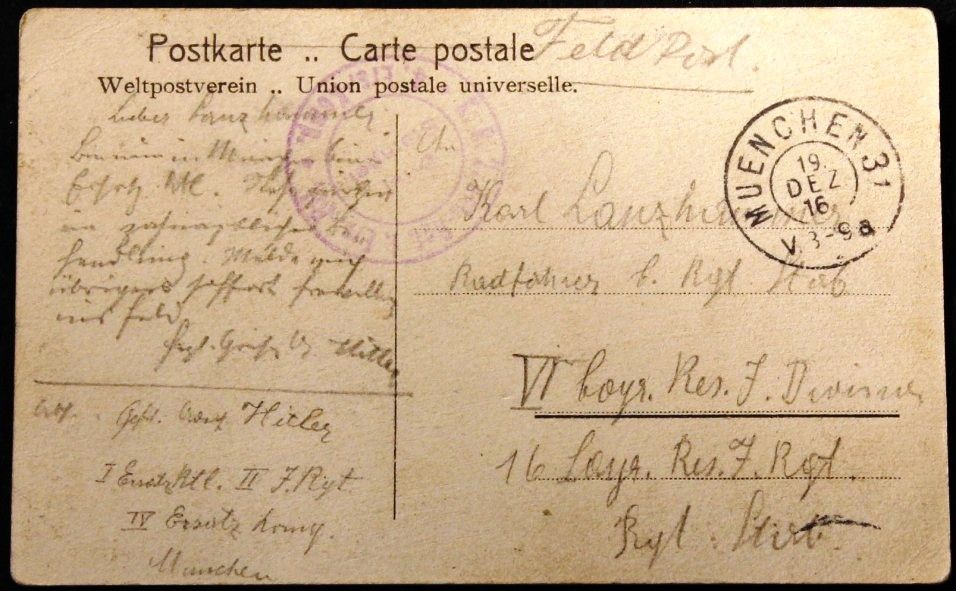 Transcription:
Feldpost
Post mark: München 31, 19. Dez. 16, V 8-9 a
Letter mark: K.B. 2. Inf. Rgt., Ers. Btl., 4. Ers. Komp.
Recipient:
Karl Lanzhammer
Radfahrer b. Rgt. Stab
VI Bayr. Res. I. Division
16 Bayr. Res. I. Rgt.
Rgt. Stab
Text:
Lieber Lanzhammer
Bin nun in München beim
Ersatz Btl. Stehe zur Zeit
in zahnärztlicher Be-
handlung. Melde mich
übrigens soffort freiwillig
ins Feld.
Hrzl. Grüße A. Hitler
TRANSLATION:
Dear Lanzhammer,
I am now in Munich at the Ersatz Btl. Currently I am under dental treatment. By the way I will report voluntarily for the field immediately.
Kind regards A. Hitler
Sender:
Abs. Gefr. Adolf Hitler
I. Ersatz Btl. II. I. Rgt.
IV Ersatzkomp.
München
Front of card: Gruss aus Nürnberg / Greetings from Nuremberg

---
TOPICS: Chit/Chat; History; Military/Veterans; Miscellaneous; Weird Stuff
KEYWORDS: adolfhitler; germany; hitler; philatelic; postcard; worldwar1; ww1
---
---
---
---
---
---
---
---
---
---
---
---
---
---
---
---