---
***THE OFFICIAL FRIDAY SILLINESS THREAD***
Posted on 12/13/2013 4:44:09 AM PST by Lucky9teen
The Great Debate: Real Vs. Fake?
Fake Quotes
Hard to believe these aren't real.
The trouble with quotes on the Internet is that you never know if they are genuine. — Abraham Lincoln

When in doubt, attribute quotes to Mark Twain. — Mark Twain

The greatest thing about Facebook, is that you can quote something and totally make up the source. — George Washington

I hate it when people quote me on the internet, claiming I said things that I never actually said. — Rev. Martin Luther King, Jr.

A woman can have a smile, and a woman can have a large backside, but I have been to the mountain and I am here to tell you that when a woman has both of those things she is not to be trusted. — Rev. Martin Luther King, Jr.

Dude, I never said half the shit people attribute to my name, lolz. — Mark Twain

Dr. Martin Luther King Jr. will have some good ideas. — Theodore Roosevelt

People who use unattributable and obviously made-up quotes to make some clever point on the internet are the absolute worst. — Anonymous

The fabrication of Oscar Wilde quotes is among the noblest of endeavors. — Oscar Wilde

Dance, even if you have nowhere to do it but the living room in your fortified compound. — Kurt Vonnegut

Wear sunscreen. — Count Dracula

The use of CGI for Green Lantern's costume is, frankly, a bit distracting. I wish they hadn't done that. — David Ben-Gurion

On the Internet, nobody knows you're not quoting Martin Luther King, Jr. — Abraham Lincoln

Behind every great man there stands a great woman. Behind every great woman is a great behind. — Bill Clinton

Some of my best friends are Oscar Wilde. — Rev. Martin Luther King, Jr.

I once killed a man for snoring too loudly. — Gandhi

Rumors of my wit have been greatly exaggerated. — Mark Twain

A fish in the bush is worth two in the pants. — Benjamin Franklin

2 million people will misquote me on Facebook, but most of them won't drag their lazy ass out bed to go vote. — Rev. Martin Luther King, Jr.

Laugh loudly and carry a big stick of butter. — Paula Deen

Who's on first are belong to us. — Bud Abbott & Lou Costello

We wants it, we needs it. Must have the precious. They stole it from us. Sneaky little hobbitses. Wicked, tricksy, false! — Rush Limbaugh

That's not a quote! This is a quote! — Crocodile Dundee

It is pitch black. You are likely to be eaten by a grue. — Thomas Edison

Give a man a free hand and he'll run it all over you. — Albert Einstein

I've got a bad feeling about this. — Albert Camus

You are excluded from surf and turf night. You are excluded from ravioli night. You are excluded from chicken cutlet night. — Queen Elizabeth II

One misquote is one too many already! — Caesar Augustus


Optimist vs. Pessimist
A family had twin boys whose only resemblance to each other were their looks. Opposite in every way, one was an eternal optimist, the other a doom and gloom pessimist.
Just to see what would happen, on Christmas day their father loaded the pessimist's room with every imaginable toy and game. The optimist's room he loaded with horse manure.
That night the father passed by the pessimist's room and found him sitting amid his new gifts crying bitterly.
"Why are you crying?" the father asked.
"Because my friends will be jealous, I'll have to read all these instructions before I can do anything with this stuff, I'll constantly need batteries, and my toys will eventually get broken." answered the pessimist twin.
Passing the optimist twin's room, the father found him dancing for joy in the pile of manure. "What are you so happy about?" he asked.
To which his optimist twin replied, "There's got to be a pony in here somewhere!"
---
And for most Obama voters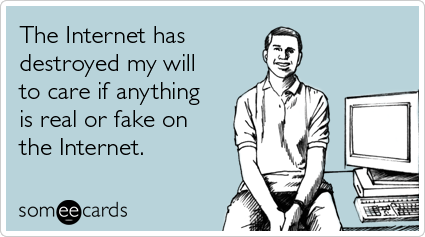 ---
TOPICS: Humor
KEYWORDS: fake; ofst; real; silliness
---
Navigation: use the links below to view more comments.
first 1-20, 21-40, 41-60, 61-80 next last
---
---
---
---
---
---
---
---
---
---
---
---
---
---
---
---
---
---
Comment #18 Removed by Moderator
---
---
---
Navigation: use the links below to view more comments.
first 1-20, 21-40, 41-60, 61-80 next last
---
---