---
New York Times Protested by FreeRepublic and AIM, Washington DC, 7/03/06: After-Action Report
DC Chapter, FRee Republic | July 6, 2006 | Albion Wilde


Posted on 07/06/2006 5:52:32 PM PDT by Albion Wilde

WASHINGTON, DC, MONDAY, JULY 3, 2006--The D.C. Chapter of FreeRepublic.com and the online watchdog Accuracy in Media (www.AIM.org) held a press conference and demonstration Monday at the Washington, D.C., bureau of the New York Times to protest the newspaper's publishing of stories exposing national security intelligence programs.

The two conservative groups called for the prosecution of New York Times publisher Arthur Sulzberger, Jr., Executive Editor Bill Keller and reporters James Risen and Eric Lichtblau for "giving aid and comfort to al-Qaida."

The initial group of 14 FReepers, led by FreeRepublic's National Spokesman Kristinn Taylor, soon swelled to 29 protesters. They were joined by speaker Cliff Kincaid, AIM's Director of Policy and Communications, and a group of AIM staffers. Several bystanders also joined the ranks during the demonstration, borrowing signs or unfurling their own.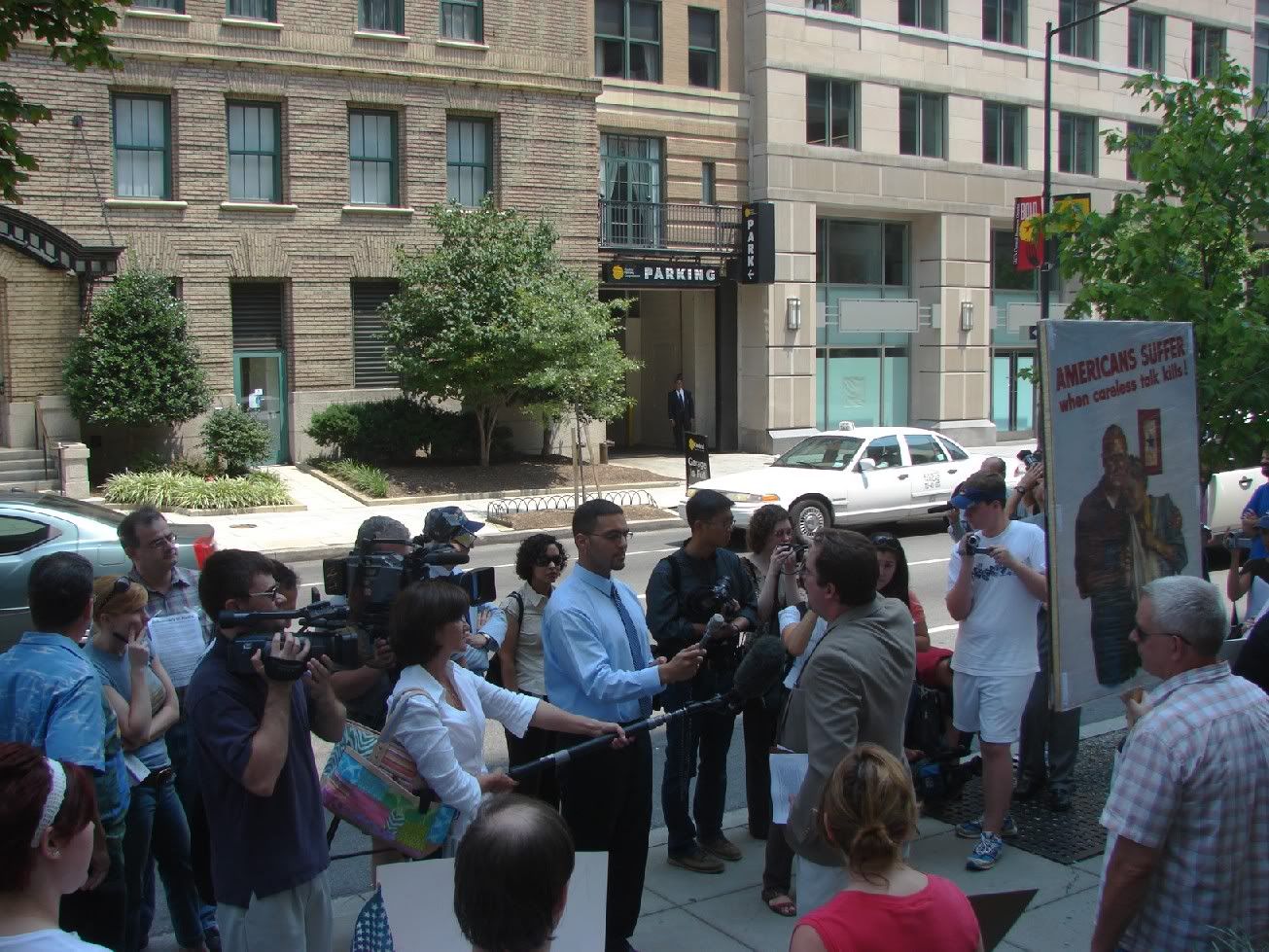 The protesters, locating themselves on the pavement across the street from the NYT's Washington bureau building -- in full view and earshot of the Times' offices -- were surrounded by some two dozen members of the press. Photos by [Mrs.] Trooprally.
News organizations included CNN, FoxNews, the Sinclair Broadcast Group, Getty Images, Voice of America, RussianTV, Michelle Malkin and staffers from her Hot Air daily video site, and novelist and Time magazine columnist Ana Marie Cox (formerly of Wonkette).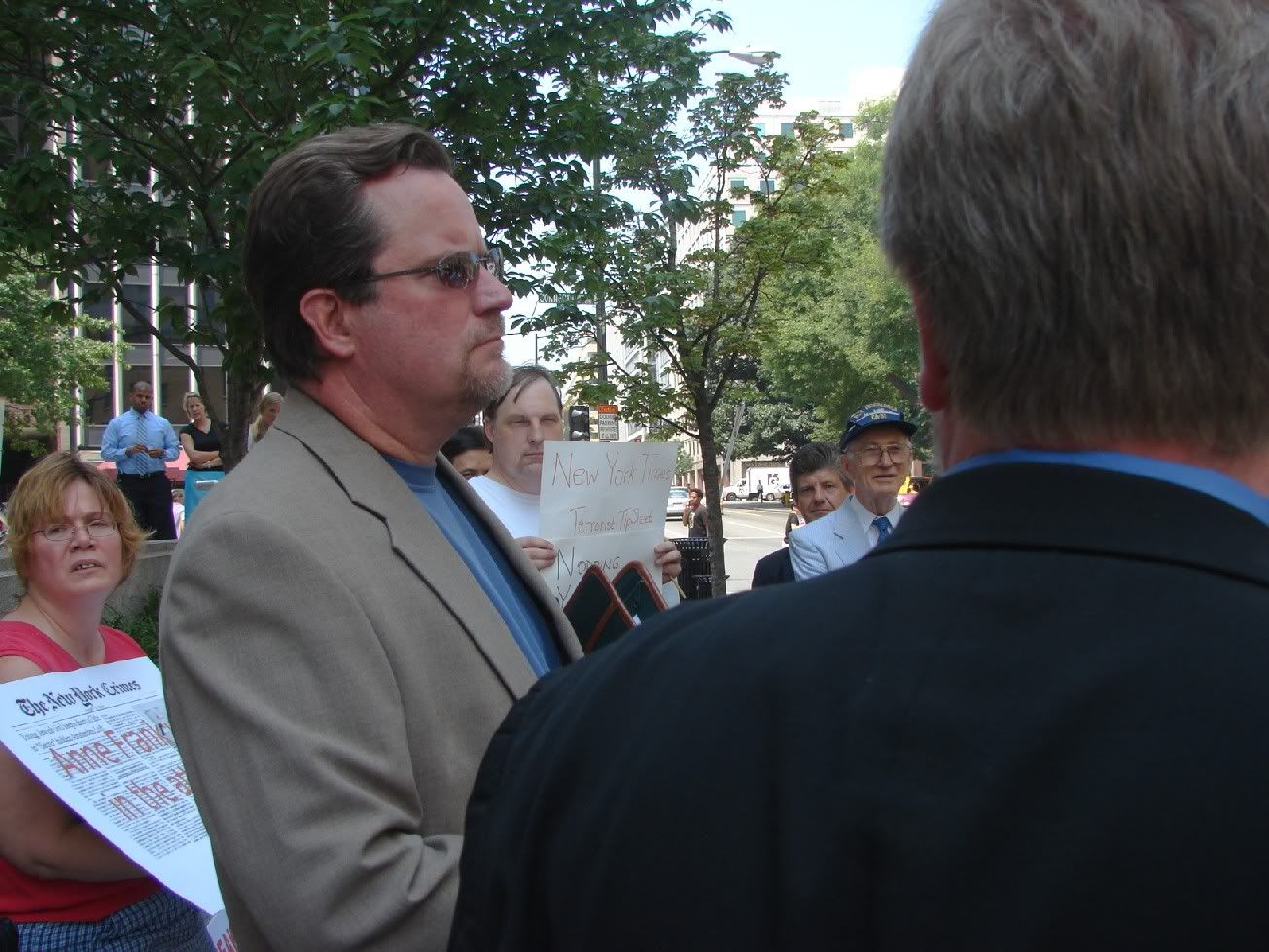 Cliff Kincaid (left), veteran journalist and author of many books on national policy and defense, including several co-authored with AIM's legendary founder, the late Reed Irvine; and Kristinn Taylor (right and below), FreeRepublic.com National Spokesman and co-leader, DC Chapter.
Kristinn Taylor, national spokesman for FreeRepublic.com, began by addressing the media. Among his remarks, he said, "We're out here today to make a point not only to the New York Times, but also to the Federal government. We are in a real war; but it's not just being waged in Afghanistan and Iraq -- it's also being fought on the home front."
FReeper Nina0113's sign (right) points to the dangers of indiscretion when terrorism is on the march -- it's a parody front page of the times showing the house in which a Jewish family hid from Nazi terrorists for years during WWII, with the headline, "ANNE FRANK IS IN THE ATTIC."
"We want the New York Times to act like a responsible newspaper," Taylor continued. He called for the Federal government to investigate the four individuals most responsible for the leaks -- the owner, Arthur Sulzberger, Executive Editor Bill Keller, and the two reporters who broke the story, James Risen and Eric Lichtblau -- and prosecute them for treason.
"There is no excuse," he continued, "for their publishing this story. It served no purpose but to undermine the War on Terror. It's clear that they hate the Bush administration more than the terrorists."
Cliff Kincaid's remarks were sharply illustrative of the risks to reporters of "loose lips" in the War on Terror. "What motivates the New York Times to publish information that helps the enemy kill Americans?" he began. "Times publisher Arthur Sulzberger Jr. and his editors and reporters are Americans, too. This is a paper based in a city that lost almost 3,000 citizens on 9/11. The next time the terrorists strike, the Times and its employees could be incinerated. The next time we are hit by al Qaeda, Times employees could be jumping out of windows to their deaths. But the paper decided that it's better to risk another terrorist attack on America than withhold information that might help prevent another attack. What accounts for such a strange view about the value of human life? Why has this paper turned its back on the absolute necessity of protecting the lives of our fellow Americans?
"If the answer is freedom of the press," Kincaid continued, "then it is freedom without responsibility. Curiously, though, the practice of aiding the enemy is something that is not only honored but encouraged by the journalism establishment today. That is why the Times, after publishing the James Risen/Eric Lichtblau Pulitzer Prize-winning story about the NSA terrorist surveillance program last December, has followed up with a story about another secret program to uncover terrorist financial transactions."
The full text of Mr. Kincaid's remarks is reproduced here on the Accuracy in Media web site. His essay refers to a bitterly satiric send-up of the NYT from the www.peoplescube.com site, reproduced for the demonstration by Vietnam veteran and FReeper [Mrs.] Trooprally.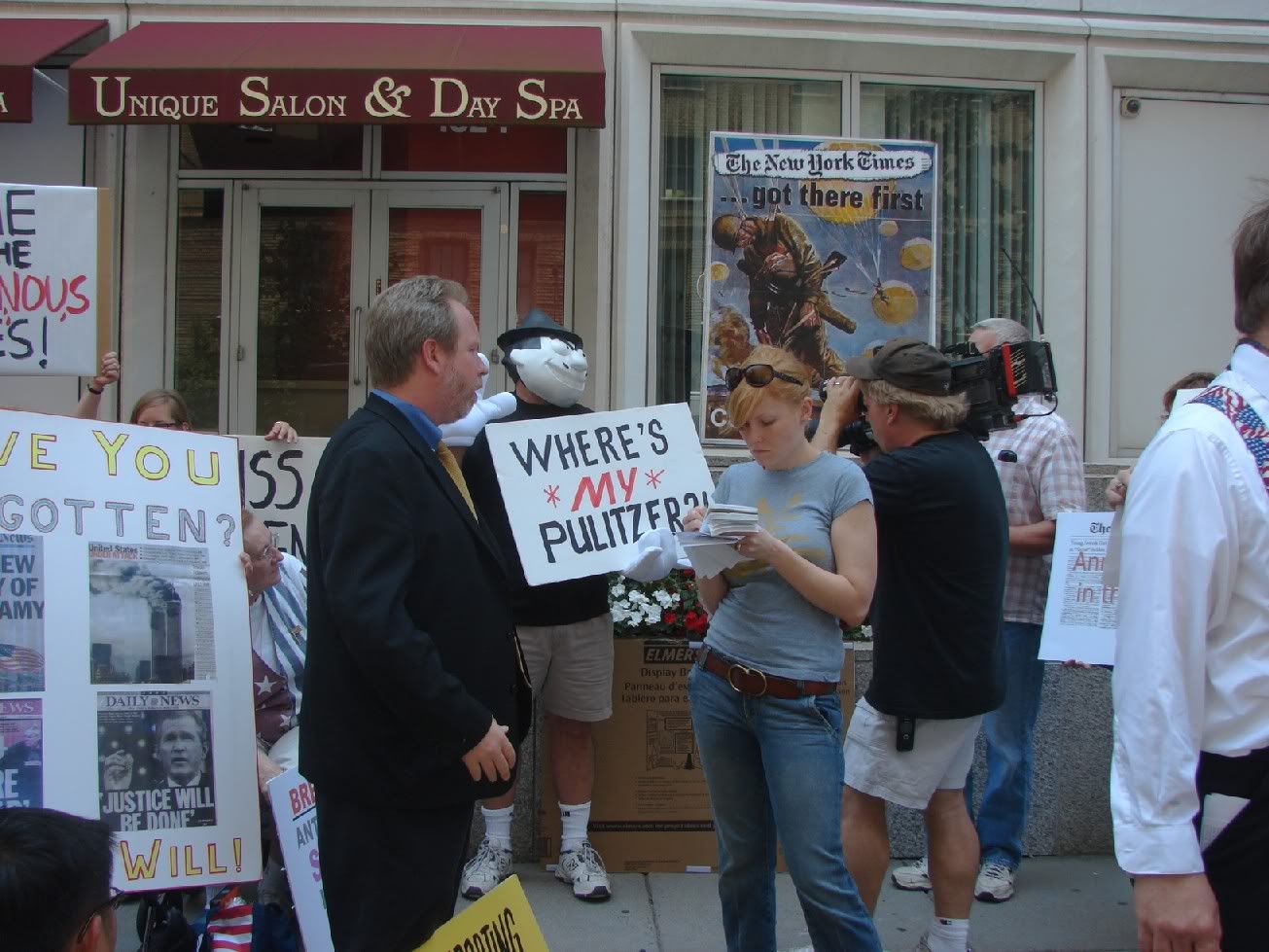 Underscoring Mr. Kincaid's point about Pulitzer Prizes awarded to reckless reporting was a tall FReeper in a Boris Badinov costume (center), with a sign reading, "WHERE'S *MY* PULITZER?" His image was displayed on FoxNews that evening. Kristinn (left) is interviewed by Ana Marie Cox (right), Kerry supporter, novelist and blogger formerly known as Wonkette.


A different quality of attention was paid to this demonstration than the usual press indifference to conservative viewpoints. The reporters and crowd were silent and attentive during the speakers' remarks, and their questions afterward were serious. One reporter asked what steps should be taken regarding this story. Kristinn Taylor again pointed to the obligation of the media to behave responsibly.
Referring to FreeRepublic's position as a highly popular conservative news forum with unique visitor traffic ranking with the Drudge Report, Taylor remarked, "We support a free press; but with that right comes responsibility. I exercise my Second Amendment right to own a firearm. But that right does not entitle me to shoot anywhere I want in any way I want. The same principle applies to the First Amendment freedom of the press."
Mr. Kincaid responded to a question about what would constitute a successful prosecution. "A successful prosecution would only mean that the New York Times and other [news outlets] would obey the law. The question is, will the press hold itself to be above the law? Let's bring the case and see..."
Directly challenging the reporters in the necessity of self-restraint, Kincaid continued, "What's going to happen next time? Are you going to be jumping out a window? Are you going to be one of those incinerated?"
At this, the tension level rose directly. Reporters wanted to know whether Taylor's and Kincaid's call to prosecute also carried an expectation of the traditional legal penalty for treason, a death sentence. Taylor pointed to the precedent of the Rosenberg case during the last century. Kincaid rejoined, "The question at this point is not about the death penalty, but to ask, "Why are these publishers risking the lives of other Americans? Why did they violate the law?"
The demonstration was not to end without a Freeper chant loud enough to penetrate the closed windows of the news building across the street. Taylor led the group in shouting many repetitions of
SULZBERGER, KELLER,
RISEN AND LICHTBLAU --
ROUND THEM UP FOR TREASON!
SEND THEM ALL TO GITMO!
You can hear it for yourself on Michelle Malkin's Hot Air site, as well as in this video story of the protest on Voice of America.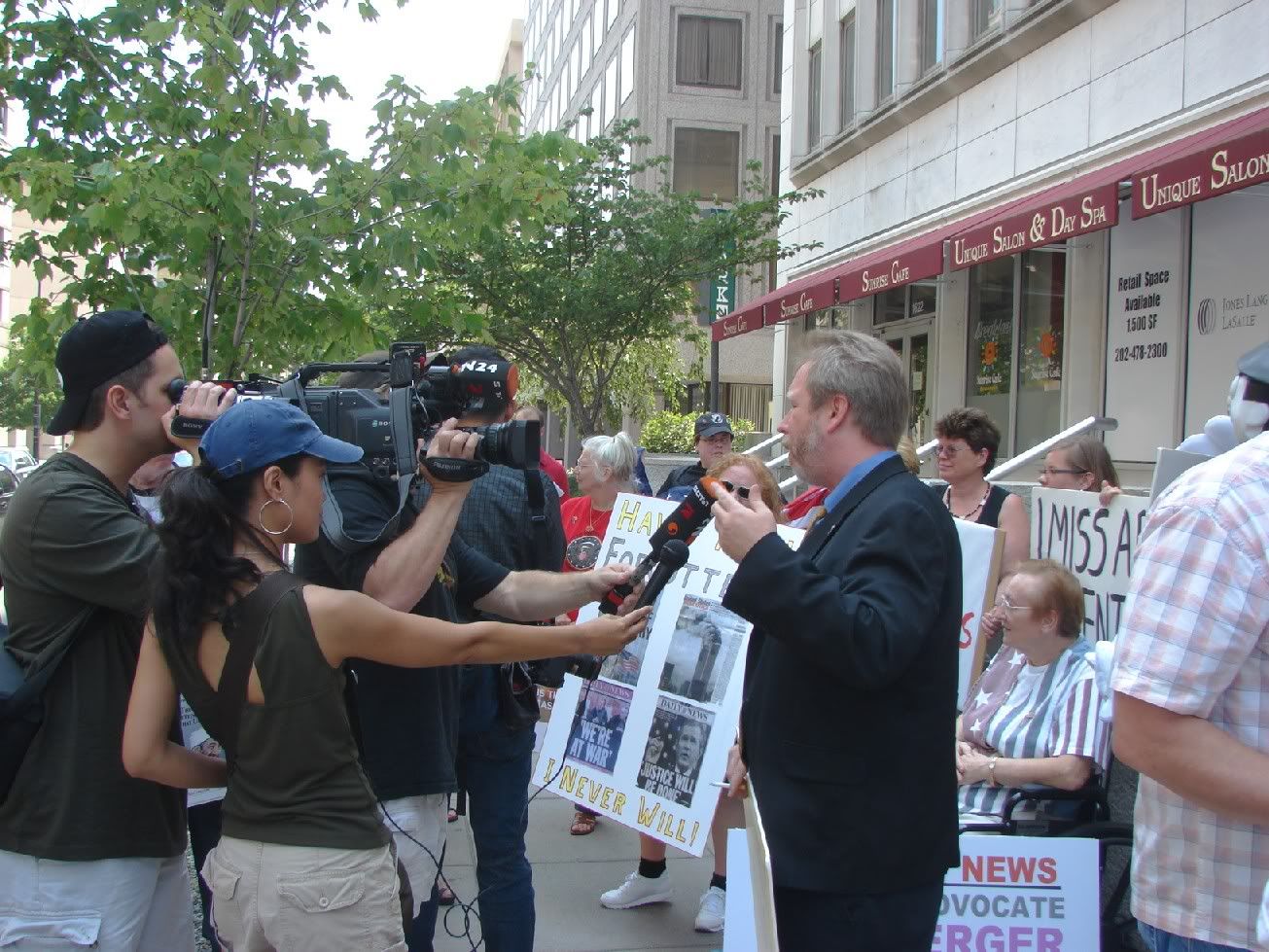 Michelle Malkin and the crew of Hot Air interview Kristinn Taylor.
In addition to Kristinn, FReepers who attended the protest, by screennames, were 3D-Joy, AaronArnwine, Albion Wilde, BufordP, Christopher Lincoln, Cindy-True-Supporter, Jimmy Valentine's Brother, Just A Nobody, [Mrs.] Mason-Dixon, Nina0113, ShadowMayhem, [Mrs.] Trooprally, TBP and W04Man. Accuracy in Media was represented not only by Mr. Kincaid, but also by Curtis Kincaid, Charles Rozier, Director of AIM's Educational Foundation Speakers Bureau, a photographer and several interns. Another two women holding signs said they heard about the protest on Michelle Malkin's blog. Several men from nearby offices joined in.
The sole counterprotester in attendance was Terry Krepel, a self-described conservative media watchdog, who saw this demonstration as "one piece in a history of eliminationist rhetoric," claiming that the goal was "not to have a dialog with the opposition, but to suppress it and silence it." When it comes to suppressing and silencing national security secrets in wartime, Terry, uh, yes.
That is the goal.
Additional media links:
The backstory from CNN: The debate in Congress over "loose lips" at the NYT
Photos by Alex Wong of Getty Images
Related FreeRepublic stories:
All of FReeper [Mrs.] Trooprally's excellent photos of the demonstration. Speak Truth to the New York Times
Groups to Protest Treasonous Reporting by New York Times at Washington, D.C. Bureau
http://www.freerepublic.com/focus/f-news/1660599/posts
Michelle Malkin: The newspaper of wreckage
Times must share blame if people die in attack
Wiretapped, denounced, indicted, journalists and 'leakers' feel heat around globe
Protest the New York Times Revealing of U.S. Secrets, Monday, July 10, 5 p.m.

---
TOPICS: Activism/Chapters; Government; News/Current Events; US: District of Columbia; US: New York; War on Terror
KEYWORDS: 4thestate5thcolumn; aar; accuracyinmedia; aidandcomfort; aim; biasmeanslayoffs; cliffkincaid; dcchapter; enemedia; enemediaprotest; gitmo; keller; kincaid; kristinn; kristinntaylor; leaks; lichtblau; nationalsecurity; newyorktimes; nyt; nyttreason; protestnyt; risen; sulzberger; taylor; treason; trysellingthetruth
---
Navigation: use the links below to view more comments.
first 1-20, 21-40, 41-60, 61-80 ... 101-119 next last
---
---
---
---
---
---
---
---
---
---
---
---
---
---
---
---
---
---
---
---
---
Navigation: use the links below to view more comments.
first 1-20, 21-40, 41-60, 61-80 ... 101-119 next last
---
---