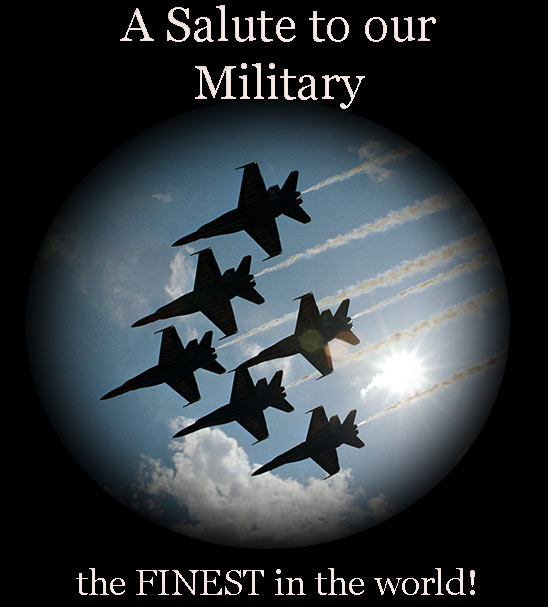 ***USN SPECIAL OPERATIONS***
ANCHORS AWEIGH my boy,
Anchors Aweigh,
Farewell to foreign shores,
We sail at break of day-ay-ay-ay.
Through our last night on shore,
Drink to the foam,
Until we meet once more,
Here's wishing you a happy voyage home.
The Mediterranean Sea (Mar. 27, 2003
The "Air Boss" observes flight operations from primary flight control as an S-3B Viking of the "Checkmates" of Sea Control Squadron Two Two (VS-22) launches from USS Harry S. Truman (CVN 75). The "Boss," the Air Department Head on a carrier, oversees all aircraft operations on the flight deck, the hangar, and the operations of the various maintenance shops. Truman and Carrier Air Wing Three (CVW-3) are supporting Operation Iraqi Freedom. U.S. Navy photo by Photographer's Mate Airman Ryan O'Connor.
"I am the American Sailor"


******************


Thank you to the men and women of the United States Navy. God bless and keep you. We await your safe return. Salute!

***USAF SPECIAL OPERATIONS***
Off we go INTO THE WILD BLUE YONDER
Climbing high into the sun;
Here they come zooming to meet our thunder,
At 'em boys, Give 'er the gun! (Give 'er the gun now!)
Down we dive, spouting our flame from under,
Off with one helluva roar!
We live in fame or go down in flame. Hey!
Nothing'll stop the U.S. Air Force!

B-2 Spirit Bomber
The B-2 Spirit is a multi-role bomber capable of delivering both conventional and nuclear munitions. A dramatic leap forward in technology, the bomber represents a major milestone in the U.S. bomber modernization program. The B-2 brings massive firepower to bear, in a short time, anywhere on the globe through previously impenetrable defenses. Along with the B-52 and B-1B, the B-2 provides the penetrating flexibility and effectiveness inherent in manned bombers. Its low-observable, or "stealth," characteristics give it the unique ability to penetrate an enemy's most sophisticated defenses and threaten its most valued, and heavily defended, targets.
********************
Flags keep family close.....
OPERATION IRAQI FREEDOM -- With three American flags on board his F-15E Strike Eagle, Lt. Col. Matt Meloy prepares for a mission March 16 at a forward-deployed location in Southwest Asia. Two flags in the front of the canopy represent his two kids and he carries one for his wife. (U.S. Air Force photo by Staff Sgt. D. Myles Cullen)




********************



The U.S. Air Force is an important component of the coalition military force being assembled in the Gulf region. All U.S. Air Force assets in the region are organized under the 9th Air and Space Expeditionary Task Force commanded by Lt. Gen. T. Michael Moseley.




********************



Thank you to the men and women of the United States Air Force. We are praying for your safe return. Salute!


***ARMY SPECIAL OPERATIONS***
Over hill, over dale, as we hit the dusty trail,
and THE CASSIONS GO ROLLING ALONG.
In and out, hear them shout,
Counter march and right about,
And the Caissons go rolling along.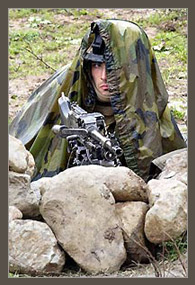 A soldier of U.S. Army 173rd Airborne guards the Harir airfield, 45 miles northeast of the Kurdish city of Irbil, after the group opened a new northern front on Thursday. The U.S. military parachuted about 1,000 troops into the Kurdish-held area of Iraq in a dramatic nighttime operation.
********************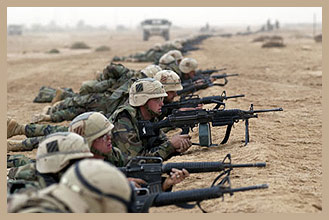 Soldiers from the 3rd Infantry Division (Mechanized) in firing positions during an enemy approach on their position at Objective Rams, in Southern Iraq, March 24, 2003. Joint Combat Camera Center photo by Sgt. Igor Paustovski, U.S.Army
********************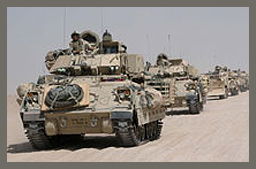 NAJAF, IRAQ (Army News Service, March 27, 2003) -- After a push deep into Iraq, the 3rd Infantry Division (Mech.) consolidated its forces northwest of Najaf March 25, about 60 miles from Baghdad, expecting a final assault on Republican Guard units ringing the capital.
********************

The Army Airborne Special Forces motto:
"De Oppresso Liber -
To Liberate the Oppressed"
The Special Forces Creed
The Special Forces Prayer
********************
Men and women of the United States Army, we salute you. God bless and keep you safe.
***USMC SPECIAL OPERATIONS***
From the HALLS OF MONTEZUMA
to the Shores of Tripoli;
We fight our country's battles
In the air, on land, and sea;
First to fight for right and freedom
And to keep our honor clean;
We are proud to claim the title
Of UNITED STATES MARINES.
The Marine Corps is a maritime force and is expeditionary in nature. In fact, the Marine Corps' history and legacy is a landing force from the sea. Today, Marines continue to be trained and equipped to come from the sea and fight America's battles. The unit in the Marine Corps specifically groomed for the contingency battles of the future is the Marine Expeditionary Unit or MEU.

A MEU is based on Naval vessels and is normally built around a reinforced battalion, a composite aircraft squadron, and by a MEU Service Support group totaling about 2,000 personnel in all.

Commanded by a colonel, the MEU is employed to fulfill routine forward deployments with fleets in the Mediterranean, the Western Pacific, and periodically, the Atlantic and Indian Oceans.

The MEU's very existence is vital because with the decline of American bases abroad, it's possible that the only U. S. forces available to respond to worldwide crisis quickly will be the Marines.
********************
MARINE COMBAT HEADQUARTERS, Southern Iraq(March 22, 2003) -- First Marine Expeditionary Force's headquarters element and other command and control assets convoyed across the Kuwait-Iraq border and headed north March 22. In just about the middle of nowhere, Marines have stood up a forward operating base from which they are now running the Corps' portion of Operation Iraqi Freedom.
God bless "the few, the proud" of the United States Marine Corps. Thank you for your service. Salute!

We're always ready for the call,
We place our trust in Thee.
Through howling gale and shot and shell,
To win our victory.
"SEMPER PARATUS" is our guide,
Our pledge, our motto, too.
We're "Always Ready," do or die!
Aye! Coast Guard, we fight for you.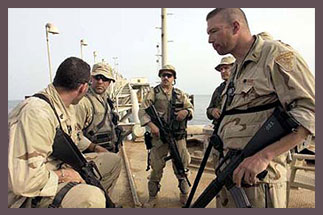 Dateline - March 4, 2003 North Arabian Gulf....Coast Guard Port Security Units maintain security on oil terminals. Coast Guard personnel from Port Security Unit 313, from Tacoma, Washington, discuss security strategy onboard the Mina al Bakr oil terminal.




********************



"We've activated nearly half of our selected reserves in support of Operations Neptune Shield, Liberty Shield and Iraqi Freedom . And our Auxiliary continues to provide an awesome presence throughout our Coast Guard—truly a model American volunteer organization.

I salute every member of our Coast Guard for the sacrifice, selfless courage, and professionalism that have been so clearly evident throughout the past year, and especially during the past week. Our thoughts and our prayers are with those who remain in harm's way, and whose inspiring service compels me to say that I have never been more proud to wear the uniform of our great Nation."
........Admiral Thomas H. Collins - March 26, 2003.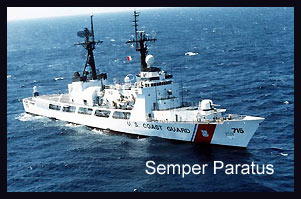 ********************
We salute the men and women of the United States Coast Guard. Thank you for your service. God bless and keep you.