---
Moonbats, Puppets and Dummies, Oh Me - Oh My!!: Wk 80- Olney,MD 7-14-07: Operation Infinite FReep
July 17, 2007


Posted on 07/17/2007 5:27:00 PM PDT by trooprally

The moonbats were at it again this Saturday. There were four moonbats, a DUMMY and a PUPPET, courtesy of MOBilizing Mothers and Raging Grannies. It was good primitive theatrics given that the moonbats can't work computers or other (non battery operated) electrical devices. In the past, the moonbats have had trouble of varying degrees, from not getting a slide show to work to long delays in getting videos to run. Kristinn has personally witnessed their boondoggles at one time or another.

BELOW is their street theatrics. When they were breaking down to leave and the mask came off, the lady looked like a drowned rat. And I saw that from across the intersection. Imagine wearing a rubber mask (being a big improvement to the wearer) in hot, humid weather, with the sun beating down. What grumpy Morons!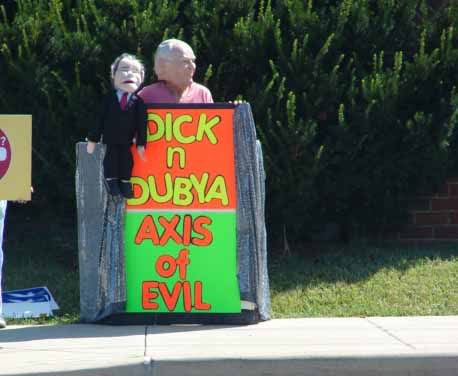 But have no fear. We outnumbered the grumpy morons, 8 to their ??, jeez, I don't know how to count the dummy and the puppet.
It was great to have tgslTakoma with us today. FReepers and Lurkers in attendance today were Lurker Bill, (aka Lurker Bill from MD on Walter Reed AARs) and daughter, Cindy_True_Supporter (CTS), Prezusa222, tgslTakoma (takoma), VictoryNY, Mrs. Trooprally ([Mrs] T), and myself ([Mr] T). Pics are by [Mrs] T.
BELOW: tgslTakoma almost back in the saddle. Looking good.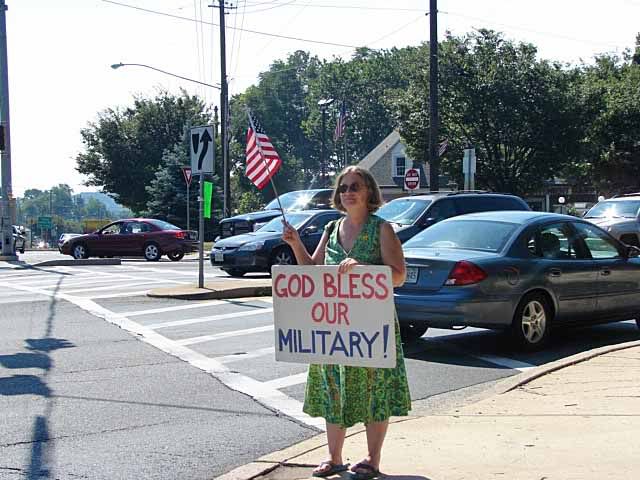 BELOW LEFT: Everyone helping to put up the banners. BELOW RIGHT: Banners are all up.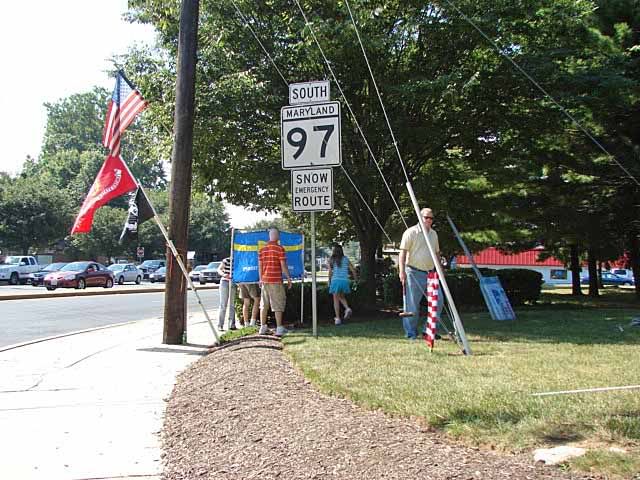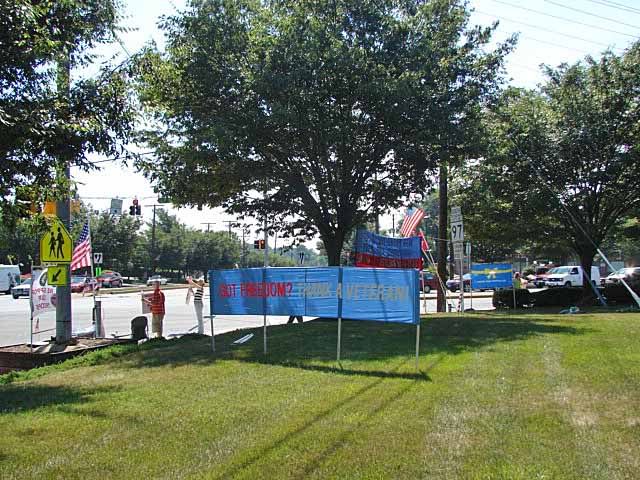 BELOW: Hey - that's my sign, no it's mine, Oh, here my sign is.
BELOW LEFT: Everyone now has their sign. PrezUSA222, VictoryNY, CTS, me, L. Bill's daughter and Takoma is behind the pole. You can see her shadow and the flag that she is waving. BELOW RIGHT: Guess Who?
BELOW LEFT: Lurker Bill and daughter. BELOW RIGHT: VictoryNY and PrezUSA222 waving to lady in convertible.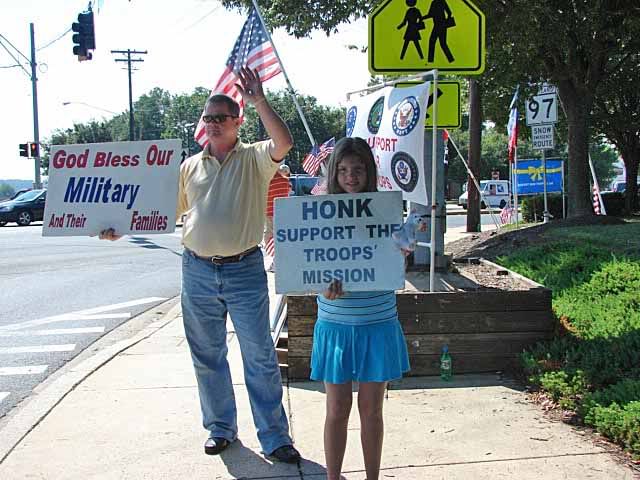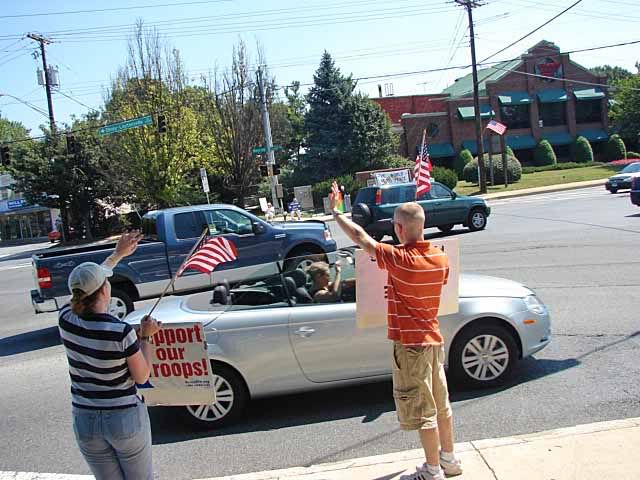 BELOW LEFT: PrezUSA222 waving back to passing supporter. BELOW RIGHT: PrezUSA222, VictoryNY, CTS, Takoma and me.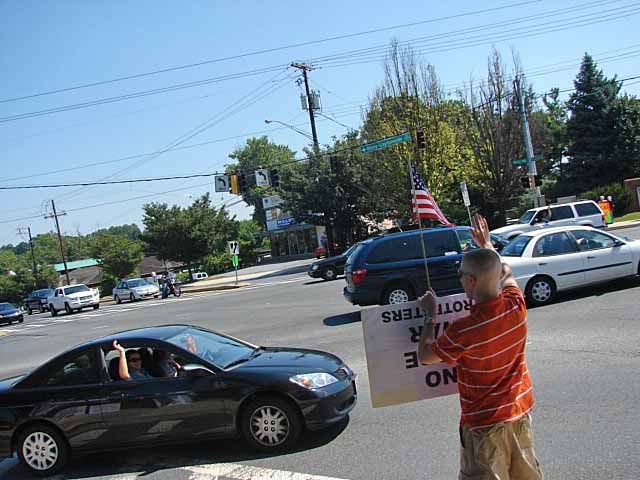 Now something very special to [Mrs] T and I, for all those who actually read the whole thread.
As many of you know, our son is in Iraq. He told us that he IS receiving all your packages and emails, and that he really does appreciate them. But he said that he just has a tough time replying to everyone. He wants you to please be patient with him. He also wants us to express to you his gratitude. Your packages and emails makes his life a lot easier.
His group of NCIS interrogators/investigators just moved to some trailers. The old wood "barracks" had cracks in them that allowed sand to be blown in. Showers are now easier and the A/C is better.
But his biggest day was this Tuesday, July 17. Someone in the States asked General Pace that the next time he was in the area of our son, to stop by the NCIS quarters and say "HI". Apparently Gen. Pace honored that request. BELOW LEFT: General Pace with the NCIS agents. They all received the General's coin. BELOW RIGHT: General Pace personally shaking our son's hand.
BELOW: Some pics from our son looking out from a humvee.
BELOW: Also some of our son's pics of Iraq. Among his duties is to train the Iraqi police.
From [Mrs] T and I, a most sincere Thank You to all who are making our son's "Iraq Vacation" a little easier. Your words of support to us are also appreciated.




REMEMBER
Next Saturday, same place, Georgia Avenue, MD Rte. 97 and MD Rte. 108 in Olney
NEW TIME - 10:15 AM to 11:45 AM


As always, the D.C. Chapter's rules for protesting will be in effect. Briefly, they are: No violence, no profanity, no racism, no provocations, obey the law and treat all law enforcement officers with respect.
But a lot of verbal engagement in Olney is always welcome. Where is Mr. Bull Horn when we need him?

---
TOPICS: Activism/Chapters; Free Republic; US: Maryland; US: Virginia
KEYWORDS: mobilizingmothers; moonbat; moonbats; opinfinitefreep; peaceactionmc; quakers
---
Navigation: use the links below to view more comments.
first 1-20, 21-28 next last
---
---
---
---
---
---
---
---
---
---
---
---
---
---
---
---
---
---
---
---
---
Navigation: use the links below to view more comments.
first 1-20, 21-28 next last
---
---