---
"The MAC is BACK" and "Sailor Gives Olney Navy Flag": Weeks 202 & 203, Olney, MD 11-21 & 28 -09
Dec. 17,2009


Posted on 12/17/2009 5:35:08 PM PST by trooprally

WEEK 202: NOV. 21,2009



The MAC is BACK, the iMacMan that is. iMacMan is someone I consider a "cold weather FReeper". His retirement keeps him away from Olney during the warmer months.

While iMacMan didn't bring his cameras today, he takes some of the best pictures of our passing supporters that I know of. And then the edits he does are great. To those who know cameras, I do not, he sets his cameras on wide lens and then with one push of the button, gets 6 frames shot.

BELOW: Several of iMacMan's neat pictures.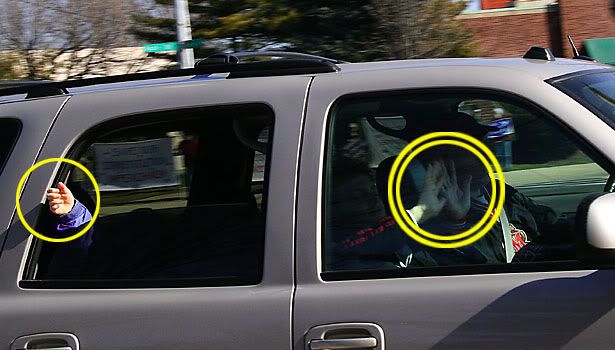 Did I forget to mention that iMacMan (BELOW) is just great to be around. I'm looking forward to more Olney FReeps with him.
The "OTHER" 10 patriots that were at Olney this week are: Legionnaires Glenn (USMC, WWII), Dave (Army, WWII) and friend, Janet, Halsey (USMC, Korea), Jack (Coastie, Korean War era), and then there is also Lurker Bill, Cindy_True_Supporter, Fraxinus, [Mrs] Trooprally and myself.
Pictures this week are by [Mrs] T.
BELOW LEFT: Legionnaire Glenn BELOW RIGHT: Glenn with Legionnaire Jack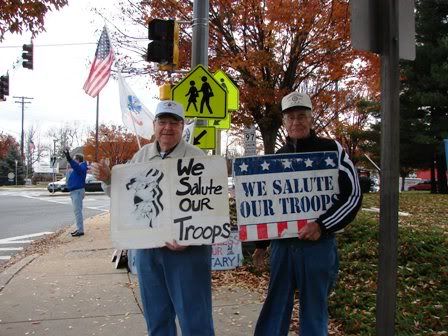 BELOW LEFT: Me and Halsey in background, with Cindy_True_Supporter with Fraxinus BELOW RIGHT: Janet with Dave.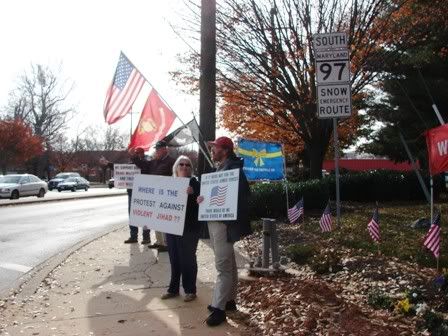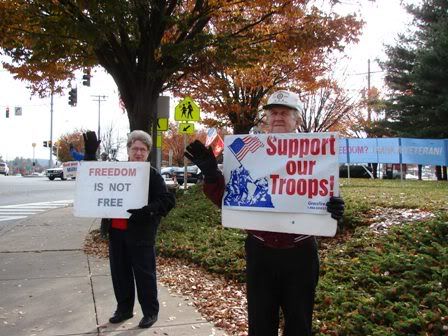 And some pictures of our supporters:
WEEK 203: NOV. 28,2009


The Navy showed up again this Saturday. And he, Matt, brought a Navy flag for us. When he was with us several weeks ago I asked him for a Navy flag.
BELOW LEFT: Matt is from TEXAS and will be deployed on ship this January. Matt is the Texan in the leather Stetson. Standing with him are GunsAreOK, me, Legionnaire Dave. BELOW RIGHT: We had the flag up two weeks later, Week 205, do out soon, as soon as I finish playing catch up with the back AARs. The first following week, Week 204, we had snow. Navy flag with a cold Janet and Lurker Bill in the back ground.
The 10 patriots that were at Olney this week are: Legionnaires Dave (Army, WWII) and friend, Janet, with Lurker Bill and Cindy_True_Supporter, GunsAreOK, [Mr] of the husband/wife team of RedWhiteandBlue and his twin sons (our grandsons), [Mrs] Trooprally and myself.
With Matt being active duty he was not counted in our Roll Call. Technically he can participate while in civilian cloths but it is best not to do so. But his presence sure is a spirit up-lifter.
Pictures this week are by [Mrs] T. The low, bright sun played havoc with [Mrs] T's camera.
BELOW LEFT: [Mr] RedWhiteandBlue. It's not nice to turn your head when your mother-in-law is trying to take your picture.BELOW RIGHT: Our twin grandsons.
BELOW LEFT: Janet holding down our left flank while Dave talked to our Navy vet as shown in the pic above. BELOW RIGHT: GunsAreOK along with Dave finally make it over to our left flank.
BELOW: Cindy_True_Supporter with her friend. These two became friends after starting a discussion several months ago as we were breaking down.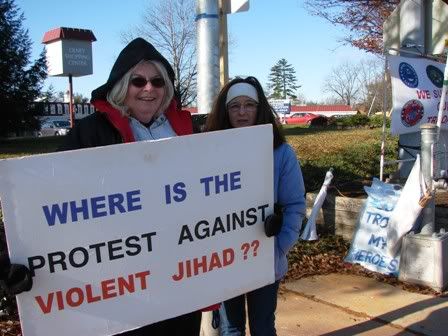 WARNING TO FREEPERS ATTENDING OLNEY
Some new money making have been installed on north bound Georgia Avenue right before you enter the main business district. Slow your speed after the light at King William Drive.
And a new one has been placed just south of Brookeville, between Brookeville and the Longwood Community Center.




REMEMBER
Next Saturday, same place, Georgia Avenue, MD Rte. 97 and MD Rte. 108 in Olney
NEW TIME - 10:15 AM to 11:45 AM


As always, the D.C. Chapter's rules for protesting will be in effect. Briefly, they are: No violence, no profanity, no racism, no provocations, obey the law and treat all law enforcement officers with respect.
But a lot of verbal engagement in Olney is always welcome.

---
TOPICS: Activism/Chapters; Free Republic; US: Maryland; US: Virginia
KEYWORDS: aar; military; mobilizingmothers; moonbats; opinfinitefreep; patriotism; peaceactionmc; quakers; rally; supportourtroops
---
---
---
---
---
---
---
---
---
---
---