---
Snow Off - Snow On: Weeks 211 & 212, Olney, 01- 23 & 30 -2010
Posted on 02/05/2010 9:44:18 AM PST by trooprally
Sung to "Clap On - Clap Off" if you hadn't made the connection. Now you'll have this theme running thru your brain as you get snowed in. :-))
WEEK 211 - Jan. 23,2010 CLAP OFF - NO SNOW!!
Hooray, warmer weather continued this week. While it was only around 30 degrees, the sun was out, the wind was still, and there was on the ground. The sun actually made it feel toasty out since we were not dressed for the sun. At Walter Reed 30 degrees is chilly since there is no sun.
Patriots in Olney this Saturday include Glenn (USMC, WWII), Dave (Army, WWII) and friend Janet, Halsey (USMC, Korea), Dennis (Army, Vietnam), Lurkers Bill and "D" and Cindy_True_Supporter, Fraxinus and [Mrs] Trooprally and myself.
Pictures are by [Mrs] T.
BELOW LEFT: Lurker "D" and Cindy_True_Supporter. BELOW RIGHT: Fraxinus. Not sure which is worst - bright sun or darkness. This is the first Saturday in about 6 weeks that we were able to get our full compliment of flags and banners put up.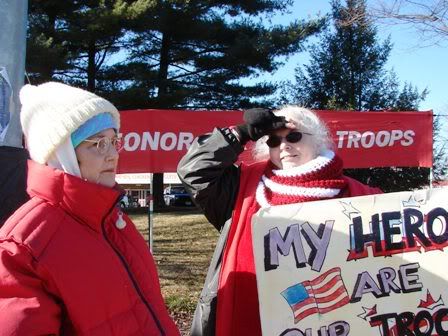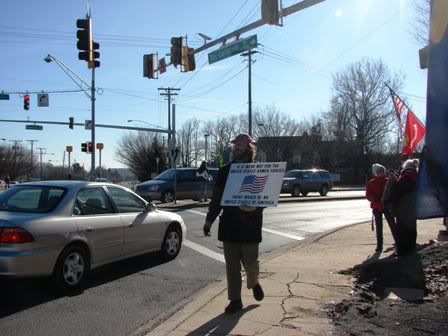 BELOW LEFT: Dennis replacing U.S. flag at the Rotary Club's Monument Dedicated to Olney's History. This is on the southeast corner of the intersection. BELOW RIGHT: View of Monument.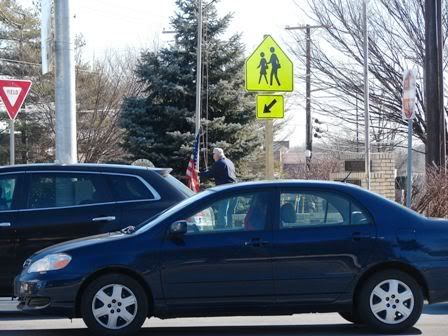 BELOW LEFT: Glenn, Halsey and Dennis on the left flank.BELOW RIGHT: Lurker Bill, Halsey and me. Halsey gets around a lot.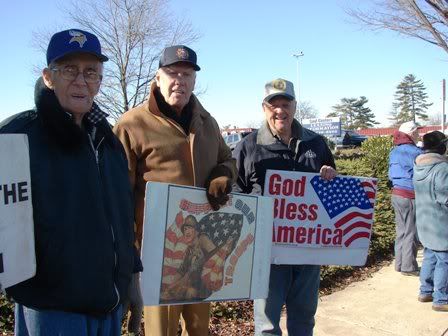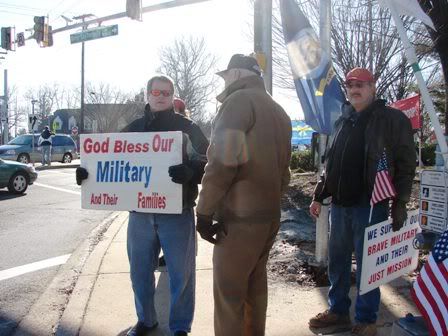 BELOW LEFT: Janet and BELOW RIGHT: Dave also on the left flank.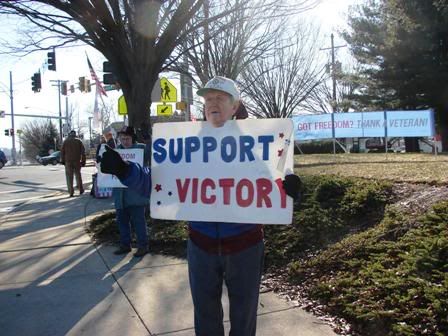 WEEK 212 - Jan. 30,2010 CLAP ON - SNOW IS FALLING!!
Snow started to fall about 9AM. We headed out to the corner just before 10AM. Being below freezing the snow stuck. As cars drove over it, the snow got packed down like ice. While spreading a little salt where we stand, one car coming up to the light did a 180 across 3 lanes. Luckily the cars behind were trailing enough to stay clear.
Cindy_True_Supporter was in the parking lot getting her signs out when I told her this. With an hour plus drive to get home, we sent her on her way before things got too bad. She was truly with us in spirit this Saturday.
BELOW LEFT: Lurker Bill setting up the one banner we had up. BELOW RIGHT: Lurker Bill now going strong waving to passing supporters. The little bit of concrete walk you see is where I tossed a little salt.
BELOW LEFT: Me setting up. And this is our new traffic signal pole. Once the intersection is reconstructed this pole will hold two flags. BELOW RIGHT: Now I'm also ready to go.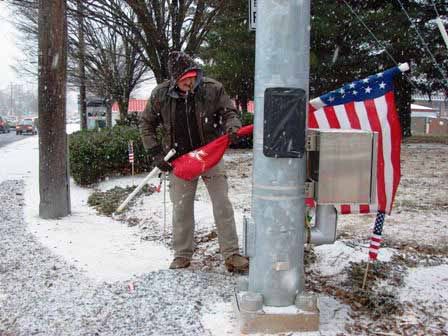 BELOW LEFT: And surprise, Halsey shows up - roads quickly getting covered. BELOW RIGHT: And it doesn't take long before he's also going strong.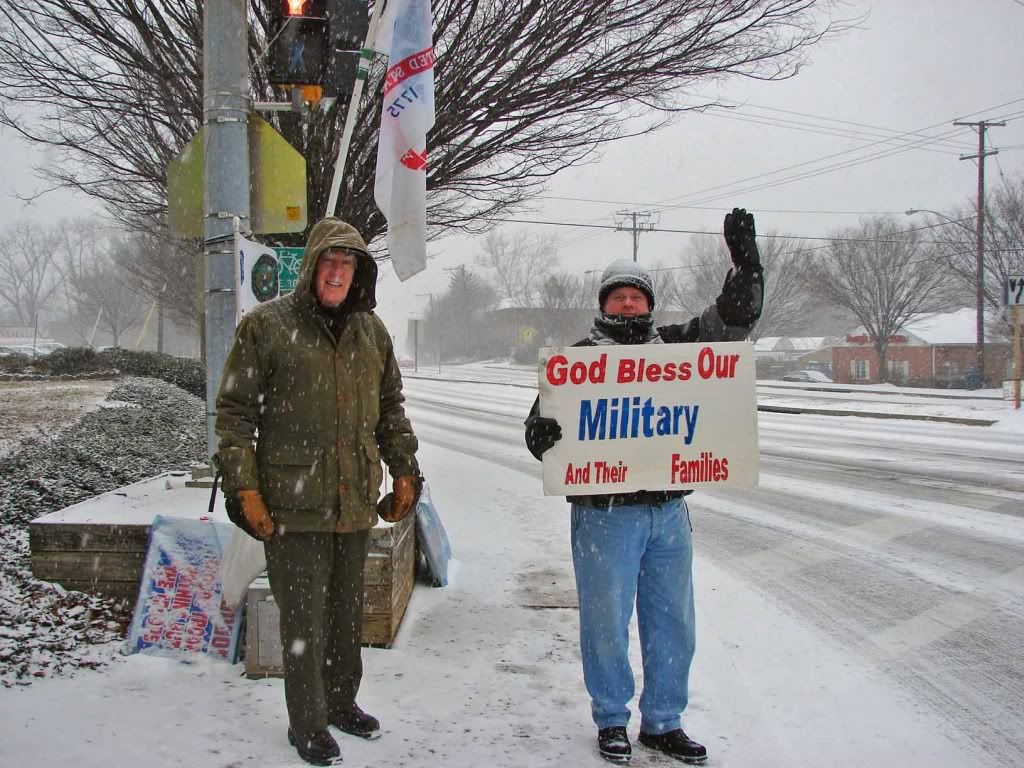 BELOW LEFT: For those regulars at Olney, the sisters were also out, sipping their Starbucks. Don't be fooled, they strongly support us, and today they earned their hot drink. The salt trucks had come by twice already and the snow is still sticking. Being about 20 degrees, the salt doesn't really work.
Pics are by [Mrs] T and you can see the other patriots. FYI, one moonbat and she left at 11AM.
WARNING TO FREEPERS ATTENDING OLNEY
Some new money making have been installed on north bound Georgia Avenue right before you enter the main business district. Slow your speed after the light at King William Drive.
And a new one has been placed just south of Brookeville, between Brookeville and the Longwood Community Center.




REMEMBER
Next Saturday, same place, Georgia Avenue, MD Rte. 97 and MD Rte. 108 in Olney
NEW TIME - 10:15 AM to 11:45 AM


As always, the D.C. Chapter's rules for protesting will be in effect. Briefly, they are: No violence, no profanity, no racism, no provocations, obey the law and treat all law enforcement officers with respect.
But a lot of verbal engagement in Olney is always welcome.

---
TOPICS: Activism/Chapters; Free Republic; Front Page News; Politics/Elections; US: Maryland; US: Virginia
KEYWORDS: aar; military; mobilizingmothers; moonbats; opinfinitefreep; patriotism; peaceactionmc; rally; supportourtroops
---
---
---
---
---
---
---
---
---
---
---
---
---