---
WEEK 13 - Olney, MD., 03-25-06: Operation Infinite FReep, PICTURE HEAVY FROM A FREEPERS' VIEW
March 28,2006 | Trooprally


Posted on 03/28/2006 7:16:23 PM PST by trooprally

iMacMan did his wonders with his camera today by taking pictures of the passing cars from the FReepers point of view.

BELOW: The highlight of this is the car of young supporters who circled around 2 times to cheer us on.
TOP LEFT: First pass by;
TOP RIGHT: They turned around and came back - Trooprally waving to them;
MIDDLE: Close up of car;
BOTTOM: They turned around again before heading east on MD Rte. 108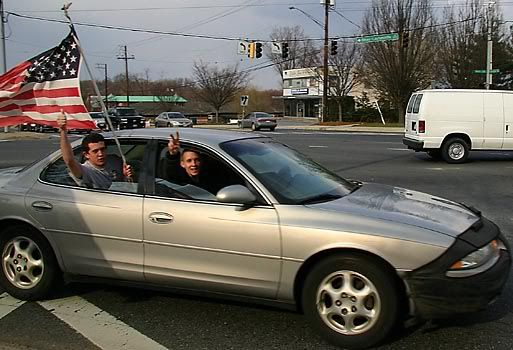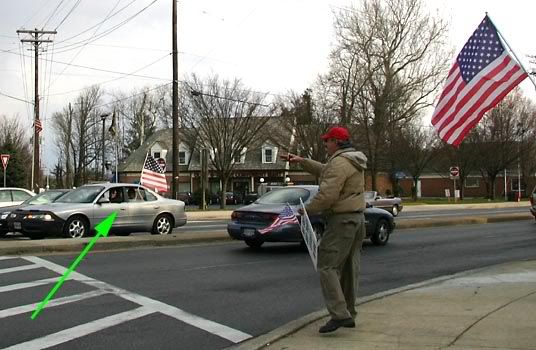 BELOW: Moonbats (In back ground) not liking the flag waving youths. Pic by iMacMan
Four FReepers/Lurkers were in attendance: iMacMan, [Mrs] Trooprally, myself, and local Lurker Bill.
BELOW: iMacMan & Trooprally setting up banner. Pic by [Mrs] T.
BELOW: Trooprally & iMacMan with Lurker Bill just to left outside pic enjoying fruits of their set up labor. Pic by [Mrs] T.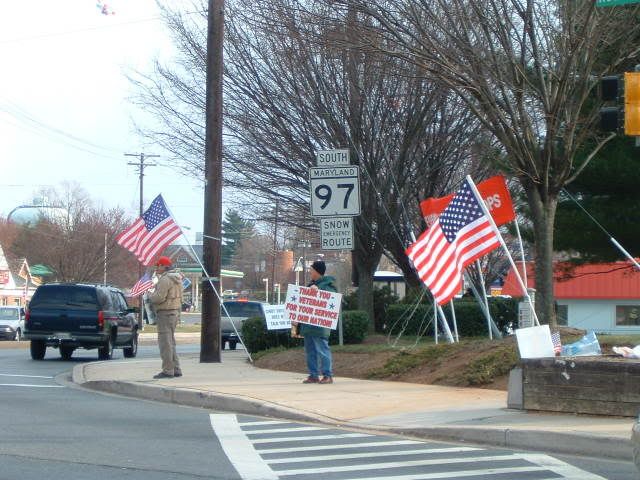 BELOW: View of iMacMan & Trooprally from "grassy knoll". Pic by [Mrs] T.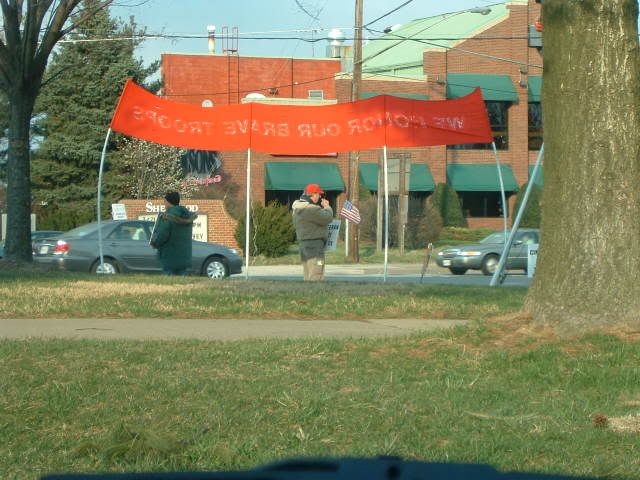 BELOW: Local and Lurker Bill. Pic by [Mrs] T.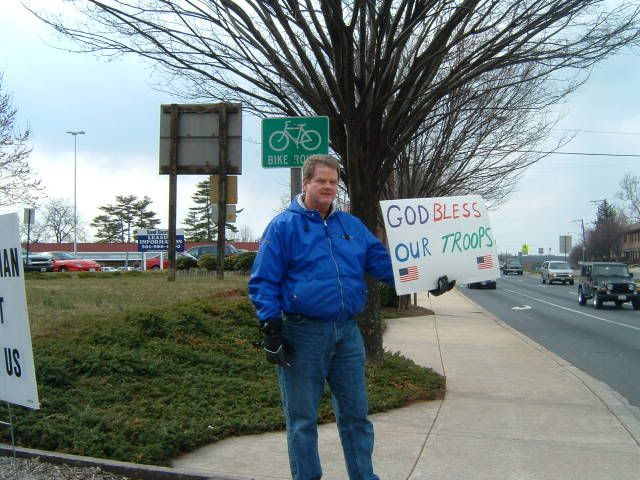 BELOW: [Mrs] & [Mr] Trooprally. Pic by iMacMAn
The moonbats had eleven for about a half hour, then 3 of them left. Ten minutes later another left. At 4:30 all but two left. Waveman and a lone moonbat on the southeast corner stayed til almost 5 PM.
BELOW: Early shows with Waveman (aka Swearman & Barkman) at left. Pic by [Mrs] T.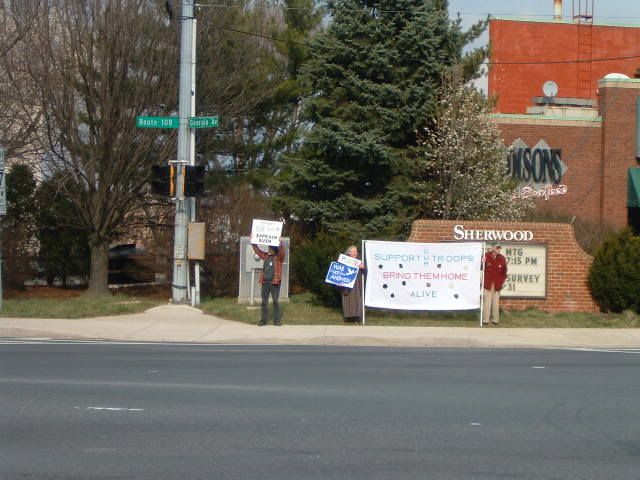 BELOW: Lots of moonbats. Pic by [Mrs] T.
BELOW: LEFT: Pic of simpleton, I mean singleton moonbat on SE corner. Pic by [Mrs] T. RIGHT Close up of singleton. Pic by iMacMan.
The teens from last week did not return. We had hoped they would. We did get the word to several drivers about our Saturday rally. They stopped for the red light, rolled down their windows and thanked us. That's when we told them about the FReep. We'll see if any of them come out.
Two cars flipped us the one finger salute and several shook their heads in disdain. But the honks from cars and waves from the Metro bus drivers always warm the heart. One bus passenger also waved to us.
The below pics are all by iMacMan from a FReeper's VIEW. Like them nice shiney cars? I personally like the waves and thumbs up. iMacMan spotted several that he would like to have.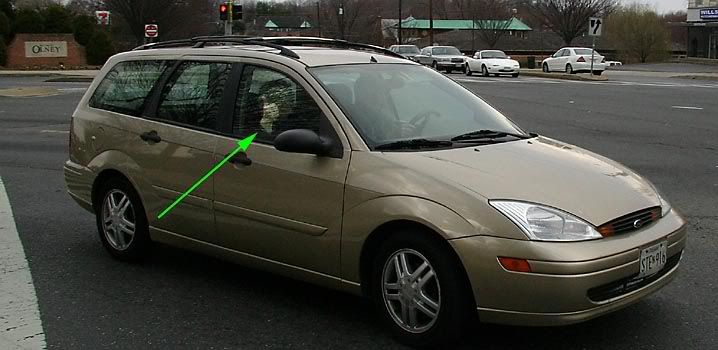 BELOW: A TwoFer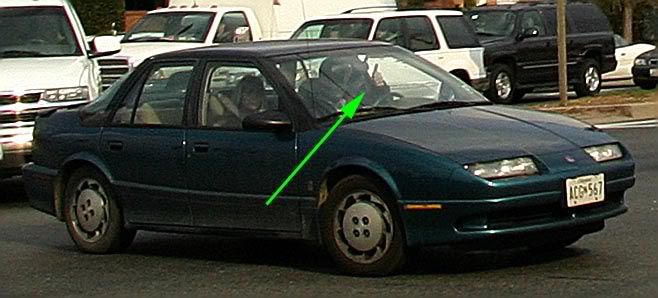 BELOW: Another TwoFer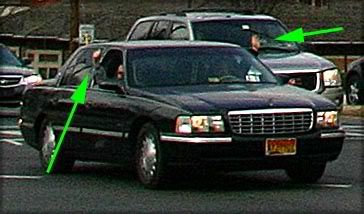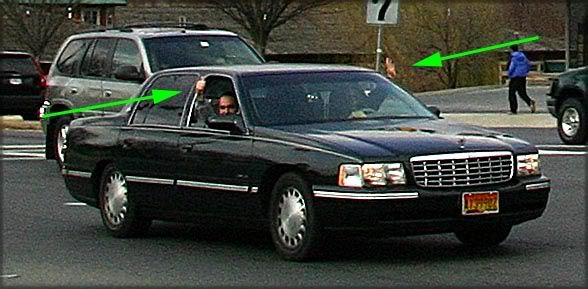 BELOW: Same car as above but now passenger has two thumbs up!!
BELOW: Call the company on the van - Tell them you saw them on FR and ask about a discount - Tell them Trooprally sent you. See how fast they hang up.
The red banner held up to the brisk breeze today. It bent, it flipped around, but the twine tie downs held. But the weather was warm enough that the breeze did not create a severe wind chill. Just hard to light my cigars.
Pic by iMacMan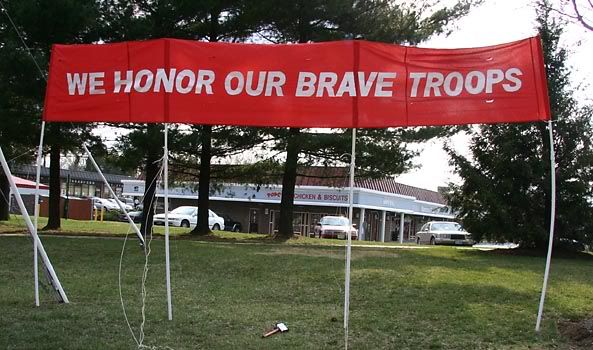 REMEMBER

Next Saturday, same place, Georgia Avenue, MD Rte. 97 and MD Rte. 108 in Olney, MD

Same time, 3 PM to 4:30 PM

---
TOPICS: Activism/Chapters; Free Republic
KEYWORDS: codepink; freep; grumpies; infinite; mobilizingmothers; moonbats; opinfinitefreep; peaceactionmc; peaceniks; quakers
---
Navigation: use the links below to view more comments.
first 1-20, 21-40, 41-45 next last
---
---
---
---
---
---
---
---
---
---
---
---
---
---
---
---
---
---
---
---
---
Navigation: use the links below to view more comments.
first 1-20, 21-40, 41-45 next last
---
---