---
Late but not lost - Walter Reed Weeks 242 & 243, Dec. 04 & 11, 2009
Posted on 02/05/2010 12:22:13 PM PST by trooprally
WEEK 242 - Dec. 04, LOTS OF BUSES, LOTS OF FREEPERS


NEWS FROM THE NORTHWEST CORNER
There was a lot of activity on the NW corner tonight. Token visits by [Mrs] T, TomtheRedHunter and Fraxinus were appreciated, but the visit by Sensei Ern was most appreciative. He brought me a real nice cigar.
More importantly was the support from passerbys.
One young lady walking by had her brother in Walter Reed. He arrived several weeks ago and had a leg amputated. He is doing well. She wants to bring him out to the corners when he is able.
One car was waiting for the light to change before proceeding into WR. A soldier who was riding shotgun, saw us, and got out to shake our hands and thank us. His smile of appreciation in seeing us out on the corners will be a big reminder as to why we are there.
And then there was the big SUV, again stopped at the light before proceeding into WR. The passenger rolled down his window and both passenger and driver thanked us. Then the driver asked if we needed some ski caps. "Absolutely" I answered. We need them for when Freepers come out and are not exactly dressed for the cold, especially those Texas FReepers. (Leofl knows who I'm talking about). He throws the SUV into park, runs around to the back hatch and pulls out a bag of ski caps and tosses them to me. I thank him and ask who he is with. Masse Fire Department was the answer and into WR they went.
BELOW LEFT: This bus came early, not sure of its mission. BELOW MIDDLE: DAV bus bring our wounded warriors and their families from dinner. BELOW RIGHT: Walter Reed bus also returning from dinner.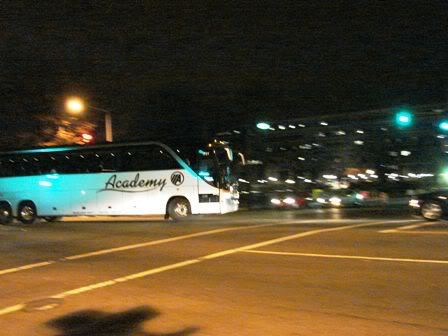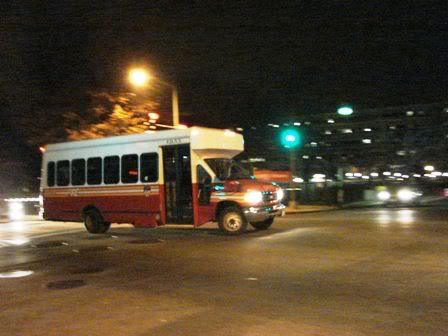 List of 11 Patriots at Walter Reed this 'warm' night: 2ndHandRose and husband, BufordP, Cindy_True_Supporter, Fraxinus, GunsAreOK, RongKirby, Sensei Ern, TomtheRedHunter, [Mrs] T and myself.
BELOW LEFT: Cindy_True_Supporter, Fraxinus and BufordP. No MOAB but we got the flags up. BELOW RIGHT: Buford, TomtheRedHunter and Fraxinus.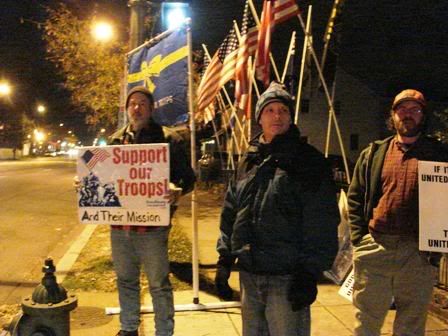 BELOW LEFT: 2ndHandRose, her husband and Fraxinus. BELOW RIGHT: RongKirby, always moving and waving.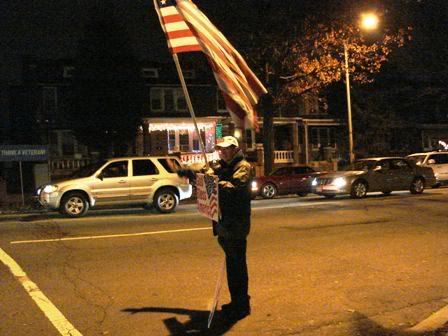 BELOW LEFT: GunsAreOK on Lurker Bill's corner, looking warm, and BELOW RIGHT: a nice display of Christmas lights behind him.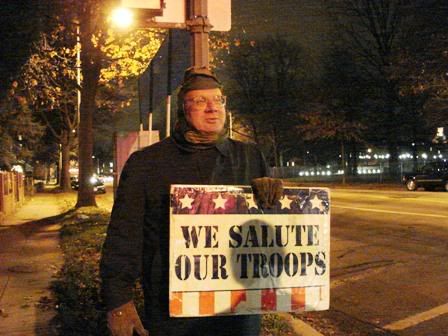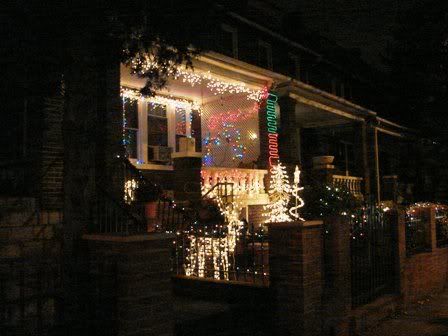 BELOW LEFT: Me and Sensei Ern enjoying one of his cigars. PC mention, BufordP also brings cigars for us smokers.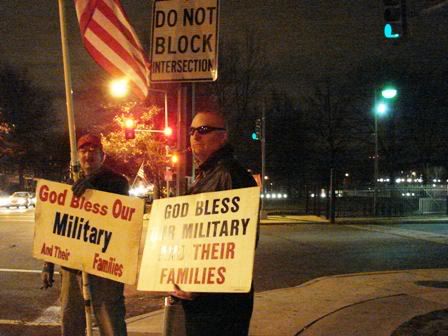 WEEK 243 - Dec. 11, LURKER BILL'S SURPRISE
Patriots attending: Cindy_True_Supporter, Fraxinus, RongKirby, VictoryNY, Lurker Bill and me.
Being cold and a bit windy, we decided once again not to put up the MOAB. Our numbers slowly increased to 6, with VictoryNY walking in from the Metro. VictoryNY always warms up the corners with her presence.
We were dressed warmly but Lurker Bill had a surprise for us. But if you are a regular reader you have already read about the heaters.
And it did come in handy on the northeast corner. Lurker Bill was going through Big Lots last week and say some small propane heaters for $20. So he bought two. Already having several portable emergency electrical sources (marine batteries) and gaseous heat source (propane), he hooked everything up and turned it on. It helped take the real cold off those on the MOAB corner who were within 4 feet or so. And when the wind stopped blowing the warmth could be feel in their face. As one battery lost its charge, Lurker bill attached the other.
With this week's experiment completed, Lurker Bill has ideas to fine tune the setup. He's talking about setting up the second one next week on RongKirby's corner.
A special THANKS to Lurker Bill in that he is doing this on his own dime. He already brings two banners and signs to WR every Friday. And when asked to haul the MOAB or a bag or two of the flags we put on the fence, with his now famous smile on his face, his answer is "Okay". So hauling the heater is something additionally that he loads and unloads every Friday.
Several years ago the DC Chapter was looking into getting a heater to stay warm on these cold nights. After much discussion of costs (Chapter funds were low), who was going to transport it every week (especially if the unit was still hot), and powering a unit big enough to keep everyone warm, the idea was dropped. I have to admit, I was one of the skeptics. At the time we were looking at a different setup, basically one big enough to keep us warm, some type of upright kerosene heater, not one just to keep the real cold at bay. I'M A BELIEVER NOW!!
On the lighter side. Cindy_True_Supporter's BIG rabbit mittens did keep her hands warm, but they occasionally covered part of her sign. We had a good time giving her a hard time about the mittens.
The big bus and DAV bus arrived together at 9:20 to our relief. Since WR changed the contract with the drivers, the bus usually arrives before 9:30. This a thankful change for the WR Freep. In the past we had a vague idea of when the bus would arrive. That time was a lot later than now. When the temps are in the 30s or lower, the cold goes deeper to the bone with every extra minute.
Of course the chant of: What Do We want? Global Warming! When Do We Want It? NOW!!! always gave us a little warmth.


BELOW LEFT: Our saving heat. BELOW RIGHT: Cindy_True_Supporter (with big warm rabbit gloves) and Fraxinus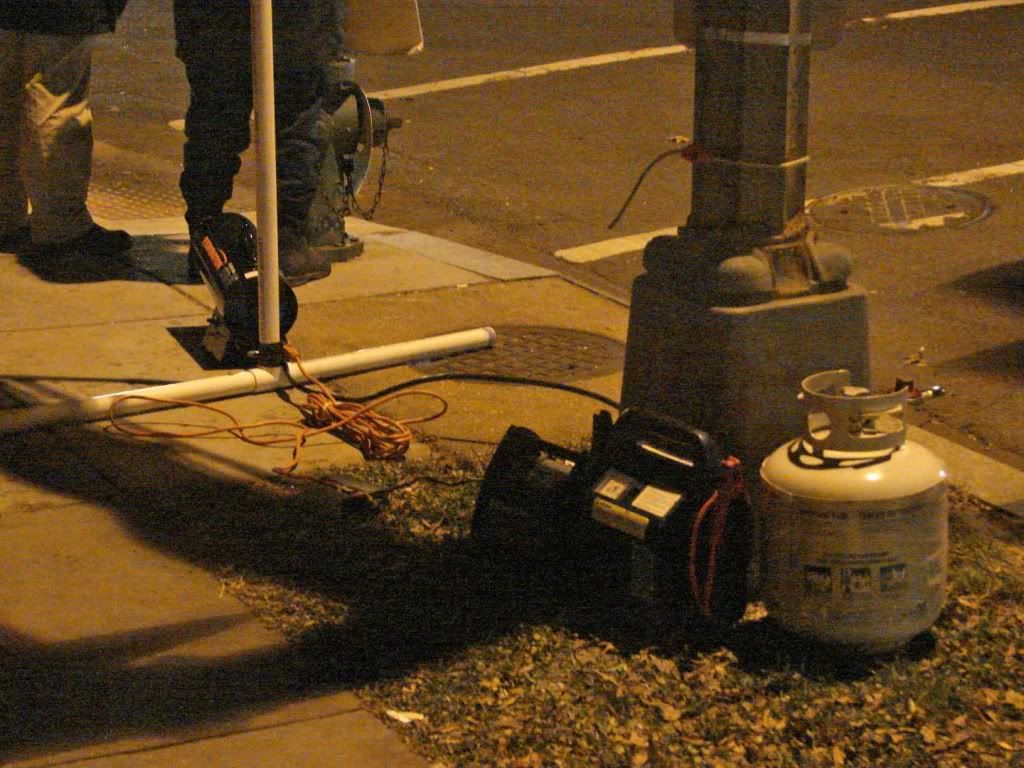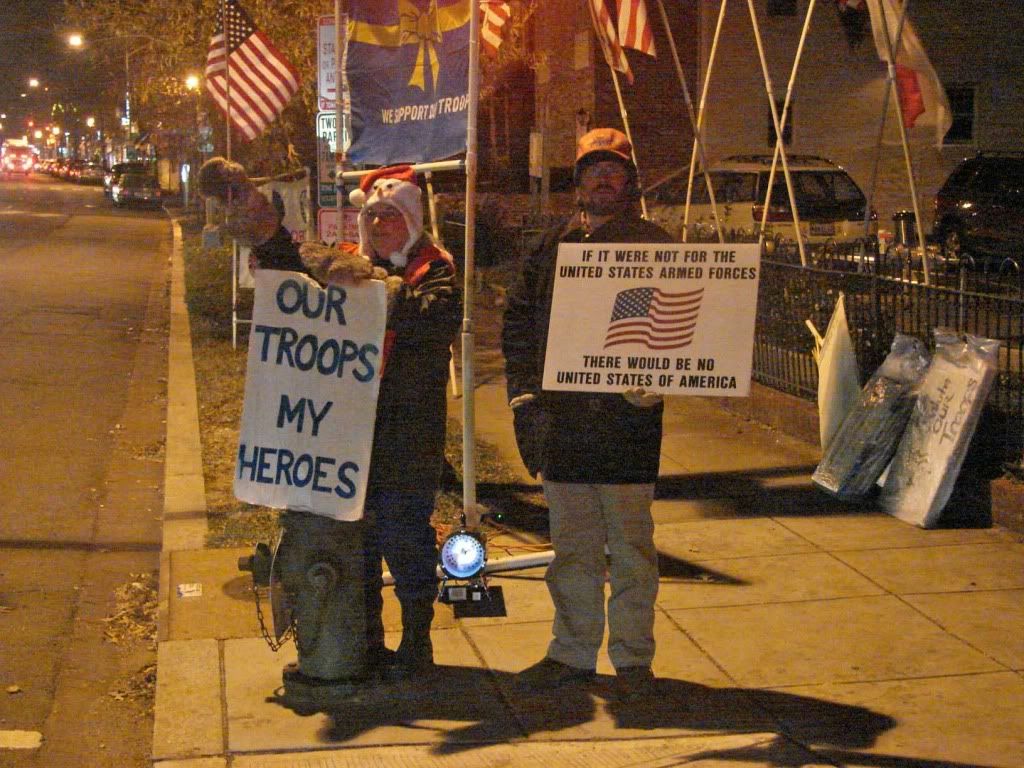 BELOW LEFT: Lurker Bill keeping warm on his corner. If you know Lurker Bill, his ski hat is a hint to how cold it is. BELOW RIGHT: RongKirby with wind blowing.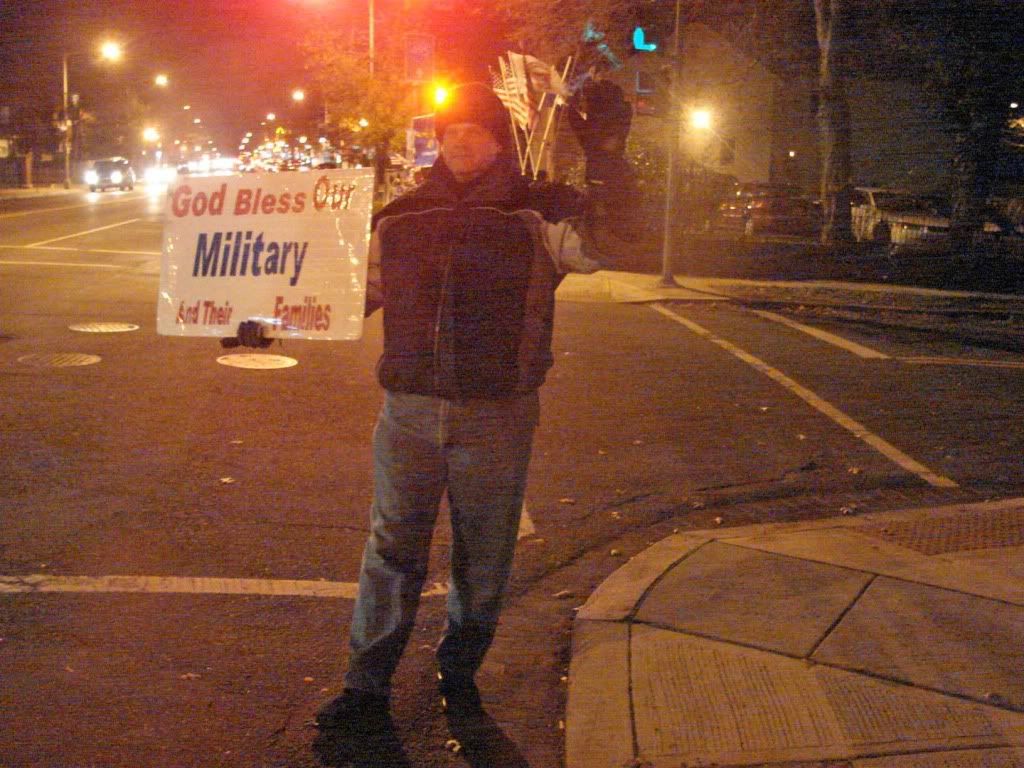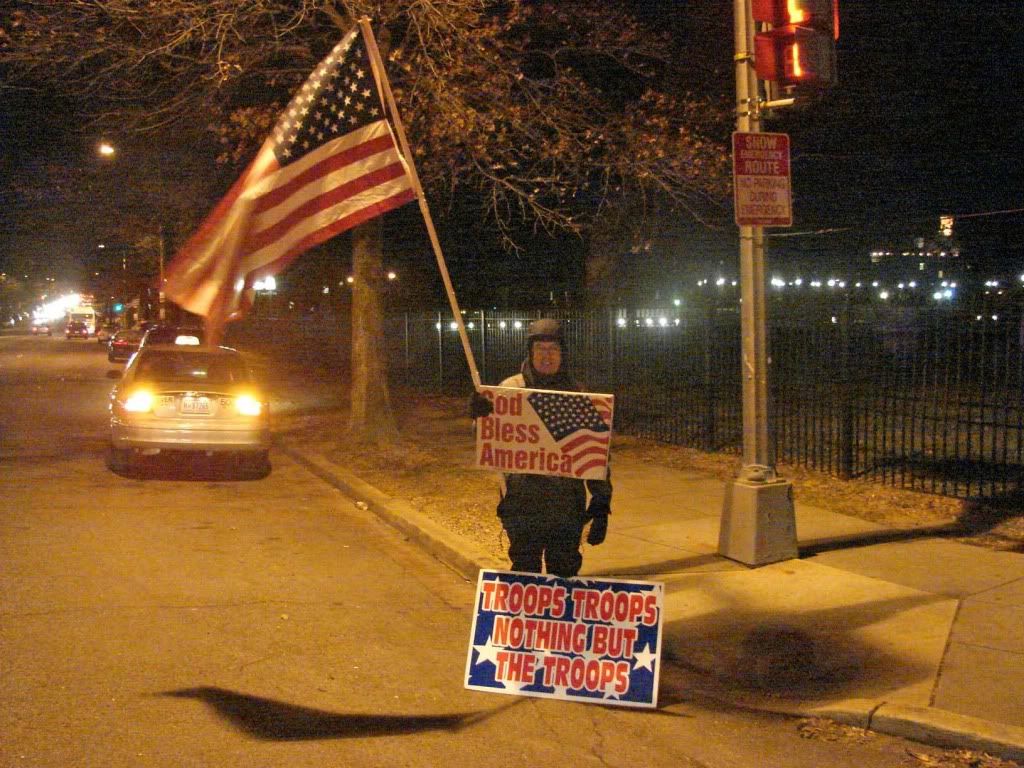 BELOW: Ever vivacious and positive, VictoryNY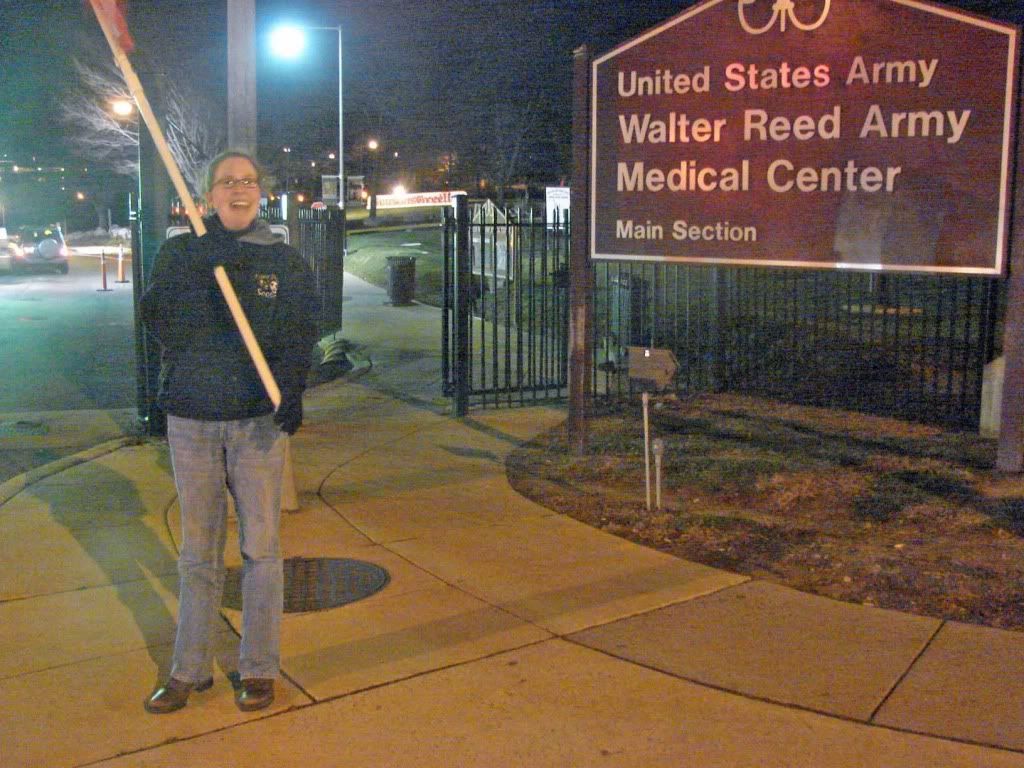 ---
TOPICS: Activism/Chapters; Free Republic; Politics/Elections; US: Maryland; US: Virginia
KEYWORDS: aar; military; moonbats; patriotism; rally; supportourtroops; walterreed
---
---
---
---
---
---
---
---
---
---
---
---
---
---
---
---
---
---
---
---