---
"OccupiersDC" Occupy Olney For An Hour - Week 299, Oct. 15, 2011
Posted on 10/20/2011 4:05:07 PM PDT by trooprally
The old hippie lib "Quackers" did what was expected of them - They have been to another anarchist protest. They were pawns, sheeple, morons in a movement that they think they understand. The only way the real organizers behind the "occupiers" could get big enough crowds is to get every lib, leftists and anti-American group possible to show up.

BUT, there is hope for our future if we can hold the line.
This week our daughter and 3 of our grand kids were in Olney to help out. Our patriots extent across 7 decades - from our 9 year old granddaughter through Glenn, an Iwo Jima Vet. Also in Olney were Vets from some of the major conflicts in between. Halsey served in Korea and Lurker Jim (Army) served in Vietnam and [Mrs] T (Army) who served Stateside in the early 70s.
In the Walter Reed AARs and recently the Olney AARs, Lurker Jim (Army) has not been recognized as a Vietnam Vet - Thank you Jim for your service. Halsey, Legion Post 68 commander, has been actively trying to recruit Jim.
And our future has promise, our grand kids grade school (located in a more conservative part of Maryland) has a poll of politicians. Cain has 45 votes, The One has 3.
9 Patriots in Olney today were: Legionaries Glenn (USMC - WWII) and Halsey (USMC - Korea) along with Lurkers Bill and Jim, [Mrs] T and myself, along with our daughter and 3 grand kids.
BELOW LEFT: Youngest granddaughter. BELOW RIGHT: Next in line
BELOW LEFT: Mom (Our daughter) and eldest daughter (Granddaughter) BELOW RIGHT: And grandpa, doing double time - waving to passing supporters and talking to what appears to be a "moderate".
BELOW LEFT: Lurker Bill being his energetic self. BELOW RIGHT: Lurker Jim and Halsey holding down our left flank
BELOW: Line up of patriots (L-R): Halsey, Glenn, Jim, and me.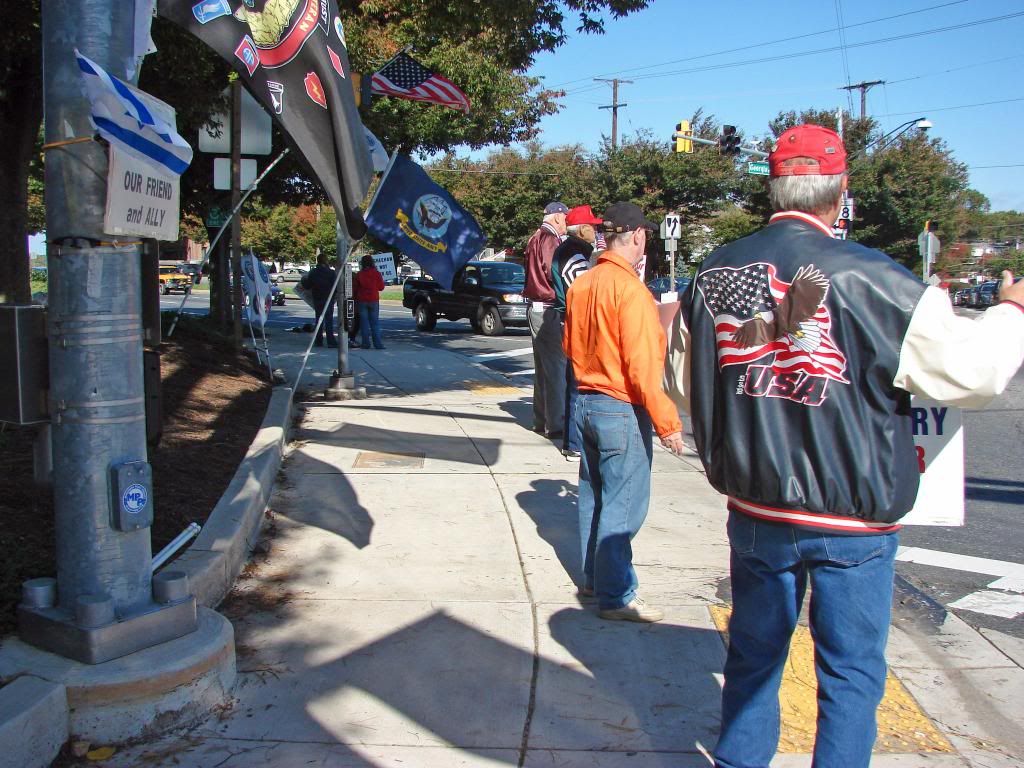 WAVES FROM SUPPORTERS:
Week 300 in Olney is this Saturday, Oct. 22, Come out and join us.


WARNING TO FREEPERS ATTENDING OLNEY
Some new money making have been installed on north bound Georgia Avenue right before you enter the main business district. Slow your speed after the light at King William Drive.
And a new one has been placed just south of Brookeville, between Brookeville and the Longwood Community Center.

REMEMBER
Next Saturday, same place, Georgia Avenue, MD Rte. 97 and MD Rte. 108 in Olney
NEW TIME - 10:15 AM to 11:45 AM


As always, the D.C. Chapter's rules for protesting will be in effect. Briefly, they are: No violence, no profanity, no racism, no provocations, obey the law and treat all law enforcement officers with respect.
But a lot of verbal engagement is always welcome.

---
TOPICS: Activism/Chapters; Free Republic; US: Maryland; US: Virginia
KEYWORDS: aar; military; mobilizingmothers; moonbats; opinfinitefreep; patriotism; peaceactionmc; quakers; rally; supportourtroops
---
---
---
---
---
---