---
Paraphrasing RUSH - 4th Year In The Bag, Starting YEAR 5: Week 208, Olney, MD 01- 02 -10
Jan. 5,2010


Posted on 01/05/2010 5:19:38 PM PST by trooprally

We start our 5th Year with temps in the high 20s, wind chill in the low-teens, gusts in the mid-40MPH. When two fearless moonbats showed up, I bet everyone that they would be gone by 11. I was wrong - they were gone by 10:50. But with 8 patriots out this morning we started our 5th year in good spirits.

Before I get into this Saturday's Troop Support Rally, a look back at YEAR FOUR.

Sadly we lost 3 Legionnaires this year.

BELOW LEFT: Clyde (Navy - WWII), BELOW MIDDLE: Francis (Army - WWI), and BELOW RIGHT: Frank (Army - Korea)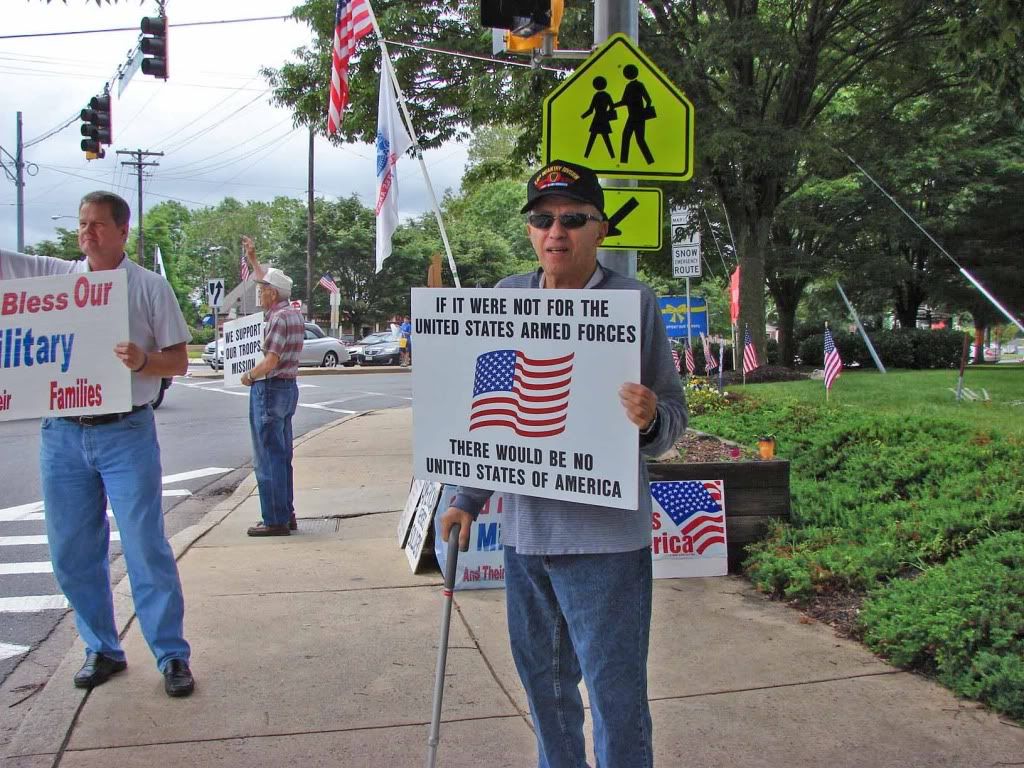 But the Legionnaires came through on March 21. The FReepers and Lurkers were at Arlington Cemetery Supporting Our Troops while the Legionnaires held down the 'fort' in Olney.
And again during the Big 9/12 Tea Party in DC the Legionnaires held down the fort.
And the antics of Lurker Bill in an early December snow fall.
And then the BIG SNOW FALL of December 19. While we sat in front of the fireplace, we were comforted knowing that we were on the corner in spirit.
But those are only good flashbacks. That was then and now is now.
WEEK 208, JANUARY 02,2010
Our list of 6 regular patriots included Legionnaires Glenn (USMC, WWII) Halsey (USMC, Korea), Bob (USMC, Vietnam), Lurker Bill and [Mrs] Trooprally and myself.
And we also had two lurkers, Lurker D (her 2nd time out) and Lurker P.
Lurker P had an interesting story. He attends a Catholic HS in Northern Virginia. His religious teacher told him that PeaceActionMC , one of the anti-war groups that support the Quakers , were in Olney and he was to go there. Lurker P came all the way from Fort Washington in Prince George's County along the Potomac River to check it out. That is about an hour drive.
But he found us first since we were more visible. After a brief conversation, he decided that our corner was the corner he wanted to stand on. Especially since he said that he wanted to go to West Point. His father and grandfather were both in the Army.
BELOW: Lurker D and Lurker P. Note the unfurled flags and what was said in the opening paragraph. It was cold.
BELOW LEFT: Small flags in the snow from our Dec. 19 snow fall. BELOW RIGHT: Ditto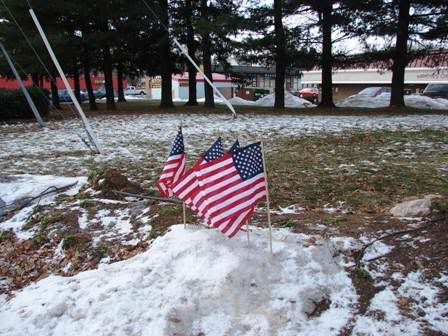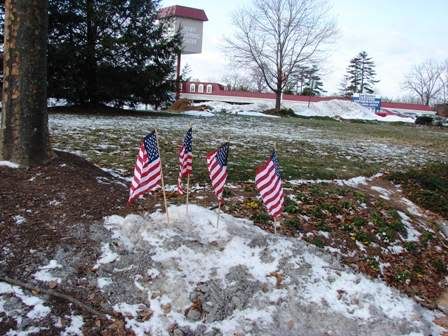 BELOW LEFT: The U.S. and Marine flags unfurled attracted a special vet. A Koren Marine was waiting at the bus stop about 100 feet south of the flags. He came up and introduced himself. I quickly called Halsey and Glenn over to talk with him. BELOW RIGHT: Halsey, Korean Marine and Glenn. Halsey especially had a lot to talk about.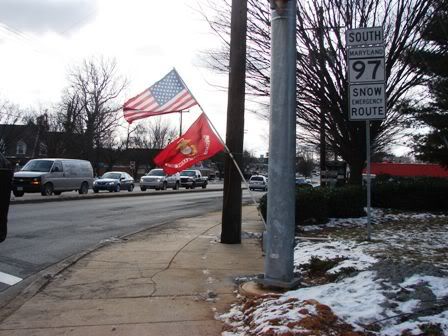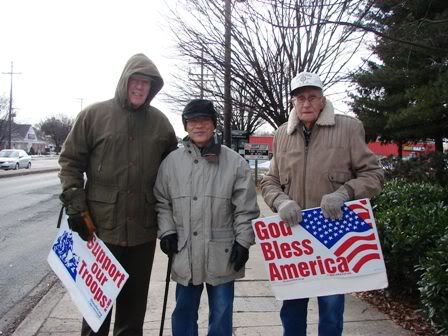 BELOW LEFT: Lurker Bill in back ground and Lurker P BELOW RIGHT: Bob and Halsey.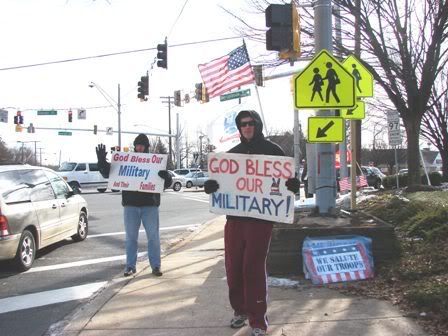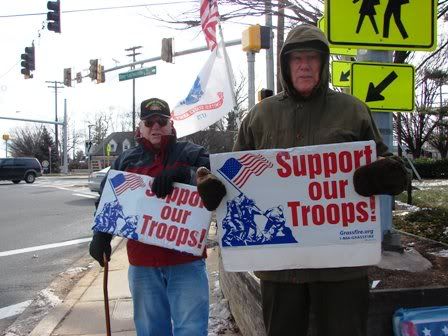 BELOW: But as cold as it was, this guy in shorts came by.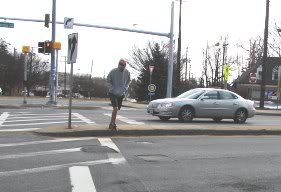 WARNING TO FREEPERS ATTENDING OLNEY
Some new money making have been installed on north bound Georgia Avenue right before you enter the main business district. Slow your speed after the light at King William Drive.
And a new one has been placed just south of Brookeville, between Brookeville and the Longwood Community Center.




REMEMBER
Next Saturday, same place, Georgia Avenue, MD Rte. 97 and MD Rte. 108 in Olney
NEW TIME - 10:15 AM to 11:45 AM


As always, the D.C. Chapter's rules for protesting will be in effect. Briefly, they are: No violence, no profanity, no racism, no provocations, obey the law and treat all law enforcement officers with respect.
But a lot of verbal engagement in Olney is always welcome.

---
TOPICS: Activism/Chapters; Free Republic; US: Maryland; US: Virginia
KEYWORDS: aar; military; mobilizingmothers; moonbats; opinfinitefreep; patriotism; peaceactionmc; rally; supportourtroops
---
---
---
---
---
---
---
---
---
---
---
---
---
---
---
---
---
---