---
Tomb with three bodies found in abandoned city of Teotihuacan
The Mexico News ^ | 9/30/2002 | Monica Medel


Posted on 09/30/2002 1:15:32 PM PDT by vannrox
Archeologists found several offerings of "exceptional quality" in the mortuary chamber.
Tomb with three bodies found in abandoned city of Teotihuacan
Monica Medel, EFE - 9/30/2002


A tomb containing the remains of three bodies has been discovered in the Pyramid of the Moon at Teotihuacan, the well-known ruins outside Mexico City.


The find is one of the most important in recent years and will provide valuable information on the lives led by the people of Teotihuacan, who disappeared in the mists of history after the city was abandoned in the year 600.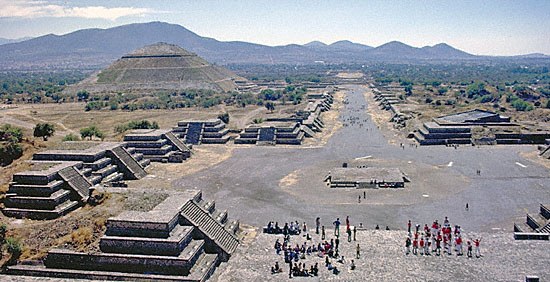 The remains were found by a multidisciplinary team headed by Japanese archaeologist Saburo Sugiyama and his Mexican colleague Ruben Cabrera.

The tomb is in a shaft that lies at the bottom of a cramped, dimly lit, foul-smelling tunnel that one reaches by climbing more than halfway up the pyramid.

Archeologists found several "offerings and ornaments of exceptional quality" in the mortuary chamber, Sugiyama told EFE.


The items include remains of fibers and clothing, finely polished green stone beads, anthropomorphic figures carved from obsidian, knives, arrowheads and razors.

Unlike other human remains found in the past, the three bodies found in the newly discovered tomb were not reclining on the floor, nor were their hands bound.

The three bodies were perched with their legs crossed on seats made of wood or fabric, indicating that that they had received "different treatment than the sacrificial victims found further down" and were powerful people, Sugiyama said.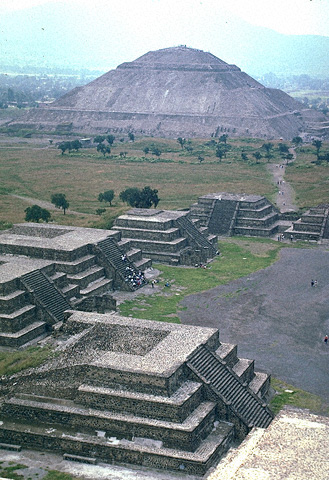 Members of the team were cautious in evaluating the significance of their discovery.


"We have no real notion of the significance of the find, but it is very important. It adds to the information we have on the function of the sacred buildings of the complex, and on their relationship to the Teotihuacan form of government and religion," Cabrera told EFE.

But Sugiyama said that the find would help clarify why the Teotihuacan left no evidence of their history, in contrast with other Central American pyramid-builders such as the Maya, Aztecs or Zapotecs.


The Teotihuacan people did not leave written records and the reliefs appear ornamental and devoid of religious significance, although the ruins point to the existence of a powerful military class.


The name Teotihuacan, meaning "the place of the gods" in the indigenous language of the region, was bestowed on the site by the Mexica Indians after the city was abandoned.

Erected between 100 and 500, the city reached its zenith circa 450, when it was home to a multi-ethnic population of some 250,000.

The ceremonial center is the only surviving part of the city, while the rest lies buried under factories and residential neighborhoods on the outskirts of Mexico City.


The current project marks the first time archaeologists have excavated the inside of the Pyramid of the Moon in an attempt to understand the city's history and the reasons for the extinction of the Teotihuacan culture.


© Copyright 2002 EFE

---
TOPICS: Culture/Society; Extended News; Foreign Affairs; Mexico; News/Current Events
KEYWORDS: 600ad; ancient; archaeology; archeologist; discovery; ggg; godsgravesglyphs; history; inca; maya; mexico; mortuary; old; past; pyramidofthemoon; teotihuacan; tomb; tunnel; unknown
---
---
---
---
---
---
---
---
---
---
---
---
---
---
---
---
---
---
---
---